Lenovo Yoga Slim 7i Carbon review: A bit of everything
The price of Yoga Slim 7i Carbon starts at
₹
1,19,990 and is definitely something that customers in India will think twice before buying. So, here we are to help you decide whether you should, or should not get this product.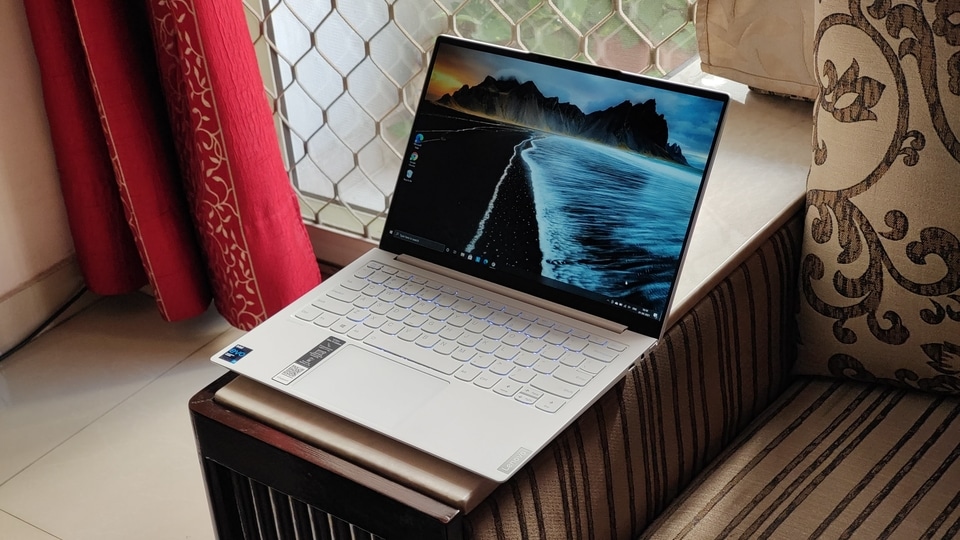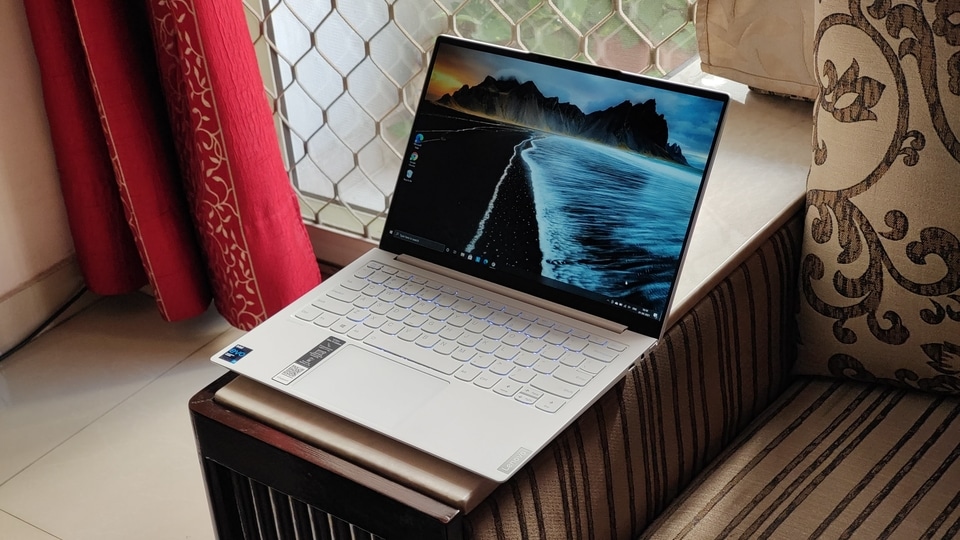 Brand: Lenovo
Product: Yoga Slim 7i Carbon.
Key specs: Carbon Fibre build, 13.3-inch display with 180-degree hinge, 16 GB RAM, Intel 11th-gen Core i7 processor.
Price: ₹1,19,990
Rating: 4/5
As laptops around us grow more powerful with better specs and features, OEMs have also made it appear more appealing by using premium materials including aluminium and other components. And due to this, we often find laptops being heavy. They also add considerable weight to your bag while you are travelling. But it looks like Lenovo has taken account of the problem and has come up with Yoga Slim 7i Carbon as a solution.
This is a premium offering from the Chinese tech firm that is powerful and more interestingly, lightweight while still being durable. The price of Yoga Slim 7i Carbon starts at ₹1,19,990 and is definitely something that customers in India will think twice before buying. So, here we are to help you decide whether you should, or should not get this product. Here's the review.
Design and display
Unlike the black-coloured carbon fibre coating you see in devices these days, the Yoga Slim 7i Carbon offers a unique look in pure white. Lenovo calls it the 'Moon White' colour model and like it or not, the laptop is available only in this colour variant. In the world of dark and silver laptops, the Yoga Slim 7i Carbon does look unique and kind of appealing as well.
It is not like Dell XPS 13 that has a silver colour tint on the shell, but a rather clean white single-tone appearance like what you see on the inside of the XPS 13. We liked it just because of its uniqueness. However, if you are looking for a 'premium' design, this might not appeal to you much since there are no shiny metal rims, angular cuts or accents.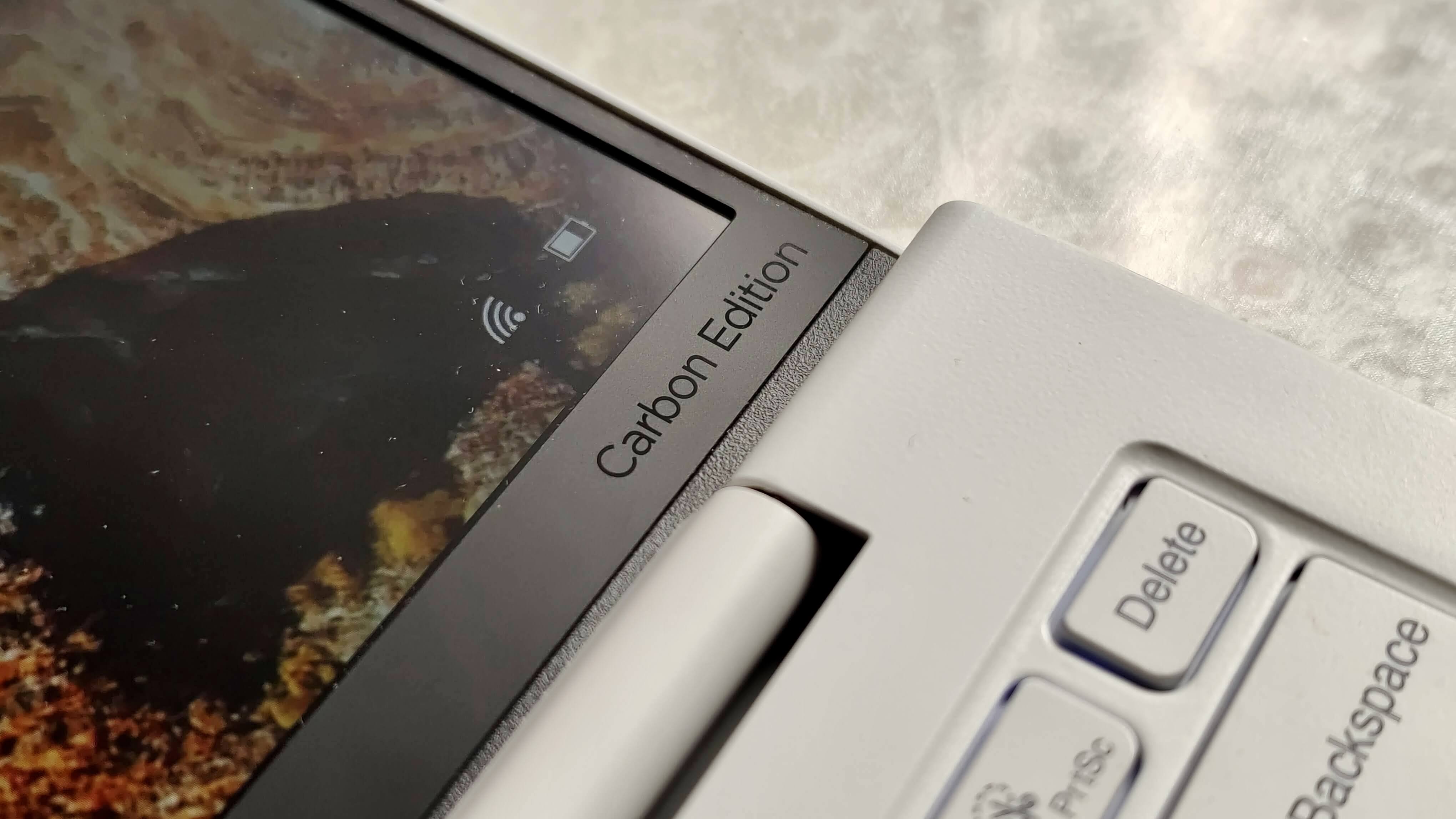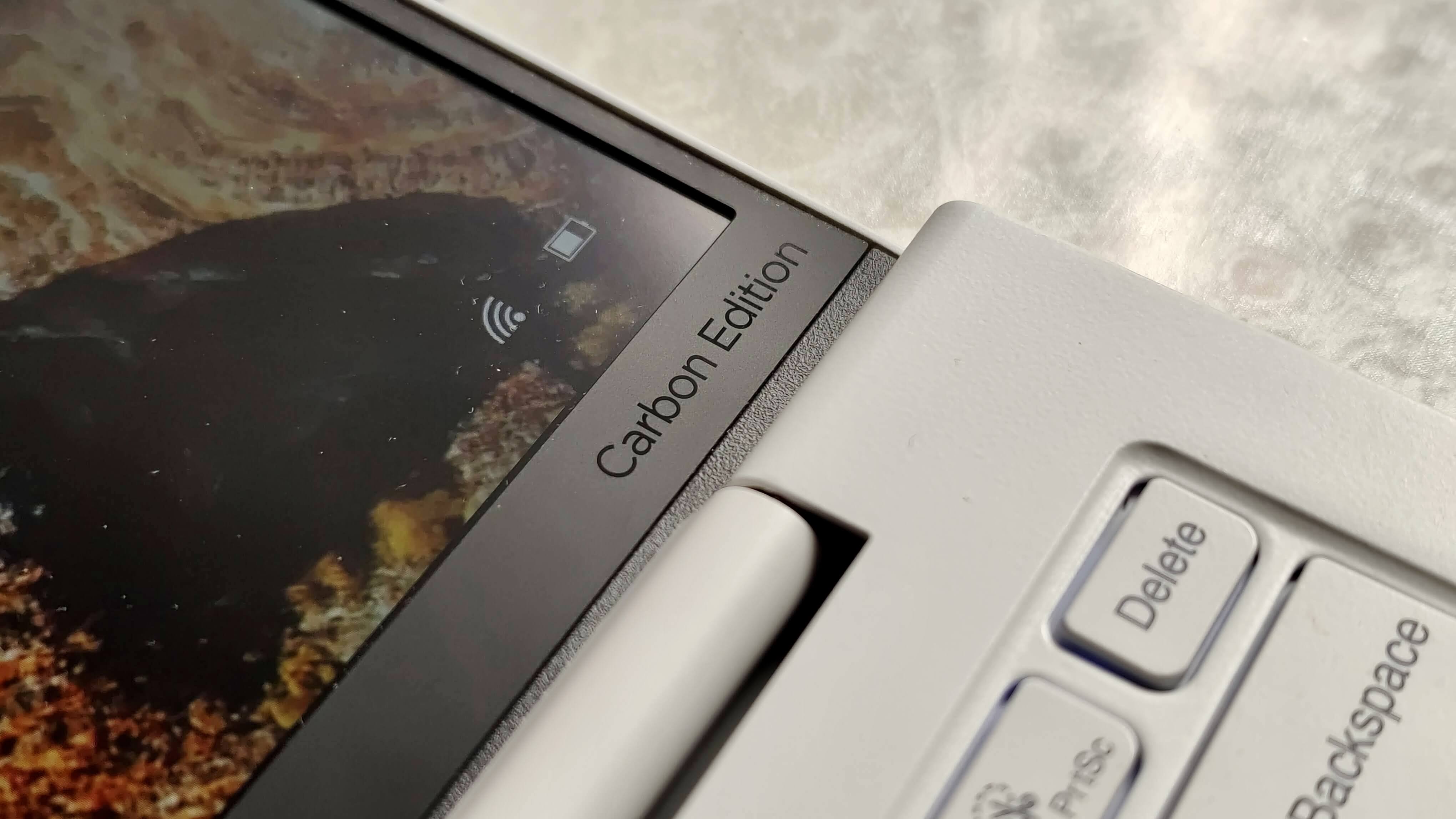 Although the matte white colour coating is very good at hiding fingerprints and smudges, what might be an issue here is the maintenance. If you are using it every day, you might want to keep it clean all the time. We weren't able to use the laptop for months, so it will be hard to comment on how it will turn out after extensive use. But nonetheless, we did use it for a month every day and the device looked just fine and elegant.
Where this thing actually shines is the Carbon Fibre build that makes it twice as durable and resistant to rough usage unlike any other laptop in the segment right now. We haven't seen a 13-inch laptop with this build in years and it is commendable how Lenovo has managed to pull it off, while still managing to keep it lightweight. And we are not saying the usual lightweight range of 1-1.2kgs. We are talking under 1 kg (950 grams).
Picking up the laptop for the first time took us by surprise considering how lightweight it is. Not to forget, the durability and lightweight factor makes the product one of the best laptops to carry around when on the move. Lenovo says that the palm rest and bottom covers are constructed out of magnesium alloy and strengthened with 'structural ribs'. Also, this is a 76cm drop-tested laptop, so travel around with it and be assured it will handle things well.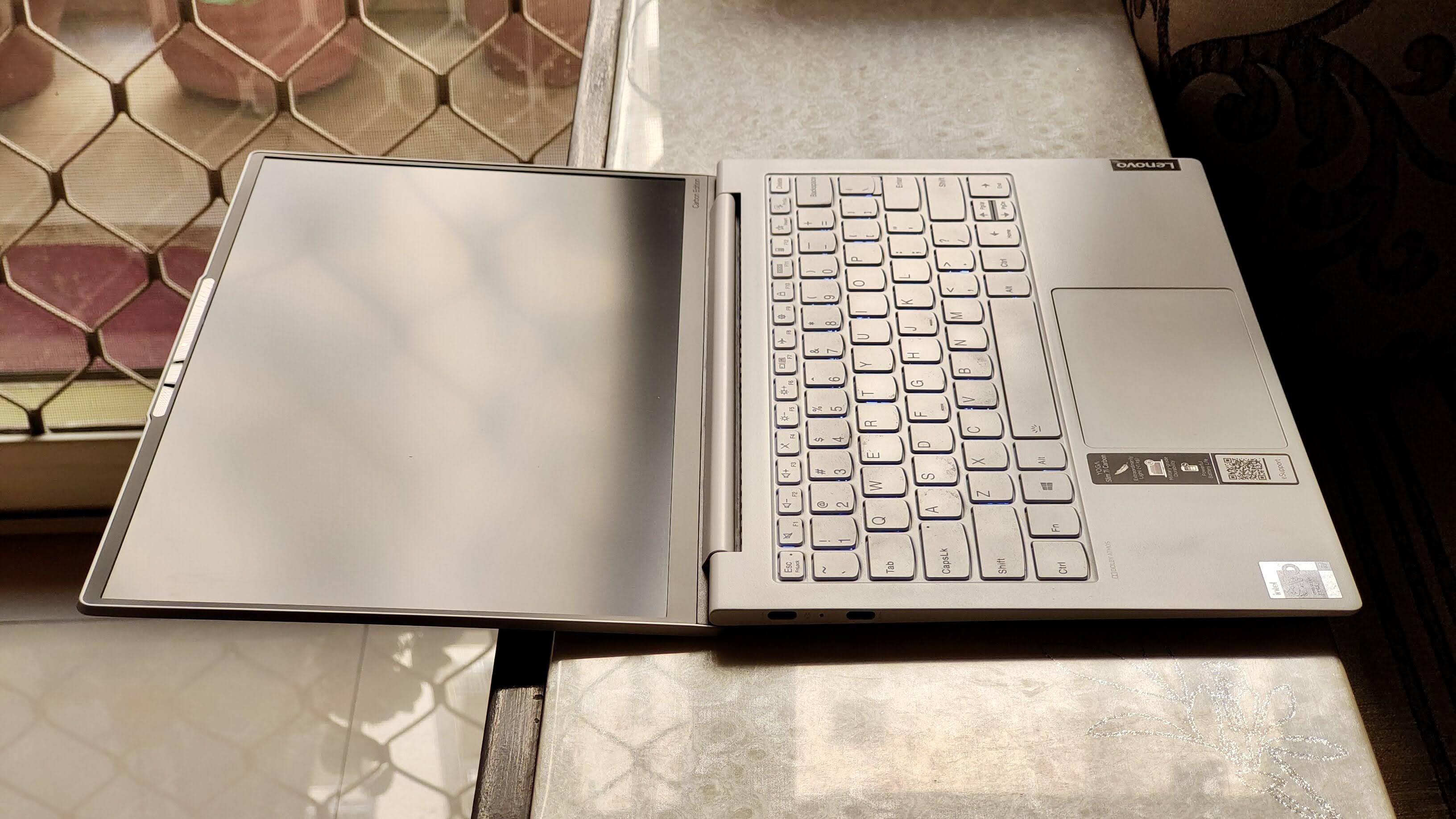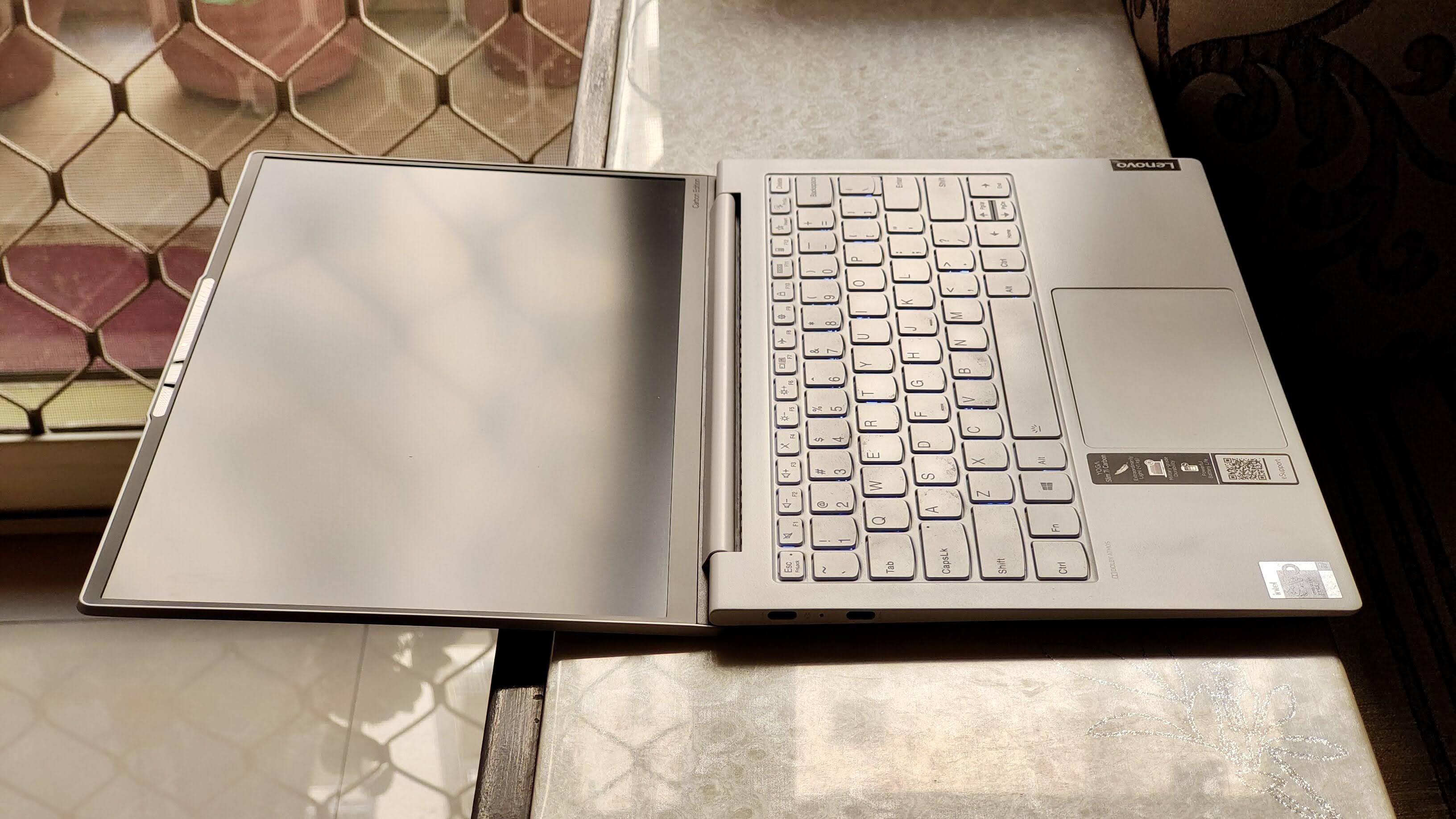 Lenovo Yoga Slim 7i Carbon does a fairly decent job in the display section. The 13.3-inch screen puts it right against the likes of Dell XPS 13 but while that has a tad bit better-looking panel, this one is less reflective, something we do prefer. It makes working in varied environments easier. No matter if you are working in a cafe, inside your home or with a light source just above your head, the screen does a good job in eliminating reflections and offering better visibility.
Also, it gets comfortably bright (300nits) so there's less struggle with changing viewing positions and screen angles. Adding to that are the thin bezels on all four sides that results in 91% working area. What's interesting here is that the Yoga Slim 7i Carbon has a 16:10 aspect ratio, which was once mainstream before 2005 or so. Although unusual, this gives you a bit more vertical space to see more content as compared to 16:9 aspect ratio screens. And with QHD resolution, you don't need to worry about the sharpness.
Some other features that add a cherry on top are Dolby Vision certification, 100% sRGB colour gamut and TÜV Rheinland-certified Eye Care that filters harmful blue rays.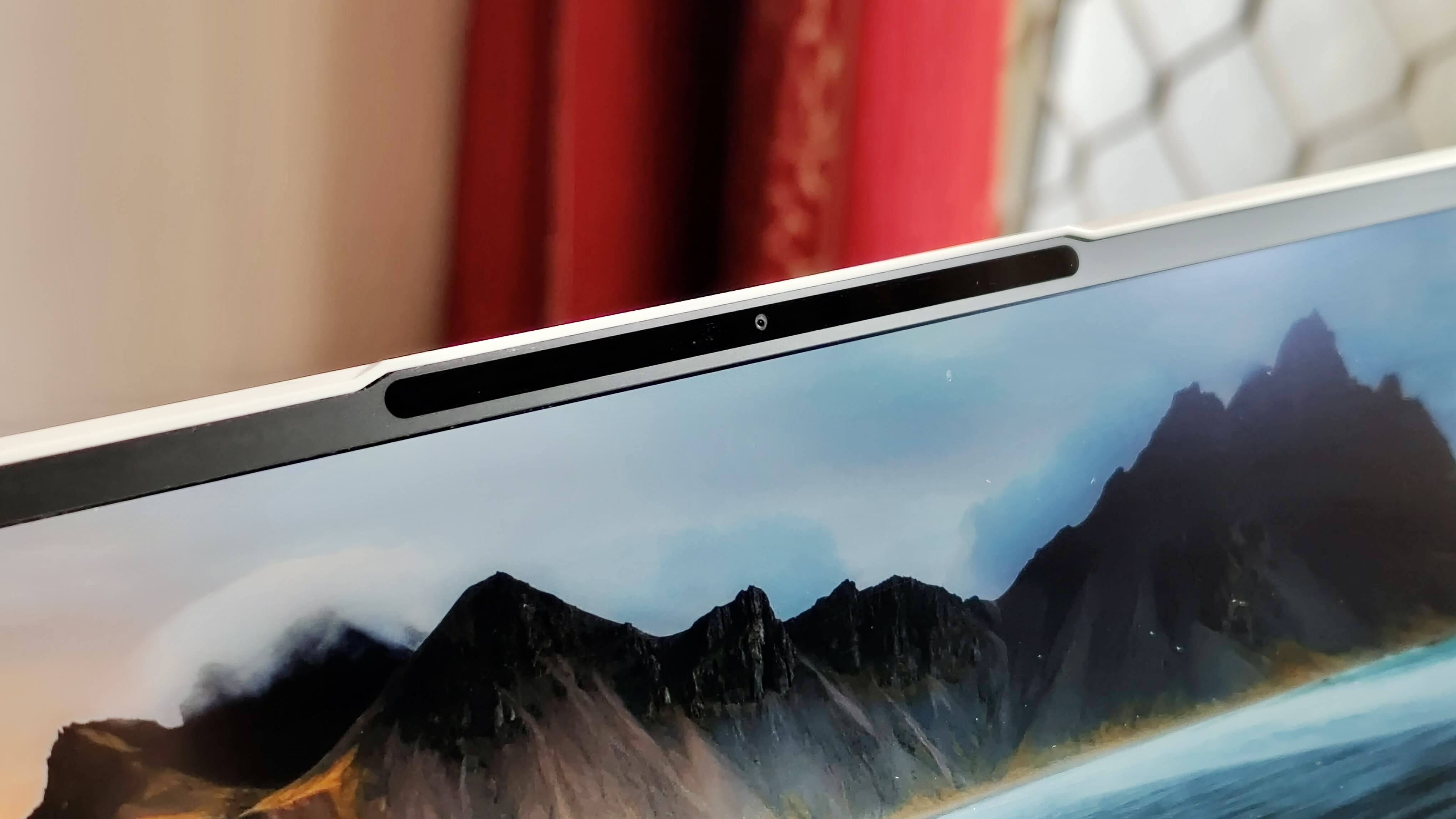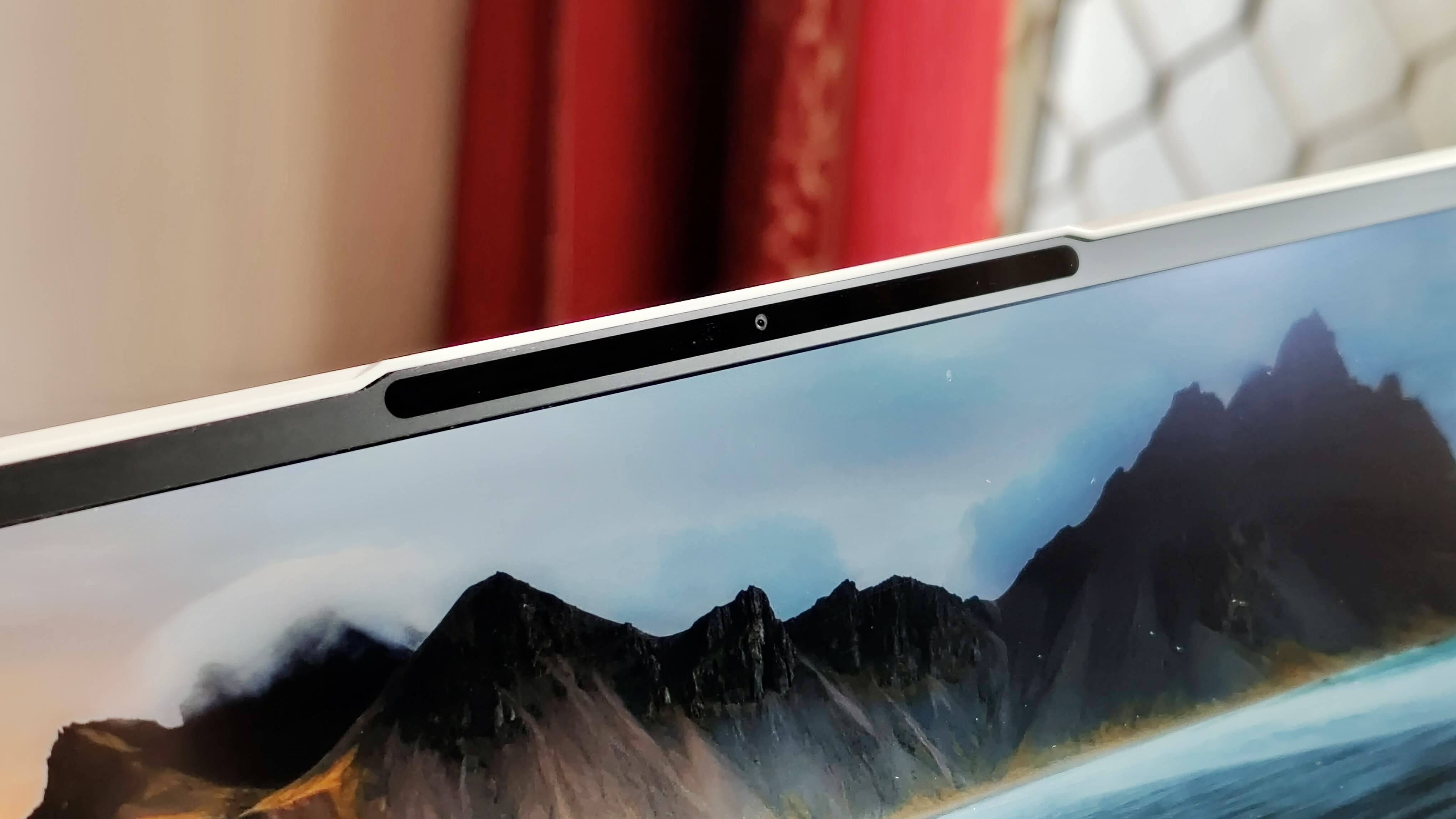 And thankfully, the screen hinge doesn't lock itself at a certain angle and goes up to 180-degrees. So, if you are working on a higher or a lower than usual surface height, this just proves a nifty yet useful addition. Also, the hinge grips the screen well and there is hardly any wobble when typing or doing light gaming on this.
Performance
We had no complaints at all when it came to the performance of the Yoga Slim 7i Carbon. It handled our everyday work with ease and without questioning the power and efficiency of the system. From multi-browser work to multi-tasking with different apps running in the background, the device was as good as it can be. A huge part of the credit goes to the Intel 11th-generation Core i7-1165G7 processor with 4 cores and 8 threads. At no point, this 10nm processor led to overheating. And the processor, coupled with 16GB soldered LPDDR4x RAM made even light gaming easy.
Unfortunately, you just get one variant of this model in India, which is kind of a bummer in terms of choices and flexibility for the customer. But rest assured, it packs enough power to get things done if you are a light or an average user. Heavy users might still want to go for more RAM, storage, better features and customisation. That said, considering the Carbon Fibre lightweight build of the Yoga Slim i7 laptop and the capable Intel 11th-gen chipset, it makes a really good travel laptop if nothing else.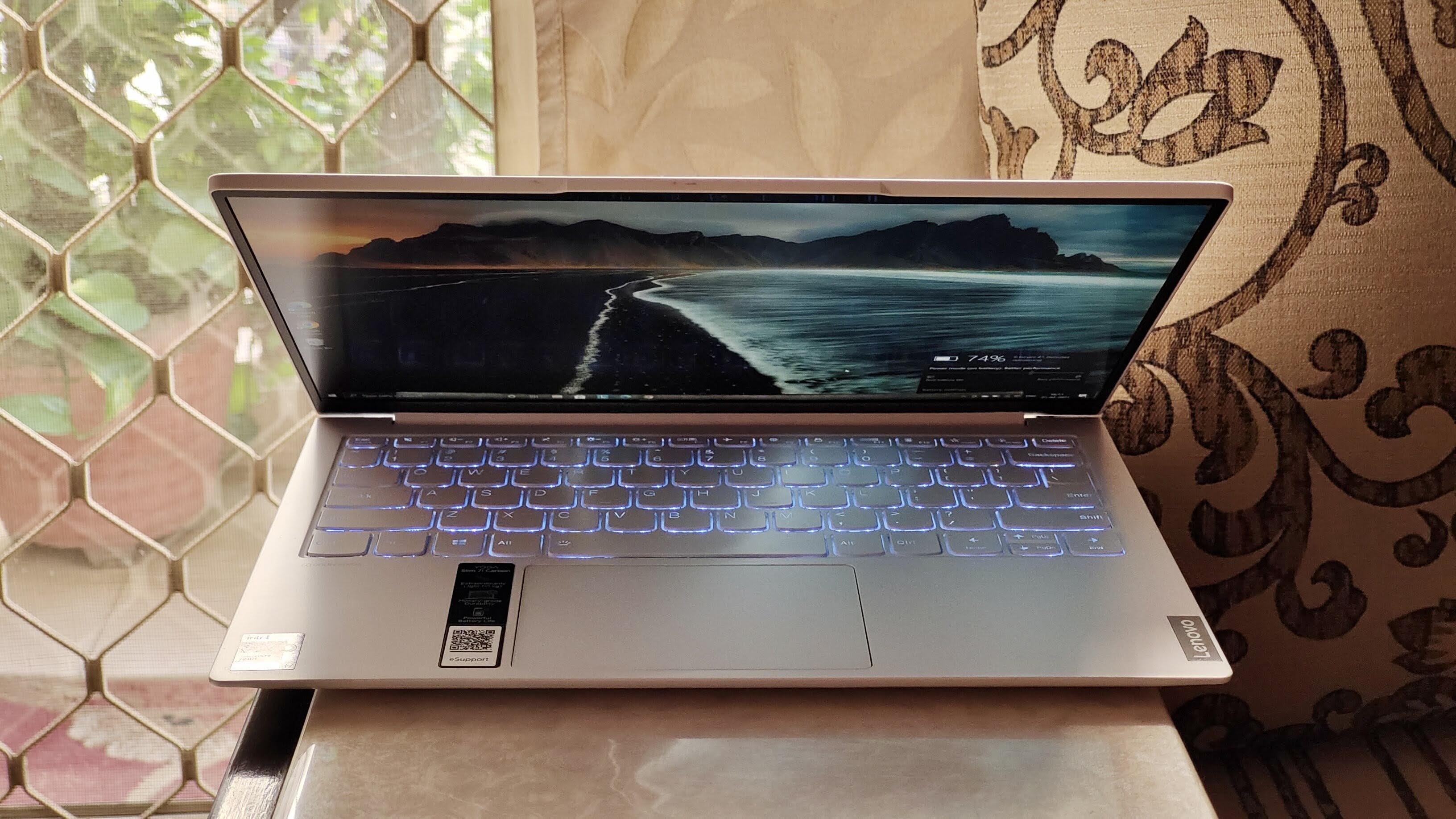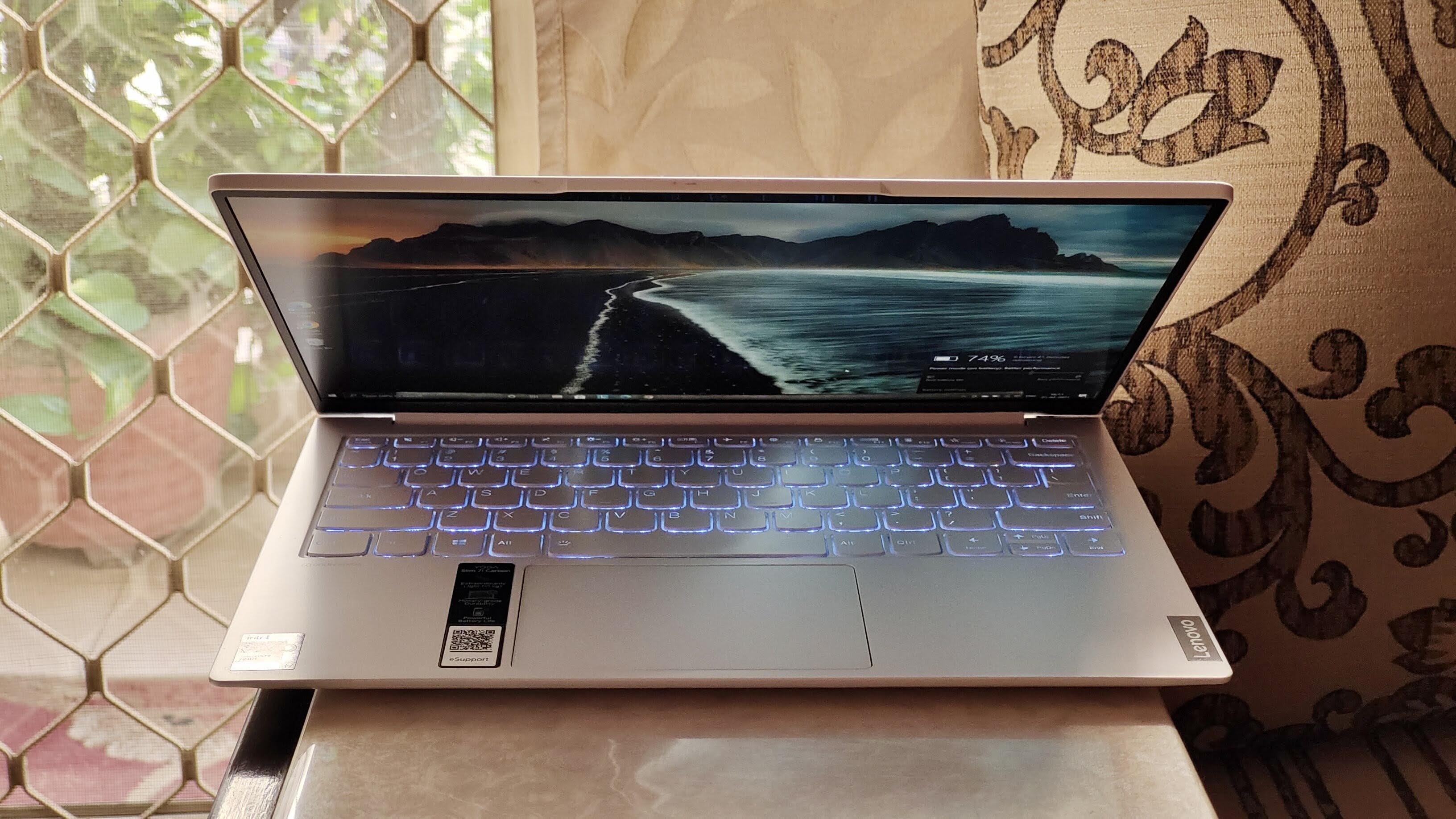 And of course, you get Lenovo vantage, the company's software from where you can control most of the key performance features including Network Boost options, Hybrid Mode, TouchPad Lock, information on CPU, GPU and RAM. There's also some Quick Settings option for Rapid Charge, WiFi Security and Dolby. In terms of maintaining performance and heating, it is possible to change the Thermal Mode from Performance to Balance and Quiet. You also get 'Extreme Performance' and 'Battery saving'.
Although the Yoga Slim 7i Carbon is made for the future as it has a total of 3 USB-C ports and a 3.5mm headphone jack, some might have a minor inconvenience in case they want a dedicated port for USB-A. However, the firm has taken care of it by offering a connector that includes HDMI and a USB-A port. This makes it an extra accessory to carry around but we're just happy that it comes inside the box.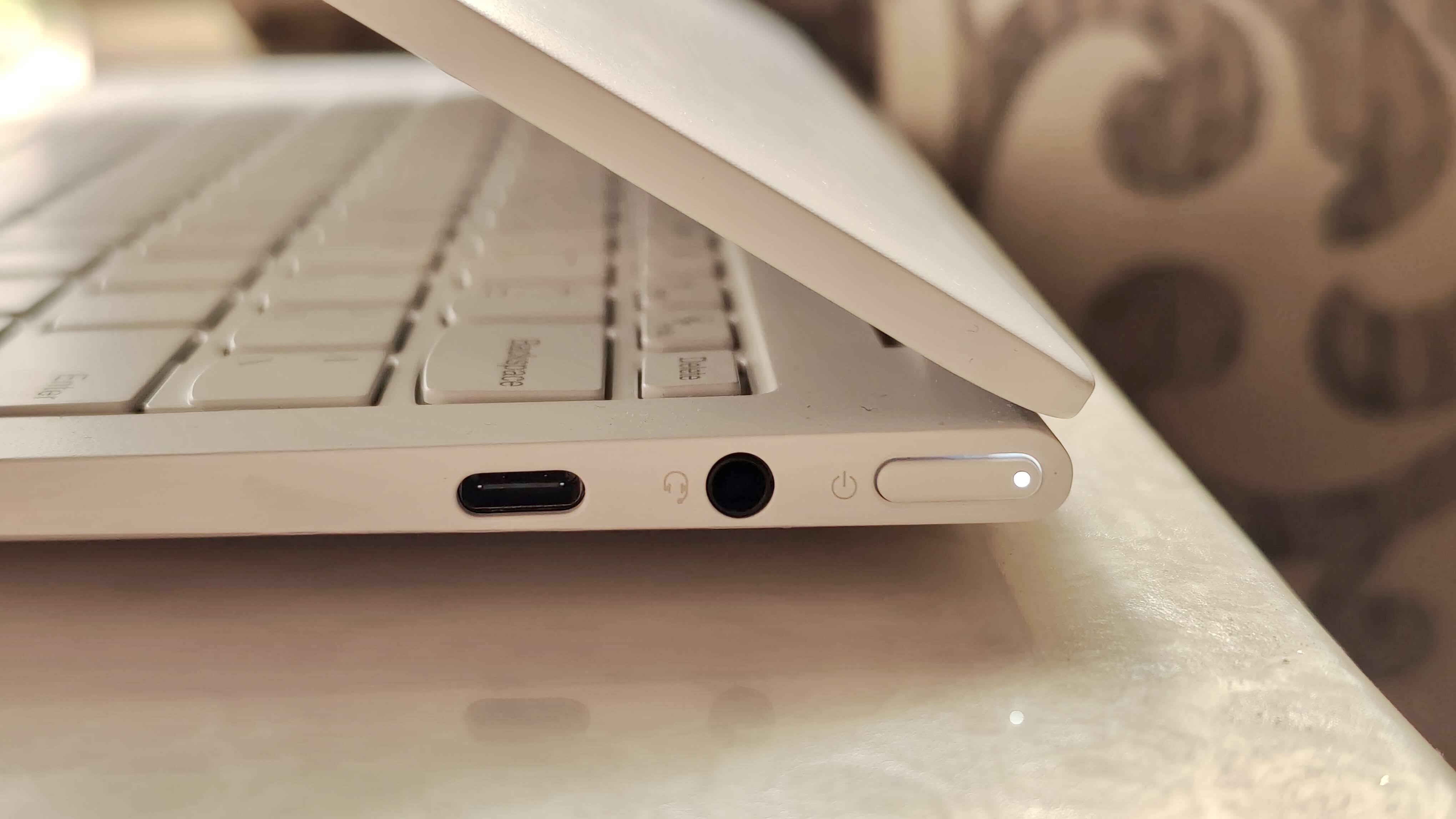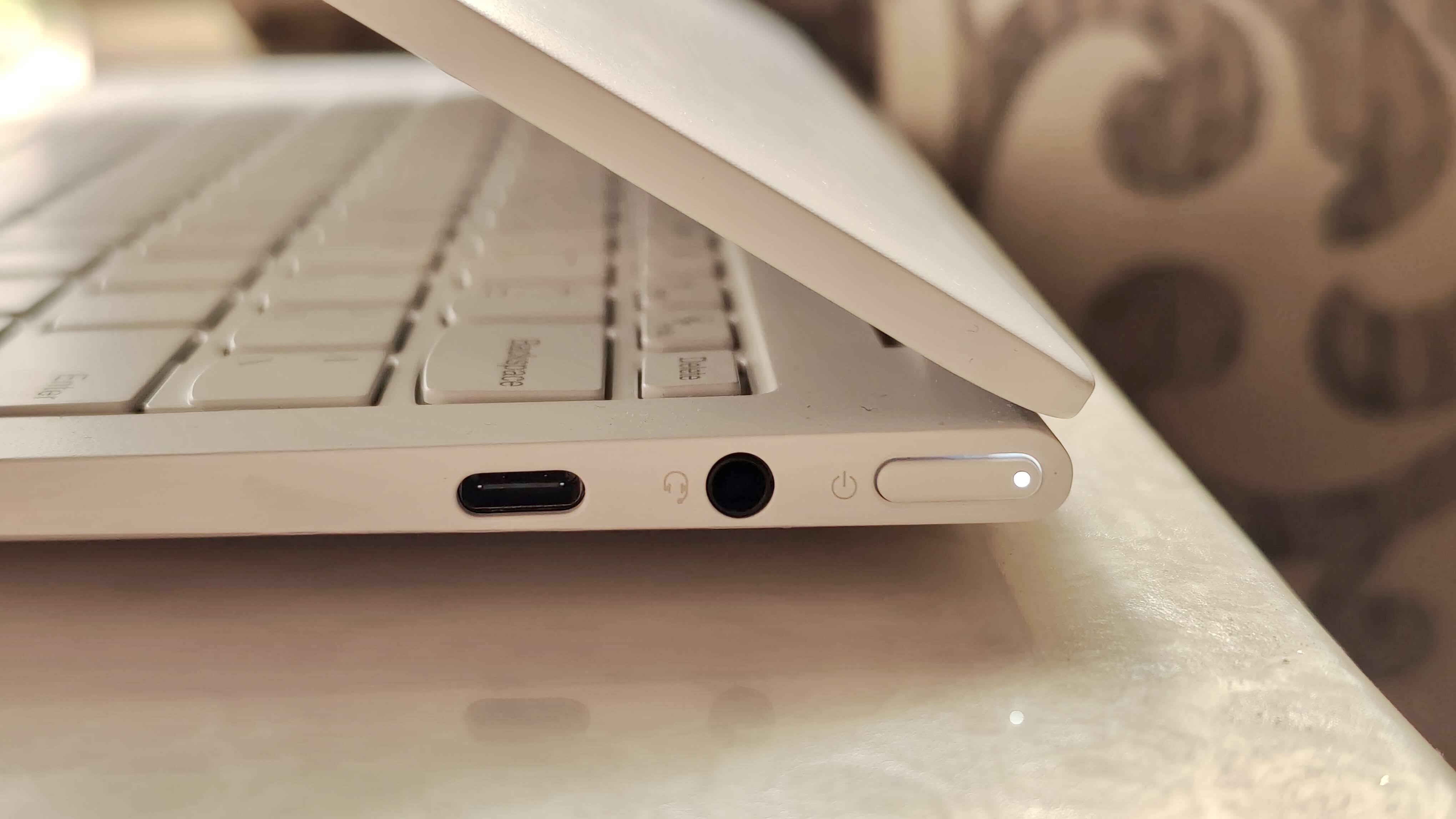 The keyboard performance is fairly good and as expected. It is at par with what you get in other laptops as the key travel time feels natural. The backlit keyboard was easy to get used to and the confidence you get with each keystroke was fairly good. Although the Dolby Atmos powered audio works well when it comes to streaming videos, Lenovo has placed the speakers on the underside, which blocks the audio often when kept on a soft surface like a bed.
The battery was impressive in the Yoga Slim 7i Carbon as we got some 8 hours worth of juice from a rather average 50Whr 3-cell battery. Lenovo, however, claims it can run for 13 hours. Of course, the battery performance is subjective and completely depends on what software you run and how you use the machine. We had an average use though. So, in case you are an average or a light user, you might be covered for 8-9 hours on average, which also makes it an ideal device to carry around without a charger. You also have Lenovo Vantage tweaks to compliment the battery life.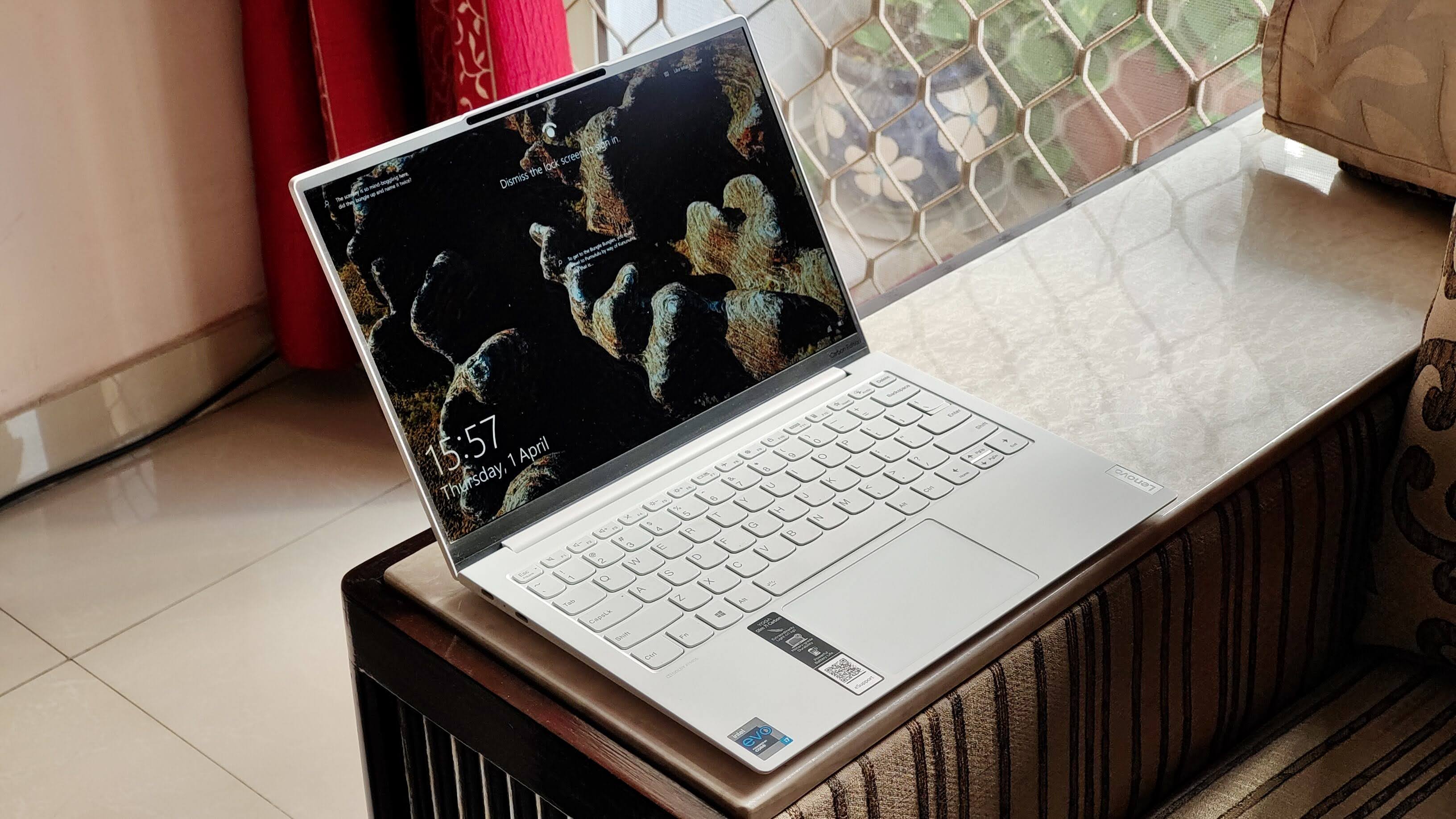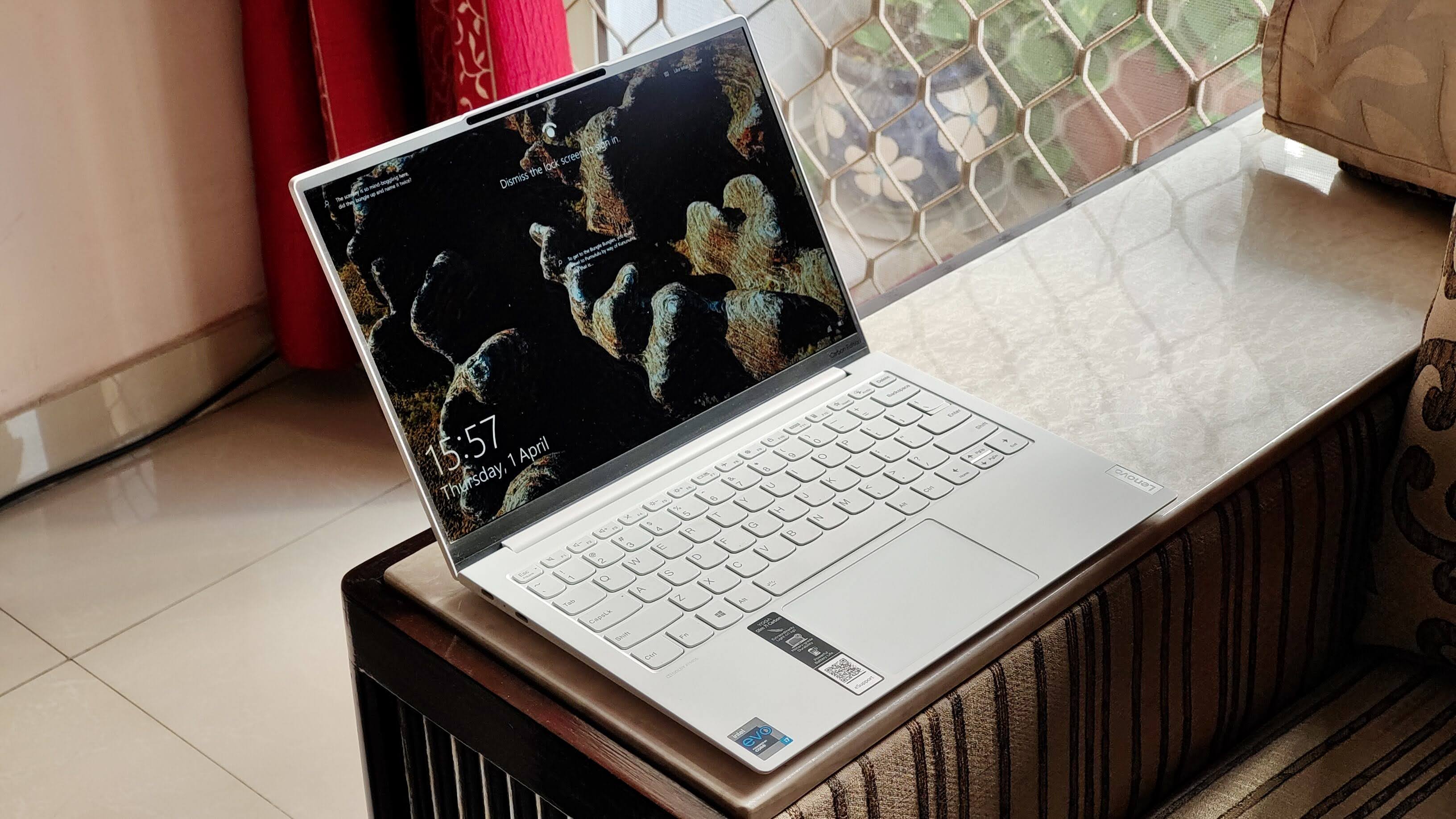 Verdict
Lenovo Yoga Slim 7i Carbon leaves no stone unturned when it comes to proving itself as a modern-day laptop that you can carry around without worrying much about the battery and getting nearly all the basic work done with ease. You get a good Intel 11th-gen processor performance, which is capable enough to handle your browsing and working on documents, along with a Carbon Fibre build that is not just light but durable as well. And then you get a good battery performance as a cherry on top.
However, at ₹1,19,900 customers might give it a second thought, considering AMD Ryzen 4000 series based laptops tend to give a really good fight when it comes to performance and battery. And with Ryzen 5000 series coming in, the battle gets tougher than ever. Although Lenovo has AMD-based laptops in its portfolio, you will hardly get such a combination wrapped in such a light and durable package.
Follow HT Tech for the latest tech news and reviews , also keep up with us on Twitter, Facebook, and Instagram. For our latest videos, subscribe to our YouTube channel.
First Published Date:
13 May, 12:28 AM IST
71620844017381
NEXT ARTICLE BEGINS