Lenovo Yoga Slim 7i Carbon review: A bit of everything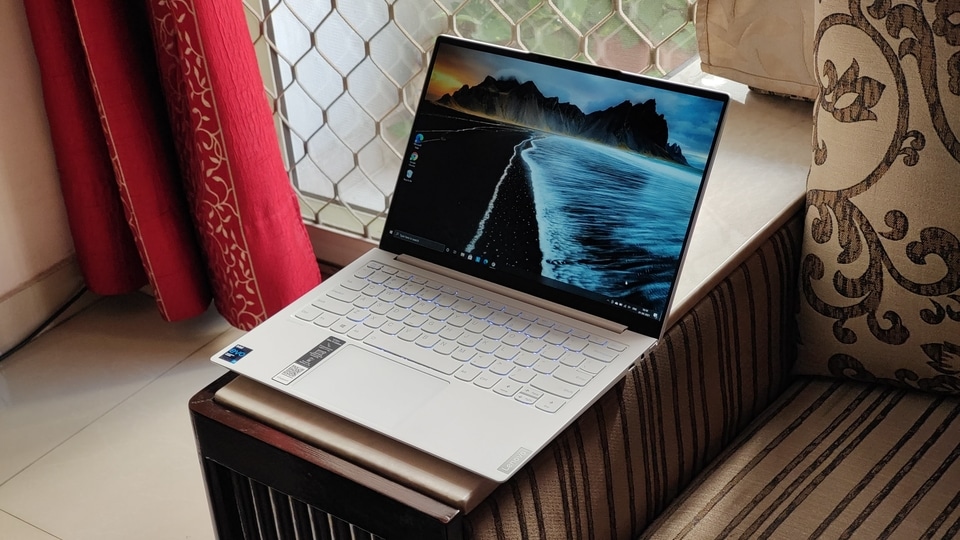 The price of Yoga Slim 7i Carbon starts at ₹1,19,990 and is definitely something that customers in India will think twice before buying. So, here we are to help you decide whether you should, or should not get this product.
Brand: Lenovo
Product: Yoga Slim 7i Carbon.
Key specs: Carbon Fibre build, 13.3-inch display with 180-degree hinge, 16 GB RAM, Intel 11th-gen Core i7 processor.
Price: ₹1,19,990
Rating: 4/5
As laptops around us grow more powerful with better specs and features, OEMs have also made it appear more appealing by using premium materials including aluminium and other components. And due to this, we often find laptops being heavy. They also add considerable weight to your bag while you are travelling. But it looks like Lenovo has taken account of the problem and has come up with Yoga Slim 7i Carbon as a solution.
This is a premium offering from the Chinese tech firm that is powerful and more interestingly, lightweight while still being durable. The price of Yoga Slim 7i Carbon starts at ₹1,19,990 and is definitely something that customers in India will think twice before buying. So, here we are to help you decide whether you should, or should not get this product. Here's the review.
Design and display
Unlike the black-coloured carbon fibre coating you see in devices these days, the Yoga Slim 7i Carbon offers a unique look in pure white. Lenovo calls it the 'Moon White' colour model and like it or not, the laptop is available only in this colour variant. In the world of dark and silver laptops, the Yoga Slim 7i Carbon does look unique and kind of appealing as well.
It is not like Dell XPS 13 that has a silver colour tint on the shell, but a rather clean white single-tone appearance like what you see on the inside of the XPS 13. We liked it just because of its uniqueness. However, if you are looking for a 'premium' design, this might not appeal to you much since there are no shiny metal rims, angular cuts or accents.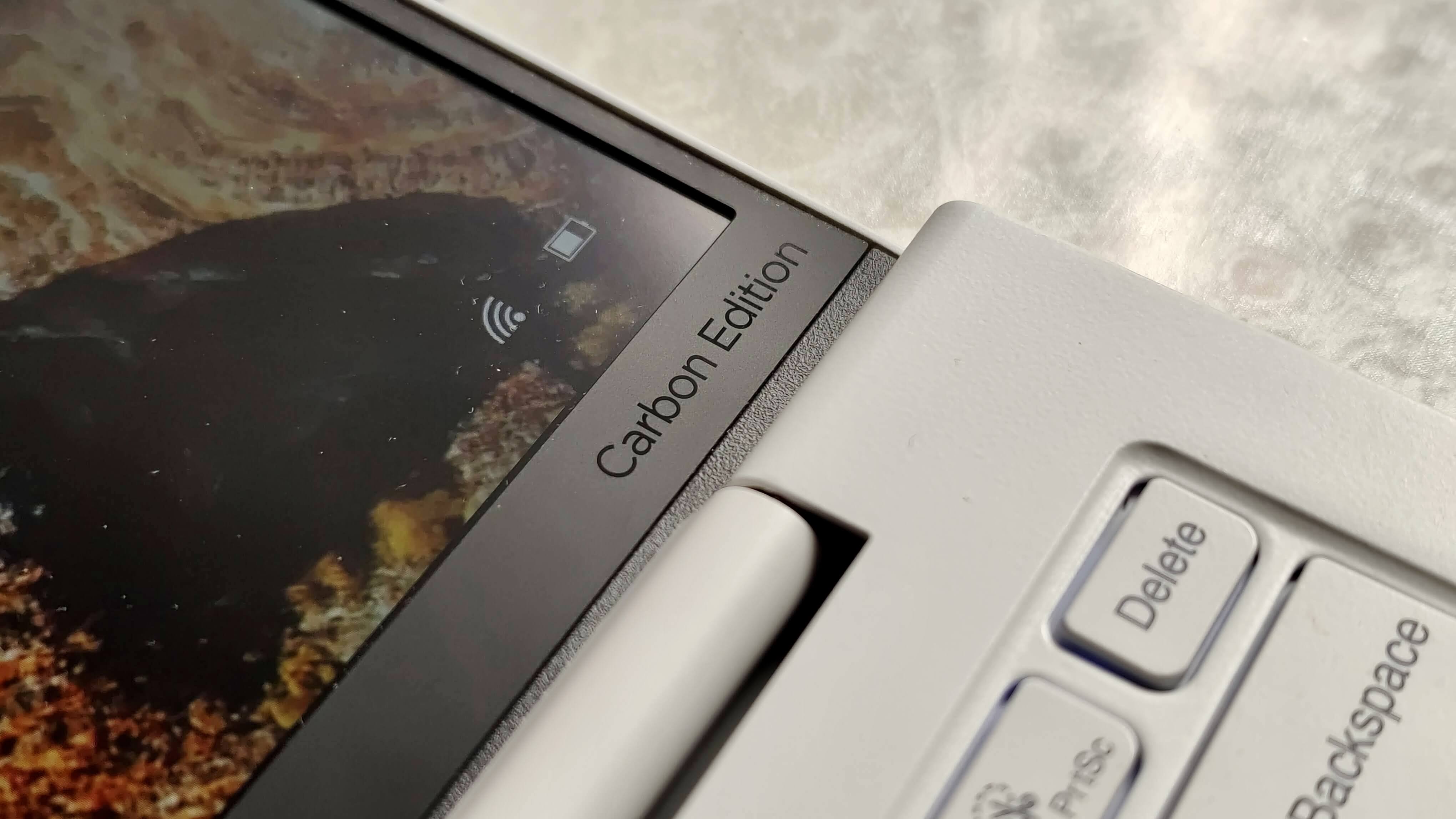 Although the matte white colour coating is very good at hiding fingerprints and smudges, what might be an issue here is the maintenance. If you are using it every day, you might want to keep it clean all the time. We weren't able to use the laptop for months, so it will be hard to comment on how it will turn out after extensive use. But nonetheless, we did use it for a month every day and the device looked just fine and elegant.
Where this thing actually shines is the Carbon Fibre build that makes it twice as durable and resistant to rough usage unlike any other laptop in the segment right now. We haven't seen a 13-inch laptop with this build in years and it is commendable how Lenovo has managed to pull it off, while still managing to keep it lightweight. And we are not saying the usual lightweight range of 1-1.2kgs. We are talking under 1 kg (950 grams).
Picking up the laptop for the first time took us by surprise considering how lightweight it is. Not to forget, the durability and lightweight factor makes the product one of the best laptops to carry around when on the move. Lenovo says that the palm rest and bottom covers are constructed out of magnesium alloy and strengthened with 'structural ribs'. Also, this is a 76cm drop-tested laptop, so travel around with it and be assured it will handle things well.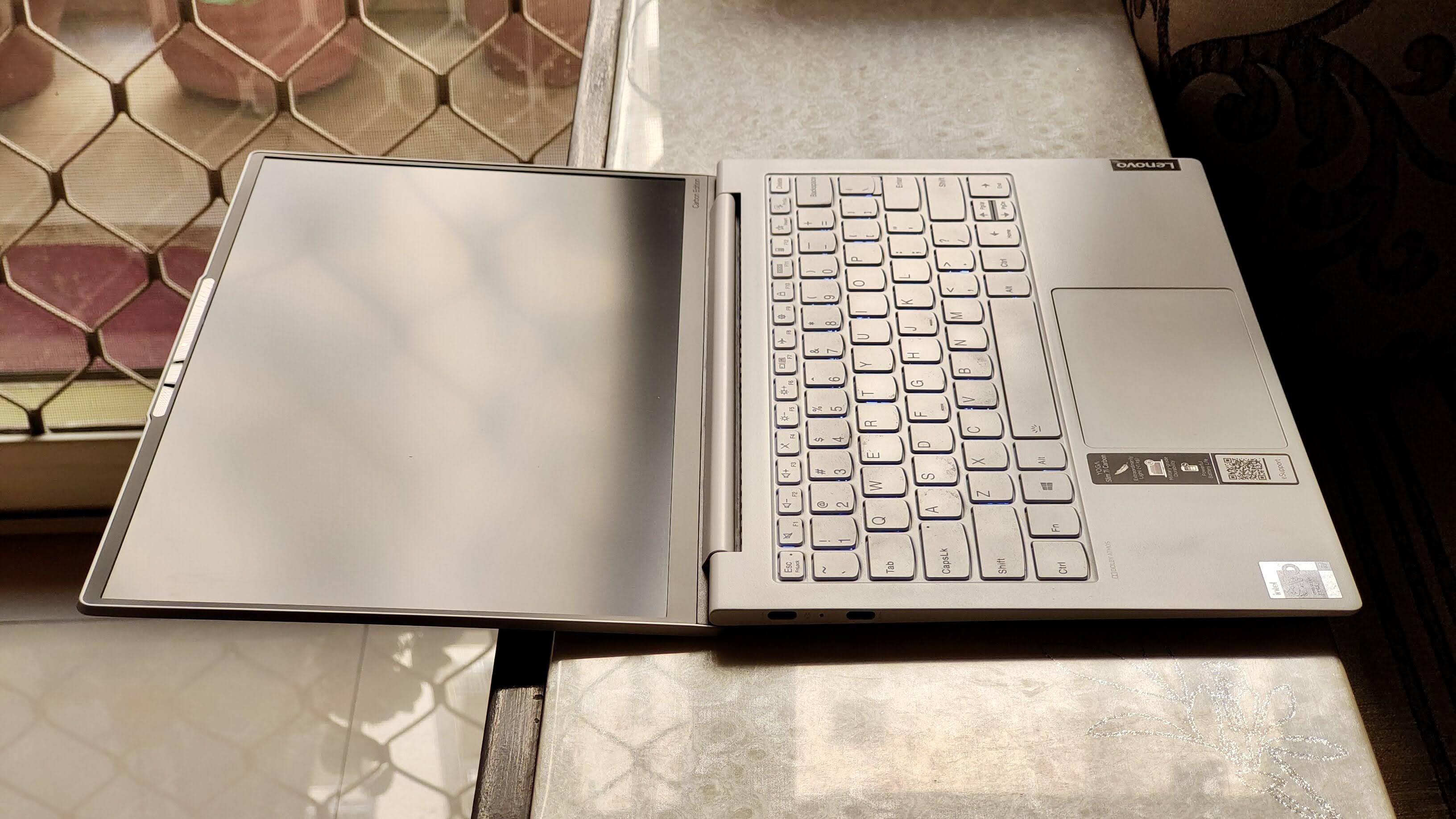 Lenovo Yoga Slim 7i Carbon does a fairly decent job in the display section. The 13.3-inch screen puts it right against the likes of Dell XPS 13 but while that has a tad bit better-looking panel, this one is less reflective, something we do prefer. It makes working in varied environments easier. No matter if you are working in a cafe, inside your home or with a light source just above your head, the screen does a good job in eliminating reflections and offering better visibility.
Also, it gets comfortably bright (300nits) so there's less struggle with changing viewing positions and screen angles. Adding to that are the thin bezels on all four sides that results in 91% working area. What's interesting here is that the Yoga Slim 7i Carbon has a 16:10 aspect ratio, which was once mainstream before 2005 or so. Although unusual, this gives you a bit more vertical space to see more content as compared to 16:9 aspect ratio screens. And with QHD resolution, you don't need to worry about the sharpness.
Some other features that add a cherry on top are Dolby Vision certification, 100% sRGB colour gamut and TÜV Rheinland-certified Eye Care that filters harmful blue rays.