Apple just took one more step towards sustainability and removed 600 metric tons of plastic
Apple plans to eliminate mining entirely and is working on building products using only recycled and renewable materials.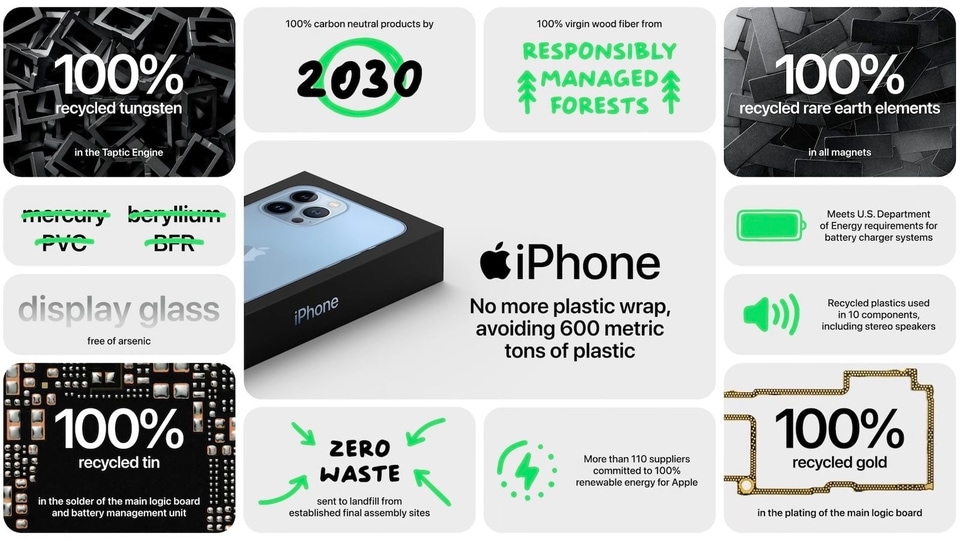 Sometimes the smallest little changes can have a tremendous impact, and Apple just proved that. In case any of you have already bought the new iPhone 13 devices, you would have noticed that the retail boxes don't have any plastic packing. Apple has replaced the plastic film with paper tabs on the back of the box that needs to be pulled away to open it. With this, the company says it will save 600 metric tonnes of plastic over the lifetime of the product.
Sure, this doesn't change your life immediately. But think of the impact removing 600 metric tonnes of plastic will have on the environment. Apple sells millions of iPhones every year and even a little change like this matters in the bigger scheme of things.
And that's not all. Apple is also working on changing how materials are sourced and processed so as it can lower its impact on the planet and emissions. The company is steadily moving towards a future where all its products are made using only renewable and recycled materials. The ultimate goal is to completely eliminate reliance on mining and transform the supply chain as we traditionally know it.
Besides the paper tab on the retail boxes, Apple has also increased the use of recycled content for packaging. The company said that 95% of the packaging is fiber-based, of which about 67% is recycled content. And 100% of the virgin wood fiber in the packaging comes from responsibly managed forests. The Apple retail bags are also made of 80% recycled fiber.
One of these new supply chains that Apple has in mind is a circular one. In this circular supply chain model, the material recycled from one device goes on to be used for a new one ensuring that no new materials need to be introduced into the system, thereby doing away with the need to procure or mine more. In a step towards this, Apple has analysed the social, global, and environmental impact of each of the 45 elements and raw materials that go into making its products. This analysis was followed by material impact profiles that helped the company identify a list of priority materials for the first phase of their plans. The list includes 14 materials that make up nearly 90% of the total mass shipped by Apple.
The company is focusing on four important things - sourcing recycled and renewable materials, use these materials efficiently, ensure product longevity, and finally, recover products at the end of its life cycle. Apple has been specifically playing up the last part of this four-point plan lately. If you got the new iPhone and were using an older iPhone to set up the new one, once the process is done, your older phone will ask you what you want to do with the older device - "What's next for this iPhone?".
This prompt is explained as - "Get step-by-step instructions to prepare this iPhone to be sold, given away, or traded in through Apple Trade In." The two options you get post this is "Get Started" or "Don't Erase this iPhone". So, the company is hoping that you do not just keep your older iPhone lying around and either recycle it yourself or trade it in so as Apple can reuse it.
Apple has also started using recycled materials for some of its products already, like the iPhone 13 series and in the product packaging as well. The new iPhone 13, iPhone 13 Pro, and iPhone 13 Pro Max have been made with 100% recycled rare earth elements in all the magnets like the ones used in the MagSafe, 100% recycled tin and solder on the main logic board, and the solder of battery management unit now has 100% recycled tungsten. This is the first time Apple has used 100% recycled materials for the battery management system. The new iPhone 13 series also brings in 100% recycled gold on the plating of the main logic board and the wire in the front and rear cameras.
And in all this, Apple has some help. Daisy is Apple's first disassembly robot that takes iPhones apart for recyclers so as inside materials can be recovered. "Just one metric ton of iPhone main logic boards, flexes, and camera modules disassembled by Daisy contain the same amount of gold and copper as an estimated 150 metric tons of mined earth. These materials make it back to the general market so that we and others can use recycled materials for the next generation of products," Apple said. Currently, there are two units of Daisy up and running - one in the United States and another in the Netherlands.
Follow HT Tech for the latest tech news and reviews , also keep up with us on Twitter, Facebook, and Instagram. For our latest videos, subscribe to our YouTube channel.
First Published Date:
01 Oct, 09:49 PM IST
71633104692738
NEXT ARTICLE BEGINS