Indian-origin Ajit Pai is kicking up net neutrality storm that India dodged
US Federal Communications Commission chairman Ajit Pai, a person of Indian origin, has revealed a proposal that looks to cut down the net neutrality law in US thereby allowing big cable companies to erect barriers and tolls that impede the free movement of data around the internet.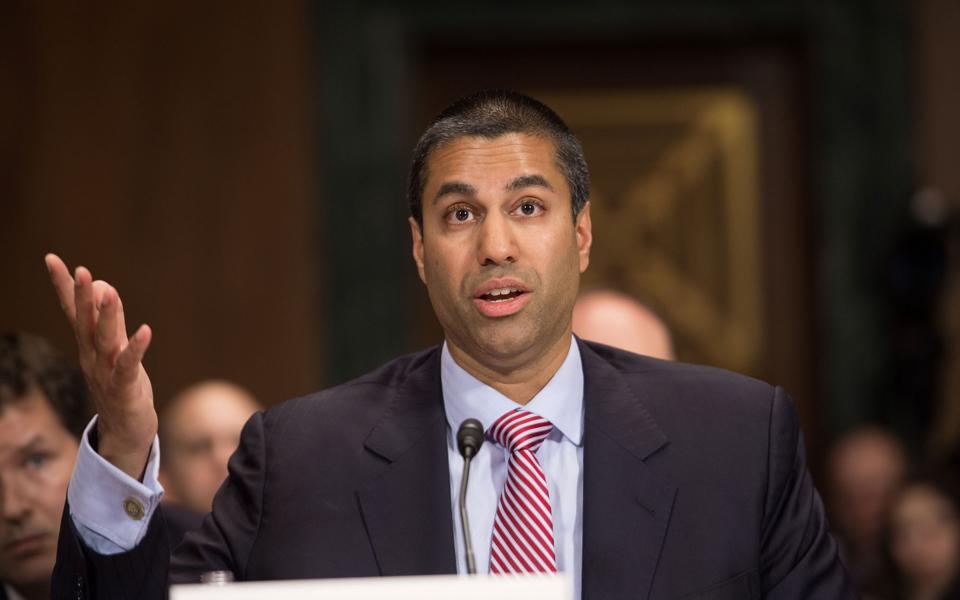 Indian-origin Ajit Pai, the chief of the US telecom and broadcasting regulator (FCC), is backing a plan to end unhindered and non-discriminatory access to the internet, a controversial proposal that was first mooted by online giants such as Facebook in 2015.
Net neutrality in simple words mean that no specific site or content can be given any preference and also no internet service provider (ISPs) can charge users differently for accessing different sites or content.
The proposal coming from an Indian-origin person seems a little out of place as India in 2015 fought a heady battle for net neutrality triggered by Facebook's Free Basics programme that claimed to provided internet to many citizens for the first time.
Free Basics' roadblock started as internet activists and organisations wrote to India's telecom regulator TRAI (Telecom Regulatory Authority of India) forcing it to float a consultation paper and later suspend Free Basics operations in the country.
The India situation had attracted global attention and US as a case study in favour of net neutrality was pointed out several times during the discussion.
But now that Pai or the Republican government wants to cancel laws ensuring net neutrality in US, countries such as India might have to eventually do away with it or face heavy opposition.
Pai in a conference on Thursday called the rules "heavy handed" and said their implementation was "all about politics." He argued that they hurt investment and said that small internet providers don't have "the means or the margins" to withstand the regulatory onslaught.
"Earlier today I shared with my fellow commissioners a proposal to reverse the mistake of Title II and return to the light touch framework that served us so well during the Clinton administration, Bush administration, and first six years of the Obama administration," Pai said.
The Republican government's proposal through Pai wants to do three things -- first, it'll reclassify internet providers as Title I information services; second, it'll prevent the FCC from adapting any net neutrality rules to practices that internet providers haven't thought up yet; and third, it'll open questions about what to do with several key net neutrality rules — like no blocking or throttling of apps and websites — that were implemented in 2015.
The net neutrality proposal will be up for vote at a FCC meeting on May 18th. Earlier FCC rules mandated that ISPs follow rules such as -- no blocking of sites and apps, no throttling the speed of sites and apps, and no paid fast lanes.
However, Pai's proposal has kicked up a storm in the US and nearly 800 startups have written to the FCC saying the rule change will kill them.
"The success of America's startup ecosystem depends on more than improved broadband speeds. We also depend on an open Internet — including enforceable net neutrality rules that ensure big cable companies can't discriminate against people like us. We're deeply concerned with your intention to undo the existing legal framework," the letter reads.
"Without net neutrality, the incumbents who provide access to the Internet would be able to pick winners or losers in the market. They could impede traffic from our services in order to favor their own services or established competitors. Or they could impose new tolls on us, inhibiting consumer choice. [...] Our companies should be able to compete with incumbents on the quality of our products and services, not our capacity to pay tolls to Internet access providers," it further explains.
Recognizable names such as Y Combinator, Etsy, Foursquare, GitHub, Imgur, Nextdoor, and Warby Parker, were a part of the firms that signed the letter.
The son of immigrants from India,Pai was born on January 10, 1973 in Buffalo, New York. He grew up in rural Parsons, Kansas. Both of his parents were doctors at the county hospital. Pai later attended Harvard University where he participated in the Harvard Speech & Parliamentary Debate Society.
Follow HT Tech for the latest tech news and reviews , also keep up with us on Twitter, Facebook, and Instagram. For our latest videos, subscribe to our YouTube channel.
First Published Date:
27 Apr, 06:11 PM IST
71589384506046
NEXT ARTICLE BEGINS