Top Android 12 features you need to start exploring now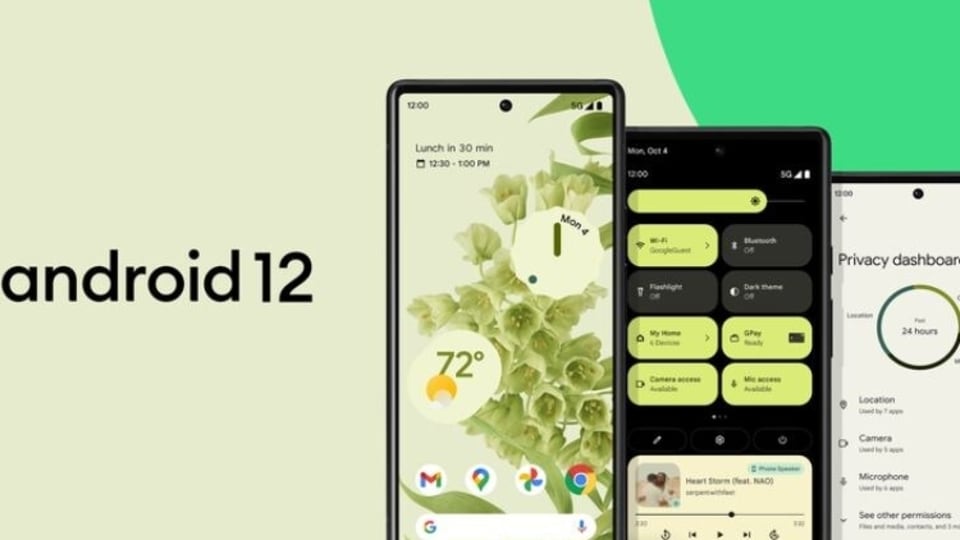 Google has announced that Android 12 will start rolling out on Pixel 3 and above starting today.
Google has finally launched the Pixel 6 series smartphones. Along with it, the tech giant also rolled out its Android 12 mobile operating system with the new Material You design that has been in the making and in the news for quite some time now. Google has announced that Android 12 will start rolling out on Pixel 3 and above starting today.
Google says that the newly released Android 12 "delivers even more personal, safe and effortless experiences on your device. It features a totally reimagined and personalized user interface, new privacy features that are designed for your safety, and more seamless ways to get right into your gameplay or even switch to a new device."
Here are the top Android 12 features coming to Android smartphones soon:
-- When you change your wallpaper, the entire Android 12 experience changes to match its colour owing to the Material You design. This feature will be available on Pixel smartphones first and it will be coming to more smartphones soon.
-- By the end of this month, Android users will be able to try out over a dozen totally new or refreshed widgets from Google apps right on their home screens.
-- Android 12 is getting new visibility features. A new window magnifier lets users zoom in on a part of their screens while preserving the rest of the screen context. Extra dim screen lighting is perfect for night-time scrolling or other situations when even the lowest brightness setting is too bright. Users can even adjust the text to bold or colours to grayscale for easier reading.
-- Now, users can see when an app is using their microphone or camera via an indicator in their phone's status bar. If they don't want any app to access their microphone or camera, they can completely disable those sensors using two new toggles in Quick Settings.
-- Android 12 allows users to choose between giving apps access to their precise location or an approximate location.
-- Android 12 includes a new privacy dashboard that gives users a clear and comprehensive view of when apps access their location, camera or mic over the past 24 hours. They can manage permissions right from the dashboard if they see anything that they're not comfortable with.
-- Android 12 includes new Bluetooth permissions that allow companion apps to connect to devices like watches or headphones without needing to access the users' location information.
-- Android 12 also resets unused apps' permissions and removes cached files to help free up space on users' devices.
-- Android 12 has new scrolling screenshots that will allow users to capture all the content on the page in one image.
-- In Android 12, select games will allow users to play as they download, so that they can jump straight into gameplay without needing to wait for the full download to finish.
-- Android 12 has a Nearby Share feature that lets users share passwords with ease. All users need to do is open their Wi-Fi settings, select the network they want, and tap "Share."
-- Android 12 also makes it easier for users to transfer all their essentials, memories, messages and data to a new Android phone. "All that's needed is a Wi-Fi connection to transfer from your old phone, or your phone's cable if you're switching over from an iPhone," Google wrote in a blog post.