Fitbit Luxe review: Sleek and pretty, but basic otherwise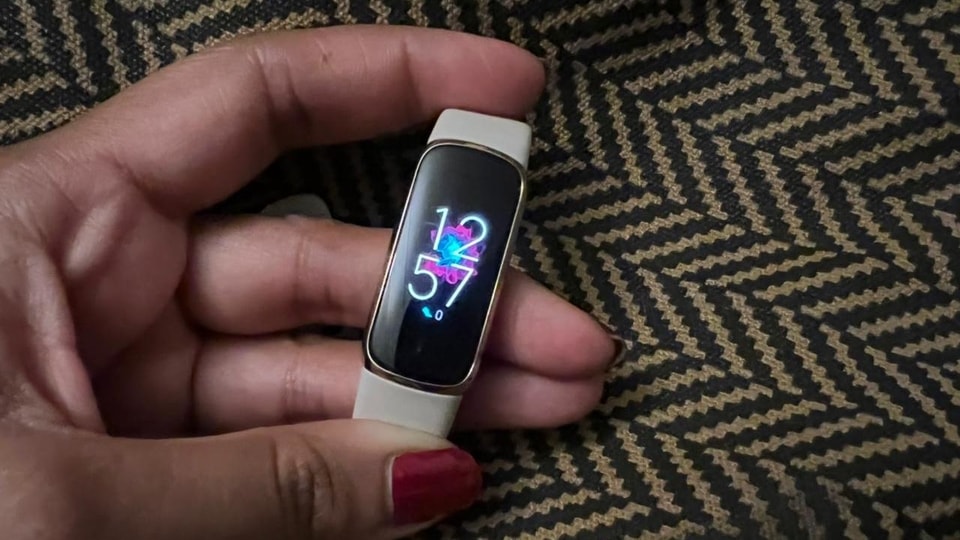 The Fitbit Luxe is more a fitness tracker than a smartwatch and that's not really a problem if you ask some loyalists.
Pros
Dainty and sleek
Bright, crisp AMOLED screen
Great steps and heart rate tracking
Cons
Small screen, limited visibility of information
No in-built GPS
SpO2 monitor not activated
Specifications
Features

Sleep, heart rate tracking

Display

Colour AMOLED display

Activity modes

20 Exercise Modes

Water poof

Swim proof

Health features

Menstrual cycle tracking, stress management tools
When it comes to working out and tracking health, there are those that prefer fitness trackers and others who prefer smartwatches. When I first started going to the gym, the Fitbit Charge 2 was my companion, from that I moved to the Fitbit Versa, then the Versa 2, and then to the Apple Watch. I've tried out a whole bunch of fitness trackers and smartwatches when it comes to tracking health and fitness and personally prefer the range of what all I can do with a smartwatch (take calls, reply to messages, etc) as compared to a fitness tracker. However, I do understand the desire and choice to not be disturbed or distracted by a buzz on the wrist while you are working out and that is where something like a Fitbit Luxe makes sense.
The Fitbit Luxe can pretty much be called the high-end version of the Fitbit Inspire 2 and takes you back to the slimline design the company had introduced with the Fitbit Flex in 2013. But there's a lot more here. The Fitbit Luxe looks sleek, polished, and is so dainty that it almost made me well up. It's been a while since we've seen a wearable look perfect for slim wrists. And Fitbit Luxe scores all the points with how it looks. As you dive in the health experience delivers, but it has its limitation.
It is not a smartwatch like the Fitbit Versa 3 or the newer Fitbit Sense. You cannot use the Fitbit Luxe to make calls or reply to messages. It can be best used to monitor your health and keep you on track with your healthier habits. On that front, the Fitbit Luxe delivers perfectly. For everyday use, the Fitbit Luxe tracks steps and your heart rate accurately, you can see some of the health stats on the little screen. But for more in-depth data and readings, you will need to fire up the companion Fitbit app. The Fitbit Luxe comes with six months of free trial for Fitbit Premium and you can activate this as soon as you pair the device to your phone. Also, there is no on-board GPS on the Fitbit Luxe. This means you have to use the in-built accelerometer and your smartphone's GPS. There are other fitness trackers in the market that are cheaper than the Fitbit Luxe and have in-built GPS support (like the Huawei Band 3 Pro), but the Fitbit experience is much more refined and seamless.
The Fitbit Luxe is one of Fitbit's smallest fitness trackers and while the design will remind you of the Inspire 2, the plastic case on the Inspire has been replaced with stainless steel on the Luxe giving it a sleeker, cleaner edge when it comes to looks. It follows the same "biologic industrial design language" as other Fitbit wearables where the device itself is made on ergonomic lines that fit better on the curves of the human body. So the Fitbit Luxe just fits your wrist perfectly without you having to tighten the straps.
The Fitbit Luxe comes with some band options you can pick from - there is the silicone band and also a gold-toned stainless steel link bracelet designed by jewelry designer Gorjana. While the Fitbit Luxe already looks rather delicate and, dare-we-say, and feminine particularly in the gold-tone, the link bracelet makes it look more like jewelry. But the Luxe comes in black, silver, and gold and the silicone bands are available in Lunar White, Orchid, and Black - so you can take your pick, additional bands are sold separately.
The Fitbit Luxe is also wonderfully light. I'm someone who hates wearing fitness bands and/or smartwatches while sleeping, but I did not have any issues with the Luxe. The band did not dig into my skin, nor did the stainless steel buckle, and I did not have to wear it tight for it to fit.
What stands out for the Fitbit Luxe, besides the ultra-light and dainty design is the screen. The Luxe has a full-colour AMOLED display that has a 206 x 124-pixel resolution (unlike the monochrome OLEDs on the Charge 4 and Inspire 2) - and it is crisp and gorgeous. The Fitbit Luxe also has no physical buttons and that is no hindrance in the least since the screen is snappy and responsive. There are a host of watch faces you can customise from the Fitbit app and they all make the most of this bright display. They show the time, and some of them also show some additional stats like steps, heart rate, and calories burned - but the scope is limited. There is only that much information that you can fit into the screen, and while it is crisp and vivid, you still need to swipe and scroll for additional data. However, the animations and scrolling are smooth so that's not much trouble.
If you have used a Fitbit device before it is easy to slip into using the Fitbit Luxe. The interface makes it easy to track your activity and health. However, we'd recommend customising some settings before you start using it, particularly for workouts. There are only six slots for workouts on the Luxe and they are, by default, walk, swim, run, cycle, treadmill, and general workout. These cannot be changed from the device, you have to do it from the app.
Since I had not customised the device before wearing it to the gym, I used the "general workout" mode to track my session and compared it to the data I got from the Apple Watch for an "other" workout for the same duration. The heart rate detected by Fitbit was very similar to what the Apple Watch tracked, though the Luxe showed I had burned more active calories as compared to my Apple Watch.
For runners, particularly serious runners, the Fitbit Luxe is going to be a problem since it does not have an in-built GPS. You can log runs using Luxe's accelerometer, but for accuracy, you will need to connect your phone's GPS.
Like all other Fitbit devices, the Fitbit Luxe shows goal animations when you reach your targets and they act as a nice incentive to make sure you keep going. And given Fitbit's popularity and wide user-base, you can always find a challenge to take on. For me though, all my friends who used to use Fitbits have now moved on to other platforms.
For in-depth workout and health data, you have to use the Fitbit app. You get call and message notifications on the Fitbit Luxe and you can read messages, but that's all. Reminder to move, take a moment for mindfulness, drink water, wash your hands, etc all work well on the Fitbit Luxe and are also disabled by default till you don't turn them on from the app - so no distractions if you don't want them.
The battery life on the Fitbit Luxe lasted about five days for me before I got as prompt to charge it. You connect the Luxe with the magnetic USB charger and it juices up pretty quickly. Also, you need to wear the Fitbit Luxe to sleep for three nights for it to calibrate your sleep patterns and sends you the sleep score each morning. This sleep score is based on the duration and quality of your sleep. Once Fitbit rolls out the SpO2 feature on the Fitbit Luxe, we expect the battery life to take a hit.
The Fitbit app is super simple to use and easy to dive into even if you have not used a Fitbit device before. While it gives you all the data you need, but for more in-depth insights, guided workouts, wellness reports, etc, you need the Fitbit Premium subscription. There is six months of free trial that comes with the Fitbit Luxe and it is easy to activate so you can try it out before you decide if it's worth spending money on.
Should you buy it?
The Fitbit Luxe looks great, in fact, it is hands-down the sleekest fitness band we've seen in a long while. I love Jawbone's design language and unfortunately, I was not lucky enough to get to use one, and I always wished that some brand would bring that back. Fitbit came close with the Fitbit Flex, but then on fitness bands have not been great to look at. The Fitbit Luxe changed that for me.
On the functionality front, it's fine for those cardio workouts and basic gym sessions, but it's inadequate for anything more intense and professional. The lack of GPS makes it a no-go for runners. It is good at tracking heart rate and steps, and it's great for those reminders. But, the Fitbit Luxe is on the expensive side, and considering what it offers it might not be enough for most unless they are already Fitbit users on the Charge 4 or the Inspire 2 and now want something that looks better. There are cheaper and more feature-rich alternatives in the market, but none look as good as the Fitbit Luxe.