Huawei Band 6 Review: Comfortable, looks good and gets the basics right
The Huawei Band 6 comes with all the bells and whistles you would expect to see on a budget fitness tracker under the
₹
5,000 mark. This fitness tracker has a lot of competition in this price segment, so should you pick the Huawei Band 6 over the rest? Here's what we think.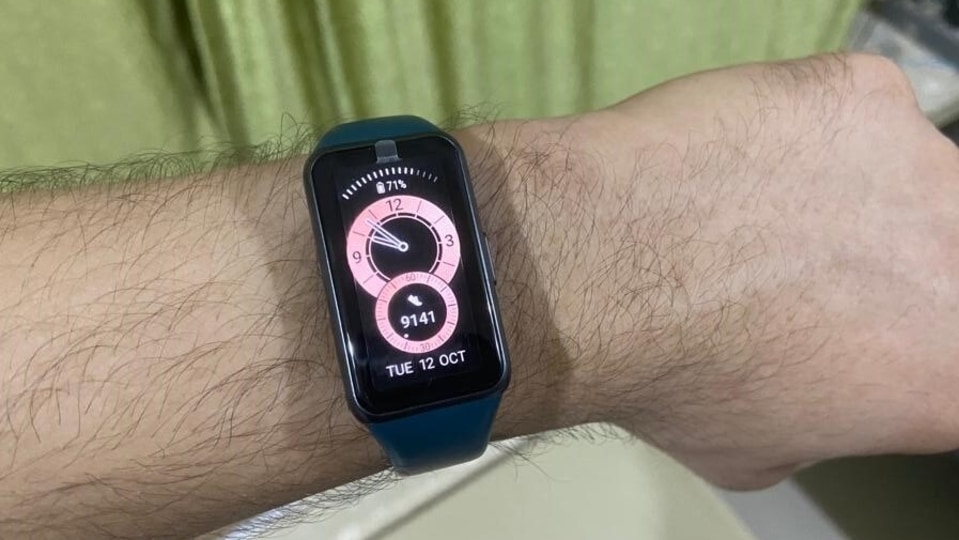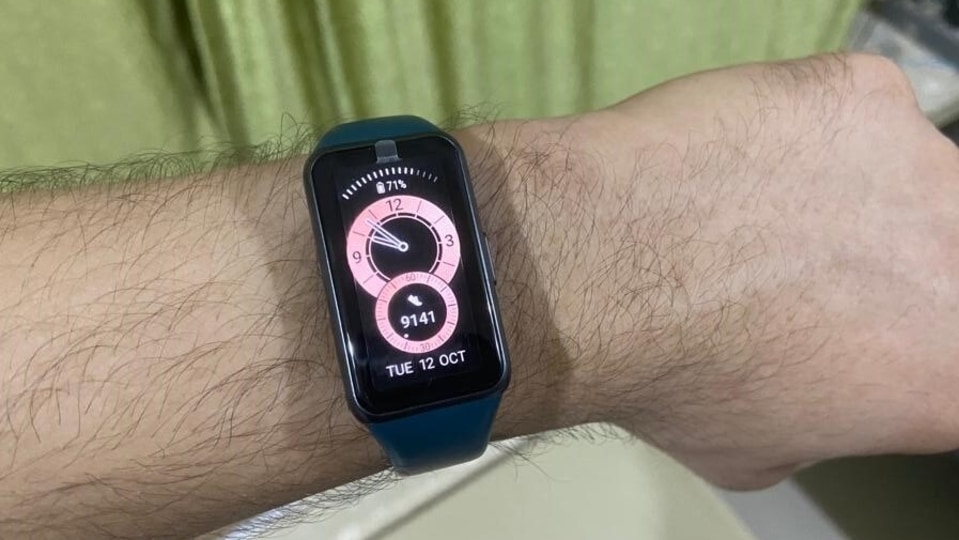 The second wave of the novel coronavirus is ebbing, and as more offices, schools, malls and theatres slowly reopen across the country, our focus has slowly shifted back to stepping outdoors with the right precaution to get adequate exercise. An important aspect of our lives that some of us couldn't give enough attention to during the lockdowns and local restrictions, ads for exercise and fitness trackers are everywhere these days, from YouTube to your Instagram feed.
Buying a fitness tracker, however, is no easy task, with several offerings from brands like Xiaomi, Fitbit, Huawei, Samsung, Realme and several others. The budget segment especially is packed with competing devices, which also include the recently released Huawei Band 6 fitness tracker. This device comes with all the bells and whistles you would expect to see on a budget tracker. However, if you're in the market for an affordable fitness tracker, should you pick the Huawei Band 6? We've spent a while with the fitness tracker, and here are our thoughts.
Huawei Band 6 Review: Display and design
The Huawei Band 6 sports a 1.47-inch AMOLED touchscreen display (64 percent screen to body ratio) that has a physical button on the right side of the tracker's polymer body to turn the screen on and off. The display itself is bright and clear, and the band displays data in an easy to understand format -- Huawei says the Huawei Band 6 display is 148 percent larger than the Band 4 and is water-resistant up to 5 ATM. As is the case with most affordable trackers, you will need the companion app to make full use of the device, which we will come to in the next section. Inside the box, you also get a charging cable that attaches magnetically to the back of the device and plugs into any USB-A charging brick around.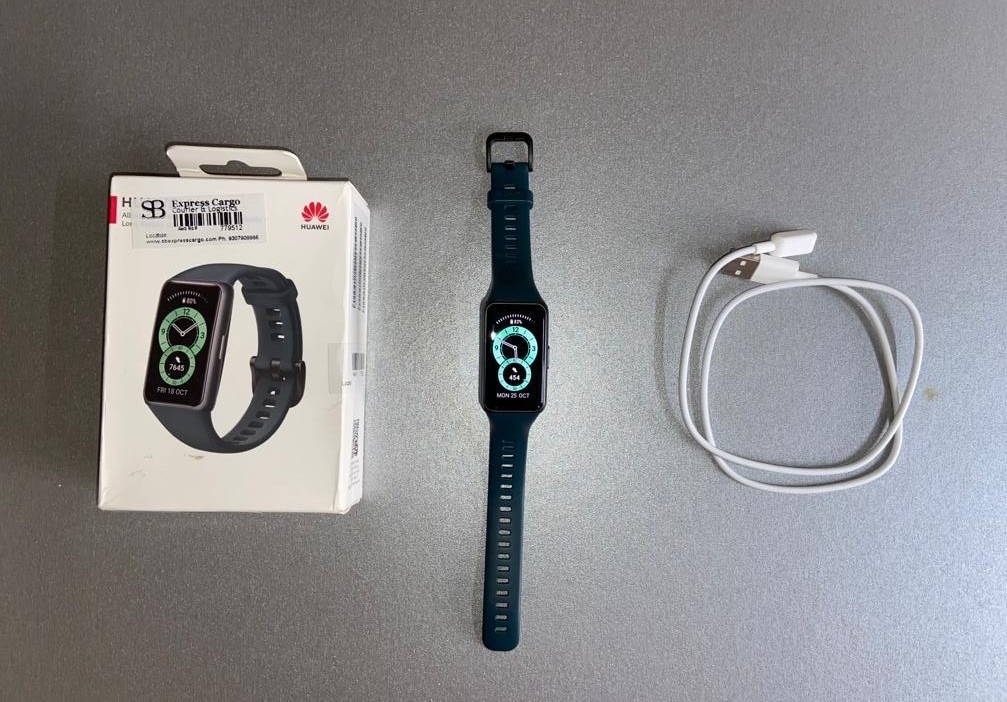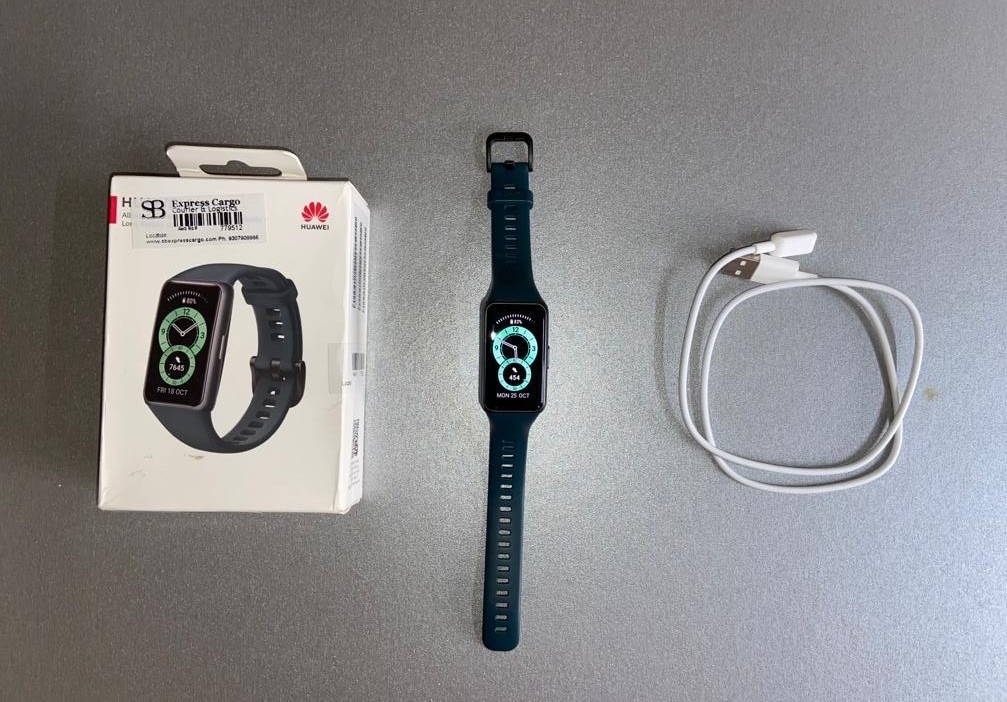 The polymer body of the Huawei Band 6 has a metallic finish, and it is attached to equally light silicone straps that result in a light 18g fitness tracker – we actually forgot that we were wearing the tracker for most of the time that we had it on. The straps didn't irritate our skin despite wearing it for extended periods, but they also do not appear to be user-replaceable which means you might have to take them to a service centre to change them. The watch is available in Graphite Black, Amber Sunrise, Sakura Pink and Forest Green, and the company sent us the last colour variant for review. The watch also offers over a hundred watch faces that can be accessed through the companion app, and it seems that users of all ages should be able to find a watch face to their liking there.
Huawei Band 6 Review: Performance and software
The Huawei Band 6 boasts 96 workout modes including walking, running, cycling, swimming, elliptical machine, rowing machine and more, -- it is able to track a handful of these modes in a more accurate manner and the company touts its TruSport algorithm for 'scientific' results. What we found during our usage was that the device was reliable at tracking both step counts, workout timings and distance. This was done while comparing it with a rival fitness tracker while performing the same activity, as well as counting steps while walking. The Huawei Band 6 was able to accurately record steps, and thankfully, did not record any "extra steps" while sitting at a desk or performing tasks while stationary. Going for a run with your phone will show you steps, duration, calories burned, average pace, speed, stride, heart rate and cadence – all in the Huawei Health app.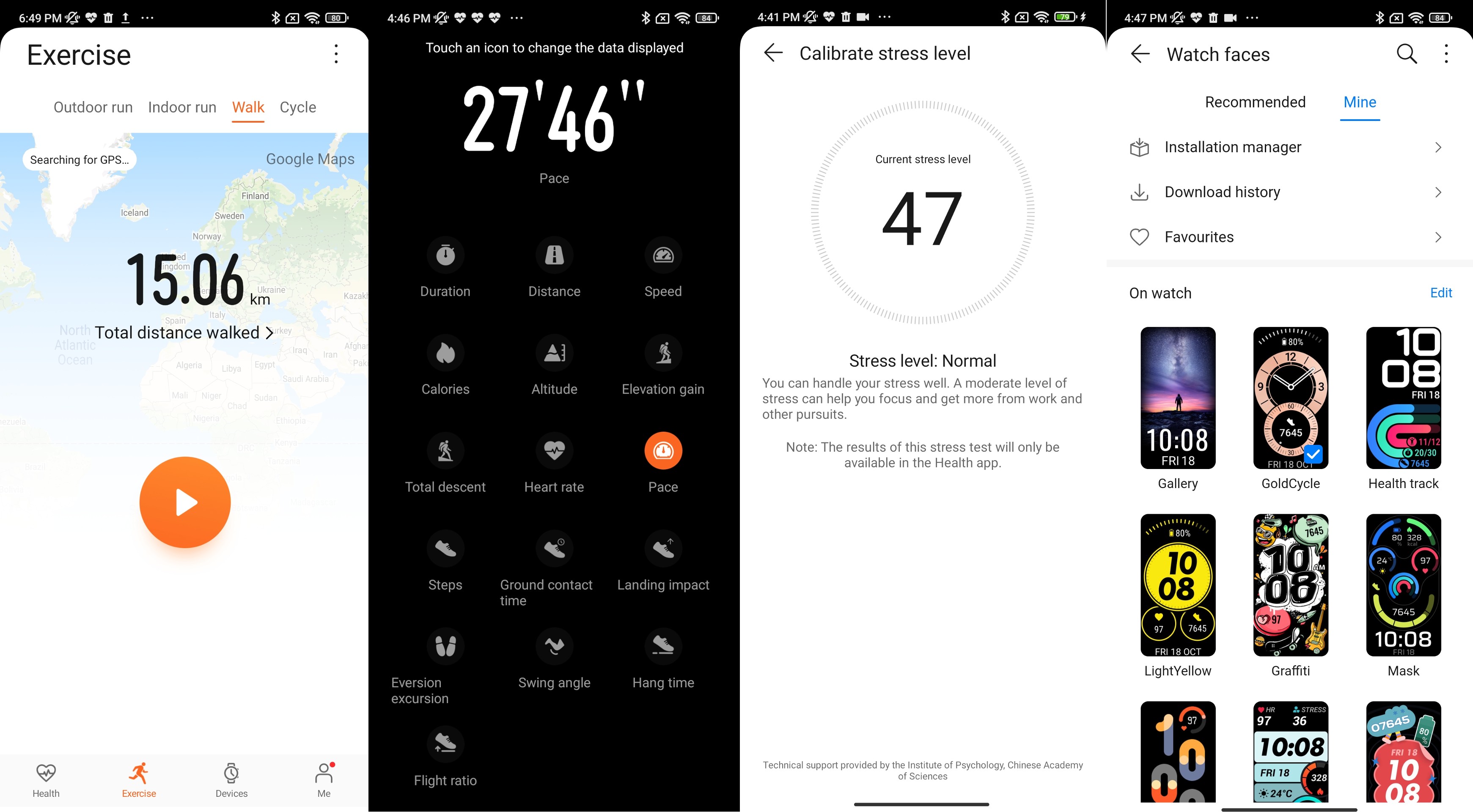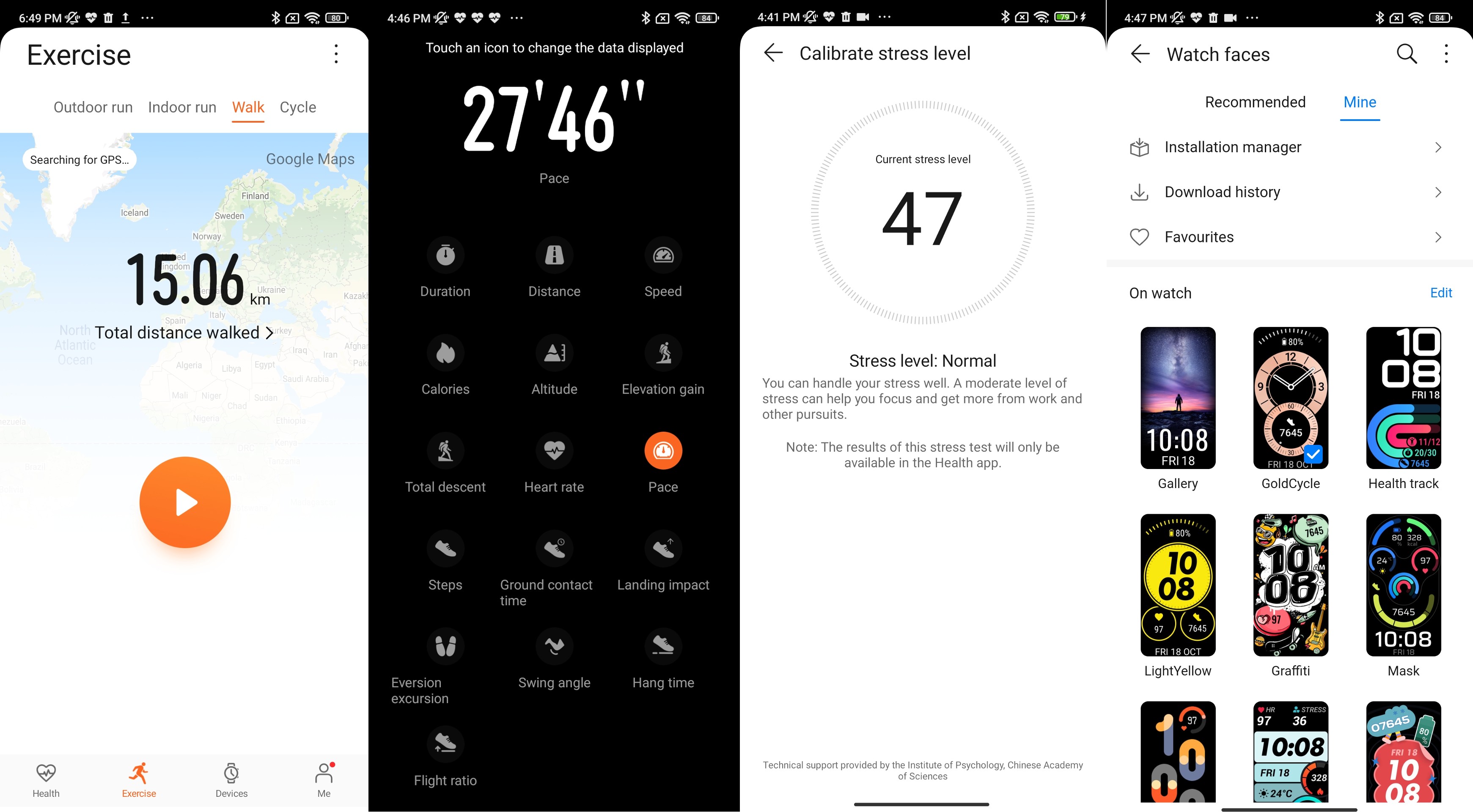 In addition to activity tracking, the Huawei Band 6 offers heart rate and SpO2 monitoring, sleep monitoring, calorie counting and more. These are all features you would expect to see in a fitness tracker and our tests with a pulse oximeter revealed similar results with a margin of one percent. The smartwatch also has a built-in stress monitoring feature, which tells you if you are experiencing High, Medium or Normal stress levels, or if you are Relaxed. The Huawei Band 6 told us that we were at the "average" Normal (30-59) level with a score of 47. While there was no way to reliably analyse this feature, we did notice that the device was able to record slight increases in stress levels, but it is possible that your mileage will vary here.
Software on the Huawei Band 6 is a bit of a mixed bag. On the tracker, you get the same familiar interface with swipe-through menus and settings, that shows you your step count, battery life, heart rate monitoring, stress levels, weather, music controls and a three-ring indicator for workout and step counts. We couldn't interact with a lot of the screens, with the exception of the home screen, and the music control. Instead, the companion health app comes with a large number of controls and settings, which can modify and edit almost everything on the smartwatch. The notification mirroring is very basic, and it copies the text from your phone notification, which you can read and then dismiss. You'll still be reaching for your phone to actually respond or get more context, something that we feel could have been included here, given the clear, large display.
The Huawei Band 6 connected to our Android phone (there's iOS support as well) with the Huawei Health app, which first insisted on us creating an account before we could use the app. This is in contrast to some other manufacturers that allow you to skip logging in and use the app in an 'offline' capacity. It must be noted that you can disable the online syncing of information, but you still have to log in with your phone number when you get started. Once you do that, you can control music from your smartphone, set an alarm (and dismiss them in the morning) and reminder, take photos remotely, or even find your phone by ringing it.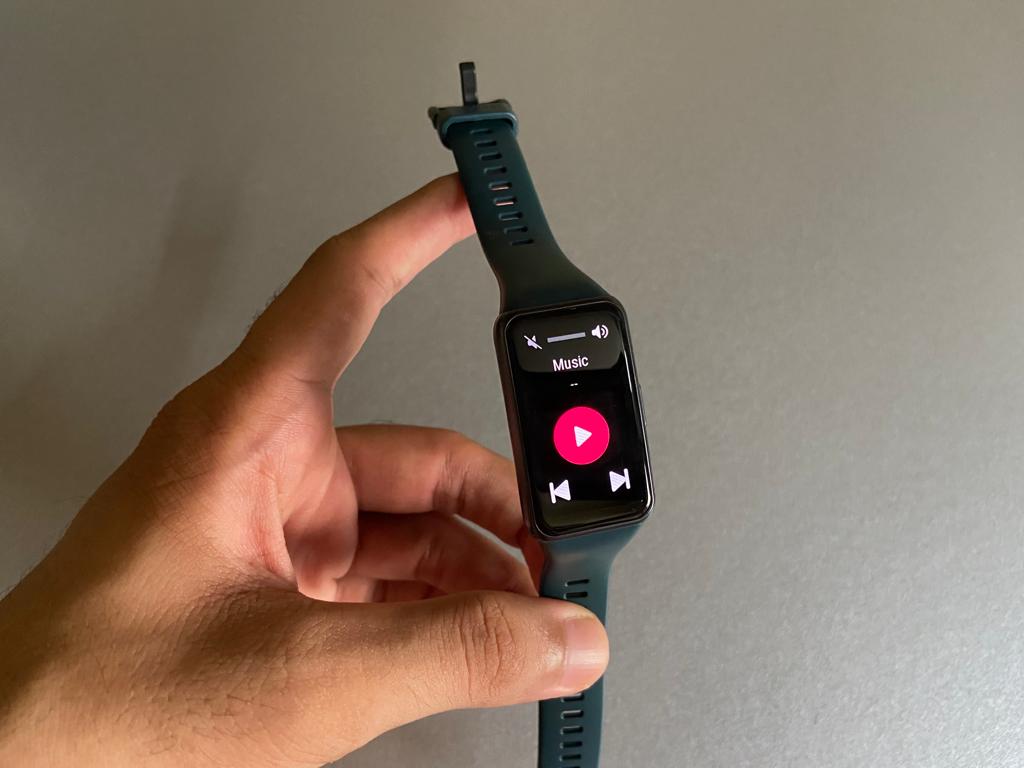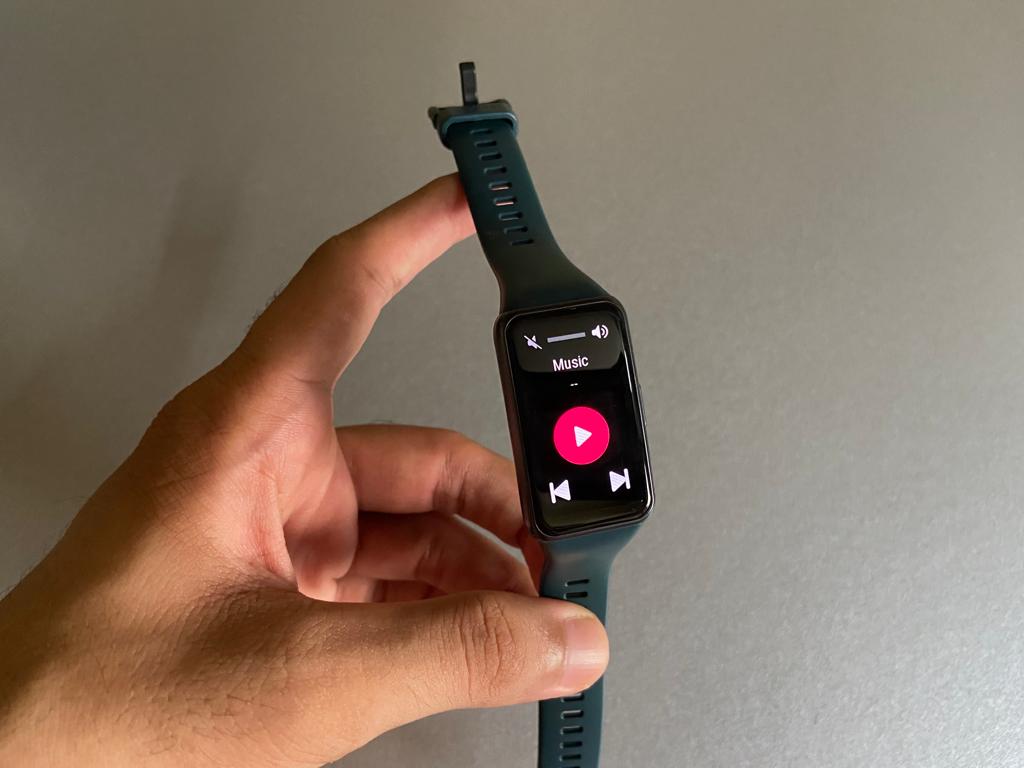 Huawei Band 6 Review: Battery life
One of the most disappointing trends we have seen with affordable fitness trackers is the less than ideal battery life, and charging every four or five days is the norm. After using the Huawei Band 6, it was a relief to find that the tracker almost lived up to its claim of two-week battery life. We were able to eke out around 11 days of battery life, with regular use, including passive health monitoring and default brightness. This is a lot better than the competition and very good to see at this price point.
Final thoughts
Huawei's entry-level affordable fitness tracker is an all-rounder that gets all the basics right. With fitness trackers at this price point, you would expect to see activity tracking, heart rate and SpO2 monitoring, sleep monitoring, calorie counting and so on. The Huawei Band 6 comes with all of these features, and it also lets you measure your stress levels, perform tasks like controlling music on your smartphone, checking your notifications, clicking photos remotely and checking the weather. This watch gets the basics right, presents your data in an easy to consume manner, has a bright and large AMOLED display, and has enough battery backup so you're not charging twice in one week, making it a strong contender for one of the best fitness trackers under the ₹5,000 mark.
Follow HT Tech for the latest tech news and reviews , also keep up with us on Twitter, Facebook, and Instagram. For our latest videos, subscribe to our YouTube channel.
First Published Date:
26 Oct, 07:00 AM IST
71635166309780
NEXT ARTICLE BEGINS