Asus ROG Zephyrus G14 review: Punches above its weight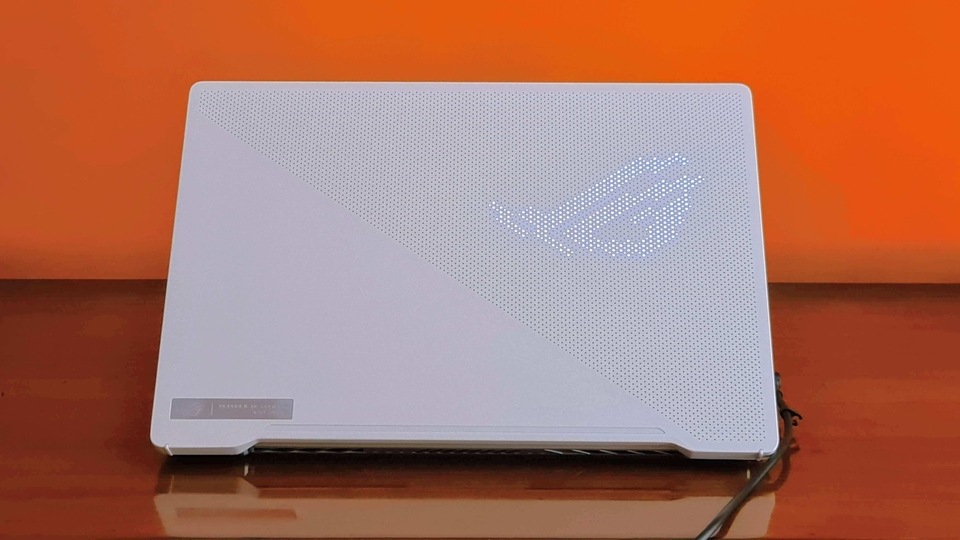 ROG Zephyrus G14 is a unique one in the gaming PC/laptop market not just because of the Anime Matrix LEDs at the back but also the battery life. It's more than just a gaming laptop.
Asus seems way too keen on expanding its ROG empire in India. We say this because quite recently we saw the launch of ROG Phone 3 and within a couple of weeks we are here writing about the ROG Zephyrus G14 – a gaming laptop that clubs 'compact' with 'power'. The laptop has launched at ₹98,900, which doesn't seem much for a gaming laptop but it does make life tougher for Acer, Dell and HP to some extent. Zephyrus is not a new line of gaming laptop but over the years it has become popular for delivering the best value for entry-level gamers. And it does make sense considering the gaming market is still an upward graph in India.
We got our hands on the Asus ROG Zephyrus G14 almost a month ago and of course, we tested it not only just with gaming, but as a daily driver for average and other heavy work as well. But while power and features are everything that gaming laptops are all about, Asus has always been innovative with the looks and this time it has done the same. Half of the shell is nothing but LED lights that act like a secondary screen (kind of).
So, this and a lot more to talk about.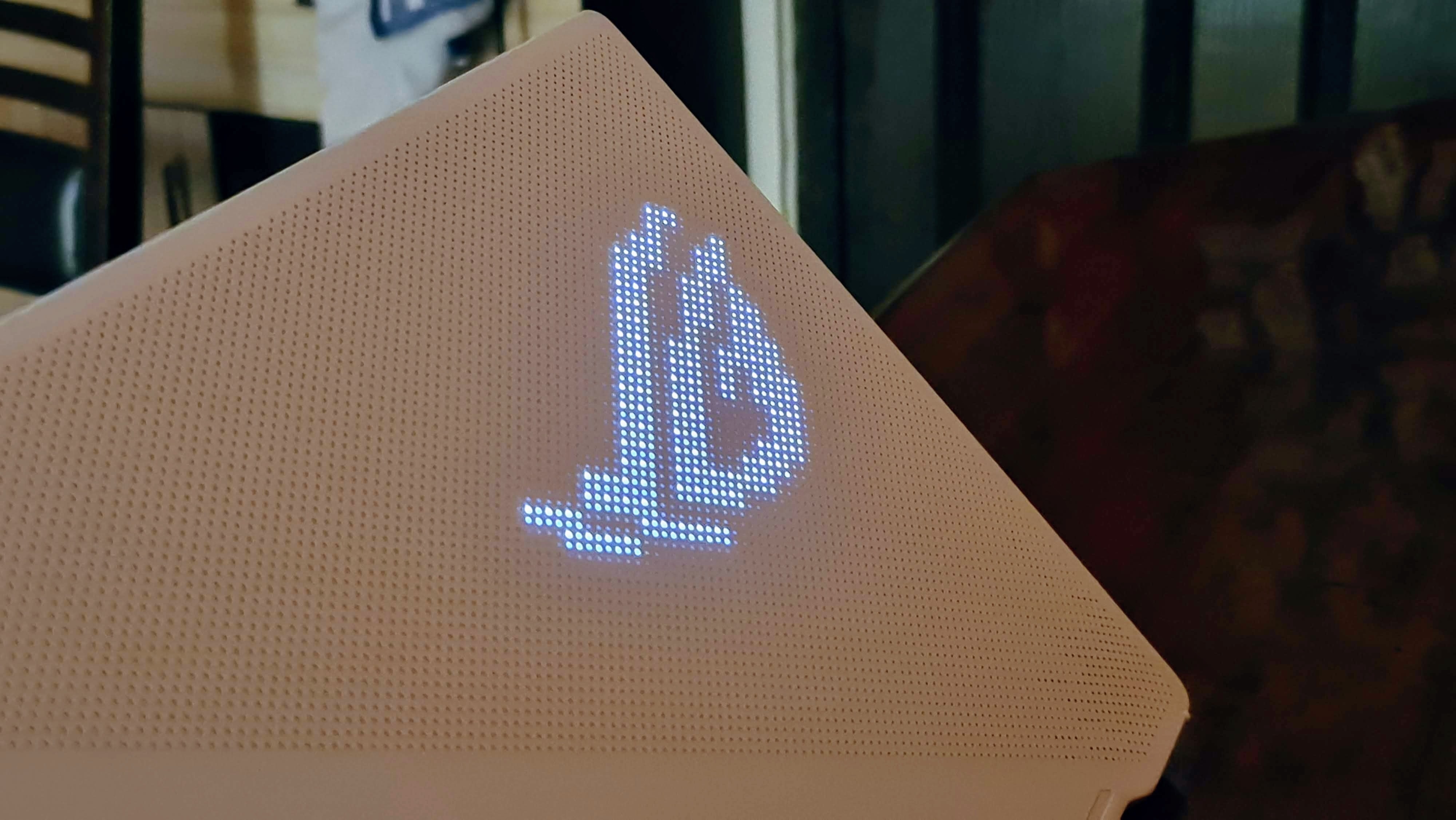 Design and display
The 14-inch screen is a delight to look at. There's no extra reflection because of matte coating and like other Asus laptops, opening the screen lifts the keyboard area slightly above the surface. That solution not just helps dissipate heat but also hides a good amount of bezels below the screen. As far as the quality goes, you're looking at a Pantone validated 100% sRGB display with 85% screen to body ratio, which is not bad for a small-sized gaming laptop. There's also FHD and UHD resolution variants with up to 120Hz refresh rate.
While it's a good canvas to play games on, it's not really bad for watching other content as well. Since it covers 117% of the sRGB colour gamut, you can be sure to get a good, vibrant panel along with better brightness with higher nits as compared to other gaming laptops with a 14-inch screen.
And talking about the screen, there's a secondary display of sorts in the form of Anime Matrix LEDs at the back. And this is also one of the key reasons that make Zephyrus G14 stand apart from other traditional ones. Some might like it and some may find it a bit too flashy for their taste. For the ones who fall in the latter half of the spectrum, there's a non-Anime Matrix version as well. We did like it, not only because it does bring the fun novelty to it but also because it shows some bits of useful information such as time, date, emails in your inbox and even the battery charge left.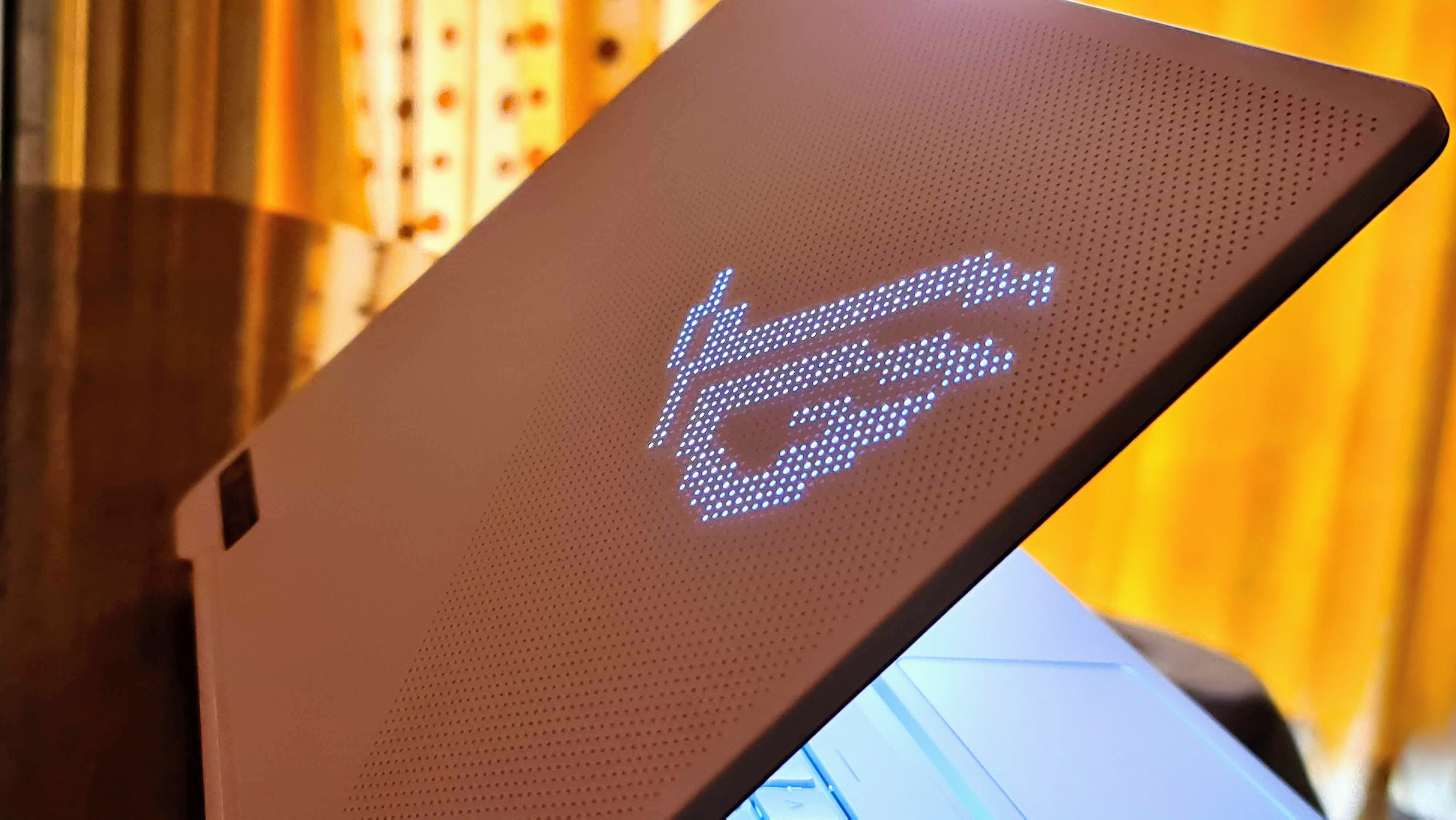 You can control those LEDs from Asus Armoury Crate software, write custom texts, upload moving gifs or just play with the pre-loaded light effects. However, you won't be seeing much of this since it is at the back of the screen.
The keyboard is not bad at all since it's compact and prevents you from flexing your fingers. The travel time of keys are deep and the keystrokes are slightly louder than usual, probably because of more travel time.
Other than this you get the usual set of features like the 'hidden' fingerprint sensor that is embedded on the power button, dedicated key to change fan speed and open Asus Armoury Crate and control other functions. Also, since this is a gaming laptop, it is well-fitted with ports. The list includes HDMI, USB 3.2 Gen 2 Type-C, headphone jack and USB 3.1 Gen 1 Type-A.
Performance
While the design and build are one side of the coin, the other side, which is the 'performance', is more important here. The ROG Zephyrus G14's runs on AMD's Series 4000 Ryzen 9, which is no doubt, a beast of a processor you can find these days, giving a really good competition to Intel 10th-gen processors and even excelling in some factors. In our review of the Asus TUF A15 laptop with AMD Series 4000 Ryzen 5, we did talk about how well it handled certain gaming titles and the same goes for the Ryzen 9 4900HS. Although not as powerful as 4900H, the 4900HS works as smoothly as a processor can. No delays in opening apps, no stutters, no lag anywhere while streaming, browsing through all those tabs and playing our basic benchmark title - Assassin's Creed Odyssey, it works did prove to be reliable.
However, while playing for hours, we did feel it dropping frames. More than that the stress could be felt as the hinge area often heated up. That's despite having vents on the underside and with cooling tech, Asus has used in Zephyrus G14. We could even hear fans roaring at full speed to cool down the device. That said, the gameplay was smooth, a large credit of which goes to Nvidia GeForce RTX 2060 and AMD Radeon GPUs.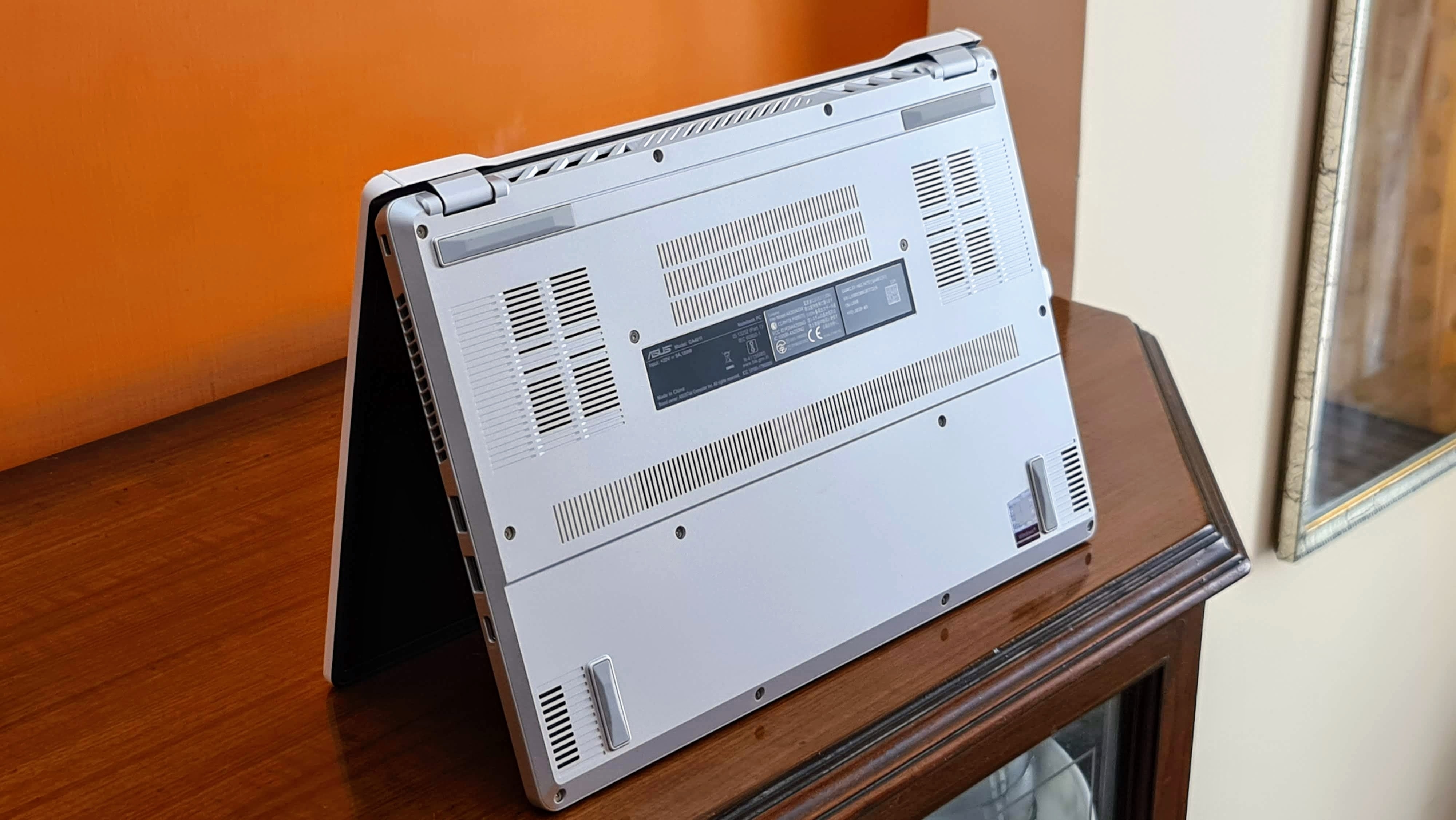 Gaming laptops are never known for battery because of obvious reasons - they are not meant to be used like that. But in Zephyrus G14's case, things might be a little different. In our tests, it surprisingly ran for a good number of hours, more than any compact gaming laptop would do at this range. This also means it can be a good piece of hardware to carry around without thinking about the battery life much, in case you are using it for daily purposes.
Using it as a daily driver, the gaming laptop's 4-cell 76Whr battery managed to deliver around 6-8 hours of juice on an average. This included switching between Chrome tabs, having several apps opened in the background and brightness level at 50%. As we always say as a standard disclaimer, the usage can be different and the battery performance can always vary. But Zephyrus G14 did take us by surprise this time.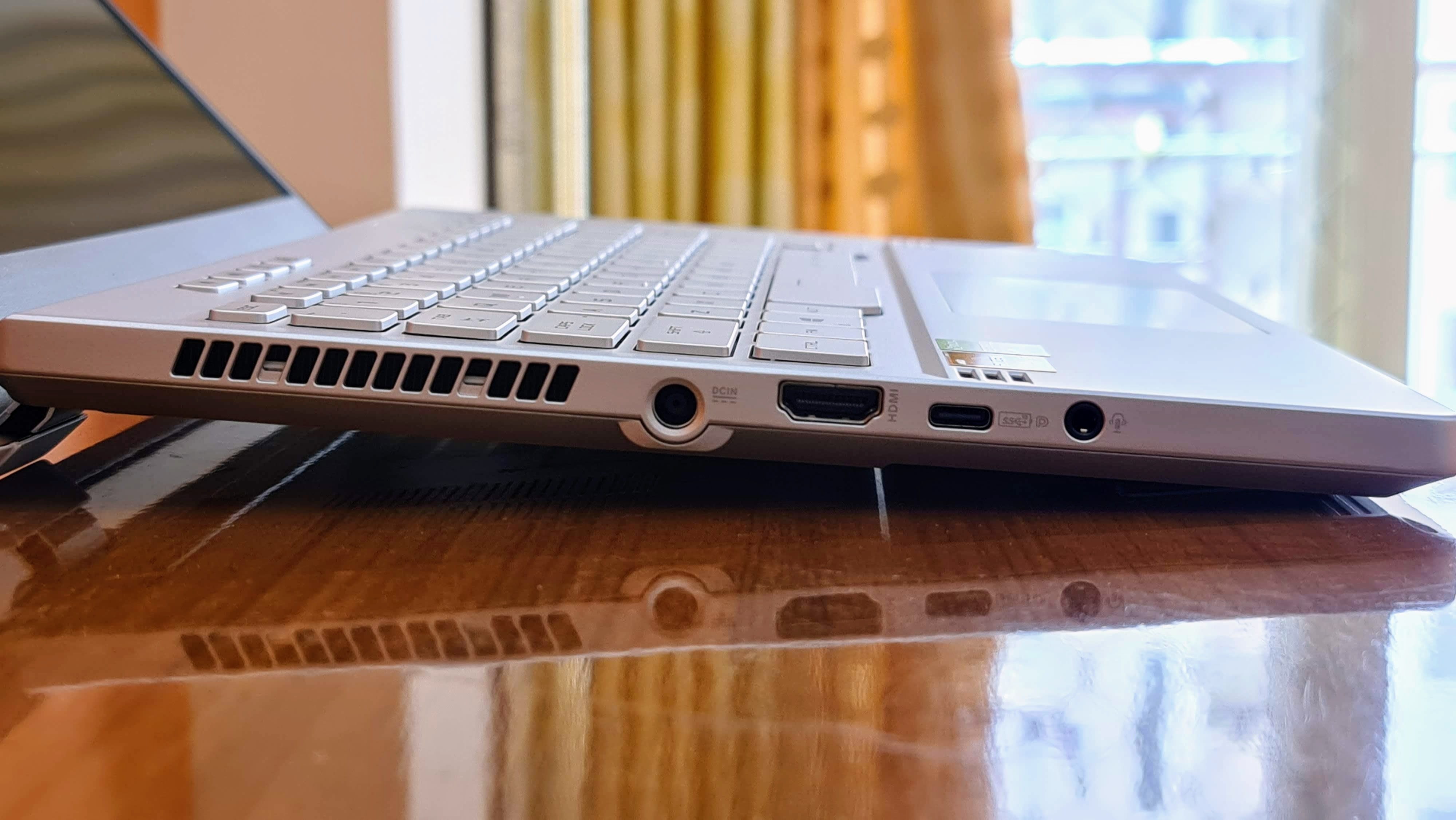 Plugging out the laptop will switch off the Anime Matrix LEDs off but that can be changed from the Settings. However, it is understandable considering LEDs are not an important feature and something you won't really need when saving power.
Verdict
Asus ROG Zephyrus G14 is not what it looks like. It's not just a gaming laptop. Surprisingly, it can be used for other regular purposes as well. We do get a good slab-like design that is compact, has a fairly decent screen and a rather capable processor with ample RAM and GPU to take care of everything. But the battery performance came as a pleasant surprise for us.
This was something we weren't expecting from a gaming laptop. But despite trying to be an all-rounder, the firm has done some major cost savings by eliminating the webcam and Thunderbolt, which is rare in AMD motherboards right now since it has always been an Intel project since years. Nonetheless, a gamer might be looking for these (especially a webcam) in a laptop.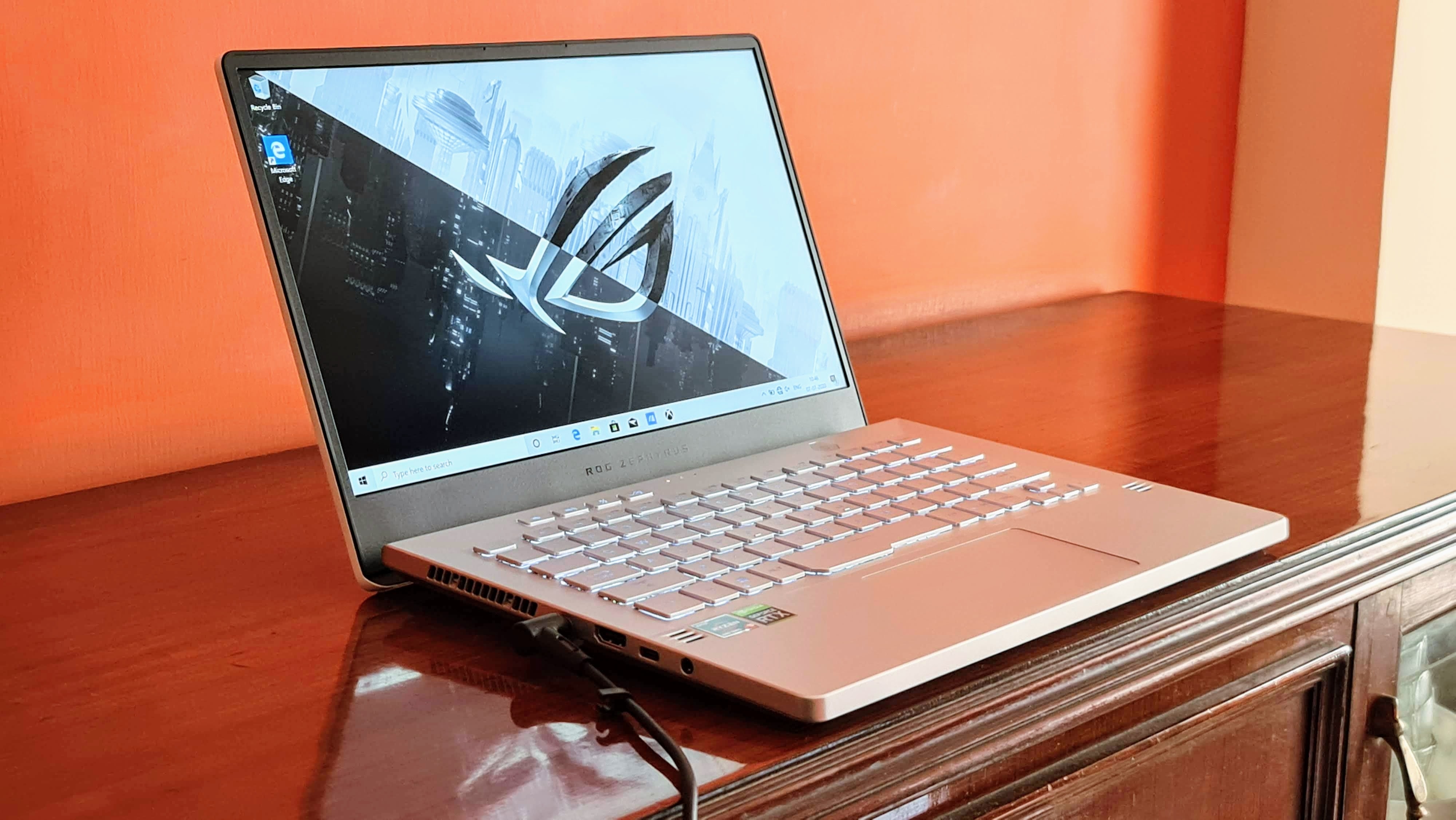 So, in case you are fine without a webcam and Thunderbolt 3 and want a good looking gaming laptop that can go for a few extra hours - all at a reasonable price, you may not want to look beyond Zephyrus G14. This device certainly punches above its weight.