LG Tone Free FN7 Review: Clean buds, cleaner audio
We've spent about a week with LG's new Tone Free FN7 earbuds now. Are they worth the price? Let's take a look.
While finding a good pair of truly wireless earbuds was a challenge just a year and a half ago, the market is now full of options that are both pocket-friendly and offer excellent value. We're talking about earbuds like the Jabra 75t, the Sony WF-1000XM3 and the Samsung Galaxy Buds Pro. These are the heavyweight contenders that LG's Tone Free earbuds will be competing with, along with Apple's AirPods Pro.
LG has also included a unique UV-light based earbud sanitising solution inside this case, which is a completely unique feature on a wearable accessory that may be sometimes shared with friends or family. Considering the focus on hygiene with the global pandemic still around, a feature like this makes sense. Let's take a look at LG's Tone Free noise cancelling earbuds and find out if they're worth the asking price.
Design
Right off the bat, the Tone Free FN7 looks like a premium pair of earphones - the case is compact and circular, which makes it easy to store in your pocket - or even in a clutch, as a friend remarked, not all storage spaces are built equally, after all. The earphones sit flat in the case with a small emitter for UV light located in the cavity near the tips of the rubber ends. These earbuds fit really well, we could barely remember we're wearing them most of the time.
They do have a stem though, so you should take care when taking off your Covid-19 respirator or mask. There's a small touch panel above the stem, but we'll get to this in a bit. We held the case while it was open and gave it a shake, but they didn't fall out, which is a good sign - the lid also stays tightly shut. We also love the blue colour from the UV light emitter when you open the case.
Features and performance
LG and Meridian Audio have regularly partnered for the former's audio products including their soundbars and speakers, and the Tone Free FN7 earbuds continue with the same solid performance. LG's companion app for the earbuds features four presets at the top - immersive, natural, bass boost, and treble boost. You might just end up choosing the natural and immersive presets most of the time, as we did.
The ambient sound mode on these earbuds works well when you're out on the road or in other crowded places. It gets the job done, but the Transparency Mode on the AirPods Pro sounds remarkably better in comparison.
Noise cancellation on the Tone Free FN7 worked quite reliably - even when tested outdoors where a machine was being used to dig up the other side of a road. The earbuds cut through all the sound and once you start listening to a couple of tracks, you can barely hear a thing. Playing music with ANC on next to a violin being played at home also did not disappoint - the Tone Free FN7 blocked out the high notes too, which was quite impressive.
The Tone Free FN7's in-ear detection pauses your media the moment you pull one of them out. This is useful because the multi-tap controls on the panel are very difficult to get right. Unlike the Galaxy Buds Plus, which has a rather large area to tap, we had to tap multiple times to find the right spot on these earbuds. In the companion app, you'll find an option to switch off the touchpad controls - something you might eventually end up doing.
At their asking price, you'd expect these earbuds to deliver some serious punch. With pricing higher than Sony's WF-1000XM3 and well within reach of Apple's AirPods Pro, the LG Tone Free FN7 sits at exactly the right spot in terms of sound quality and features.
We tested the Tone Free FN7 with a Samsung Galaxy A71 and an iPhone 11 along with LG's companion app and the earbuds, which support the Standard Bluetooth Codec (SBC) and Advanced Audio Codec (AAC) worked with zero issues. Support for Qualcomm's low-latency aptX codec is missing here, but we didn't notice any lag while playing heavy games.
The first track we tried on was Lo Vas A Olvidar by Billie Eilish and Rosalia and the earbuds did a fantastic job - just the right amount of bass and crisp, clear vocals. On the next track, Mozart's Lacrimosa, we could hear individual instruments plus the choral music, very clearly. R&B and classic rock are where it really shone. We fired up Marvin's Room by Drake and it sounded absolutely fantastic. Another couple of tracks where you'll probably hear tiny sound effects you missed before are Hotel California by the Eagles and Fortunate Son by Creedence Clearwater Revival.
We think the little ridges inside the earbuds silicone tips have something to do with how well they fit in our ears - they stayed in even when we took a quick run, and the touchpad wasn't accidentally triggered either.
Many truly wireless earbuds disappoint when it comes to the microphone department - making your voice sound tinny or just distant. The LG Tone Free FN7, however, are an exception. People on the other side of all the calls that we made last week said our voices sounded natural. They also work very well with apps like Microsoft Teams and Google Meet, with the stem design and a downward pointing mic picking up your voice with ease.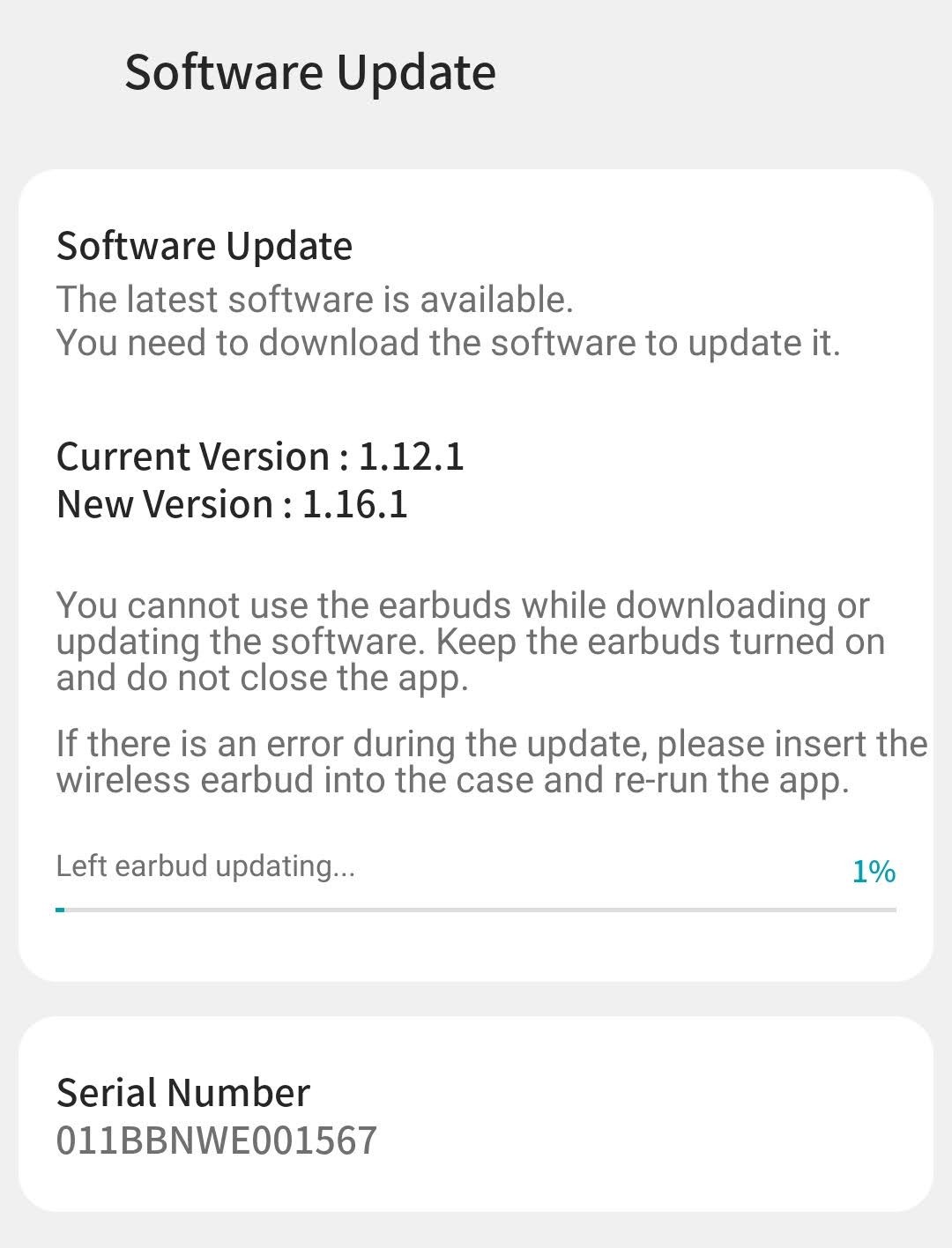 While LG's decision to include a UV light-based cleaning system is a welcome addition, we don't understand why it only works when it is connected to a charger. In the time we spent testing the earphones, we charged the earbuds only once. That's about four days without the earbuds getting cleaned via the UV technology.
The battery on these LG earbuds last longer than the AirPods Pro. The company claims they give you four hours with ANC on, we got just over five hours. Similarly, disabling ANC and ambient sound pushed the battery life up to six and a half hours. You can also charge them wirelessly with a Qi-charging mat - it takes about an hour and a half to fully charge.
Verdict
At the original price of ₹29,999, these would be very tough to recommend, considering the fact that the AirPods Pro cost ₹24,900. LG's decision to reduce the price to ₹19,999 makes sense. We do wonder though why LG didn't price the device a little lower so that they could compete with the recently released Galaxy Buds Pro ( ₹15,990).
While the touch controls were a little finicky, it wasn't a dealbreaker. If you want a pair of earbuds that offer IPX7 water resistance, decent battery life, good overall build, audio quality, noise cancellation and in-call audio - then the Tone Free FN7 is a good buy at the current reduced price.
However, if the price is a concern, then Sony's WF-1000XM3 is quite the contender in terms of audio quality but doesn't offer any water resistance, however, the Jabra 75t does both and is nearly half the price of these earbuds.
If you do decide to pick these up, they will work equally well on iOS and Android, and the companion app doesn't disappoint. While it isn't supposed to kill the coronavirus, the UV cleansing feature is great and we found ourselves worrying less about the hygiene of our earbuds, and it's probably one of the reasons that we would pick this device out of the competition, aside from the great audio quality.