We as a brand are very clear about what customers want and what we can deliver: Nipun Marya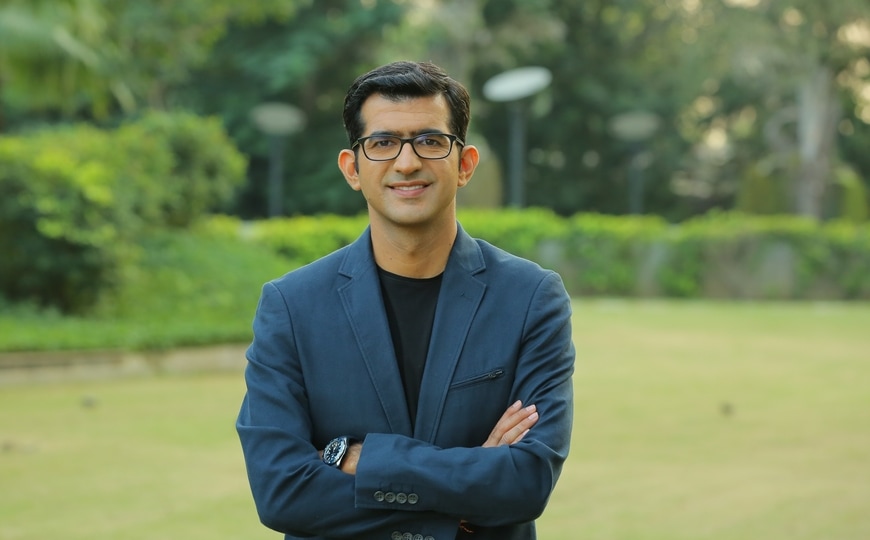 Vivo's Director of Brand Strategy Nipun Marya chats with HT Tech about the challenges of 2020, how Vivo survived the initial Covid-19 setbacks, how they are braced for 2021, and what's coming next
For pretty much everyone in the world, 2020 has been a tough, challenging year. And 2021 is also no walk in the park. But humans have this strange, often infuriating, talent of being able to survive and persevere. That's what people did, that's what industries did, as did brands. Instead of letting a pandemic change our world entirely, we managed to work around it all to survive. We've heard a lot of these stories survival stories over the last few months and the latest in the lot is Vivo. Vivo's Director of Brand Strategy Nipun Marya chatted with HT Tech about what it took to survive the lockdown, what are some vital life lessons they learned on the way, and what's coming next from Vivo. And also about "Predictably Irrational" consumers and why understanding this trope matters. Here are some excerpts from our chat:
What does Vivo have in store for 2021?
Nipun Marya: 2020 and 2021 have not been standard business years. As soon as the pandemic hit us, traditional practices like making an AOP (Annual Operations Plan), preparing quarterly or annual business plans became increasingly challenging. Sitting in the mid of 2021, one of the most significant changes worldwide has been this unanimous uncertainty about the future. We cannot anticipate what is in store, what will happen three months later or six months later. While people are optimistic as the second wave of Covid is over, the general business climate is uncertain about what will happen over the next six months. In such challenging and unpredictable times, one of the essential aspects that we always look forward to is becoming more nimble, agile, and responsive.
In our business, technology changes very fast. Every three to six months, you see changes in camera technology, in display, in prices, and so on. It somehow becomes second nature to us to be nimble, agile, and responsive, but it has become even more valuable because of this uncertainty. Coming to our plans for 2021, we do not think too far ahead but focus on what is coming next and ensure we offer innovative future-ready technology.
As far as being nimble and agile is concerned, we do not know what sort of things we are looking at, even given how this year has been. But say from 2020, when the first lockdown happened, and the country was coping with trying to figure out, as a company, what were the immediate challenges that you faced? How did you tackle them, and how have you seen things sort of change from last year's March to this March?
The challenges we faced last year were much different from the ones we face this year. If we go back to the beginning of the first lockdown, the biggest challenge was to come up to speed with what was coming our way. Safety and wellness were our priority. Right from shutting down our offices, adapting to work from home setup, the focus was entirely on people's safety and well-being.
At Vivo, our focus has always been on mainline retail. We have nearly 70,000 retail partners across the country and over 550 exclusive stores. For a brand heavily focused on mainline retail, closing shops suddenly brings additional pressure, but we took a grip of all the moving parts and accordingly came up with the right strategy. As I said before, agile business planning helped us adapt to the new normal.
I am very proud today of what the team was able to do over the last year. If we look at GFK numbers, while the industry fell close to 17%, Vivo grew by 10%. Even when it came to launching new products, we transitioned to completely virtual launches. A lot of our effort went into Covid relief this year as well as last year.
As you said, a lot of what you did was focused on offline. Then there was this drastic change of everything moving online, from the sales and product perspective. How did you as a brand realign your strategy?
With changing consumer behaviour and preference, there was an urgent need for a new business strategy that helped connect offline retailers with consumers who now chose virtual platforms.
Even when the market started opening, people were not very comfortable stepping out of their homes. However, many such consumers still want to touch and feel the product before they buy the product. So it was a catch 22 situation, where I, as a consumer, prefer to touch-and-feel/experience the product before purchase. Still, at the same time, I was worried about the safety and wellbeing of my family members.
We, at Vivo, came up with an innovative solution - Vivo Smart Retail (VSR) – a click-to-mortar model that allowed customers to experience Vivo products and services from the convenience of their homes while also adhering to all statutory requirements and regulations of the government. The customers could connect with offline Vivo partners via SMS, e-store, and Facebook page. The VSR solution is a unique lead generation model where the customer sends their PIN code or requirements to a designated number, and these online leads were then passed on to Vivo's brand ambassadors (VBA).
We at Vivo have a vast network of 35,000 VBAs who connect with the customers, understand the requirements, suggest the right product, and pass qualified leads to our retail partners. For the customers, Vivo was just an SMS or a Facebook message away. With the help of this unique model, customers were still buying from their nearby store and getting deliveries at the comfort of their homes. The model also provided the much-needed business momentum to our vast network of retail partners. Under the VSR initiative have recently clocked sales worth ₹1 lakh in just one month (May 10 and June 10, 2021).
There was also a significant change that everyone witnessed in spending capacities over the last year. WFH needed not just a laptop and an internet connection but also a smartphone. Were there any products that Vivo focused on or pushed to keep up with this? Did you see a change in focus from the customer perspective on the kind of things they wanted from a smartphone?
One key trend that we saw post-pandemic was online education. Not that online classes were non-existent before Covid, but lockdown and safety concerns accelerated online education multi-fold.
Talking about crucial consumer requirements from their smartphones, it largely remained the same - good display quality, good battery, and a good camera, overall an excellent sturdy product from a brand they trust. We did not see any significant shift in the basic functionalities. On the purchasing front, last year, right when the pandemic hit us, people were sceptical and lacked confidence in making any big purchases. As a result, many consumers delayed their smartphone purchases. But over the last year, the situation has improved. As we move into the unlocking phase, we see more and more consumers going to the shops and making their purchases.
Talking about new purchase cases, did you see more high-end purchases? Are there cases where consumers who may have chosen budget smartphones shifted to more high-end ones? Also, were there any products in the pipeline that you didn't launch last year?
We certainly had to realign our product launches. When the markets are closed, there is no way we can go ahead and launch products as per schedule. So not only did we have to rechart and replan our product launches but even inventory planning. Existing stock and existing inventory had to be replanned. I remember not being able to go ahead and execute the V series campaign on time. Similarly, we had other product launches that had to be pushed to later dates.
However, we did make our entry into the premium segment last year with X50. And this year, we launched X60 - a premium flagship product that comes with top-of-the-line specifications with excellent camera quality with Zeiss lenses. The X series has received a good response from consumers.
Coming to new technology, what else can we expect? The 5G trials have just started in the country and there are many phones already out there, including ones from Vivo, that come with 5G capabilities. But simply from a customer perspective, do you think it makes sense to buy a 5G phone right now?
Dan Ariely in his book "Predictably Irrational" that talks about what the consumer is buying, states that the consumer's behaviour is never completely rational. When we believe, there are a lot of other factors involved. When it comes to buying technology in general, consumers' mindset is obvious. They want to be future-ready. One would never like to buy technology, which is old or dated. It is one of the key reasons we see 5G phones selling in the market. Consumers who want to be future-ready need a device that they can use whenever 5G comes in. They want to be one step ahead and not half a step behind.
What sort of technology or new additions to a smartphone can we expect to see from Vivo this year?
As far as our innovation focus is concerned, we focus on three key aspects. Camera, design, and technology.
There is an increasing demand for good camera output that helps our consumers create the perfect content for their social profiles or simply capture memories. We have continuously innovated industry-first, disruptive camera features that meet consumers' "Professional Photography" needs and create "Delightful Moments." For instance, the Vivo X60 series comes with an industry-first gimbal stabilization, Zeiss lenses, and a solid camera module that proudly displays its camera expertise. We also have the Vivo V21 the 'Night Selfie King" that brightens the darkest of the environments.
The second aspect we consistently focus on is design - both hardware and software. CMF (color, material, and finish) is the first sensory experience that you get from the product and hence very vital. In addition, smartphones are fast becoming the device to flaunt; thus, the need to launch slim and sleek devices that are easy to use becomes essential.
The third aspect is 5G. Like we discussed, consumers want to be future-ready. So we are investing a lot when it comes to 5G. vivo is amongst the key partners working with Qualcomm and the tech players to ensure that whenever the Indian market is ready for 5G products and services, Vivo is THE brand that can offer reliable products to our consumers. So every product that we launch above 20K will be 5G ready.
Okay, can we expect to see another flagship coming from you guys this year?
There will certainly be launches, but we will still have to wait and watch. As I mentioned earlier, we will have to be very nimble and agile. So, to guess anything right now will be difficult.
Since we were talking about 2020 and spoke about consumer behavior change. Do you foresee a shift in consumer behavior in the long term? Do you see this evolving over the next few years, and what impact will this have on smartphone purchases?
We look at innovations from two perspectives. On one hand, we focus on customer-centric innovations that meet evolving consumer's needs. For instance, today, we see an increasing demand for gaming as well as binge-watching. Thus, more focus on video quality.
On the other side, we focus on tech innovations based on RnD. Often, consumers don't even know what is possible, but technology makes it possible. We strongly believe in spreading "joy" with the help of technology. Thus, we consistently strive towards innovating features that give the consumer an experience like never before, make them feel elated using that technology. Whether you talk about high megapixel cameras or gimbal inside the phone, technology has made everything possible.
Both these will continue to drive innovation in the future as well. Some areas that I do foresee many innovations in are form factor, camera, and battery. The battery is going to play a significant role. And then, we have network capabilities that depend on both the supply side and the ecosystems. If 5G penetrates and can throw up new use cases, then just like binge-watching or gaming, many new use cases will emerge from 5G.
I don't think it'd be wise to ask what differentiates Vivo from its competitors but what do you think Vivo smartphones are a step ahead in the Android space?
Our competitors are very strong, but the good part is that we as a brand are very clear about what our customer wants and what we can deliver. We have come a long way in the last six years, with a 26% market share in mainline retail. We have consistently led this space both by volume and value for the last six-seven quarters.
Consumers treat Vivo as a dependable brand, and that's the goal we are chasing. If we can satisfy our consumers, support our partners, give our employees a good workplace, we believe we are doing our job. Everything else will fall in place.
One last question on your sales demographics. Do you find them still skewed towards tier two tier-three cities, or has it balanced out now?
Our sales pretty much mirror the industry ratio, with metros contributing around 30% to 40%, which includes the top 10 metros.