Kuvempu's 113th birth anniversary: Google doodle honours 20th century Kannada poet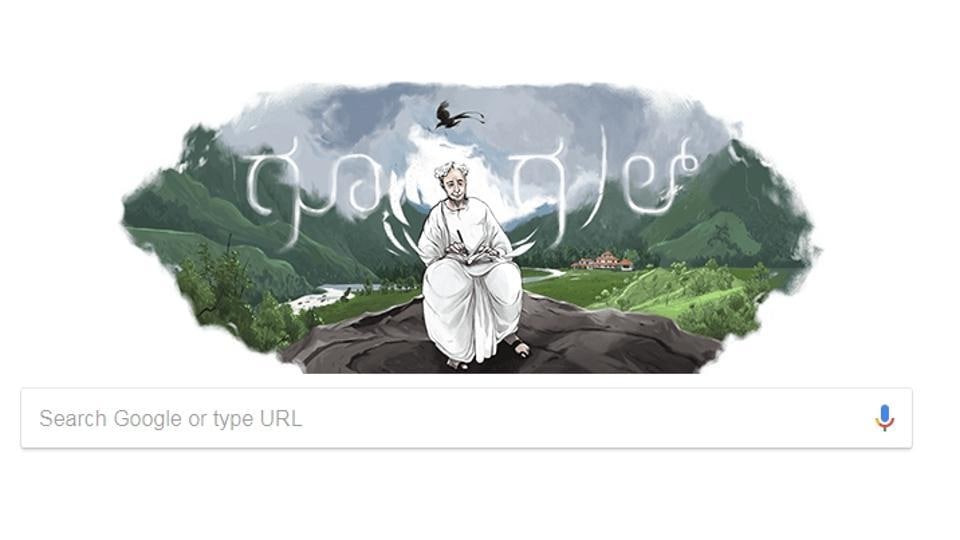 Kuvempu is one of the first Kannada writers to be decorated with the prestigious Jnanpith Award.
Google on Friday posted a doodle dedicated to renowned 20th century Kannada poet and author Kuppali Venkatappa Puttappa aka Kuvempu on his 113th birth anniversary.
The doodle, illustrated by Upamanyu Bhattacharyya (and Swati Shelar, who helped with the Kannada lettering), shows Kuvempu surrounded by nature in his beloved home.
Born on December 29, 1904, in Mysore, he is the first among Kannada writers to be decorated with the prestigious Jnanpith Award. For his contributions to Kannada Literature, the Government of Karnataka decorated him with the honorific Rashtrakavi (National Poet) in 1958 and Karnataka Ratna (Gem of Karnataka) in 1992.
His epic narrative 'Sri Ramayana Darshanam', a modern rendering of the Indian Hindu epic Ramayana, is regarded as the revival of the era of Mahakavya (Great Epic poetry) in contemporary form and charm.
His writings and his contribution to 'Universal Humanism' gives him a unique place in modern Indian literature. Kuvempu took his last breath on November 1, 1994, at the age of 89.
According to Google's blog, "known more famously by his pen name Kuvempu, he is considered one of the greatest Kannada writers of his time. The Kannada language is spoken mainly in Kuvempu's home state of Karnataka, and he strongly advocated for it to be the main medium of education."
"Kuvempu's poem featured above is 'Poovu' (The Flower), rhapsodizing on the beauty of the poet's natural surroundings. Kuvempu loved his writing to reflect the simple wonder of the world around him, especially flowers," the blog further explained.