Wikipedia makes an 'awkward' request for donations in India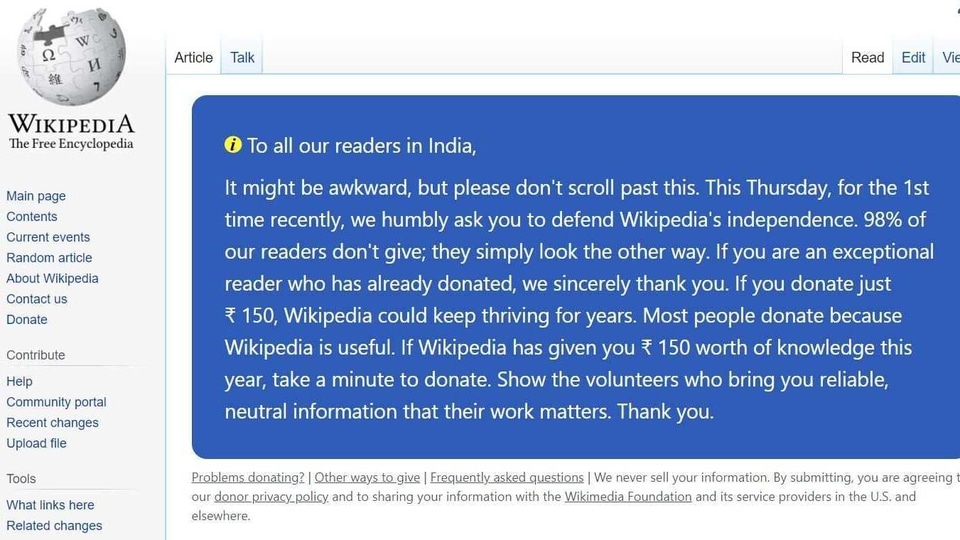 Wikipedia. is urging its users in India to donate a sum ranging between ₹150 to ₹5,000.
Wikipedia, for many of us, has been the one-stop solution for all our queries about the world. Over the years, this free-to-use encyclopedia has answered our questions about a variety of topics right from complex mathematical equations to the weather in Goa. Now, Wikipedia is asking users for help.
The company is asking its users to donate funds so that it can continue its operations and pay its staff.
"It might be awkward, but please don't scroll past this. This Thursday, for the first time recently, we humbly ask you to defend Wikipedia's independence...If you donate just ₹150, Wikipedia could keep thriving for years...If Wikipedia has given you ₹150 worth of knowledge this year, take a minute to donate. Show the volunteers who bring you reliable neutral information that their work matters," Wikipedia says in one of its posts.
"We don't have salespeople. We depend on donations from exceptional people, but fewer than 2% give. If you donate just ₹150 or whatever you can this Thursday, Wikipedia could keep thriving," reads another post when you visit the site again.
The online encyclopedia is urging its users in India to donate a sum ranging between ₹150 to ₹5,000. Users can pick between ₹150, ₹300, ₹500, ₹1,000, ₹1,500, ₹3,000 and ₹5,000 as donation amounts which they can pay via their Visa, MasterCard or RuPay credit or debit cards or via net banking, UPI or Paytm. If users wish to donate an amount that is not mentioned in the list they can do so by clicking on the Other option and mentioning the amount in front of it.
It is worth noting that this is not the first time that Wikipedia has sought support from its readers. Back in 2015, Wikimedia Foundation had asked for donations from its readers to keep its sister sites safe and secure. The donations were also used for paying salaries to editors and other employees at the company.