Oppo Band Style review: Looks good, gets the basics right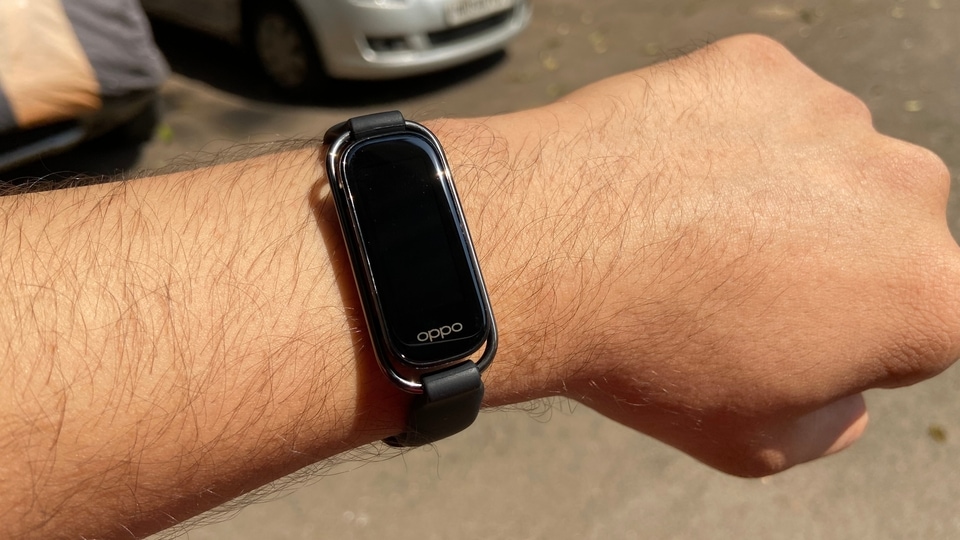 The Oppo Band Style looks better than most of the affordable fitness trackers in this price segment. But is this tracker worth the price tag when it comes to performance and reliability? We've spent some time with the device and here are our thoughts.
Brand: Oppo
Product: Oppo Band Style
Key specs: Continuous SpO2 monitoring, Sleep monitoring, Real-time heart rate monitoring, Daily activity, Get-up reminders, Breathing exercise, 12 workout modes, 5ATM water resistance, 100mAh battery, 1.1-inch AMOLED display.
Oppo stepped into the wearable fitness tracker space last year with the Oppo Watch. And the company recently launched the Oppo Band Style, offering an affordable fitness tracker for users, particularly for those who want to monitor health parameters like their heart rate and blood oxygen saturation (SpO2) levels.
In the affordable fitness tracker market, which offers feature-packed devices, the Oppo Band Style comes with a lot too, considering the price. But is this affordable fitness tracker worth the price tag on it? We've been using the Oppo Band Style for a while now, so here are our thoughts.
Design and build quality
The Oppo Band Style looks like it was designed to stand out from its competitors. If you've seen most budget fitness trackers in this price bracket, there's not a lot of creativity when it comes to design. While the Oppo Band Style has retained the same rounded rectangular pill design, the "Style" strap is unlike anything we've seen in this price segment.
Instead of the usual combination of TPU and plastic to hold the pill in place, Oppo decided to go with a sleek metal ring that runs around it, connected to the TPU straps. While it's a small tweak to the band's design, it subjectively looks a lot better than the competition. The pill stays securely in place even if you go for a run or have an intense workout, but if you're concerned, there's a more 'traditional' Sport strap inside the box.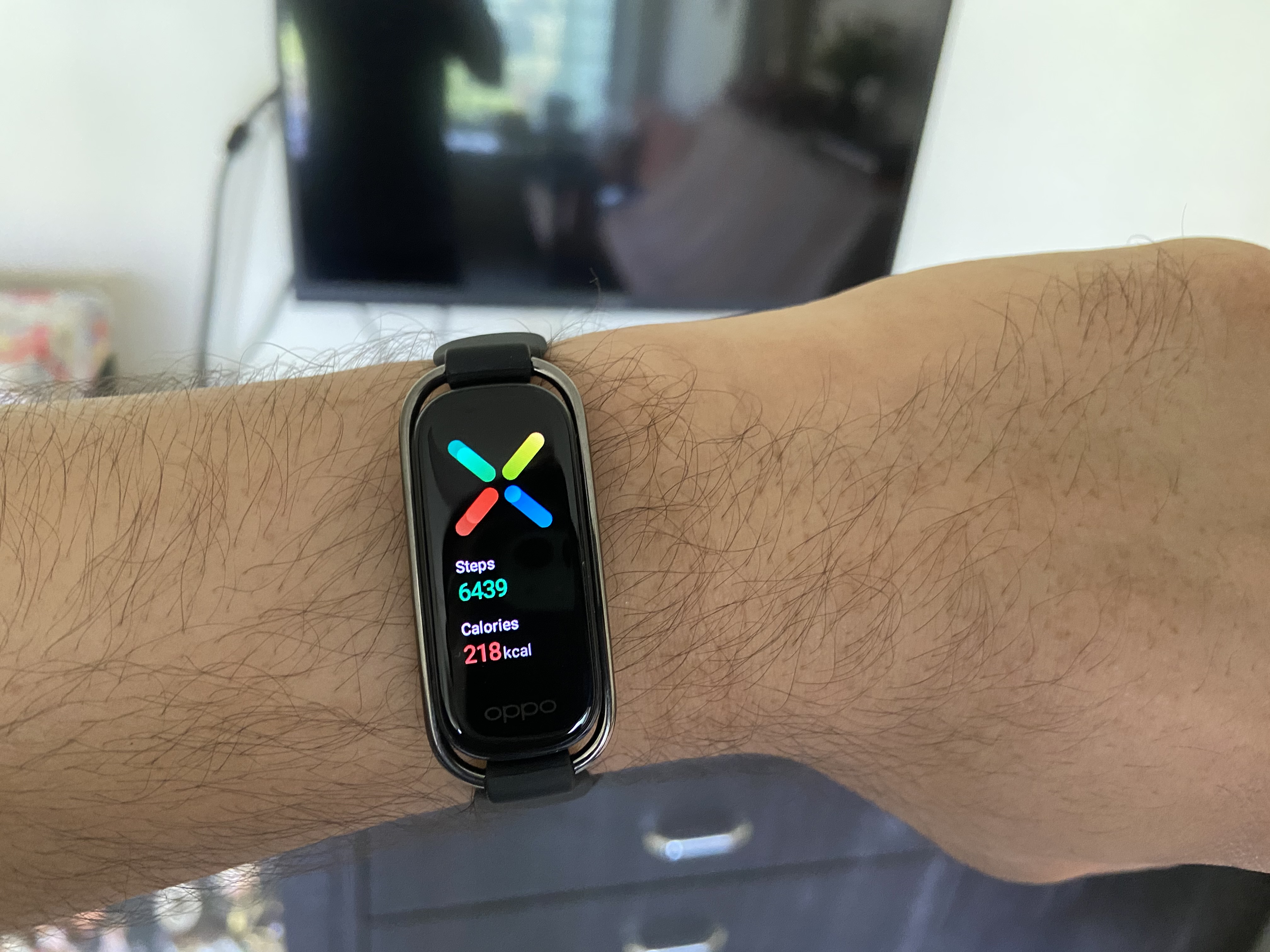 Coming to the tracker module, or pill, it sports a 1.1-inch AMOLED screen that offers multiple brightness levels and it is easily legible even in bright sunlight. You can swipe to navigate across the tracker's various features and settings, and place your finger on the screen for a second to turn off the display.
The touchscreen on the Oppo Band Style works quite reliably, and it is very responsive to touch gestures. You also get to pick from different watch face designs, including a couple that show you graphical representations of your fitness data, like the Apple Watch's 'circles'.
Like most bands in this price range, you'll have to detach the tracker module and place it on a small charging bed, depending on which strap you're using. Both the provided straps do not seem to cause any itching or discomfort, despite wearing it all day long for step counting and overnight for sleep tracking.
Software and Interface
The Oppo Band Style lets you track your heart rate and your blood oxygen saturation (SpO2) levels using the watch screen, but accessing most of the other fitness data like continuous heart rate monitoring and sleep tracking requires the company's HeyTap Health app which is available for both iOS and Android devices.
Once you register a new account, or sign in to your existing one, the app asks you for access to a range of system permissions – all connected with displaying notifications, calls, messages, plus music controls on the screen of the fitness tracker. It's worth noting that the HeyTap health app doesn't let you progress beyond this point unless you accept all the permissions, even if you don't want a particular feature, such as call notifications.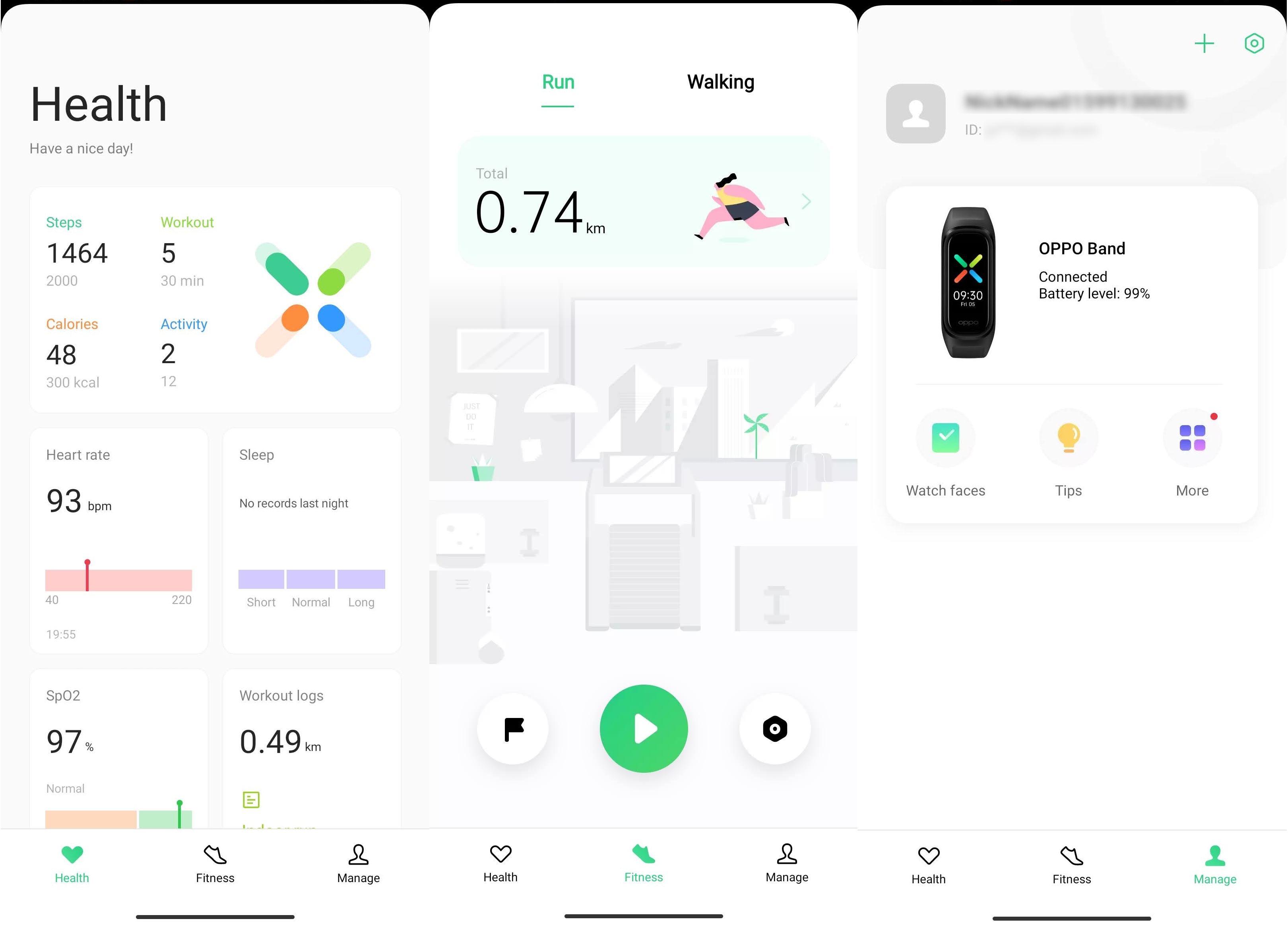 The HeyTap Health app has three tabs, one to display a summary of your fitness parameters, which will also let you keep track of your sleep data, heart rate, SpO2 levels and your workout data. The second tab allows you to set and start workouts for running or walking, while the last tab allows users to control the tracker settings, such as watch faces and notification mirroring.
You can also set a DND mode for notifications, allow the band to wake up with a flick of the wrist, or even set alarms. The alarms essentially vibrate the band at a preset time, but depending on how lightly you sleep, you may also want to set your phone alarm to ring as well.
Battery life and performance
One of the primary functions of the Oppo Band Style is step counting, and the band did a good job of keeping count while walking and running. When walking and counting steps manually, they mostly matched with the counter on the tracker, even after around 90-100 steps were counted. There's no automatic workout detection, so you'll have to make sure you set one before you begin.
We previously mentioned that the HeyTap app offers a dedicated tab for workouts like running and walking – this also comes with a map of where you are currently standing. Using your phone, your band can keep track of where you walked or ran, which can be accessed from inside the app. There are also multiple workout modes for swimming, cycling and much more, but we weren't able to test these out due to the coronavirus pandemic restrictions.
We tested the Oppo Band Style for the three health parameters it offers to monitor – heart rate monitoring, SpO2 tracking and sleep tracking. The fitness tracker offers the ability to record your heart rate in real-time, we found that the on-demand heart rate monitoring offered the same readings as the Apple Watch 3.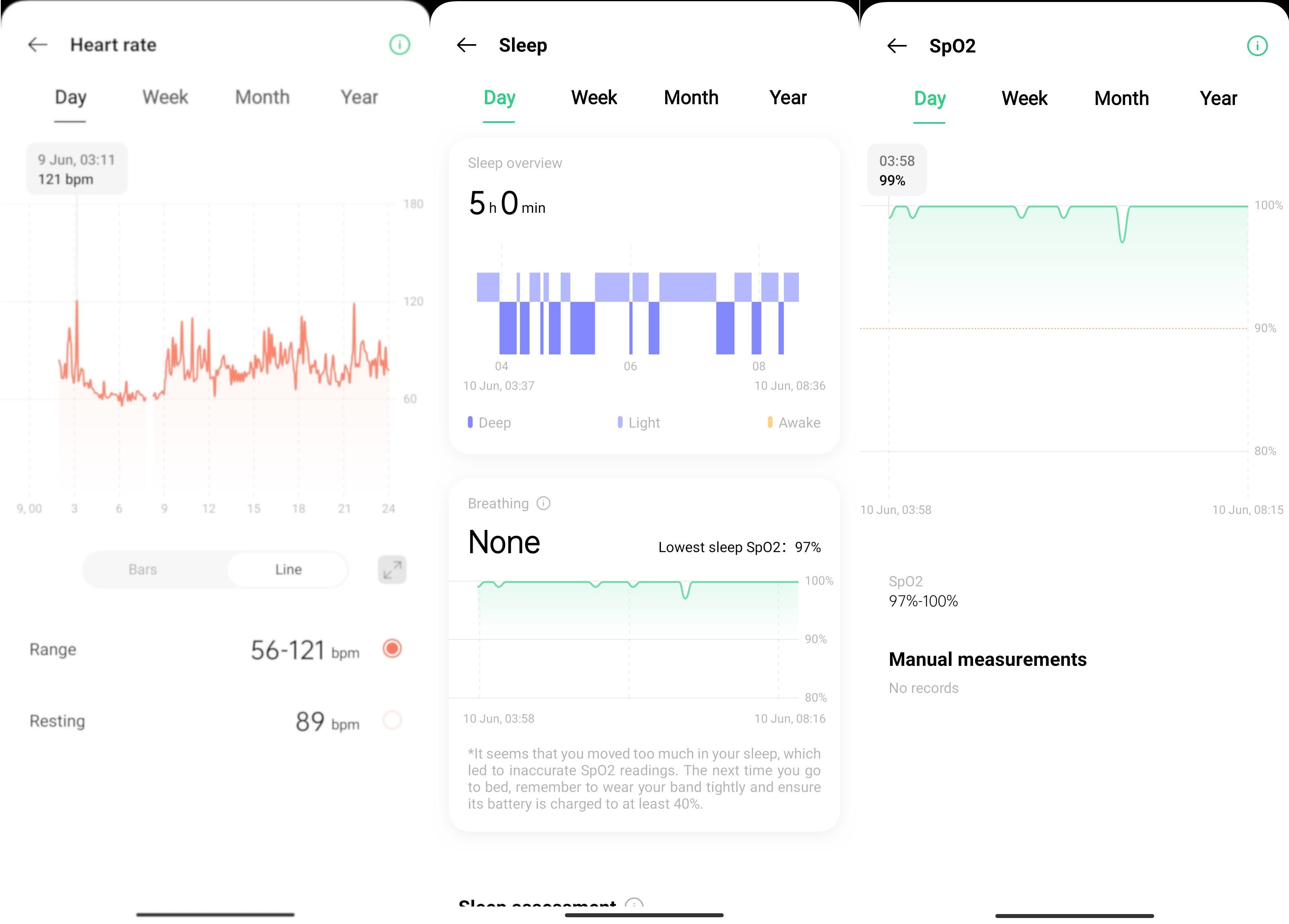 Meanwhile, another important health parameter these days is blood oxygen saturation (SpO2) levels. Comparing the readings on a clip-on SpO2 monitoring device (available at medical stores) and found that the readings mostly matched those on the device. You can see the red or green light flash from the side of the tracker module, and it takes about half a minute for the device to record one reading, about three times longer than the clip-on device.
Sleep tracking, on the other hand, was quite inaccurate on the Oppo Band Style, with the tracker registering sleep time an hour later and recording wake up times around half an hour early. The HeyTap Health app offers some insights into the quality of sleep including how much time was spent in light sleep, deep sleep. There's also a section called time spent awake, but with the incorrect sleep timing detection, we aren't entirely convinced about the accuracy of this feature.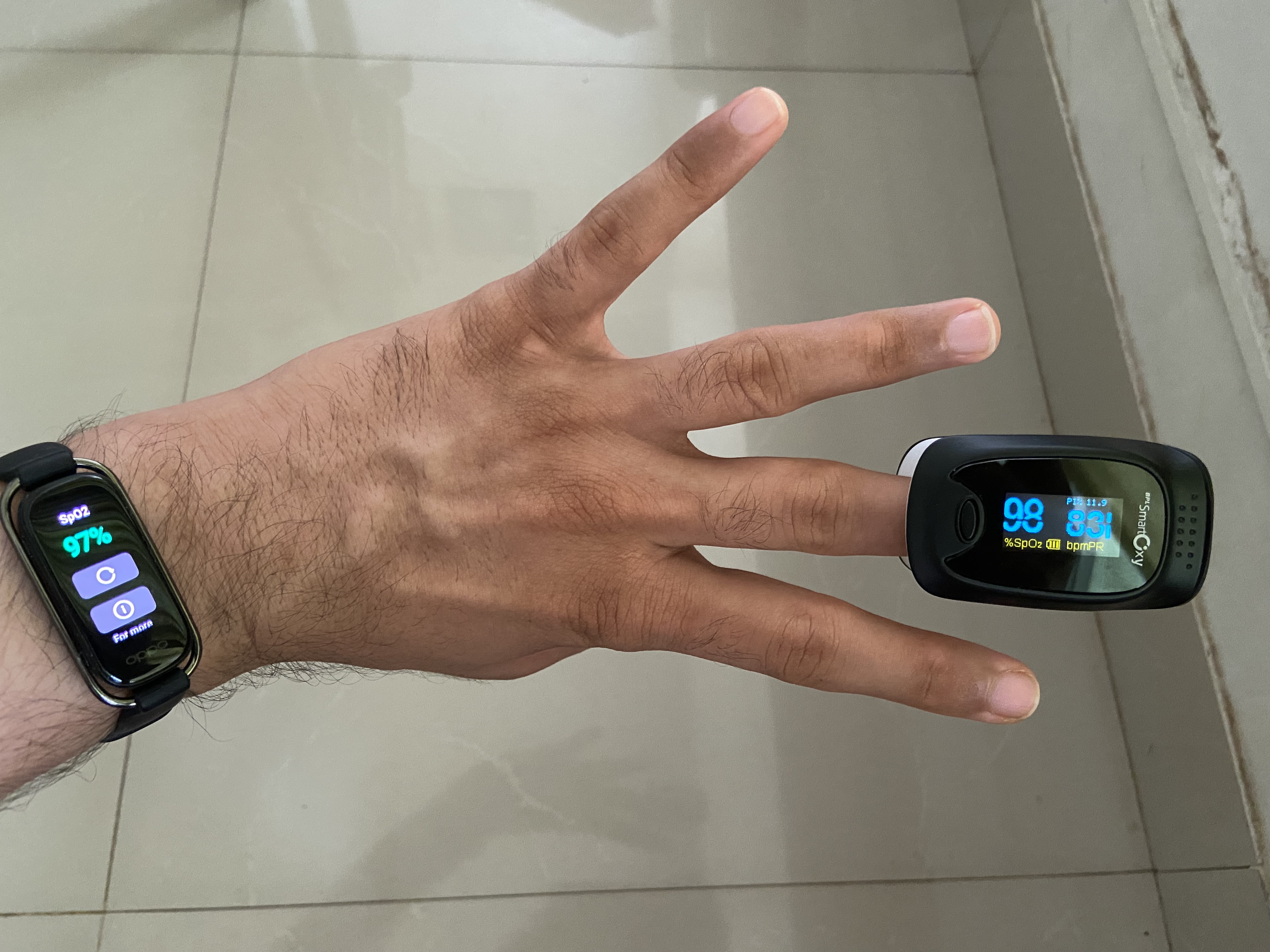 The Oppo Band Style is powered by a 100mAh battery that offers a "Maximum Use Time" of 12 days according to the company's website. Over the time we tested the device, we were lucky to get over four days of battery backup on the device – this was with only a few of the special features turned on. With phone notifications, basic step tracking, continuous heart rate monitoring and automatic SpO2 tracking while sleeping, the band lasted for four days before it had to be charged again.
Disabling these features and manually checking for heart rate and SpO2 levels along with basic step counting brought the battery life up to the six day mark. However, this defeats the main idea of picking a smart fitness tracker over a smartwatch (more battery life). And that's not all, it also takes far too long to charge. Charging the device took around 40 minutes every time we plugged it in – using the steel ring band saved us the trouble of having to dislodge the tracker module every time a charge was required, but that was it. Other smartbands in the market come with longer battery life, including some smartwatches as well, and this is where Oppo really needs to do something.
Verdict
When it comes to getting the basics right, the Oppo Band Style managed to impress us with accurate step counting and reliable heart rate and blood oxygen saturation (SpO2) level monitoring. While the sleep tracking feature does leave a lot to be desired, it is probably something that can be tackled with a firmware update. In fact, the low battery life was the only real downside of this otherwise capable fitness tracker.
Other alternatives at this price range include the Mi Band 5 and the OnePlus Band, or consider the slightly more expensive Mi Band 6 and the recently released Honor Band 6. If you don't mind relying on the companion smartphone app for things like GPS-based workout-tracking when you go running, the Oppo Band Style is a compelling choice at ₹2,799 for a decent first wearable fitness tracker for those looking to get started with their fitness goals.