Dell XPS 17 (2021) review: A stunning Windows 11 laptop for creators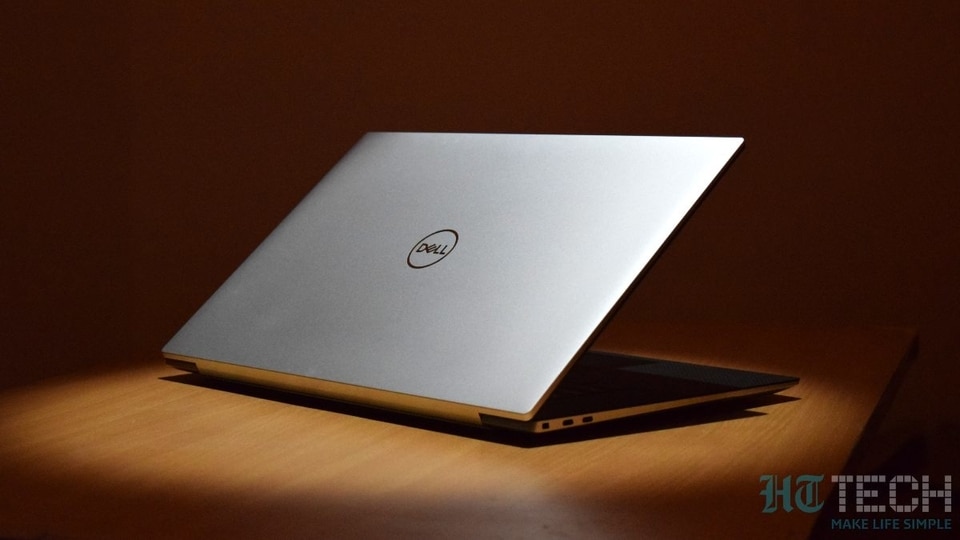 The Dell XPS 17 carries the baton for Windows 11 laptops that take perfection to be their ultimate goal. But is it good enough to make MacBook Pro buyers regret their choice?
The Dell XPS lineup is like fine wine – it only gets better with age. Dell leaves no stone unturned for the XPS laptops; be it the design or the computing firepower underneath. This year's XPS 17 is the flagship model in the series and Dell has touched it up enough for drawing more eyes while offering that traditional XPS experience. With an RTX 3060 GPU and an 11th Gen Intel chip inside, this is easily one of the best, if not the best, Windows laptop we have reviewed this year.
The Dell XPS 17 is roughly of the same size as a 15-inch conventional laptop but with a 17-inch display stuffed inside. For our review, we have got the healthily loaded Core i7 model packed with all the bells and whistles, costing roughly ₹2,74,000. That's luxurious by all means for a creator's laptop but after spending two weeks with it, I have never wanted a Windows laptop this bad. MacBook Pro potential buyers should read this.
Dell XPS 17 Design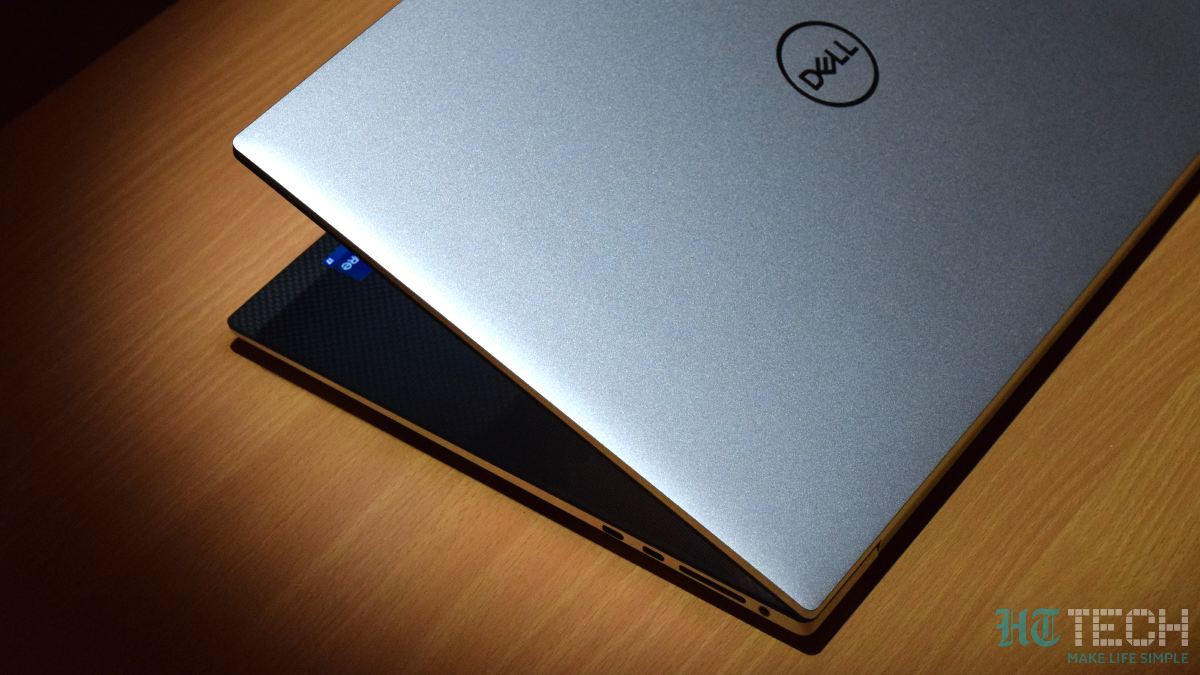 No laptop looks as sleek and futuristic as the Dell XPS 17 at the moment. The solid metallic chassis highlighted by shiny Chromium bits on the sides pronounces the wedge shape that Dell is trying to achieve here. When closed, it feels as if the laptop was chiselled out of a single block of Aluminium. And, in that slim profile, you have got four USB-C Thunderbolt 4 ports, all capable of driving displays and charging via the supplied USB-C charger.
There's a SD card slot present as well along with a 3.5mm headphone jack. The slim profile does not leave space for a USB-A and HDMI port but Dell bundles a dongle in the box that hosts these ports, and can be put in any of the USB-C ports.
Open the lid and you are greeted with probably the neatest laptop deck on any machine this year. The traditional carbon fiber deck with its soft-touch finish is a blessing for a writer's hands and the whole layout gives your palms enough space to rest and reach all corners of the keyboard. The giant trackpad is another blessing and the large fat speakers on either side of the keyboard is reassuring.
However, nothing is as breath-taking as the 17-inch display, which begs a belief as to how Dell managed to put that in a laptop. It has got extremely slim and uniform bezels on all sides; there is virtually no bottom bezels to distract. Moreover, there's enough space on the top to squeeze a 720p webcam, IR sensors, and an auto brightness sensor; without needing an ugly notch like on the new MacBook Pro.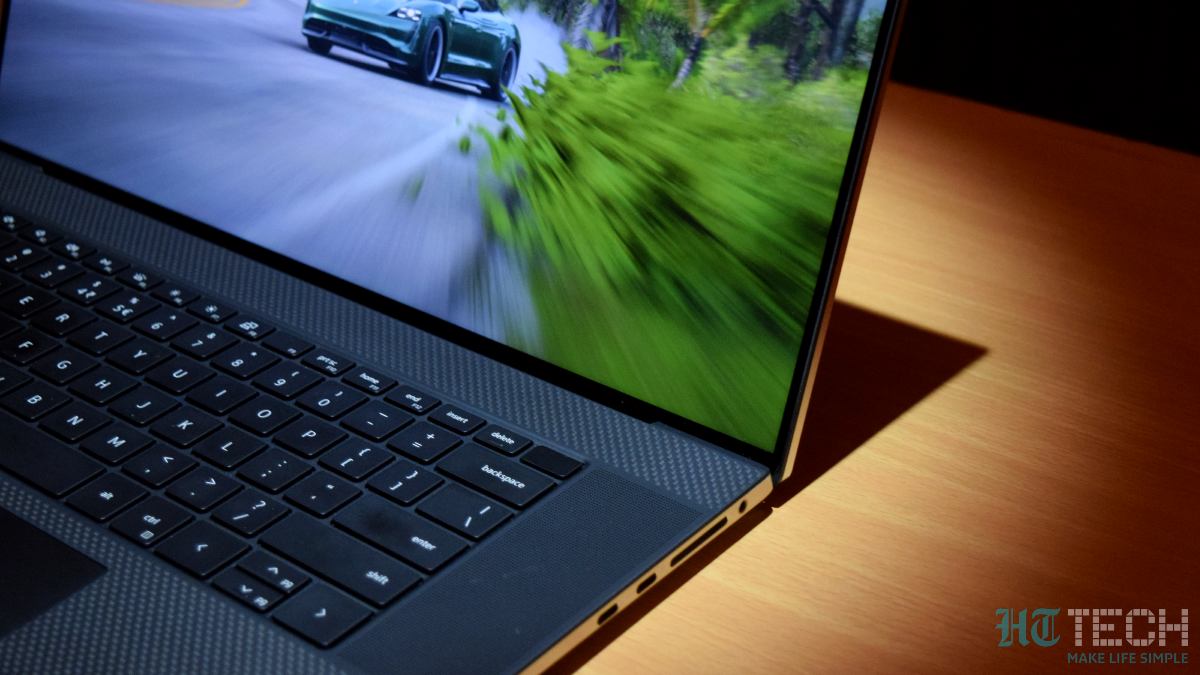 The overall build quality is sublime and the fit-n-finish is top-notch. It isn't light though at 2.4 Kilos, which can be expected from a laptop built out of metal and glass (glass on the display). Additionally, the 15-inch form factor means this isn't the most portable laptop either; you have got the XPS 13 models for that.
I think there's no laptop in the market that is as nicely designed and built as the Dell XPS 17.
Dell XPS 17 Display
My test model came equipped with the 4K IPS LCD display with touch inputs. With a rating of DisplayHDR 400, Adobe RGB Minimum, and 94 percent DCI-P3 colours, this is a great display to look at all day. Admittedly not the best, since OLED display look more vibrant, but with its 500 nits of max brightness, it is fairly colour accurate and for regular workflows, it looks splendid.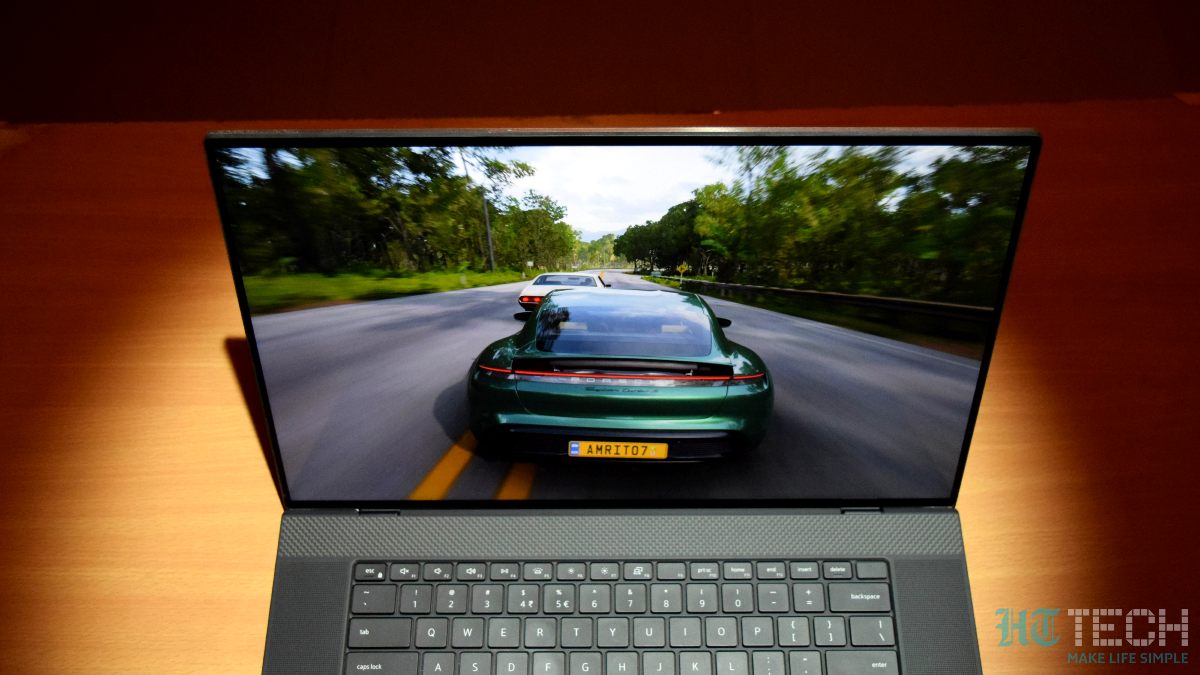 The 4K resolution makes for sharp picture quality and I did not witness any shift in colours from wide angles. The touchscreen is naturally responsive and the anti-smudge coating helps to a larger extent of keeping the Gorilla Glass 6 display clean. The hinge is firm, removing any chance of wobbles while typing.
Dell XPS 17 Performance
Another area where XPS laptops do not compromise. Mine is the healthily-specified variant coming in with an 11th Gen Intel Core i7-11800H processor, 16GB DDR4 3200MHz RAM, 1TB PCIe 3 x4 SSD storage, and an NVIDIA RTX 3060 70W GPU with 6GB DDR6 memory. Although Dell lists Windows 10 as the OS, my unit got the Windows 11 update as soon as set it up.
With all this firepower under that sleek chassis, the Dell XPS 17 has absolutely no issues dealing with regular tasks. My office workflow involves dealing with 8-9 Chrome tabs, WhatsApp Web, MS Word, Your Phone app, and occasional sessions of Adobe Photoshop; this was nothing for the XPS 17. Day in and day out during my usage, the XPS 17 worked flawlessly. Paired with the new Windows 11 OS, it's quick and easy to use. Dell preloads McAfee's free trial suite along with a couple of its system tweaking apps; except for the McAfee app, none of them bothered.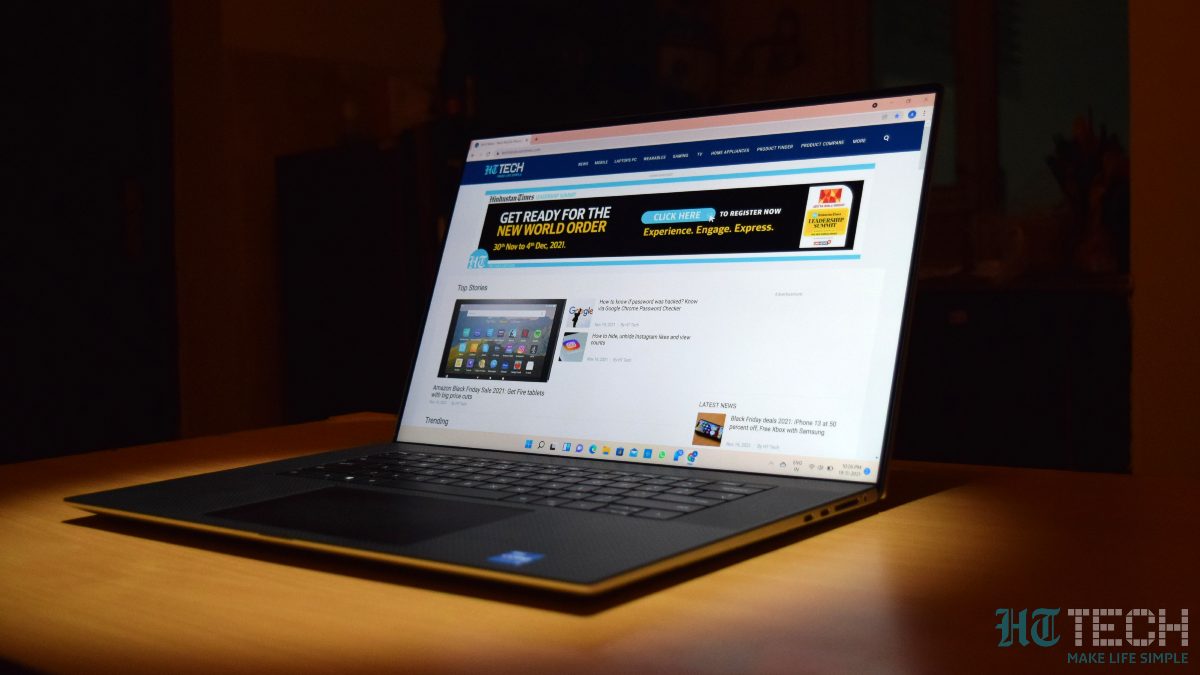 Some notable comforts onboard include the quick wake-up after opening the lid, and the biometric verification systems. The IR face scanner system works fast 90 percent of the times and for the other 10 percent, you have a precise and quick fingerprint sensor on the Sleep key. The backlit keyboard looks elegant, and is comfortable for long typing sessions; although I would have preffered better feedback from the keys similar to a MacBook Air/Pro. The trackpad is highly responsive and works well with all the Windows 11 gestures. The webcam quality is decent for video calls and I was impressed with the audio reception; thanks to the cleverly placed microphones.
Another area where the XPS 17 left me spellbound was the audio experience. Those large speaker grilles house two tweeters and two woofers inside. With a total rated output of 8W, this is a very good speaker setup for a slim laptop. Video editors may still need professional headphones but for everyone else, these work just fine. Watching movies and playing games is enjoyable with these speakers.
Speaking of gaming, I subjected the XPS 17 to Forza Horizon 5, F1 2021 and Dirt Rally 2.0. The RTX 3060 is a midrange card and it shows; in Forza Horizon 5, the XPS 17 managed a combination of High-Medium settings by default on 2K resolution for a stable 60 fps gameplay. F1 2021 ran at Ultra maintaining between 45-58 fps on Ultra settings in 2k resolution. A similar experience came out from Dirt Rally 2.0, wherein the game ran fine at 2K res with High settings at 50-60 fps.
The laptop runs hot during these gaming sessions; the keyboard becomes unbearably hot to touch. However, I did not notice any dip in performance even after an hour. I wish Dell had offered an RTX 3070 GPU as an option for demanding users, given the luxurious pricing this laptop commands.
Dell XPS 17 Battery life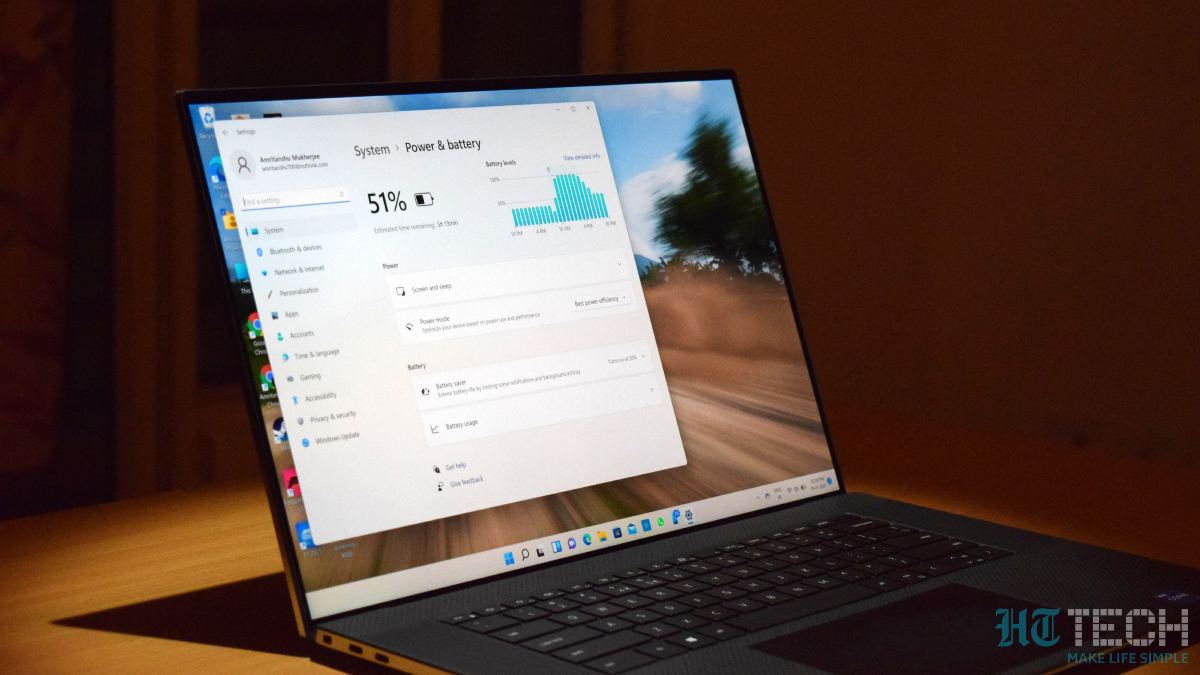 A high-end laptop with high-end specs does not spell love for battery life but the XPS 17 is an exception. Despite running a 4K display at 50 percent brightness, and staying connected to the Wi-Fi all-day, the XPS 17 usually lasts between 6-7 hours with demanding workloads of a journalist; not bad for a Core i7 laptop! I was able to get through most of my office day without the charger.
The 135W charging adapter takes 1.5 hours for a full top-up from 15 percent. The slim charging brick is easier to stuff inside a backpack. I also appreciate the LED indicator on the USB-C port; makes it easy to find in dark rooms.
Verdict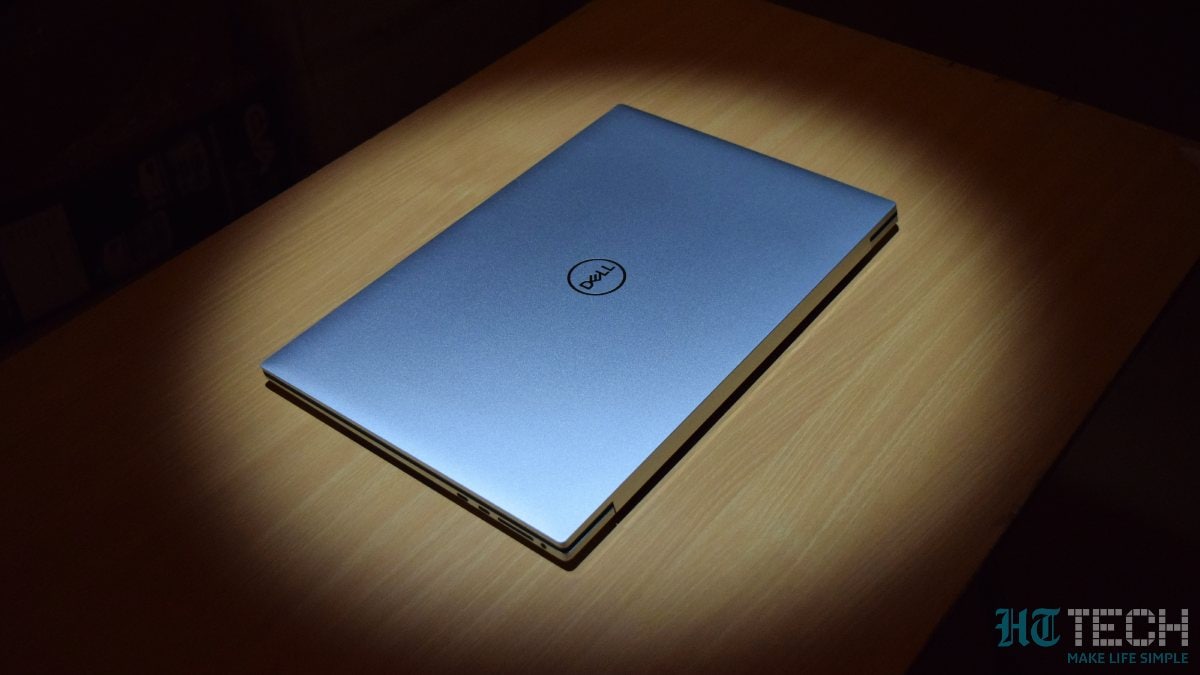 The Dell XPS 17 flew through our real-world tests with flying colours, thereby asserting its superiority again in the world of luxurious Windows 11 laptops, and even questioning all the hype surrounding those MacBook Pro models. Those looking for a powerful and portable workstation that does not compromise on style; your search ends here. The XPS 17 delivers a laptop experience that is unparalleled to anything in the Windows universe, with almost negligible compromises.
Our Take: The Dell XPS 17 9710 is currently our top recommendation for fashion-conscious creators seeking the best balance of power and portability.
Pros
Beautiful Design
Flawless performance
Great 4K display
Specifications
Processor

Intel Core i7-11800H

RAM

16GB LPDDR4

Storage

1TB PCIe 3 x4 SSD

OS

Windows 11 Pro

Display

17-inch 4K IPS Touch

Battery

96Whr