Realme Buds Air 2 review: ANC for everyone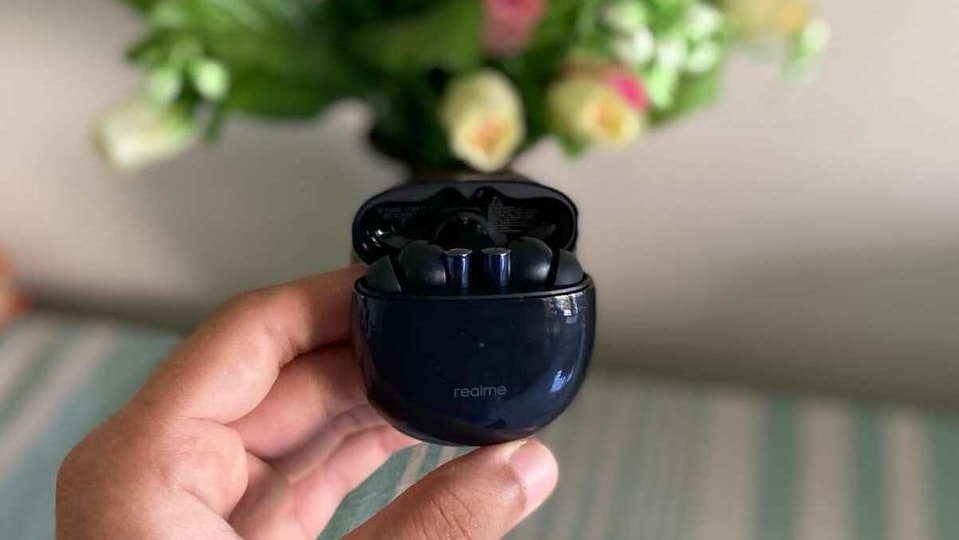 With active noise cancellation on their most affordable pair of wireless earbuds, Realme's Buds Air 2 pack in a feature usually found on more expensive devices. Let's find out if they're worth the ₹3,299 price tag.
Brand: Realme
Product: Buds Air 2
Key specs: 10mm carbon dynamic driver, R2 noise cancellation chip with dual-mic ANC up to 25 dB, gaming and transparency modes, fast charging with 25 hours playback, Bluetooth 5.2.
Price: ₹3,299
Rating: 4.5/5
Realme recently launched their latest true wireless Buds Air 2, the successor to their first-generation Buds Air. With more companies entering the competitive market for earbuds priced under ₹5,000 there's even more pressure on companies to innovate and add features that are missing on offerings from the competition.
The new Buds Air 2 does exactly that, by bringing active noise cancellation at a price point previously considered unlikely or impossible to allow for its inclusion - at ₹3,299 the closest competitor is the Oppo Enco W51 that costs ₹4,999. We've spent some time with the Realme Buds Air 2 so here are our thoughts on the company's latest challenger in the affordable true wireless segment.
Design and build quality
The black colour variant of the Buds Air 2 is called Closer Black and comes in a shiny black 'squircle' shaped case which is quite slim and easily fits in most pockets. The buds stay firmly in place but are also easy to take out of the case due to the matte finish on the buds - something that was an issue on their predecessor. The earbuds also fit snugly in the ear and did not fall out during a short jogging session.
Realme has chosen the tried and tested 'in-ear canal earbud with stem' design for the Buds Air 2, with a shiny tip at the top of the stem (pictures below) and charging contacts at the bottom. The stem has a glossy finish, unlike the buds, which gives it an interesting overall look and also supports touch controls with a few useful tweaks, but we'll get to them in a bit.
The case itself is rather smooth and looks very glossy, so it's going to be a fingerprint and smudge magnet. Realme has included a USB-C port at the bottom, and an RGB light above the logo on the front, that shows the earbuds battery level when you open the case and the battery level of the carrying case when you shut it.
Features and performance
The Realme Buds Air 2 sport a 10 mm dynamic driver and the company says it has included a Hi-Res "diamond" carbon diaphragm - after about week with these buds it seems like they will be well received by users who listen to bass-heavy music. There are a couple of reasons as to why this is the case.
Realme partnered with The Chainsmokers during the creation of the headset and the duo were involved in the process of audio tuning, the company says. The headphones also feature a bass-booster setting in the Realme Link app, which we found unnecessary because the default mode already features a powerful bass response. Due to this, tracks like Blinding Lights by The Weeknd and Hit 'Em Up by 2Pac sound fantastic.
Meanwhile, the vocals on the Buds Air 2 are mostly crisp and clean, with only a couple of complex songs where the bass slightly muffled the vocals ever so slightly. Listening to 'All the Good Girls Go to Hell' by Billie Eilish makes one realise that there are very small voices that play alternately on both left and right channels, that are otherwise not easily noticeable. Those who like listening to classical music will also appreciate the ability of the earbuds to isolate those tiny little sounds in an orchestra.
The most important inclusion on the Buds Air 2 at this price point is clearly the active noise cancellation feature. The company is using a combination of the R2 chip and a feed-forward mic for the ANC functionality - it is great to see the feature on TWS earbuds at this price, and that it works rather well.
The ANC mode filters out a lot of the external sounds you'd expect to hear at home and some outdoor scenarios - like a creaky fan, a vacuum cleaner, a washing machine and the sound of slow traffic moving. But higher-pitched sounds like horns in traffic, loud conversations will slip through if you're listening to some classical music or other light sounds. The microphone on the Buds Air 2 is decent enough on regular voice calls, but people on the other end of video calls said the audio was a little distant and had a slight delay.
Realme says these earbuds will last you around 22 hours with ANC turned on, while switching it off should bring that figure up to 25 hours. This includes the case of course, and using the buds with ANC on will get you around four hours of playback, while switching it off will give you an extra 40 minutes - it's probably better to just leave it on. The case charges the earbuds very rapidly, with two hours playback after a 10-minute charge, while the case took about 50 minutes to fill up and got a little warm.
Realme has included some useful software features into the Buds Air 2, which also happen to support the latest Bluetooth 5.2 standard, that can be controlled by the Realme Link app. You only get standard Bluetooth codec (SBC) and Advanced Audio Codec (AAC) on these earbuds, but there was also no perceptible lag when playing HD video from Netflix or from VLC. Meanwhile, a built-in gaming mode ensured that Oceanhorn 2 and Asphalt were also completely in sync.
The buds have great touch controls and they're better than almost any other earbud in this price range. You can choose from double and triple tap controls, and the earbuds do not accidentally send commands when you adjust them in your ear. Taking one earbud out of your ear stops the music, and you can listen to music on one bud since they can work independently of each other.
The Realme Link app can also update the earbuds firmware but requires you to sign into with (or sign up for) a Realme account when you first download the app, which seems slightly unnecessary for an app to control earbuds. Once you do sign in, the app offers a ton of customisation options for tap-based control and a Bass Boost+ mode, along with Lively and Clear modes.
In addition to the presets, there's a section called 'Noise control' that has three options. First, you can choose noise cancellation, or choose the "normal" mode which also blocks out sound thanks to the design of the earbuds and the way they sit in the ear. You can also switch to a third Transparency mode that picks up ambient sounds and feeds them into your ear via the microphones. There's a setting that lets users boost volumes beyond the usual limits, but we highly recommend against doing so - ear damage is a definite possibility and you should probably just enable ANC instead.
Verdict
At their current price point, the Redmi Buds Air 2 perform better than both the Oneplus Buds Z and the Realme Buds Air Pro when it comes to audio quality and battery life. It also beats other earbuds like the Skullcandy Sesh on the battery front. If you're looking for overall value for money, then the Buds Air 2 ₹3,299 price tag seems pretty great at this point.
Sure, the Oppo Enco W51 sound great and offer noticeably better active noise cancellation than the Realme Buds Air 2, but when you consider the fact that they cost nearly two thousand rupees more, it becomes hard to justify the cost for a single feature. With great sound quality and excellent battery life, the Realme Buds Air 2 are the earphones to beat in the earphones under ₹5,000.