PM Narendra Modi's Twitter handle hacked! Know how to secure your account in 4 steps
PM Narendra Modi's Twitter handle was hacked today. Know here how you can keep your Twitter account safe.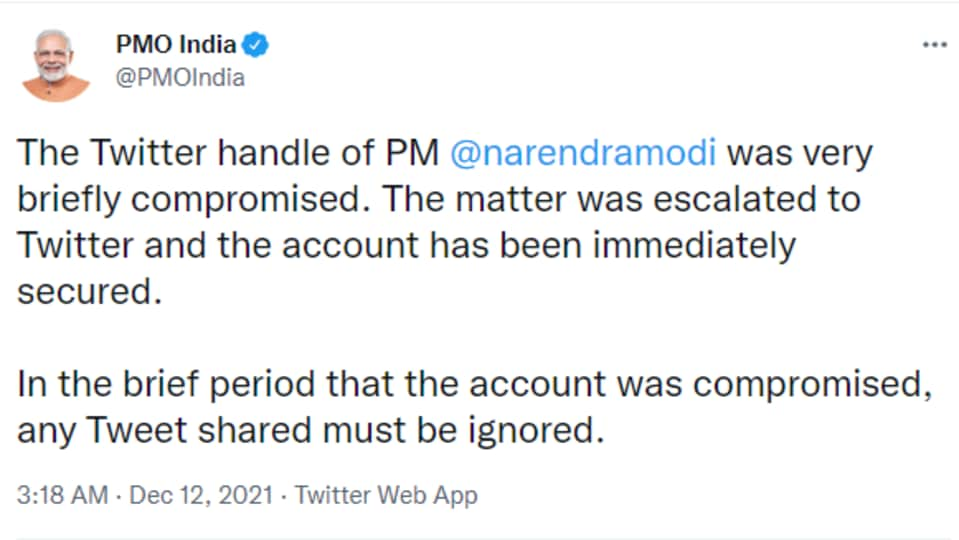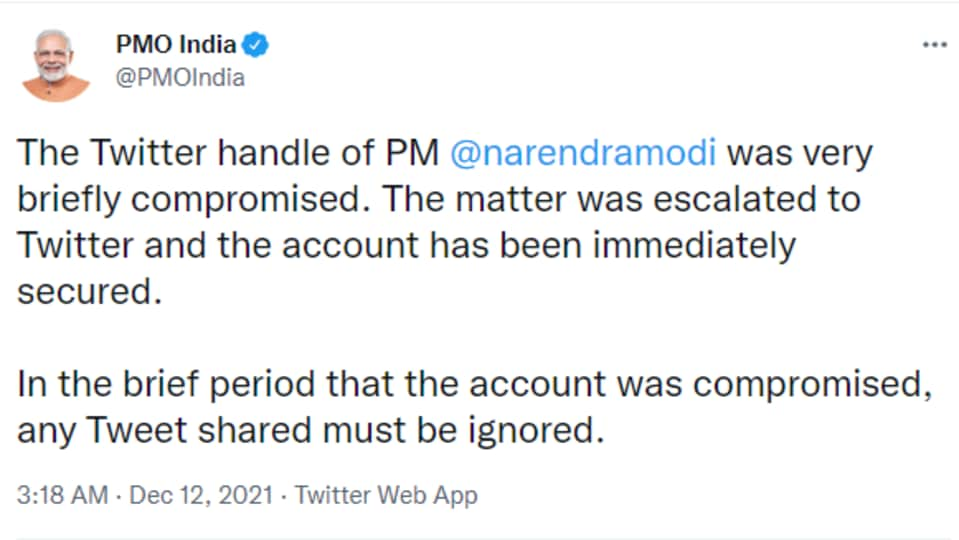 Prime Minister Narendra Modi's Twitter handle was hacked today. The Prime Minister's Office (PMO) said in a tweet on Sunday that PM Modi's Twitter account was "very briefly compromised". The matter was escalated to Twitter and the PM's personal Twitter handle @narendramodi was immediately secured. PMO also said that any tweet shared during the brief period when the account was compromised must be ignored. "The Twitter handle of PM @narendramodi was very briefly compromised. The matter was escalated to Twitter and the account was immediately secured. In the brief period that the account was compromised, any Tweet shared must be ignored," it tweeted. While PM Modi's Twitter handle was quickly secured, what should other Twitter account holder do to secure their accounts? Here is a how to secure your Twitter account.
How do accounts become compromised? According to Twitter, accounts may become compromised if you have entrusted your username and password to a malicious third-party application or website, if your Twitter account is vulnerable due to a weak password, if viruses or malware on your computer are collecting passwords, or if you are on a compromised network. Unexpected updates do not always mean that your account was hacked. Occasionally, a third-party application can have a bug that causes unexpected behavior. If you see strange behavior, changing your password and/or revoking connections will stop it, as the application will no longer have access to your account.
Have you also been through the same situation? How will you know if your Twitter account has been compromised or not? What would you do in such a situation? If all these questions are striking your mind, then stop pondering, we will answer all your questions here. If your account has been compromised but you are still able to log in then you can check out the details below to secure your account and stop unwanted behaviors. Check out how you can know if your account has been compromised here:
Has my Twitter account been compromised?
1. Noticed unexpected Tweets by your account.
2. Seen unintended Direct Messages sent from your account.
3. Observed other account behaviors you did not make or approve (like following, unfollowing, or blocking).
4. Received a notification from Twitter stating that your account may be compromised.
5. Received a notification from Twitter stating that your account information has changed, and you did not change it.
6. Noticed your password is no longer working and you are being prompted to reset it.
If you have noticed any of the above happening with your Twitter account, then it is possible that your Twitter account has been compromised.
How to secure your Twitter account
You can take the following steps if anything like this happens:
1. Change your password: You are advised to change your password immediately from the Password tab in settings. If you are logged out, go to Login and click on Forgot Password to reset your password. Please select a strong password you have not used before. If you cannot log in, your account may have been hacked.
2. Make sure your email address is secure: Make sure that the email address attached to your account is secure and that you are the only one with access to it. You can change your email address from your Twitter app (iOS or Android) or by logging in on twitter.com and visiting the Account settings tab.
3. Revoke connections to third-party applications: While logged in, visit Apps in your settings. Revoke access for any third-party application that you do not recognize.
4. Update your password in your trusted third-party applications: If a trusted external application uses your Twitter password, be sure to update your password in that application. Otherwise, you may be temporarily locked out of your account due to failed login attempts.
After following the above mentioned steps your account should now be secure, and you should not see the unexpected account behaviors moving forward. If you are still experiencing issues, you are advised to file a support request for assistance.
Follow HT Tech for the latest tech news and reviews , also keep up with us on Twitter, Facebook, and Instagram. For our latest videos, subscribe to our YouTube channel.
First Published Date:
12 Dec, 08:59 AM IST
71639279484626
NEXT ARTICLE BEGINS