Samsung Galaxy Tab S7 FE review: Feature-rich and just might replace your laptop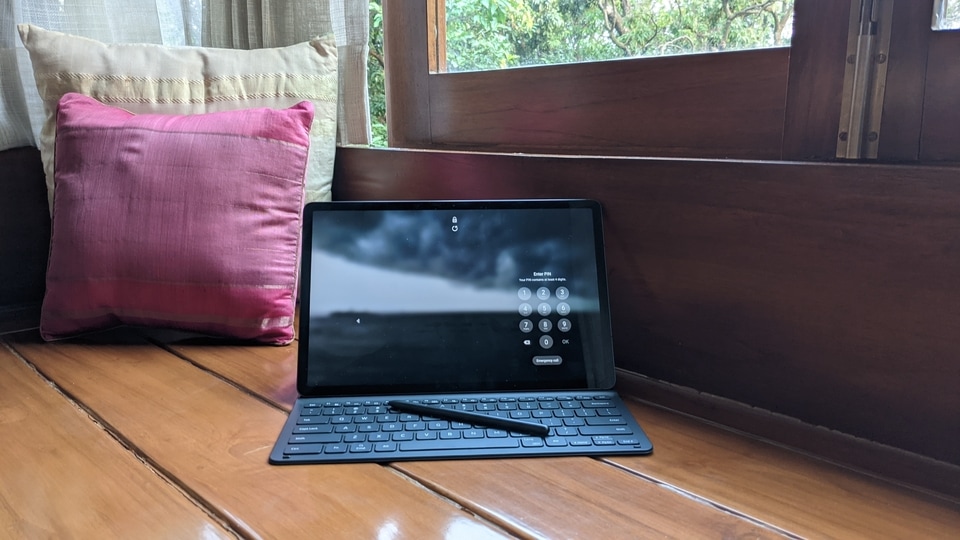 The Samsung Galaxy Tab S7 FE offers most of the features from the Tab S7 series but at a more affordable price.
Pros
Sleek and feels premium
Bundled S-Pen
Large, bright 12.4-inch screen
Good battery life
Cons
No fingerprint scanner
Slightly heavy
No LED flash
No headphone jack
Specifications
Screen

12.4 inch LCD display

Speakers

Two AKG-tuned speakers

Battery

10,090mAh

Stylus

Bundled S-Pen

Other features

Expandable storage, LTE support

Cameras

5 MP front camera, 8MP rear camera
My experience with tablets has primarily been restricted to Apple's iPads and Samsung's Galaxy Tab S7 FE was one of the first Android tabs I spent a significant time with, and I wasn't disappointed. The Samsung Galaxy Tab S7 FE essentially brings you most of the premium features we've seen on the company's Tab S7 series, but at an affordable price point (our 6GB/128GB review unit costs ₹50,999).
The Galaxy Tab S7 FE comes in a few size options so you can pick the one that fits your budget. There is the 4GB/64GB base variant that's priced at ₹46,999, and the 6GB/128GB version. Both the variants support LTE (4G) for data and calls and internal storage can be expanded to 1TB with a microSD card.
The Samsung Galaxy Tab S7 FE looks pretty sleek with its flat edges. The design on this is similar to what we've seen on the Galaxy Tab S7 and the Galaxy Tab S7+, and all in all these tabs look like they've been "inspired" by what Apple has done with its iPad Pro devices. The Galaxy Tab S7 FE has an all-metal body that has a nice, premium feel to it, and you get it in colours like Mystic Silver, Mystic Black, Mystic Pink, and Mystic Green. The tab looks sturdy overall and is a bit on the heavier side making it slightly cumbersome to hold for long periods of use.
There is no headphone jack on the Galaxy Tab S7 FE, the power and volume buttons are on one end while the SIM tray (which can hold a Nano-SIM and microSD card) is on the other side on the right edge of the tablet when held up horizontally.
There are two AKG-tuned speakers placed on two ends of the left edge (when held horizontally), when in landscape mode, these speakers end up being on the bottom to give you that left and right stereo sound feel and they come with Dolby Atmos support. The Galaxy Tab S7 FE has a USB Type-C port for charging and there are contact pins and grooves on the edges to dock the tab on the keyboard case.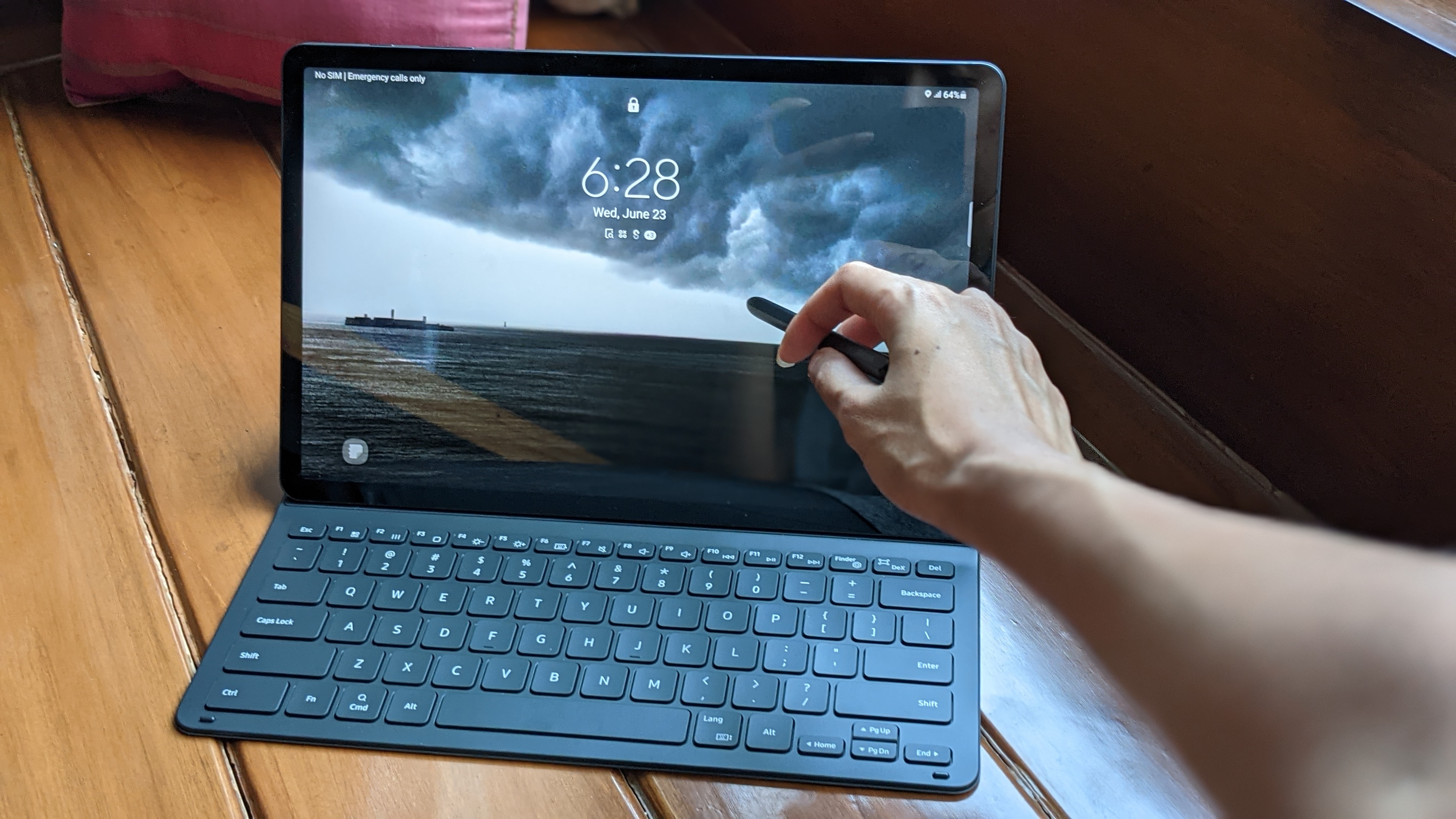 You get a 12.4-inch LCD display (when measured diagonally) with a 16:10 aspect ratio and 2,560 x 1,600 pixels resolution. The more expensive Galaxy Tab S7+ has a screen of the same size, but it is an AMOLED and comes with a higher resolution. The refresh rate on the Galaxy Tab S7 FE is a standard 60Hz which many might find disappointing, but we had no real issues with it given our use case. The bezels all around are a little thick, but the screen is bright with good contrast levels.
One of the good things about the Galaxy Tab S7 FE is the placement of the front camera. When in landscape mode, the camera sits on top of the display, as it rightly should. This makes it much easier to access it while on video calls. Also, this one feature is missing from Apple's iPads. Samsung has also left out the fingerprint sensor on the Galaxy Tab S7 FE, which we feel it should not have done. Given that the face recognition on the tab is a little sluggish, Samsung should have been wiser than to leave it out.
The Galaxy Tab S7 FE ships with the S-Pen, and one that is much larger than what you get with Samsung's smartphones, obviously. The S-Pen Can be docked on one side of the tablet magnetically, Or you can also place it on the back near the camera module. Besides this, there is the optional Book Cover Keyboard case that can be purchased separately for this tab for ₹14,999. If you are planning to use the Galaxy Tab S7 FE As a replacement for your laptop, then the keyboard is something you might want to consider.
The Samsung Galaxy Tab S7 FE Is powered by the Qualcomm Snapdragon 750G and works only on 4G (LTE) cellular networks, Despite the same chip supporting 5G network on smartphones. The Galaxy Tab S7 FE Can be used to make phone calls as well. Other connectivity features on this tablet include Bluetooth 5, dual-band Wi-Fi ac, etc. The Galaxy Tab S7 FE has a 10,090mAh battery under the hood with 45W fast charge support though the tab ships only with a 15W charger.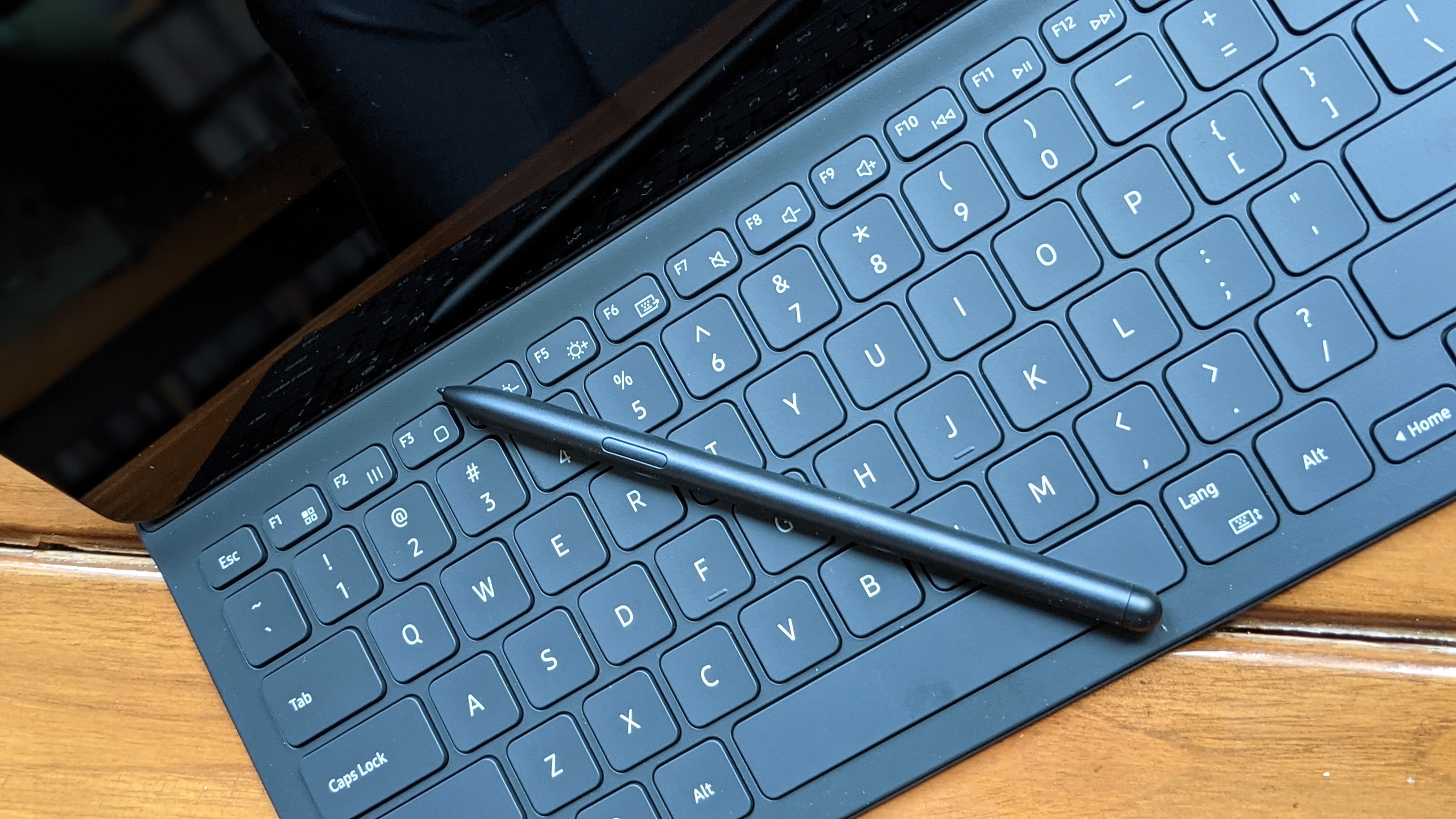 The Galaxy Tab S7 FE runs Samsung's OneUI 3.1 is based on Android 11. So the experience you get on the tab is very similar to what you would get on any new Galaxy smartphone, just that you experience it on a bigger screen. You can open up to three apps at once in split-screen mode but the procedure for this is a bit, ummm, complicated. You launch the first app and then you open the other two via the Edge Panel, which is a floating carousel of shortcuts. You have to populate the Edge Panel manually and you can also set up combinations of apps you want to open together. This works well, but you need to set it up first.
As far as Galaxy Tab S7 FE's accessories are concerned, we found ourselves using the keyboard and the S-Pen quite intensively. I used the S Pen a lot to take notes during meetings, much like what I do with the Apple Pencil and my iPad. Since the display on the tab is large enough, you can keep Zoom and the notes app open simultaneously for ease of work (thanks to Samsung Dex).
The keyboard is quite comfortable to use, the keys are well-spaced, albeit a little noisy. However, the keys are not backlit, so this might be a problem if you intend to use the tab in darker/dim environments. And there is also no trackpad, So you have to reach out to the screen every time you need to do something. I could easily do a whole day's work on the Galaxy Tab S7 FE without much trouble, And my daily work includes a lot of writing, social media, browsing, checking and writing emails, and even a little bit of editing. The photo editing was a little tough to manoeuvre without a trackpad. The keyboard case for the Samsung Galaxy S7 Tab+ had a trackpad, so it's quite strange that Samsung left this out for the Galaxy Tab S7 FE.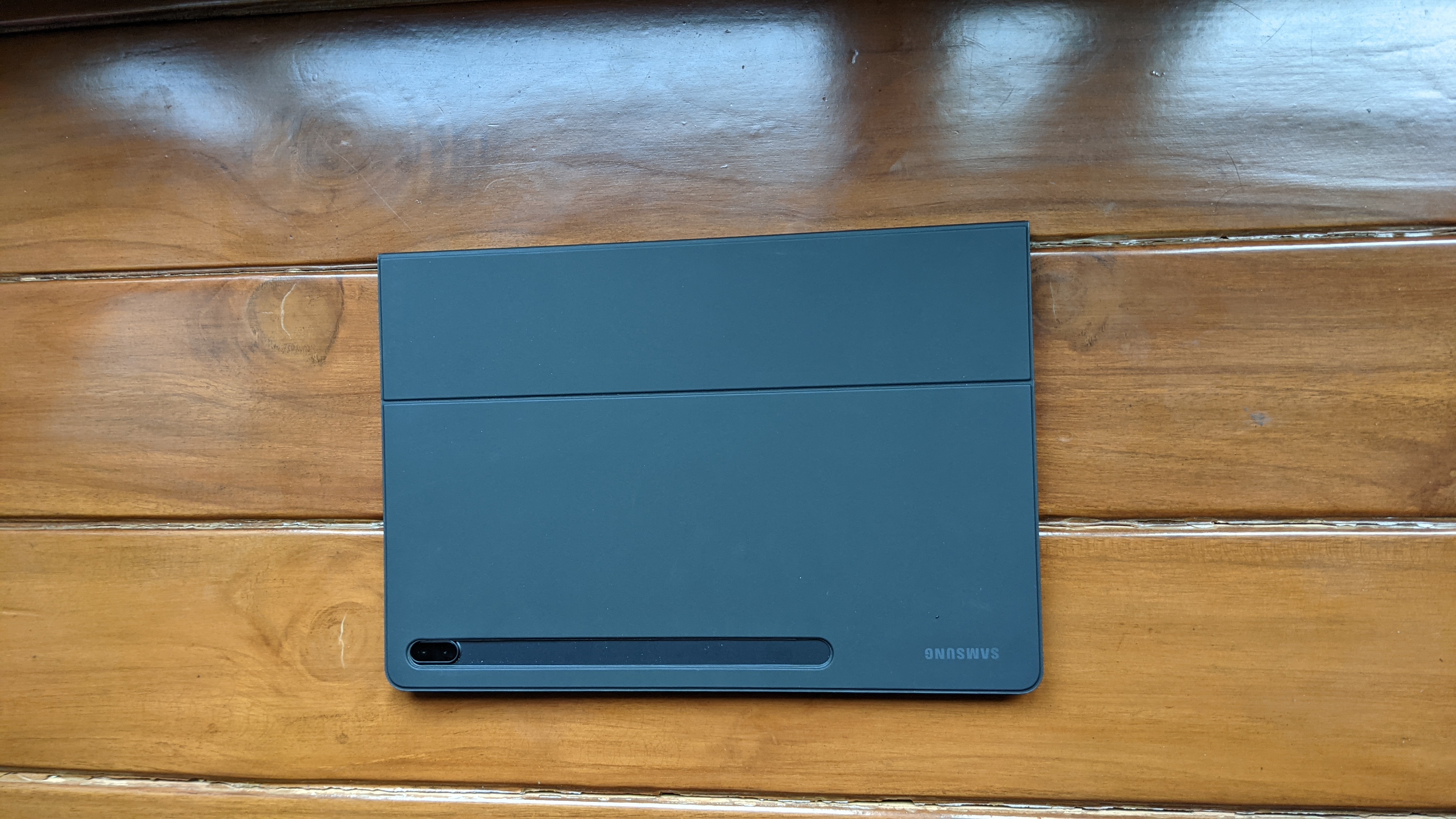 Samsung Dex makes using the tab quite a breeze, but it's not without issues. We faced apps relaunching in the same window when multiple apps are open you are moving between them. Sometimes we also lost a few apps when we exited the Dex mode and came back to it.
Now, I am no gamer. The only game I tried on the Galaxy Tab S7 FE was Sky Children of Light. But the game is absolutely horrendous on Android as compared to how flawless and smooth it is on the iPad and even the iPhone, so I barely played it. However, during my brief little stint with the game, the tab did get a little heated. The Galaxy Tab S7 FE was a treat when it came to watching content, the large screen delivered well.
The 5MP front camera on the Galaxy Tab S7 FE is decent enough for video calls and the 8MP camera on the back is just about average. Samsung should have included an LED flash on the rear to help scan documents better in low light.
The battery life on the Galaxy Tab S7 FE was quite impressive and despite using that battery-guzzler Chrome I could still get a whole day's work off it and then some.
Should you buy it?
The Galaxy Tab S7 FE with the S-Pen and LTE support is not a bad option to consider at this price point. If you add on the ₹14,999 keyboard then what you will pay for this tab is almost as much as what you would for an 8th Gen iPad with the Apple Pencil and Smart Keyboard. Now which ecosystem you are used to is what is going to be the ultimate deciding factor.
However, the missing fingerprint scanner, sluggish facial recognition, no headphone jack, lack of an LED flash, a mere 60Hz refresh rate, etc, can be an issue for some people.
Overall, though, the Galaxy Tab S7 FE delivers and if you are ok with working around certain Android limitations when it comes to delivering what PC/laptop features tabs can deliver, this is a good tab to consider.