Realme Smart TV 4K Review: Compact screen, but packed with features
Released earlier this year, the Realme Smart TV 4K packs in a handful of features at an affordable price. But should you buy it? Here's what we thought.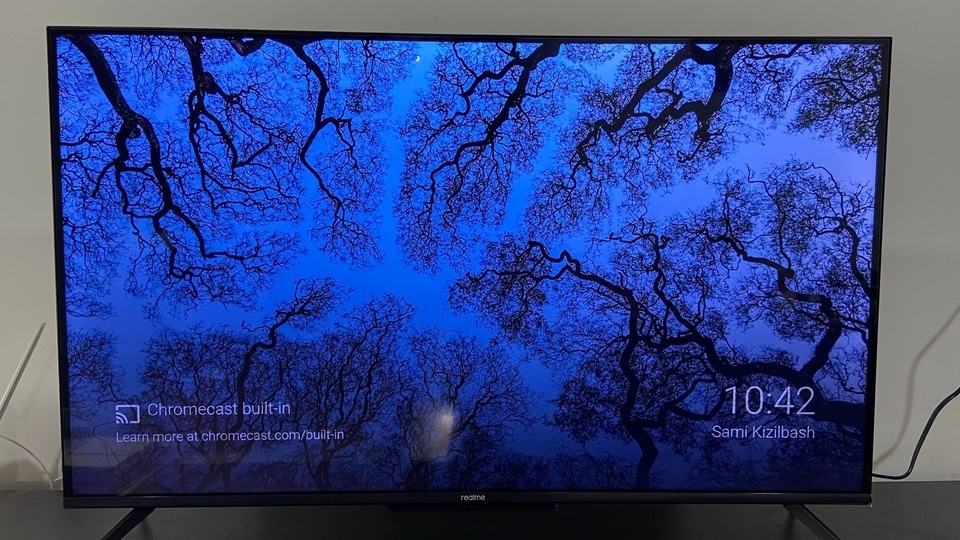 Product Name
Realme Smart TV 4K
Pros
Compact size
Good viewing angles
Bright display
Audio quality
Dolby Atmos support
Cons
Colour reproduction inconsistency
Bright LEDs on front panel
Specifications
Screen

43-inch (108 cm)

Resolution

3840x2160 pixels

Speakers

24W quad stereo

Processor

MediaTek quad-core chipset

Memory

2GB RAM

Storage

16GB

Connectivity

Wi-Fi, Bluetooth, HDMI, USB, IR, AV LAN
Realme has has a busy year, launching smartphones, tablets, laptops, smart TVs, audio products, wearables, accessories, and much more. The company first launched a smart TV in the country last year, with full HD screens. The company has also launched 4K UHD TVs including the Realme Smart TV 4K that was launched in 43-inch and 50-inch sizes, a few months ago. The device comes with Dolby Vision and Dolby Atmos, but is this a TV you should consider if you're looking for an affordable 4K smart TV? We've spent some time with the Realme Smart TV 4K and here's what we think.
Design and display
At first glance, the Realme Smart TV 4K doesn't really stand out from most budget 4K smart TVs, and doesn't look out of place in a regular-sized room, thanks to the 43-inch screen size. We mounted the TV on a long cabinet, and the included power cable was long enough to reach the nearest socket. The Realme Smart TV 4K has thin bezels at the edges, but the TV also has a thin line (centred) under the bottom of the screen. There are small LEDs built into this panel, but you get used to them after a while.
The display on the Realme Smart TV 4K is a big upgrade for those who are switching from other full HD TVs, including the 43-inch Realme Smart TV 43. The company has packed in 3840x2160 resolution, along with support for Dolby Vision, HDR10+ and HLG content support, which is difficult to find on TVs at this price point. This itself, is one of the biggest strengths of the Realme Smart TV 4K, especially if you don't have a large living room and want to avoid a large screen that could stick out like a sore thumb.
The Realme Smart TV 4K will get compared with a lot of other 43-inch TVs that offer full HD resolution and in this regard, the display will definitely come out on top. But this TV is also competing with other smart TVs with 4K resolution, many of them with larger displays. The Realme Smart TV 4K does have the previously mentioned size benefits, but it also has a few downsides, when watching content at 4K resolution, despite the sharp display quality.
We first tested the Realme Smart TV 4K by streaming Justice League, and liked how the screen handled darker elements of the movie. However, the smart TV had some issues while displaying skin tones, and characters like Barry Allen's father's skin had an unnatural pinkish tint while the rest of the screen was rather cool. We then switched to Netflix, to watch a bit of You, where we found the same tint issue, and the screen had a warm tint, which extended to skin tones including Penn Badgley's face.
While testing content in full HD, we found that the Realme Smart TV 4K handled colours and detail reasonably well. We watched Black Widow on Disney+ Hotstar at 1080p and the content was displayed well (while leaning to the warmer end) save for some of the fast-paced action scenes. Here, we noticed a little sluggishness, which was also noticeable with other action-packed movies.
Animated content is handled well on the Realme Smart TV 4K, even though the display sometimes boosts brightness on certain white or light coloured elements on the screen. We tested Blush, a short film on Apple TV+ and found that the colours were punchy and bright, but the alien's hair was a little too vivid while the spacesuit was a little too bright during some parts. It is still able to handle animated content better than other content, in our testing.
Software and performance
The Realme Smart TV 4K runs on Android TV 10 and the company pushed out a handful of software updates over the course of our testing. The TV comes with support for the default Android TV launcher, and it lets you quickly launch a strip of apps, while also featuring some content from apps like YouTube. If you have used an Android TV in the past, you should feel right at home here. You can also download apps like Apple TV+ along with the pre-installed ones. Setting up the TV takes less than 10 minutes after it is plugged in.
With built-in Chromecast support, the Realme Smart TV 4K allows users to quickly push content they have captured in high definition to the display and there were no connection issues during our testing. There's no AirPlay support, so if you have an iOS or iPadOS device, you'll be able to stream videos from YouTube and Netflix, but Apple Music and Spotify will not work on your iPhone. Having the Google Home app installed is recommended, as finding the TV and setting it up for Chromecast access is a seamless experience.
On the audio front, the Realme Smart TV 4K comes with four 24W speakers and the sound quality is quite reliable. Not only does the TV handle voice-heavy content well, but it can also sound great when playing music. The bass response is quite satisfying and we didn't feel the need to connect any other audio equipment while using the TV. Dolby Atmos audio support is a good addition to the device, if you have compatible content. The volume controls are also handled well, and the volume steps let you pick the right level without a lot of fidgeting.
The Realme Smart TV 4K also ships with a remote that comes with dedicated buttons for Netflix, YouTube, and Amazon Prime. You also get a Google Assistant button, located between the volume buttons. The remote is powered by two AAA batteries. The buttons offer tactile feedback and the remote is not heavy. The Realme Smart TV 4K is powered by a quad-core MediaTek processor, and starts rather quickly. On the connectivity front customers will get one HDMI port with ARC support, two more HDMI ports, and two USB ports.
On the rear side, the Realme Smart TV 4K offers users a hardware switch to turn off the four microphones that the company has installed for Google Assistant integration. Doing so will turn on four LEDs on the bottom of the front panel, which can be disturbing if you are trying to watch content in the dark. When enabled, Google Assistant is as helpful as one could expect on a smart TV, and allows users to check and control TV functions with their voice.
Final thoughts
The Realme Smart TV 4K is currently priced at ₹30,999 on the company's website, while e-commerce website has listed the price at ₹26,999 (down from ₹27,999) -- which makes it one of the more affordable 4K smart TVs in this price segment. The Realme smart TV 4K is a solid device on paper, when you compare it with other 43-inch smart TVs that offer full HD resolution. The device comes with all the bells and whistles you would expect to see on a 4K smart TV, and it comes in a compact package. This might be one of the reasons a customer would pick the Realme Smart TV 4K over other 43-inch smart TVs. The addition of Dolby Atmos audio and support for Dolby Vision, HDR10+ and HLG content is another plus.
However, the Realme Smart TV 4K does have some issues, which we noticed while testing it out with specific content. We noticed these issues because we have viewed the content before on different screens. It is unclear how many of these issues can be fixed by the company over software updates. However, if you are not very picky about colour accuracy and want a clear, bright display for your small or medium-sized living room, the Realme Smart TV 4K might be worth considering at the current price point.
Follow HT Tech for the latest tech news and reviews , also keep up with us on Twitter, Facebook, and Instagram. For our latest videos, subscribe to our YouTube channel.
First Published Date:
07 Nov, 01:51 PM IST
71636272412612
NEXT ARTICLE BEGINS