Samsung has launched The Premiere, its 4K ultra short throw projector in India: Here are the price, specs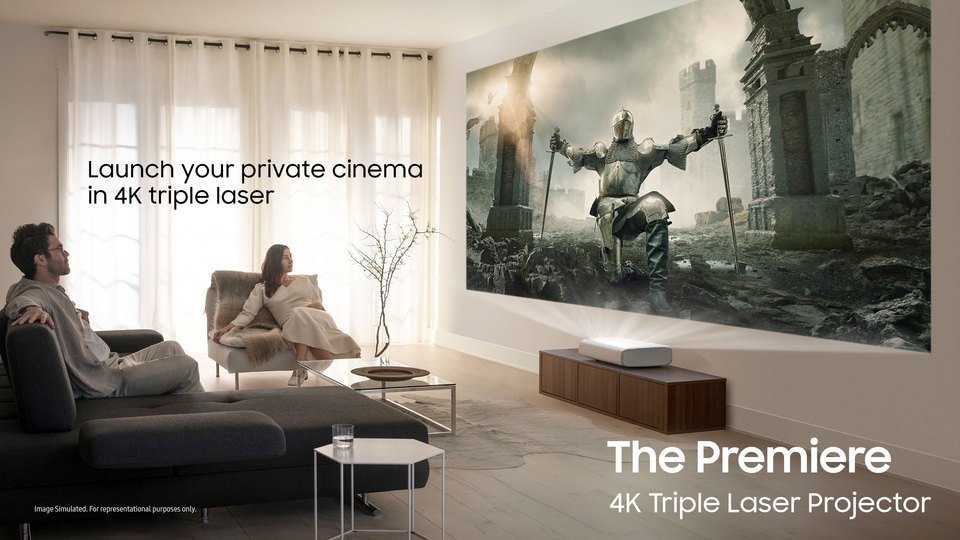 Samsung's The Premier comes with built-in Acoustic Beam technology for surround sound and can give you a screen of upto 130-inches.
Samsung has launched its ultra-premium range of projectors called 'The Premiere' in India and with this, the company has forayed into the big-screen private cinema experience space. The Premiere comes with a compact, space-saving design and is an ultra-short-throw projector. Unlike other projectors, ultra short throw projectors do not need to be placed very far away from the wall or the screen that you want to project the image/feed on. These space-saving projectors are meant to be placed very close to your screen. Samsung's The Premier can be placed on something like a coffee table or a chest of drawers and just 11.3 cm away from the screen, and it can project a screen that's up to 130-inch big.
Samsung's The Premier comes with a minimalist white design, rounded edges, and a fabric finish. Starting today, The Premiere will be available in up to 130-inch and 120-inch screen size models – LSP9T and LSP7T respectively. Both the models support a laser-powered 4K picture resolution. Also, as Samsung points out, The Premiere LSP9T is the "world's first HDR10+ certified projector with triple laser technology". These projectors promise to deliver "revolutionary" contrast details with a peak brightness of up to 2,800 ANSI lumens. ANSI Lumens is a unit defined by the American National Standards Institute (ANSI) that measures the overall amount of light output by a projector.
Samsung The Premiere also supports Filmmaker Mode, and comes equipped with Samsung's Smart TV platform and that means users get easy access to video apps from major content partners such as Netflix, Amazon Prime, YouTube, etc., along with mobile connectivity features such as Tap View and Mirroring. For gaming enthusiasts, there is a Game Mode, fret not.
The Premiere comes with built-in woofers and Acoustic Beam surround sound. This Acoustic Beam technology delivers up to 40W and 4.2 channel sound for the LSP9T and an output of 30W and 2.2 channel experience for the LSP7T. What does this mean for you? Ideally, under normal circumstances, you should not need additional soundbars or speakers for the experience.
The two models of The Premiere will be available on the Samsung official online store, Samsung Shop, and at select Samsung Smart Plazas from August 10 onwards. The LSP9T model of The Premiere is available at ₹6,29,900 while the LSP7T is available at ₹3,89,900 respectively. Early bird consumers will get complimentary Amazon Echo Plus when buying either of the two models from Samsung's official online store. Both the projectors will come with 12 months of warranty.