Samsung just launched some new microwaves to help you with that banana bread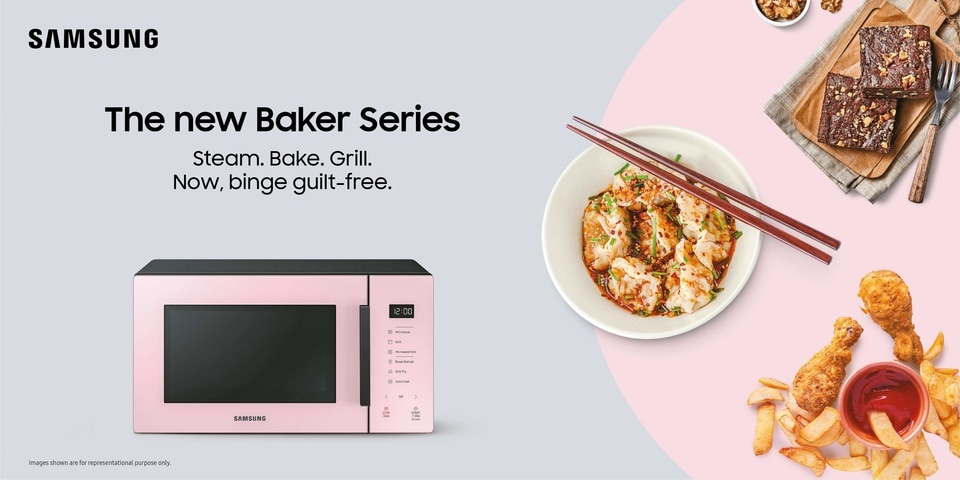 If you didn't bake a banana bread last year, maybe this year you will and Samsung's Baker Series microwaves should serve as inspiration.
Samsung has just launched their new Baker Series microwaves that are equipped to steam, grill and fry and also come with pro-level convection features. Given that so many of us turned home chefs last year, or at least tried to - these new microwaves should serve as some extra inspiration this time around.
The new Baker Series microwaves come with an elegant, sleek design, intuitive controls, distinctive handles and a glass-finish body. They also come with accessories like a glass steam cooker, round rack, and crusty plate. Its 99.9% anti-bacterial ceramic enamel interiors in the Baker Series makes the microwave durable and easy to clean.
Samsung has launched five models under the new Baker Series – two Grill Fry models and three Steam Cook models – that are available in 23 litre capacity. The range is available both on Flipkart and Amazon, and Samsung's official online store, with prices ranging from ₹10,290 to ₹11,590.
The new 2021 range of Samsung Baker Series microwaves come in Clean Pink, Pure Black and Clean Gray colours.
The Steam Cook variant of these microwaves come with an auto steam function and the glass steam cooker accessory, while the Grill Fry microwaves come with the crusty plate that enables oil free frying.
Both the Steam Cook and Grill Fry microwave models come with a home dessert feature (there you go for the banana bread!)