Dyson Corrale review: Guilt-free hair styling
Dyson Corrale is easily the best hair straightener available in the market right now.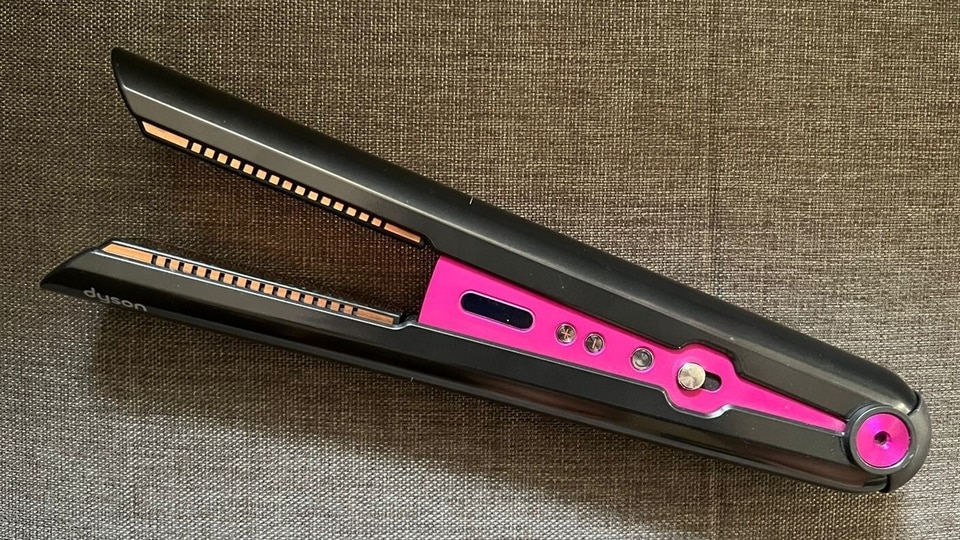 Technology has evolved at an exponential pace in the past decade. And while we have seen rapid developments in terms of devices like smartphones and personal computers and even home appliances like air conditioners and refrigerators, personal care devices such as a hair straighter haven't witnessed any radical changes. Sure, the scope and functionality of a hair straighter is limited, yet we haven't seen practical changes that would improve the overall user experience.
Enter: Dyson Corrale.
Dyson has been at the forefront of haircare technology. In this change, the company has launched devices like Supersonic, which is a hairdryer with the company's iconic loop design, and Airwrap, which is a styler with a variety of attachments. The latest device to join the gang is Corrale.
Dyson Corrale is a hair straighter and like other hair straighteners that you might have used until now or seen in the salon, it is used for...well...making your hair straight and smooth. But it is no ordinary hair straightener. For one, it is a battery-operated device. But that's not the only thing that differentiates Corrale from other hair straighteners. It has an OLED display and a lock button to make it easy for transportation. Those are some of the top features that make Corrale stand out among other hair straighteners available in the market right now. The list is slightly longer than that. We will find out more about Corrale's distinguishing features and its overall experience in the review below. So keep reading...
Dyson Corrale: Design
Dyson is a brand that is known for designing outlandish products. The company, in the past, has reimagined the designs of common devices and home appliances such as a hairdryer and an air purifier in a way that hadn't been done before. Don't worry, it hasn't made such a dramatic overhaul to the design of the hair straightener. Instead, it has made subtle changes that have not only made the hair straightener easier to use but it has also made it a lot safer for the hair.
The first and the obvious change is including an OLED display. This OLED display shows the heating level which can be controlled using two buttons just under the display on the right side. Following these temperature control buttons are two additional buttons. While the first one is the power button, the other can be used to lock or unlock the hair straighter. This button makes Corrale easy to carry by making it compact. On the opposite side, there is a slot, which resembles the charging port cover in smartphones. This slot and its cover can be used to physically disconnect the battery making it safer for travel. At the bottom, that is, the place where the two plates meet, there is a circular port that can be used to charge the battery-operated hair straightener using a magnetic charger.
Wait, there is more. In addition to these additions, Dyson has also changed the heating plates that straightens the hair by applying heat. The company has replaced the ceramic plates with something it calls the 'Flexing Plates'. These plates are made using a Manganese Copper alloy and they not only help in managing the heat but they also make the overall device flexible to use.
Dyson says that Corrale has been made keeping in view the dynamic needs of the people as it enables them to get ready while they are on the move. In my experience, using Corrale is easy. However, it isn't exactly light to hold, which makes it less than ideal to be used when you are travelling, say via a cab to work. Overall, Corrale, like all of Dyson's devices, features an ingenious design that is easy to use and good to look at.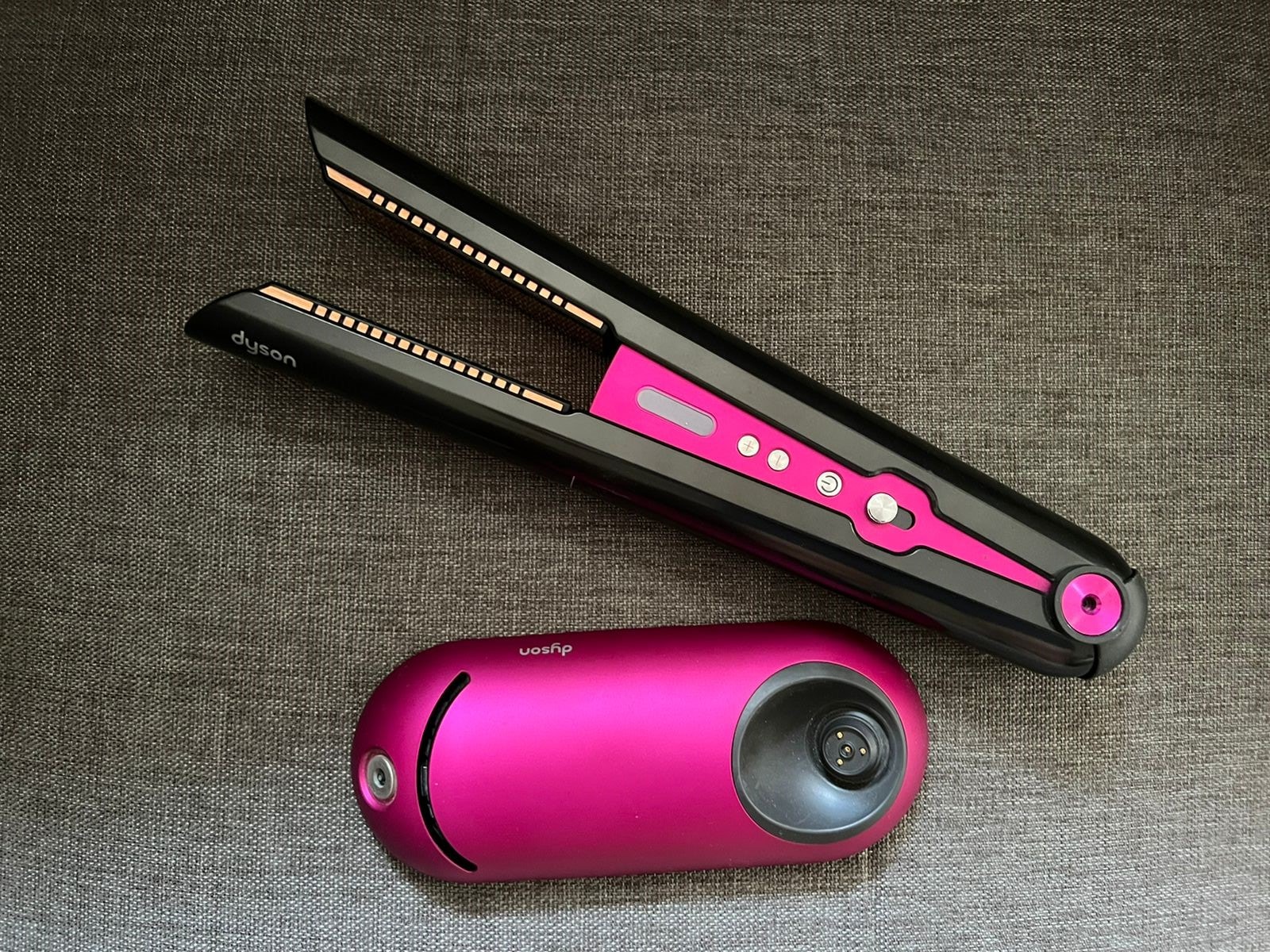 Dyson Corrale: Experience
Now let's talk about the performance...err….overall experience offered by Corrale.
Traditionally, hair straighteners have been the dumbest devices to use. You turn on the switch from the switchboard and they will start heating immediately. Some hair straighteners these days also come with an additional button to power them on. And almost all of the heat up the ceramic-coated plates to 210 degrees to smoothen the hair. But that's it.
Corrale changes by offering users three temperature points -- 165°C (330°F), 185°C (365°F) and 210°C (410°F) -- to select from depending on the kind of hair-styling that they are going for. For a light everyday look, you can opt for 165°C heat levels, for a more nuanced look, you can opt for 185°C (365°F) or 210°C (410°F) temperature levels. And you can not only straighten your hair but you can also experiment with different looks like beach waves using Corrale. That said, straightening the hair is easy, but the styling is difficult and it takes a good amount of time to get used to it. What adds to this is the fact that Corrale isn't exactly light to hold. Sure, it is easy to move it around your hair, thanks to its wire-free design, but it is heavy and this is bound to tire you after a point.
Now, comes the battery. The Dyson Corrale packs a four-cell Lithium-ion battery, which is what lets you use it on the go. It charges completely in 70-90 minutes and you can see the charging level on the OLED display. In terms of usage, you can use Corrale for styling your hair once on a single charge if you have slightly longer hair. For shorter hair, it lasts longer. And in case you run out of juice, you can always plug in the charging cable and style your hair as the battery charges.
Coming to styling, Dyson, as we mentioned before, comes with flexible Manganese Copper alloy plates. These plates evenly distribute the heat for better styling. What I like the most about Corrale is the fact that it doesn't damage your hair while styling it. I have used Corrale for quite some time and in my experience, it is a hair straightener that does the least amount of damage to your hair, especially compared to other ones available in salons. I am not a fan of hair-styling devices, particularly because one-time use does enough damage that takes months to recover from. Corrale is a bit different in this regard. It doesn't burn your hair, which makes it ideal for people like me who don't believe in intense styling.
Dyson Corrale: Conclusion
Now the most important question of this review: should you buy the Dyson Corrale or not?
In a nutshell: Yes, if you have the pockets for it.
Dyson Corrale is easily the best hair straightener available in the market right now. What I like about it the most is that it doesn't burn your hair while styling it. Simply said, a great hairstyle doesn't come at the cost of your hair health. It helps that it is battery operated (though a tad bit heavy) which makes it easy to use (no fiddling with the wire), and more importantly, you get flexible temperature settings to pick from -- all of which make it a great buy.
Sure, it costs around 37 grand. But if you can ignore the price tag, Corrale is the hair straightener to use.
Product Name
Dyson Corrale
Pros
Easy to use
Battery operated
Doesn't damage the hair
Specifications
Battery

4-cell Lithium ion

Display

Black and White OLED display

Material

Manganese-Copper alloy plate
Follow HT Tech for the latest tech news and reviews , also keep up with us on Twitter, Facebook, and Instagram. For our latest videos, subscribe to our YouTube channel.
First Published Date:
28 Nov, 08:33 PM IST
71638109241854
NEXT ARTICLE BEGINS