Samsung AirDresser first impressions: It's about indulgences
Samsung envisions the AirDresser in places like fancy retail outlets, premium lounges, hotels etc. Which makes sense, it is expensive and if you really sit down to do the math, you will be wondering if it makes sense to spend a lakh on this.
17 Feb 2021, 02:19 PM IST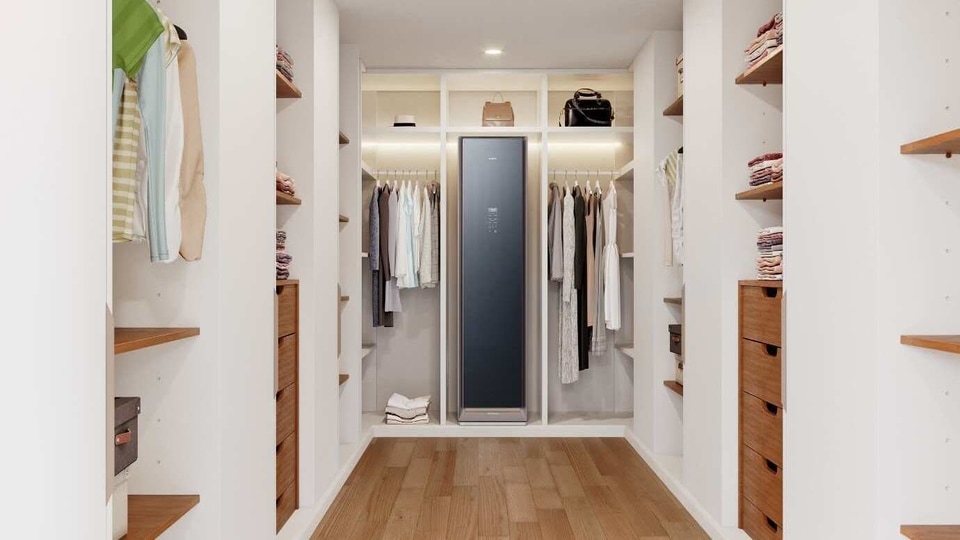 You don't need a truckload of clothes to acknowledge that ironing and dry cleaning is a chore. Laundry, definitely is. So while you cannot take laundry out of the whole equation, Samsung has something that can take some of the misery out of dry cleaning and ironing. Some.
When I saw the sleek AirDresser, it looked like a glorified gym locker. It's far more than that, obviously. We don't pay ₹1,10,000 for a gym locker, yet. In went my black coat that I had been wearing through half my winter outings (few as they were thanks to the pandemic), for a quick 20-minute refresh. The coat had lint, some cat hair, dust (of course) and some lingering aromas of balcony barbecues and perfume.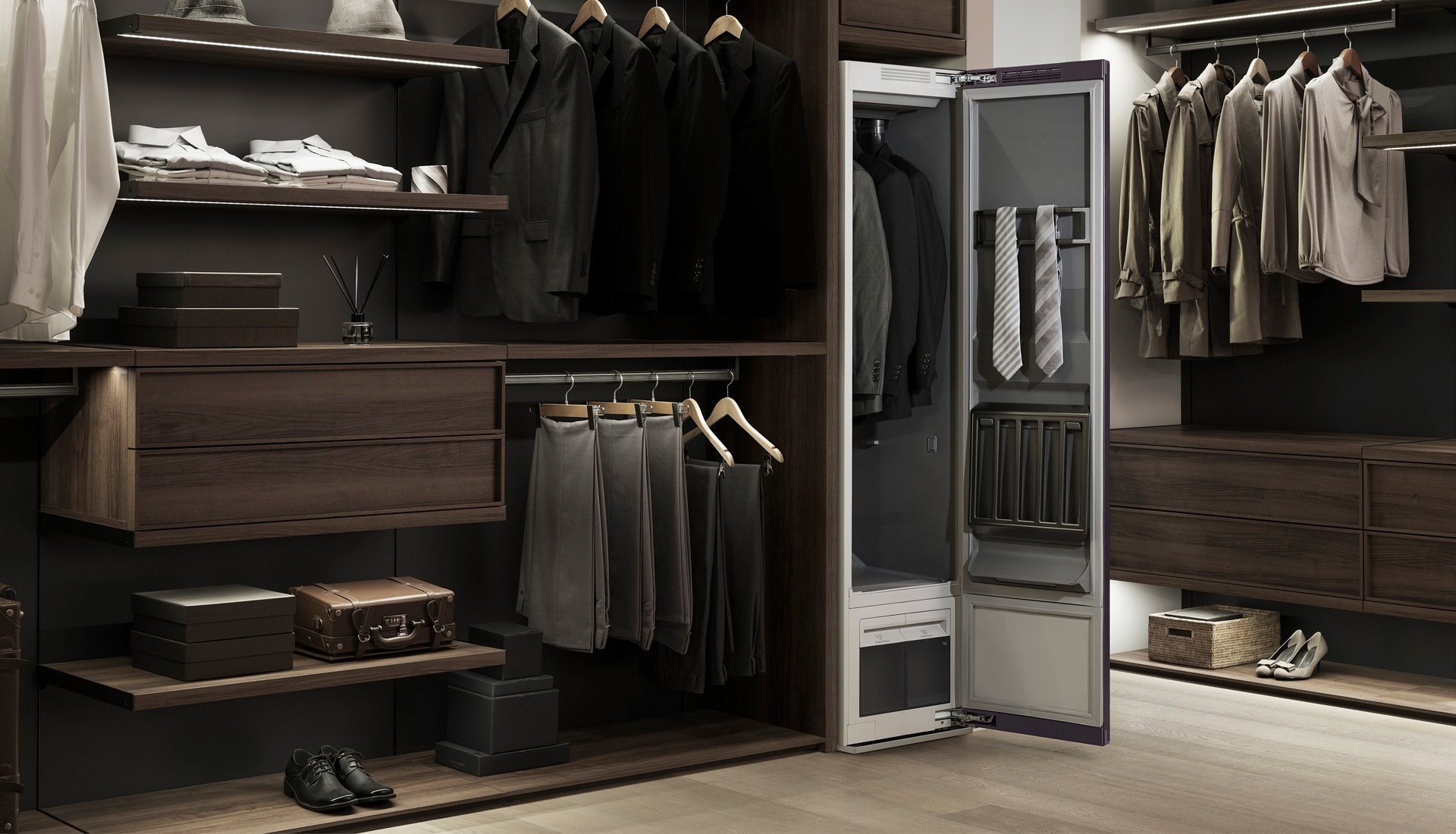 In 20 minutes, my coat was ready to go, I was told though that a 20-minute cycle is too short for my coat, it evidently needed a more thorough job. And that's fair (any one with pets will tell you that, and I am occasionally around pets). The garment did feel significantly cleaner and the lingering smell of smoke was gone, which is perhaps proof that a longer cycle would have worked better in this case.
How it works
The entire refresh cycle inside the Samsung AirDresser happens in four steps, involving JetAir, JetSteam, Heatpump Drying and finally, a Deodorising Filter.
As the names suggest, the JetAir has strong air pushed through the air ducts and air hangers to remove the dust particles (and the stray cat hairs, I hoped). Next comes in the JetSteam that sanitises the clothes inside with heat and Samsung says that this can eliminate "99.9% of viruses and bacteria, 100% of house mites, 99% of odor causing gases, and 99% of other harmful substances".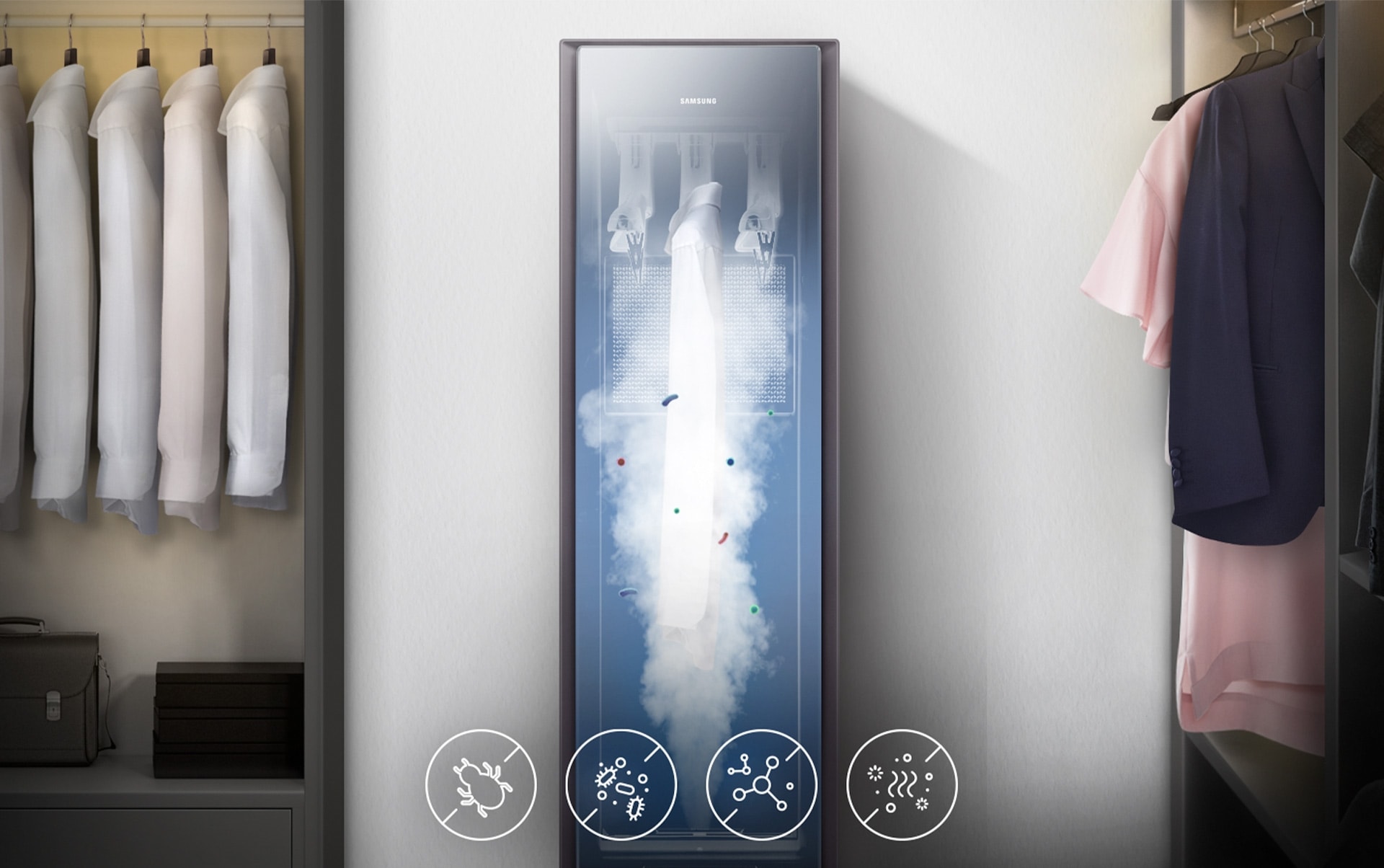 The Deodorising Filter captures and removes "odor causing" particles that are created by things like sweat, tobacco, food, smoke etc.
This is followed by the Heatpump drying that dies out the steam from the previous process but at very low temperatures, so as to not damage clothes or accessories.
Samsung does not say that their AirDresser can replace your washing machine or cut down on your trips to the dry cleaner. The frequency of your visits to those institutions should be reduced though.
We usually go to the dry cleaner with our expensive suits, jackets, dresses, saris, coats etc, and probably once a season. That's because these expensive clothes are always at the risk of getting ruined by frequent wash cycles.
So imagine, if you could just get your expensive sasanitised and refreshed instead after wearing it for one evening. We don't need an assault of detergents and chemicals to remove the smell of smoke from clothes - isn't that a relief?
That is the idea here — the option to keep those expensive clothes cleaner and fresher for longer so you can delay a dry clean and protect the fabric.
Also Read: Samsung's AirDresser will sanitise, deodorise your clothes and costs only ₹110,000
The AirDresser is also a pretty neat option to sanitise those soft toys your kids are playing with and even some linen if you want, especially with the pandemic still lurking. The Samsung AirDresser comes with a few neat hanging and storage options, so you can hang up those suits, jackets, dresses etc or you can keep them folded on a shelf. All the hangers, shelves and clips are removable so you don't need to worry about the size or the volume of clothes you are putting in.
The AirDresser can also smoothen out wrinkles in your clothes. Smoothen only though. If your favourite shirt has been in a ball at the bottom of the laundry basket you will have to pull out the iron still. Again, it's not meant to replace the iron or the steamer to actually remove hard creases and wrinkles.
This teched-up half closet has a number of cycles that you can run or set on schedule to run (controlled by the Samsung SmartThings app) ranging from the basic 20 minutes to almost three hours. The AirDresser also comes with self-clean tech and a reminder from the unit itself that it needs to be done every 40 cycles.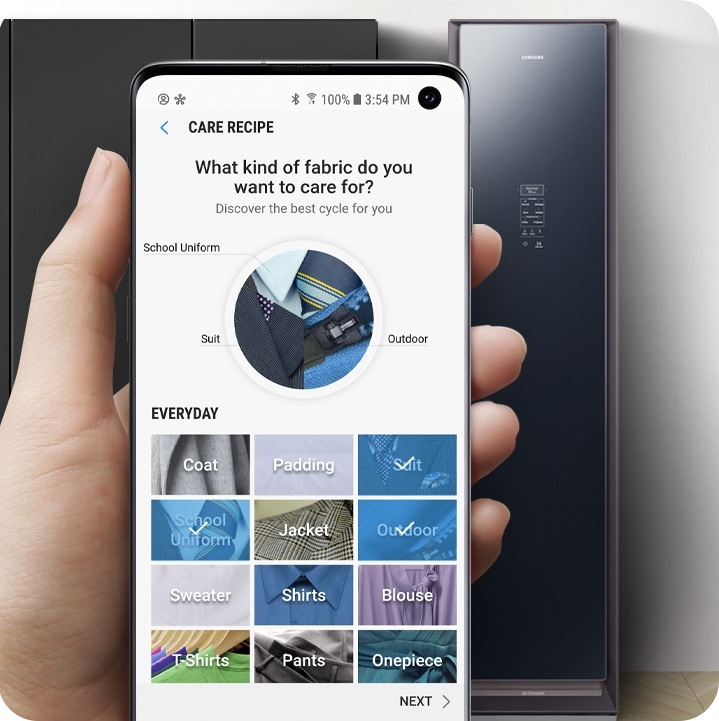 Another very interesting aspect is, the Samsung AirDresser can dehumidify a room. I can see this working well in a small/medium sized hall room if given enough time, but I doubt it will work in a sprawling environment.
Samsung envisions the AirDresser in places like fancy retail outlets, premium lounges, hotels etc. Which makes sense, it is expensive and if you really sit down to do the math, you will be wondering if it makes sense to spend a lakh on this. If you are someone who significantly invests in your wardrobe, the Samsung AirDresser is a good addition to keep your clothes intact longer.
Will it change your life? To be frank, not really. It will help you maintain your expensive clothes.
So ask yourself, how much did you pay for that leather jacket? And how long do you want to keep it around?