Intel announces two new 11th Gen processors with 5.0GHz speeds, its first 5G modem for laptops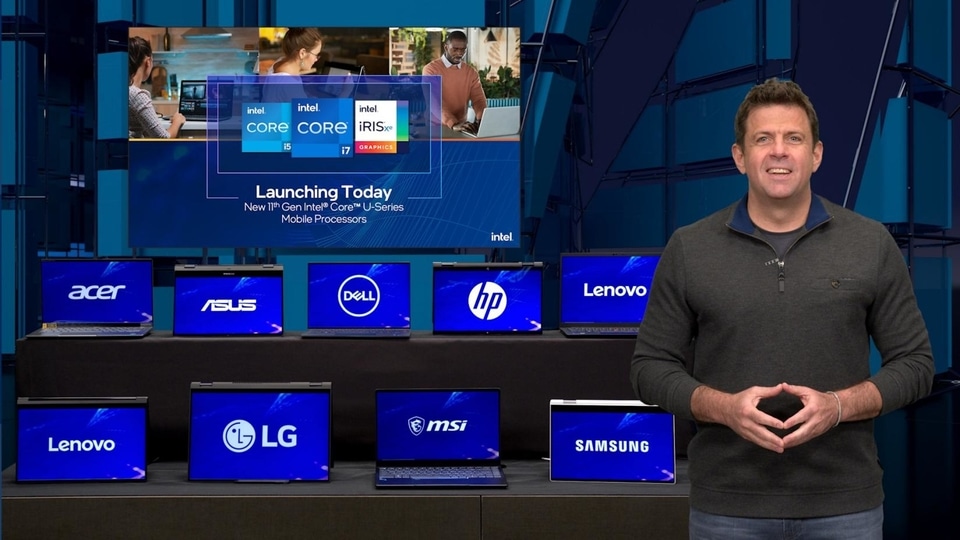 Following the launch of its powerful Tiger Lake H-series processors in May, the company has launched its first 5G module for laptops running its new Core-U series processors.
Last month, Intel launched its 11th Gen Tiger Lake H-series laptop processors for gamers and creators. However, the company isn't stopping to rest on its laurels, with the launch of a powerful new 5.0GHz processor for laptops along with its first 5G module for laptop computers.
At Computex 2021, Intel on Monday announced two new laptop processors as part of its U-series — the Intel Core i7-1195G7 and the Intel Core i5-1155G7, which are currently the most powerful for any laptop in the Core i7 and Core i5 ranges respectively. They also boast powerful specifications, designed with thin and light laptops in mind.
Also read: Intel launches 11th Gen Core H-Series mobile processor aimed at gamers and creators
For starters, the new 11th Gen Intel Core-U processors will power laptops that can offer up to 5GHz out of the box. They will feature the same WiFi 6 and 6E support advertised on the other Tiger Lake H-series processors. Available in quad and octa-core variants, these processors boast improved application performance plus better graphics performance while gaming with Intel's Iris Xe graphics.
More importantly, these laptops will feature the company's new 5G module, called the Intel 5G Solution 5000. Created in partnership with Mediatek (for the modem software) and Fibocom (for the new M.2 module) the new module has been in development for years and will offer 5G – in the form of Sub-6, not the faster mmWave. These should be available on Asus, Acer and HP laptops this year, with 30 more models expected next year.
Read more: Intel reiterates chip supply shortages could last several years
According to the company, more than 60 laptop models featuring the new Intel Core i7-1195G7 and Intel Core i5-1155G7 processors are expected in the coming months, from OEMs like Acer, ASUS, Lenovo and MSI. Meanwhile, the company expects nearly 250 models will arrive later this year, which will be powered by the company's 11th Gen Core U-series processors.