Philips 55PUT8215 4K Android TV Review: It has some good things going for it
The Philips 55PUT8215 4K Android TV is a good TV, but it needs some little tweaks to make it better.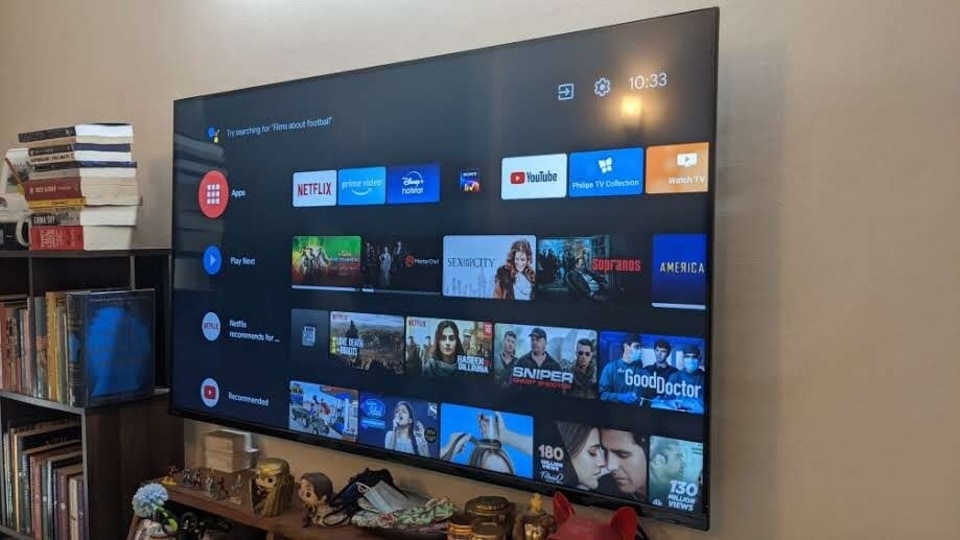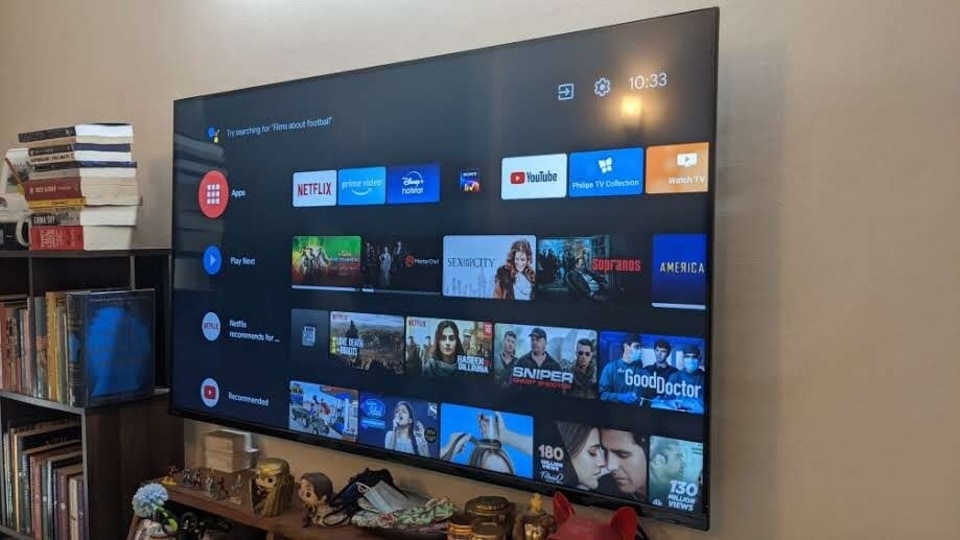 Product Name
Philips 55PUT8215 4K Android TV
Pros
Impressive picture
Decent sound
Cons
Port position problematic
Bloatware
Specifications
P5 Perfect Picture Engine

-

4K UHD

-

Dolby Vision

-

Dolby Atmos

-

Google Assistant

-

Built-in Chromecast

-

DTS Play-Fi support

-
Televisions, like smartphones, have been commoditized enough so that they are rarely "bad" or "unimpressive" anymore. Most TV companies have managed to reach a level of perfectly acceptable performance without breaking the bank. In other words, it all comes down to how much you are willing to spend and the space you have. What differentiates a TVs now is how 'smart' it is and other subtle little features that add to the overall experience. The Philips 55PUT8215 4K Android TV has some good things going for it, but there are issues.
Now, the Philips 55PUT8215 4K Android TV costs ₹89,990. It's no small change and obviously, when you are shelling out that much, you expect a certain class of performance. Philips shifted to Android TV with the 8200 series so the basic 'smarts' are in place. It's your regular Android TV when it comes to setting things up. You get dedicated keys for YouTube (this I wish was replaced with Prime Video or Hotstar Disney+) and Netflix on the remote and there is also a button for the Google Assistant. Since we are talking about the remote, it needs a little work. It was a little buggy at times and often froze and you are left pressing keys a little mindlessly till things respond. The voice commands worked without a glitch though.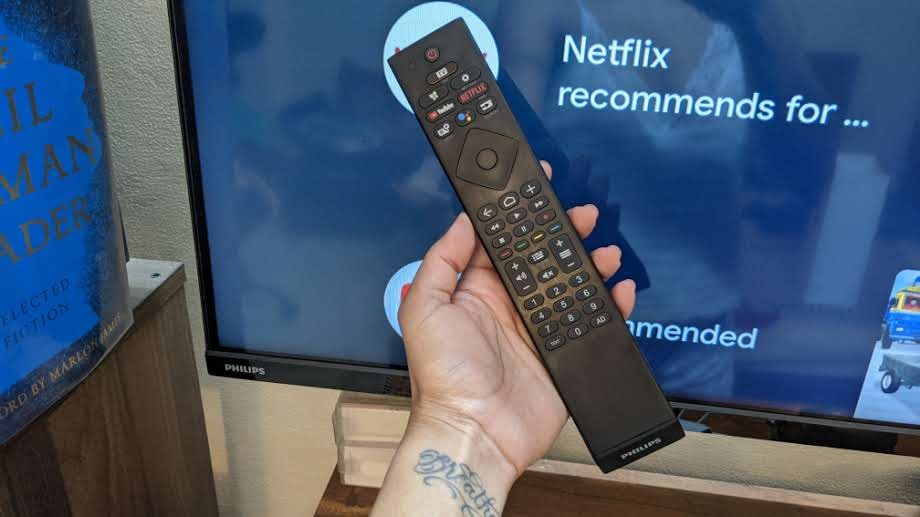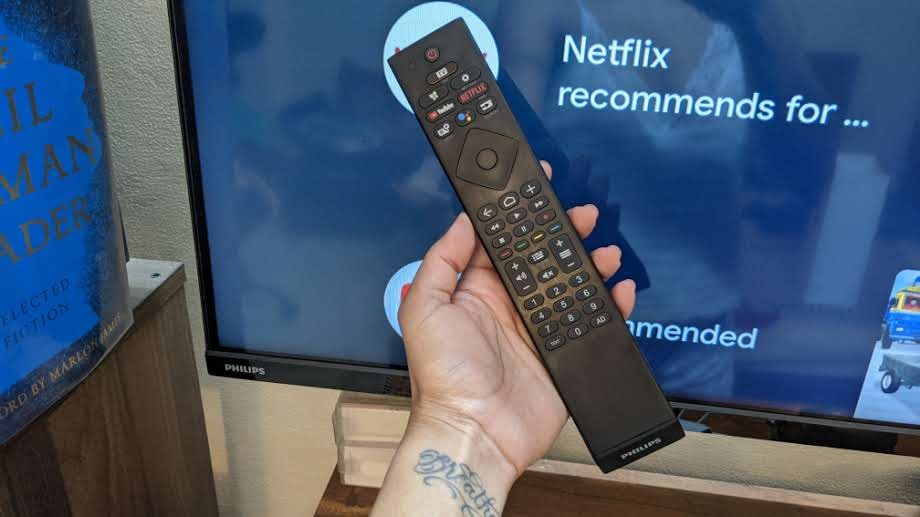 Also, I got the warning to replace remote batteries at least thrice after having put in new batteries when the review unit was mounted. This was fixed by the old-school method of pulling out the batteries and putting them back again, the same way I fixed the remote from freezing.
Now, to the main thing. The Philips 55PUT8215 looks clean and sleek, except the distinct bottom bezel that has the branding placed discreetly on the left end, the rest of the surrounding bezels are thin. The IR receiver is on the right end of the bottom bezel so you will have to ensure this area is left obstruction-free for the remote to connect. At 55-inches, you can wall mount the TV or place it on a table with the stands. In my experience, I've found that it is better to wall mount TVs that are 50-inches and above.
The ports on the Philips 55PUT8215 aren't exactly ideally placed. The HDMI, USB, and the 3.5mm headphone jack are on the left side, while the other lot of ports, including another USB port, three HDMI ports, the optical audio out, and the LAN port are on the bottom. All four HDMI ports support ARC.
The port placement isn't ideal. One HDMI, one USB, and a 3.5mm headphone out are present on the left side, while the rest of the ports — including another USB port, three HDMI ports, an optical audio out, and a LAN port — are placed along the bottom edge of the back panel. Four HDMI ports are great to have, but the bottom ports can be hard to reach irrespective of whether you place the TV on the wall or on a table.
All the four HDMI ports support ARC, which is great, but the ones on the bottom are a little inconvenient to access whether you wall mount this TV or place it on a table. I did not use a soundbar with the TV, though I would have ideally wanted to, so the ports were not a hassle to me. They will be for others.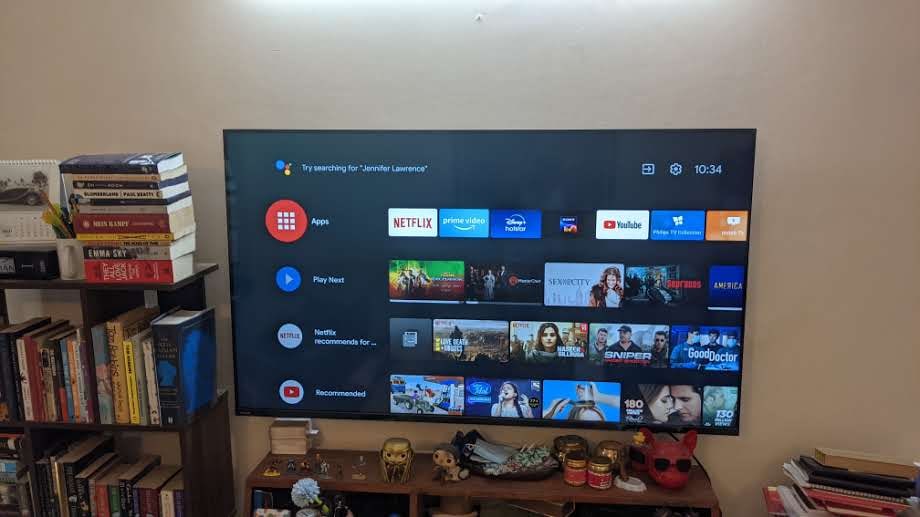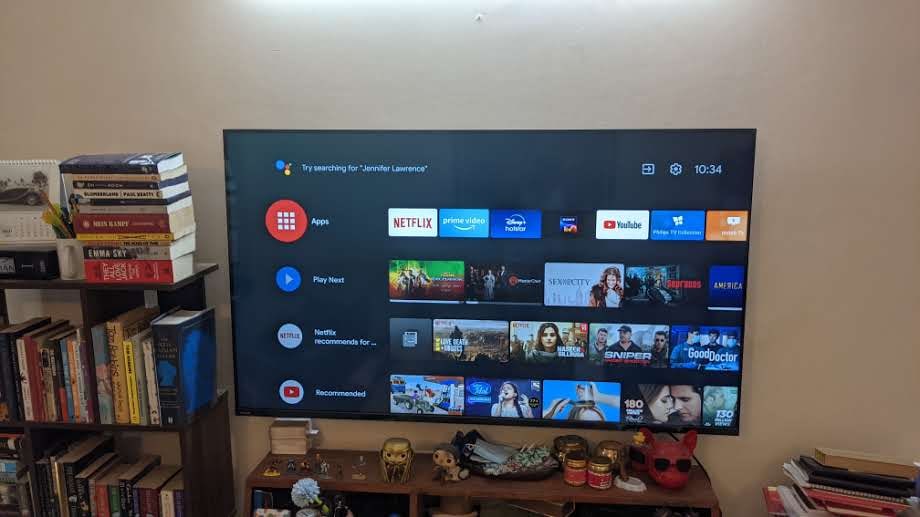 The Philips 55PUT8215 is an AndroidTV, so it comes with Google Cast built-in, allowing you to play/cast content on it from compatible apps on your phone and tablet. You can download the apps you want from the Android Store, that part is pretty hassle-free. There are a bunch of other pre-loaded apps that come with it, some you'd never ever use. Uninstall whatever you do not need. The TV also comes with a DTS Play-Fi feature that lets you connect compatible speakers to the TV across rooms. This makes sense on paper, I wasn't able to test this out though since I did not have compatible speakers. This brings me back to the whole soundbar issue as well. The sound on the Philips 55PUT8215 is not bad, but it is not great. It's just about sufficiently loud for a medium-sized room, but even in that situation, a soundbar or additional speakers can make things better. I'd highly recommend that with this one.
The overall UI is simple if you stick to navigating things through the homepage and you have all the apps you want...like pinned there. There is also the Philips TV Collection that brings in features like some games, fitness, etc, but it is largely redundant. The Philips 55PUT8215 offers a whole host of options to fine-tune the experience but if you don't want to wade through that, the default mode works perfectly well. I used the TV primarily with the 'Natural' picture settings and 'Movie' for sound style. There is also an AI mode for sound style that is supposed to adapt to the content.
The Philips 55PUT8215 comes with the P5 engine and the panel is bright enough for you to watch content on even in a brightly lit room. You have to make sure there are no lights right opposite the TV though because these will reflect on the panel and disrupt what you are watching no matter how bright it is. I mostly watched content on it with the lights off or very dim to avoid this issue, but this would affect almost every TV.
The colours were bright but felt natural in most cases, all the more since I preferred the Natural mode for picture settings. There's not much to really complain about here but it doesn't blow you away. The problem is, large TVs build expectations by their sheer size, meaning you may be disappointed.
The Philips 55PUT8215 supports all popular HDR standards like the HDR10+ and Dolby Vision, so content from platforms like Netflix that support this works well here. Also, the very moment 4K, HDR content starts playing, you'll see a logo flash on the screen for a few seconds, which is helpful.
Now, the final question. Is it worth it? The Philips 55PUT8215 retails for ₹89,990, but you can get it online for cheaper. While I am not disappointed by this experience at all, it is a perfectly good TV and it works well. It just doesn't wow you. There are other 55-inch TVs in the market priced roughly around ₹50,000, like the OnePlus TB 55UI and also the Mi QLED TV. For Philips to knock them out of the park, it needs something more. Just a little more.
Follow HT Tech for the latest tech news and reviews , also keep up with us on Twitter, Facebook, and Instagram. For our latest videos, subscribe to our YouTube channel.
First Published Date:
15 Jul, 11:24 AM IST
71626325944912
NEXT ARTICLE BEGINS