Thomson 50PATH1010 Ultra HD 4K TV review: A great panel overshadows its weaknesses
The panel on the Thomson 50PATH1010 Ultra HD 4K TV incredible. But given how fast all other smart TVs are these days, speed is just not a compromise I am willing to make.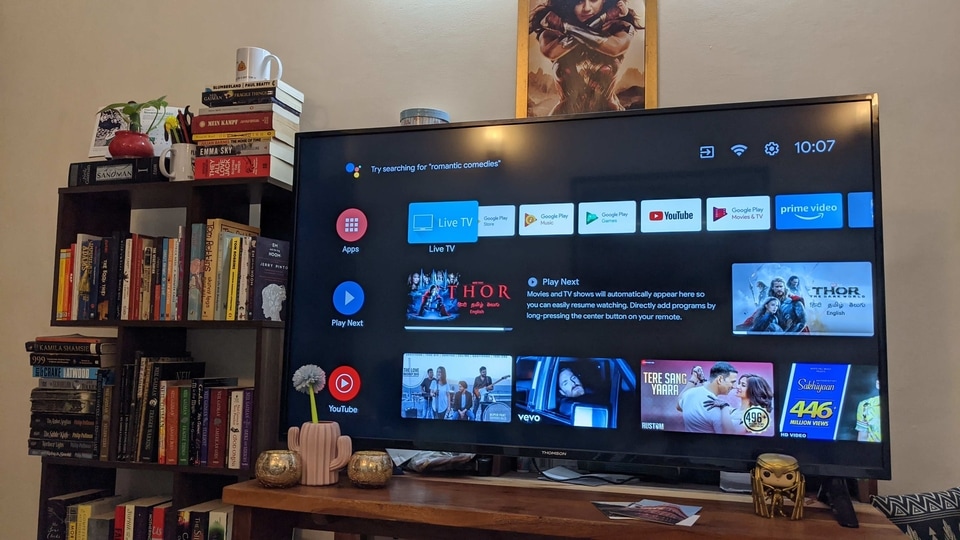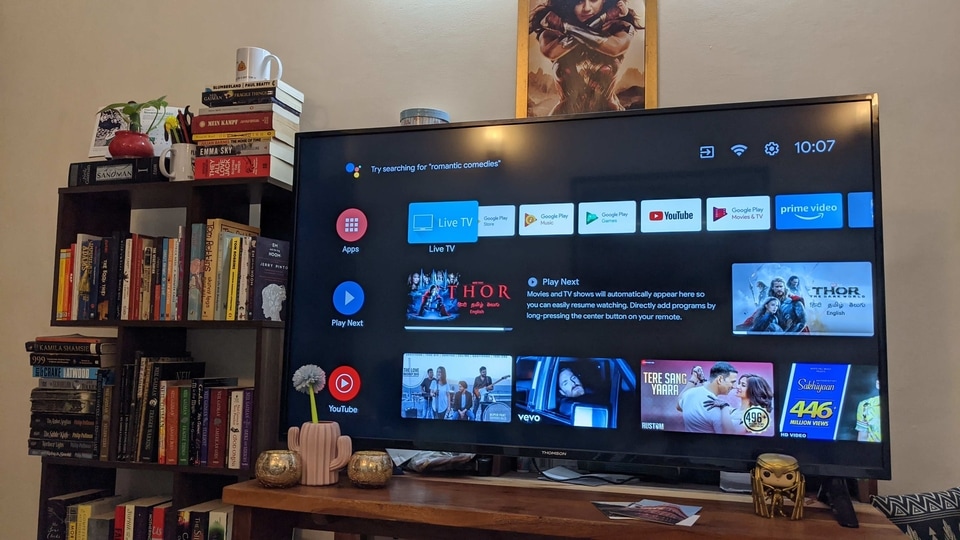 Brand: Thomson
Product: 50PATH1010 Ultra HD 4K TV
Key specs: 4K, HDR 10 Display, 24W speaker, Bluetooth v 5.0, Google Assistant Enabled Remote, dual band WiFi, Built-in Chromecast and Airplay support.
Price: ₹25,999
Rating: 3/5
The pandemic has pushed many, many families to buy an extra TV set - a better, bigger, smarter TV set. Since we have all been staying in and avoiding public places entertainment at home has mostly been about our TV sets, laptops, tablets and even smartphones.
And while you go picking a screen size that fits your budget and your wall, a whole host of companies have rolled out smart television sets that are not just impressively big, but also doesn't burn a Samsung/Sony-size hole in your pocket.
Thomson's 50PATH1010 Ultra HD 4K TV is one of them.
A part of the PATH 9R series, the 50PATH1010 Ultra HD 4K TV is a whole 50-inches of great screen. Setting this TV up is as easy (or as difficult) as any other Android TV - all you need to really do is to log in. There are multiple connectivity options on the back, so you can plug in your Chromecast, Fire TV Stick or Airplay to cast your phone, laptop or tablet to the TV screen. Or just use the apps onboard that you can download from the Google Play Store.
The biggest peeve we had though was that the 50PATH1010 Ultra HD 4K TV did not come with Netflix and it could not be downloaded either. The TV likely doesn't have Netflix certification, something that took the likes of Xiaomi and OnePlus about a year to get. If you want to watch Netflix, you will need to plug in a Fire Stick or a Chromecast. Given that many people are using smart TVs without these dongles, this is something Thomson might want to look into. Other smart TVs on the Thomson roster do come with Netflix preloaded, so Thomson will have to get Netflix certification for this TV for it to work on this without a dongle like Chromecast or the Fire Stick.
Powered by an Amlogic processor under the hood, the 50PATH1010 Ultra HD 4K TV comes with a quad-core CPU and a quad-core Mali GPU. The smart TV also runs Android 9 out-of-the-box.
The 50PATH1010 Ultra HD 4K TV comes with a wide viewing angle so you don't necessarily need to sit right in the middle to be able to view things best. The screen is big and bright enough for pretty neat viewing from multiple angles.
What struck us the most was how good the panel was, the colours were easy-on-the-eye — neutral, not jarring or saturated — on the Normal mode. Of course you can bump the colour saturation up on other modes but you will not really need to.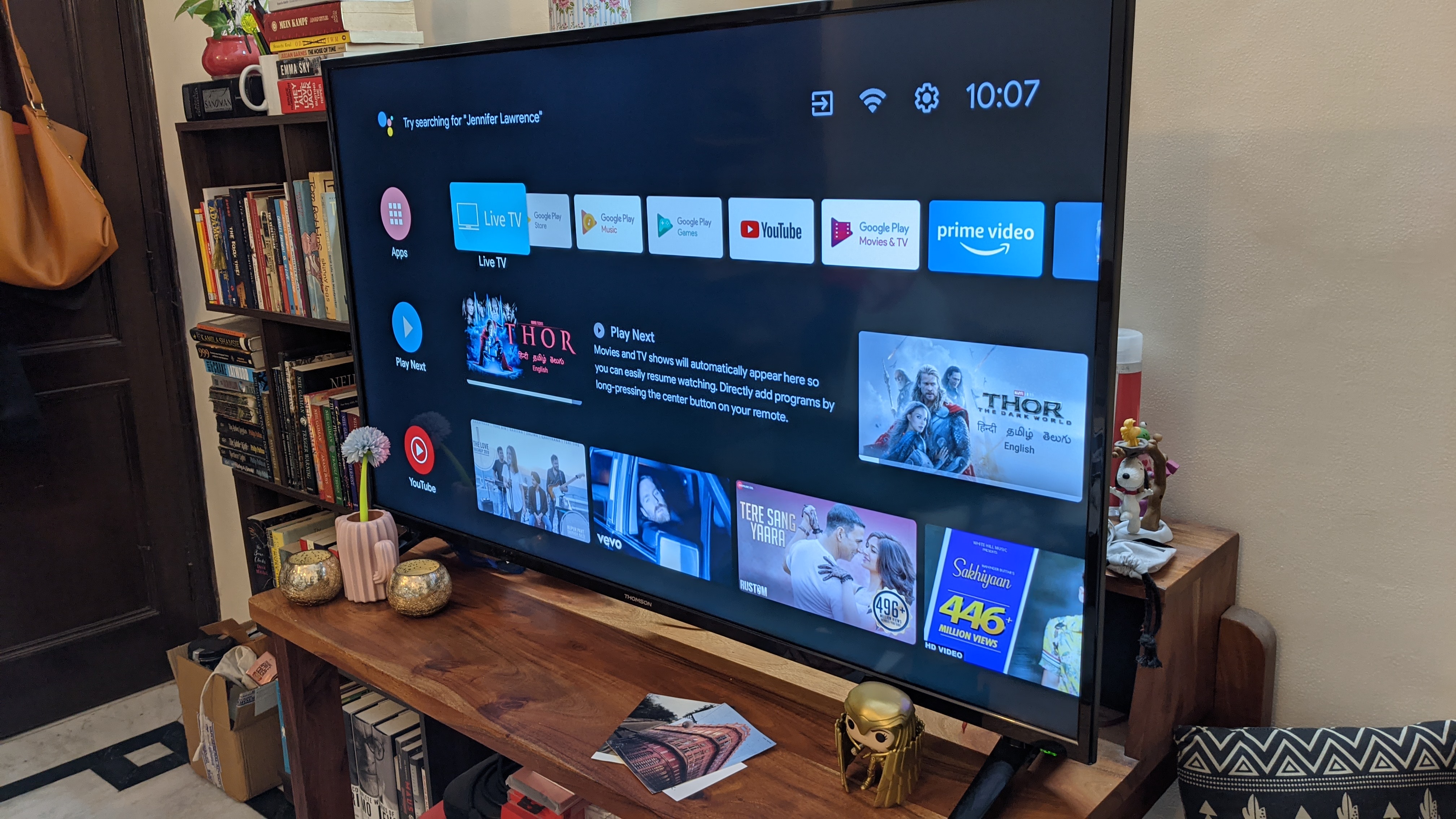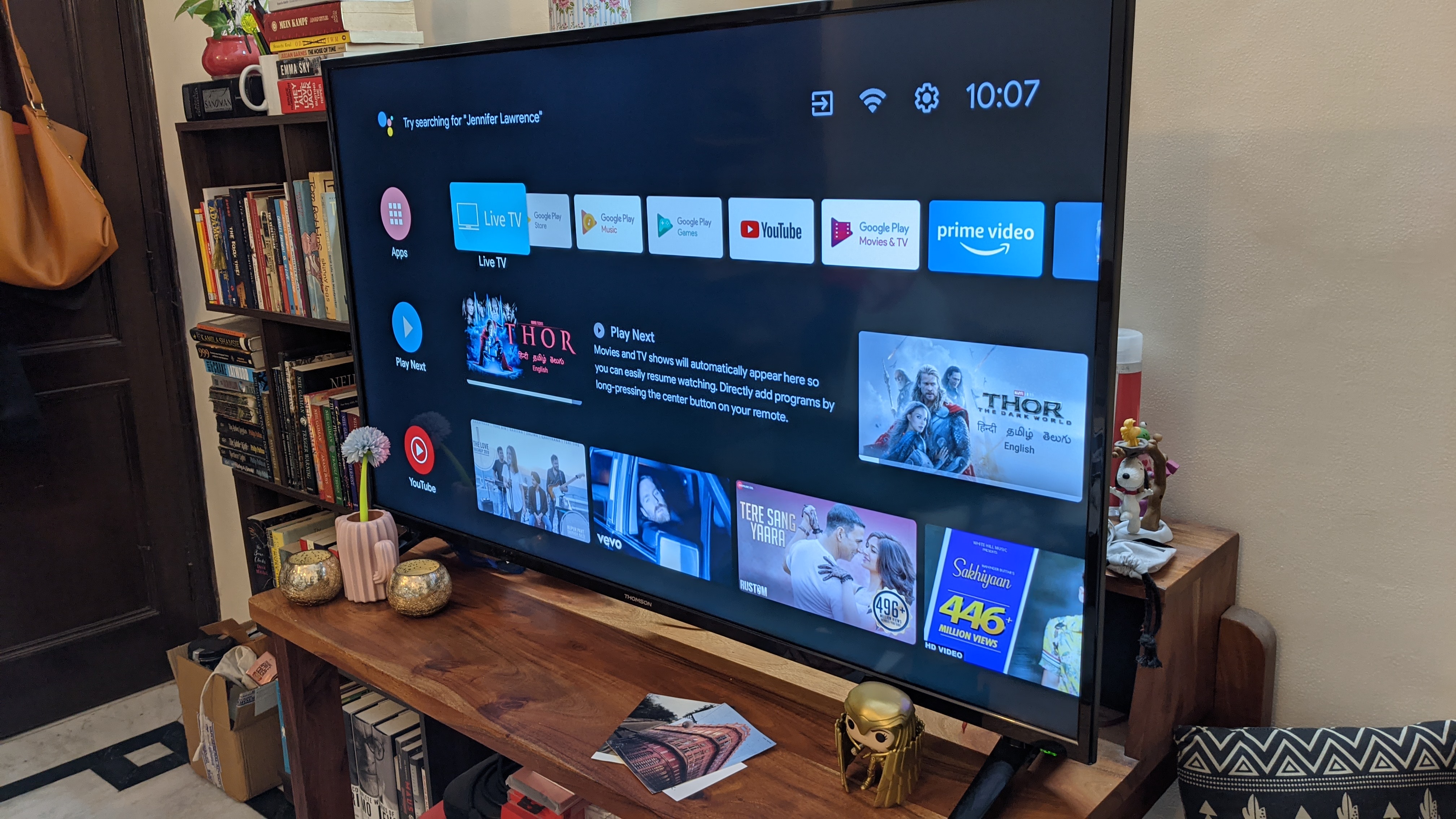 We literally rewatched the whole of Game of Thrones over our time with the 50PATH1010 Ultra HD 4K TV, the initial plan was to just watch the Battle of Winterfell from the last season and call it a night. But it turned out to be a rather long night instead (yeaaaah, GoT Season 8 inside jokes).
Now, Game of Thrones is not a show with many bright colours, nor is something like True Detective (the two shows I actually watched over the review), but Avengers Endgame has a lot of colours and even The Marvelous Mrs Maisel — both the movie and the show looked great on the screen.
Long story short - it's a GREAT panel. And for ₹25,999 - it's a fantastic deal. However, before you take this as THE verdict and go buy the Thomson 50PATH1010 Ultra HD 4K TV right away - hold on a tad.
There were some problems, however, none of them are things that Thomson cannot fix.
The main problem is that the TV is slow. This in turn makes the UI slow and laggy. Since it is the same Android TV UI that is being used by multiple other smart TVs, it is obvious that the problem does not lie there.
The problem lies with the processor and the RAM on the device, both of which need some bumping up if Thomson REALLY wants to make a case for itself. The fact that the TV is slow also makes the TV remote slow. I had to press certain buttons multiple times for them to work on many occasions and it was not a battery issue.
To understand this issue better think of the older smart TVs and how they work - how literally every action and command takes a little time. That's basically what the problem is with the 50PATH1010 Ultra HD 4K TV.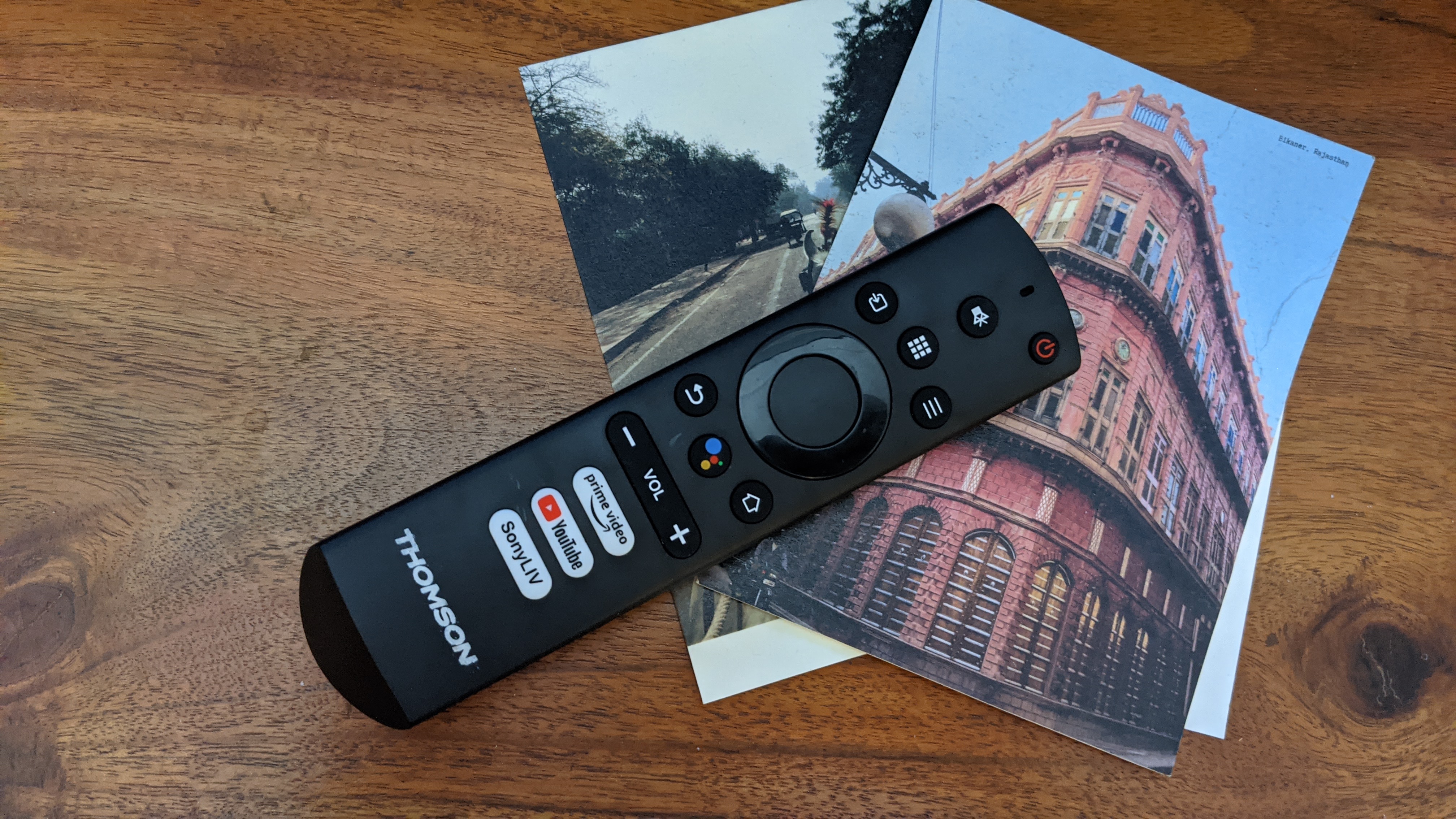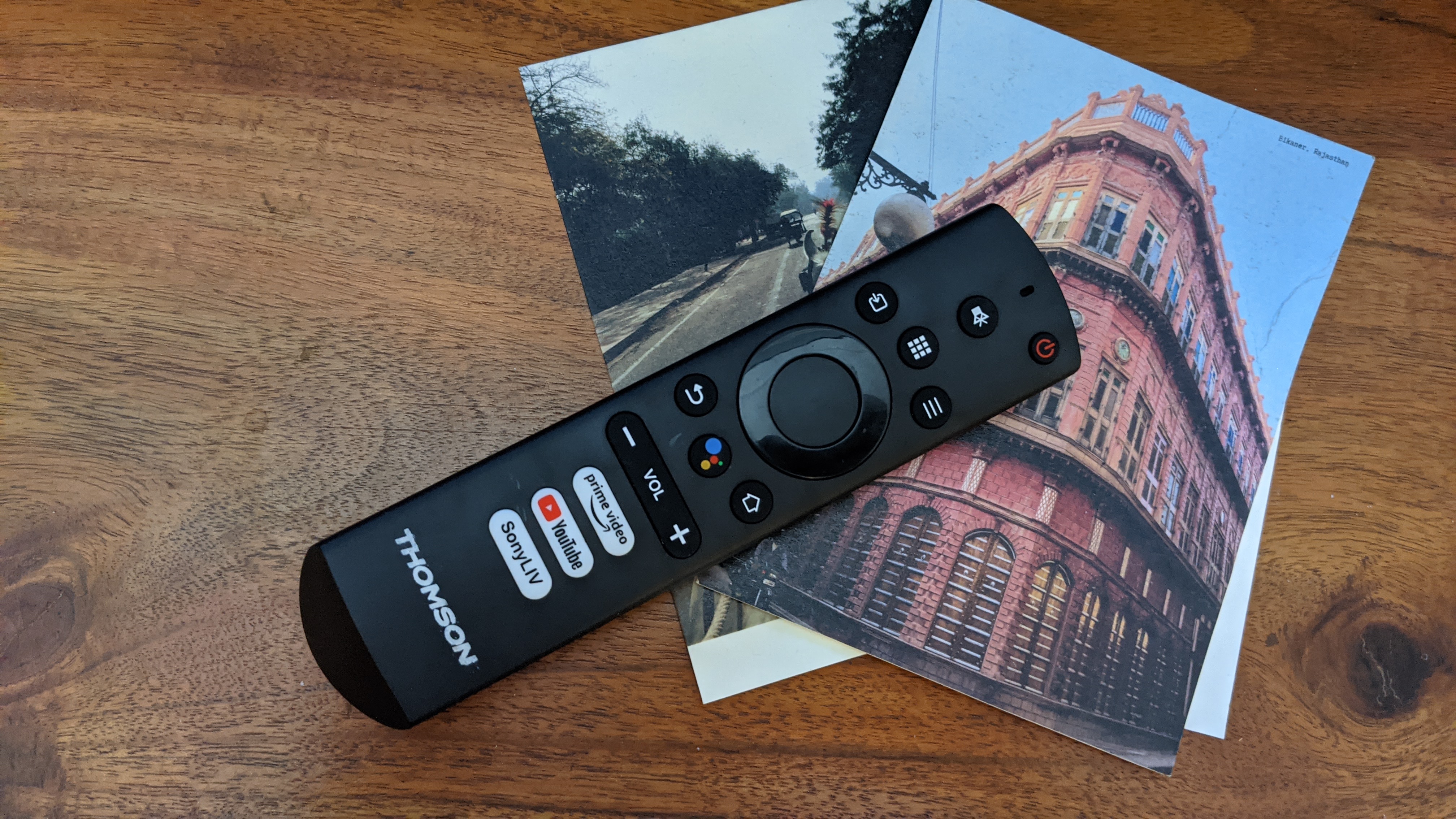 The remote looks identical to the remotes we have seen on Realme and Xiaomi TVs, which isn't surprising. It comes with dedicated hotkeys for YouTube, Prime Video, SonyLiv etc. and voice support for you to pull up the Google Assistant - but like I said, no surprises here.
When it came to volume, the 50PATH1010 Ultra HD 4K TV was loud enough and I never had to raise the volume over 40% even when the rest of the house wasn't being very silent and I wanted the TV to be particularly loud.
Should you buy it?
If Thomson could make the 50PATH1010 Ultra HD 4K TV faster with a better processor and some more RAM, I would buy this in a heartbeat. The panel is incredible and I cannot imagine getting a panel as good as this one for ₹25,999. But given how fast all other smart TVs are these days, speed is just not a compromise I am willing to make.
Follow HT Tech for the latest tech news and reviews , also keep up with us on Twitter, Facebook, and Instagram. For our latest videos, subscribe to our YouTube channel.
First Published Date:
03 Dec, 06:28 PM IST
71606999187683
NEXT ARTICLE BEGINS