BenQ V6000 4K Laser TV Projector review: A good TV alternative if you have pockets for it
BenQ V6000 4K Laser TV projector is a good projector in its own right. If you have deep pockets, it is definitely worth a try.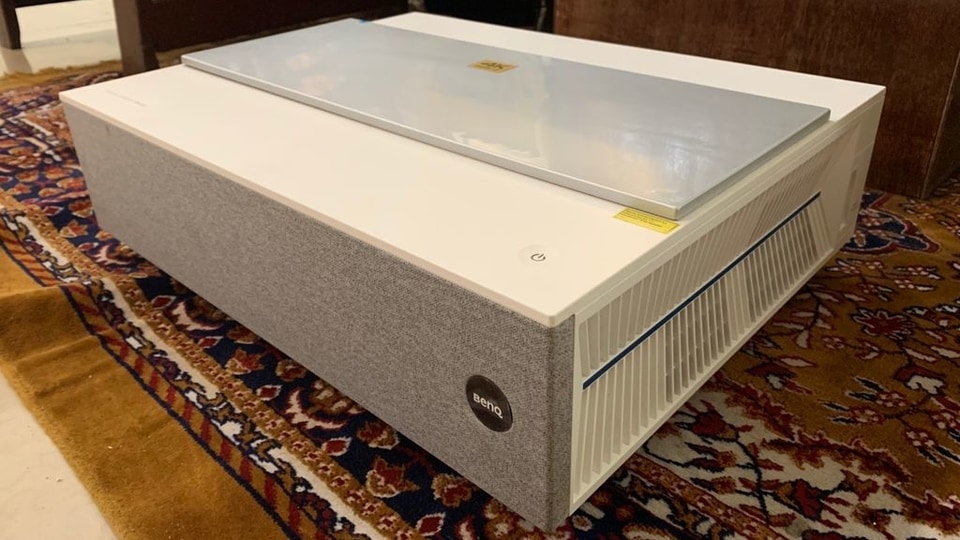 BenQ is slowly expanding its product portfolio in India. The company recently launched an "affordable" portable projector in India at a price of ₹79,990. And today, the company added another feather to its hat by introducing a 4K Laser TV projector in India. The newly launched projector comes in two colour variants - black and white.
Both the models of the BenQ 4K Laser TV projector are priced at ₹4,99,000. But before you take that big gasp, there's an important thing you need to know. On paying a hefty sum of ₹5L, you not only get the projector but also a 120-inch ALR screen that costs ₹2.5 Lakh if purchased separately. In addition to that you get the latest 32GB Apple TV device which costs ₹18,900 if purchased separately. Simply put, you get three devices -- a projector, a streaming device and a screen -- for the price of one. And if you decide to get just the 4K Laser TV projector, you will still end up paying 5L, so you know.
Price aside, the real proposition that BenQ is presenting before its users is that of replacing a large screen TV that under most circumstances is hard to move around with its 4K Laser TV projector that offers the same image quality and sound while being mobile and easy to use almost anywhere. While it is a lucrative offer, especially the part wherein the projector can be set up just about anywhere, it does come with its caveats. For starters, you need an ALR screen for best results and while you will be able to see content, whether you are projecting a TV series or a movie using Apple TV or you are streaming your old and forgotten childhood photos, clearly, it won't be as good as the one you seen when you use the gigantic 120-inch ALR screen that you get along with it. But that is expected, right? We'll get into the details of this chic device in the review below, so keep reading...
Design
Firstly, let's talk about the design of the V6000 4K Laser TV projector. The newly-launched projector features a sleek and modern design that easily blends in any space where you put it. I put it in my living room and it fir right in. In case you are concerned about the ALR screen that looks like a whiteboard from schools, don't worry. I chose not to put the screen on a wall mount as you would in case of a large screen TV or rolled up near the ceiling as it happens in case of projectors at work. But you can put the ALR screen in either of the two ways that I just mentioned, which would make the entire setup look way better than what you can see in the images here.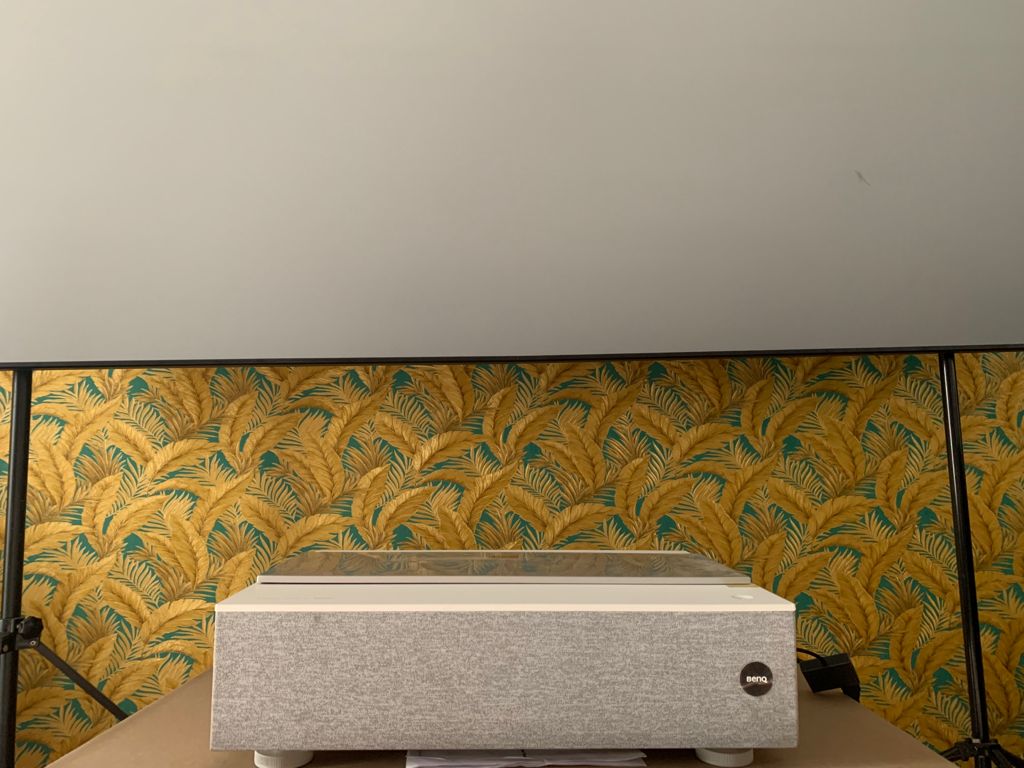 Coming to the specifics, the V6000 4K Laser TV projector measures 500 x 388 x 157mm. On the front, it comes with a grey-coloured fabric cover with the BenQ logo that is stacked towards the right. On the top, it has an automatic sunroof slide on the top that slides open the lamp that projects the content from the top. Now, an interesting thing about this projector is that this sunroof not only closes automatically when the projector is not in use but it also closes when its sensors detect that something is standing too close to the Laser light source. At the back, the projector has a bunch of ports for connectivity. The list includes two HDMI ports, two USB 3.0 ports, and one USB 3.0 port, and an Optical Out RS232 port. You can use any of these ports to stream content and they work without a hassle every time. The only hassle is adjusting the alignment of the content on the display, which can be a bit of a pain during the setup process. But once that is done, everything else works like a charm.
One last bit. The V6000 4K Laser TV projector ships with a tall remote that lets you control everything from the aspect ratio of the content being displayed, to volume to video quality and mode of operation. It's easy to use and works without a hitch.
Performance
Now, the most important part of this review, that is, performance or as I like to call it, experience. The overall experience offered by BenQ V6000 4K Laser TV projector is quite impressive. Once you get past the initial hassle of setting up the device, both the picture quality and sound are almost as good as the quality offered by large screen TVs, especially the image quality. Over the past couple of weeks, I have watched a variety of content on this newly launched projector. Right from my wedding photographs to YouTube videos to movies from Netflix, I've experienced with mediums and content, I must say that I was pleasantly surprised by the quality that it had to offer.
I have a 55-inch TV in my home, which for the longest time ever made me believe that I had a large screen TV. Sure, It offers good image quality and the sound isn't too shabby either, but it is huge. But that changed when I got a 100-inch ALR screen installed right next to the TV. It essentially dwarfed my trusted friend and made me see all the colours and details that you see in the 4K travel videos on YouTube in a new light. The colours were all bright, vibrant yet incredibly sharp. The overall image and video quality are sharp and detailed. What elevates the overall experience is the ALR screen that absorbs the ambient light to give you sharper colours.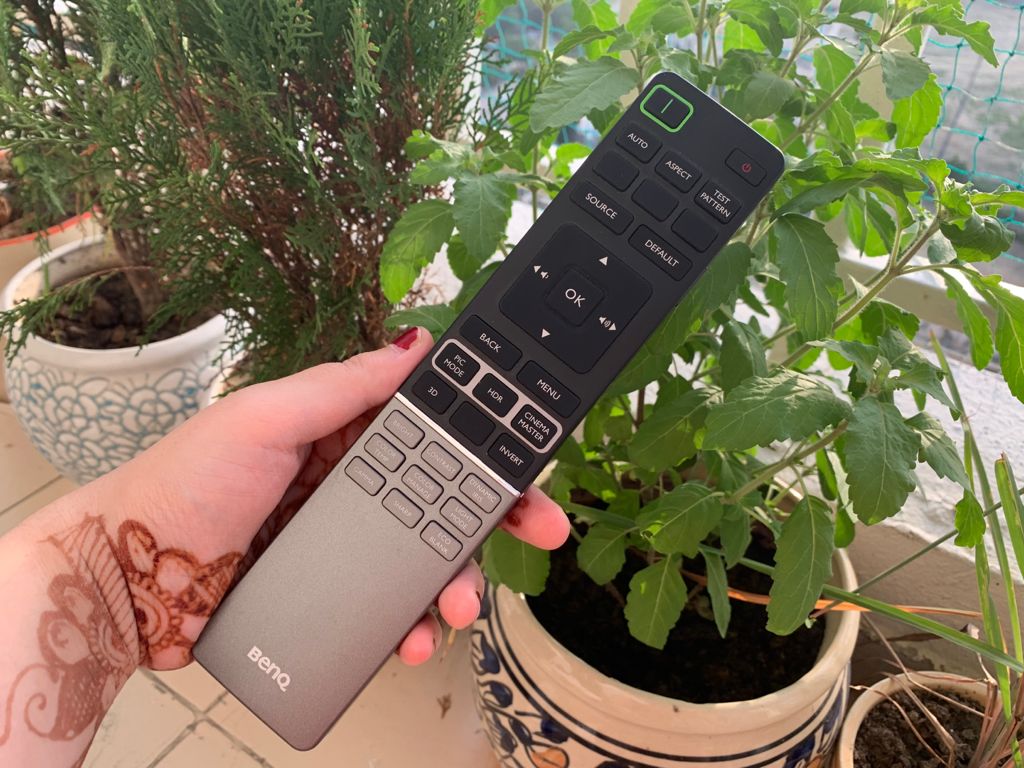 As far as the audio quality is concerned, the BenQ V6000 4K Laser TV projector offers a good audio quality that is projected using the projector's two built-in front channel speakers. It is loud and clear. As I mentioned before, it is almost as good as the one offered by large screen TVs these days.
Conclusion
Now, the million-dollar question: Should you buy the BenQ V6000 4K Laser TV projector or not? Well, the answer is anything but simple. BenQ's newly launched Laser TV aims to replace large screen TVs in your home and the proposition that it presents is that of mobility. Well, in my experience, the V6000 4K Laser TV projector isn't exactly as mobile as it might want to position itself to be. Firstly, it is aimed to project content on extremely large screens. BenQ is shipping 100/120-inch screens with it. This means that you need a space that can accommodate this big screen. Secondly, setting it up is a hassle. And I am not talking about connecting the wires or the software part of the process but the part wherein you align the streamed content on screen. It is extremely difficult to get that part right. But once that is done, the projector itself is a breeze to use. Thirdly, the price. BenQ's newly launched projector costs almost ₹5 lakhs, which doesn't exactly make it pocket-friendly.
That said, the BenQ V6000 4K Laser TV projector is a good projector in its own right. It offers great image and sound quality and its looks aren't too shabby either. So, if you have deep pockets, it is definitely worth a try.
Follow HT Tech for the latest tech news and reviews , also keep up with us on Twitter, Facebook, and Instagram. For our latest videos, subscribe to our YouTube channel.
First Published Date:
19 Aug, 07:00 AM IST
71629303656301
NEXT ARTICLE BEGINS