Asus Expertbook B9400 laptop review: It keeps getting better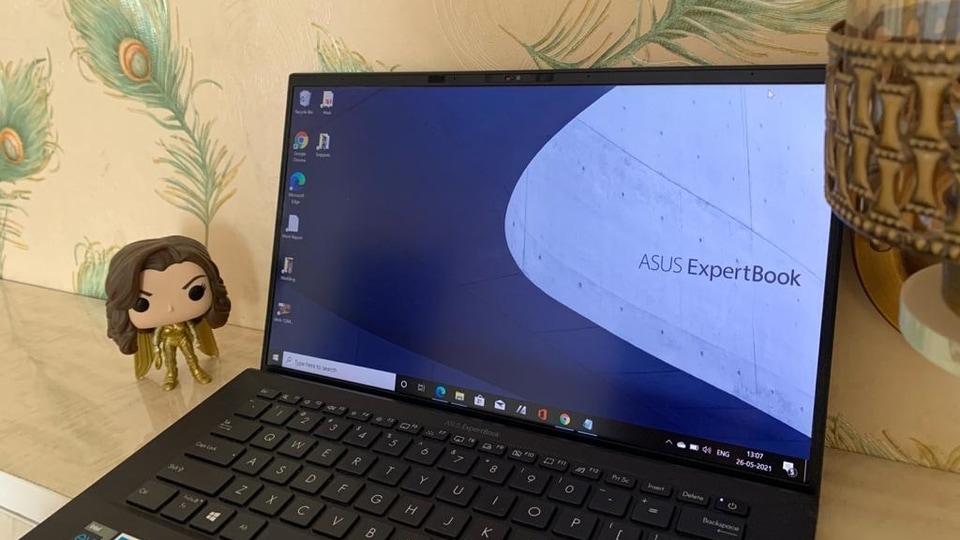 The Asus ExpertBook B9 is light in weight, but heavy in features. It is easy on the eyes and comfortable in terms of usage.
Brand: Asus
Product: Expertbook B9400
Key specs: 14-inch LED full HD display, 11th gen Intel core processor, Harman Kardon, NumPad 2.0, 16GB of RAM, 65Wh battery, HD camera with privacy shutter, fingerprint sensor
Price: Starts at ₹1,15,489
Rating: 4.5/5
Asus introduced the ExpertBook B9 laptop with the 10th generation Intel core processor, privacy shutter for web camera, and fingerprint sensor last year. This year, the company launched an updated version of its ExpertBook B9 laptop. The new ExpertBook B9 laptop comes with model number B9400 and it offers similar features that we saw in the first generation ExpertBook B9 laptop. This means that you get a laptop with an ergonomic design and tons of privacy features. There's one major change though: Asus has updated the processor.
The second-generation ExpertBook B9 laptop comes with the 11th generation Intel Core processors. You can pick from i5 and i7 variants. As far as the price is concerned, the ExpertBook B9400 laptop comes at a starting price of ₹1,15,489 in India.
Now, that might seem like a lot of money to pay for a laptop. But just like its older sibling, the ExpertBook B9400 deserves it and more. It is sturdy. It is smooth. And it is secure. On the surface, it may seem like nothing has changed. After all, it features the same Star Black body with a thin-bezel display, backlit keypad, and the company's famed NumPad 2.0 among other things. But if you dig a little deeper, you'll notice that a lot has changed.
Design
The ExpertBook B9400 laptop features the same light-weight and sturdy design that we saw in the first-generation laptop last year. It is made from magnesium-lithium alloy, which according to the company is the secret sauce that makes this laptop light yet durable.
It weighs 1.005kg, which on paper is marginally more than its predecessor that weighed 995g. But in practice, it's almost as good. I've used the first-gen ExpertBook and I've been using its second-generation model for quite some time now. During this time, I have not only used it in a conventional work-from-home setup (yeah, it has become 'conventional' now) but also while travelling in a car and a whole lot of other situations and it's never broken a sweat.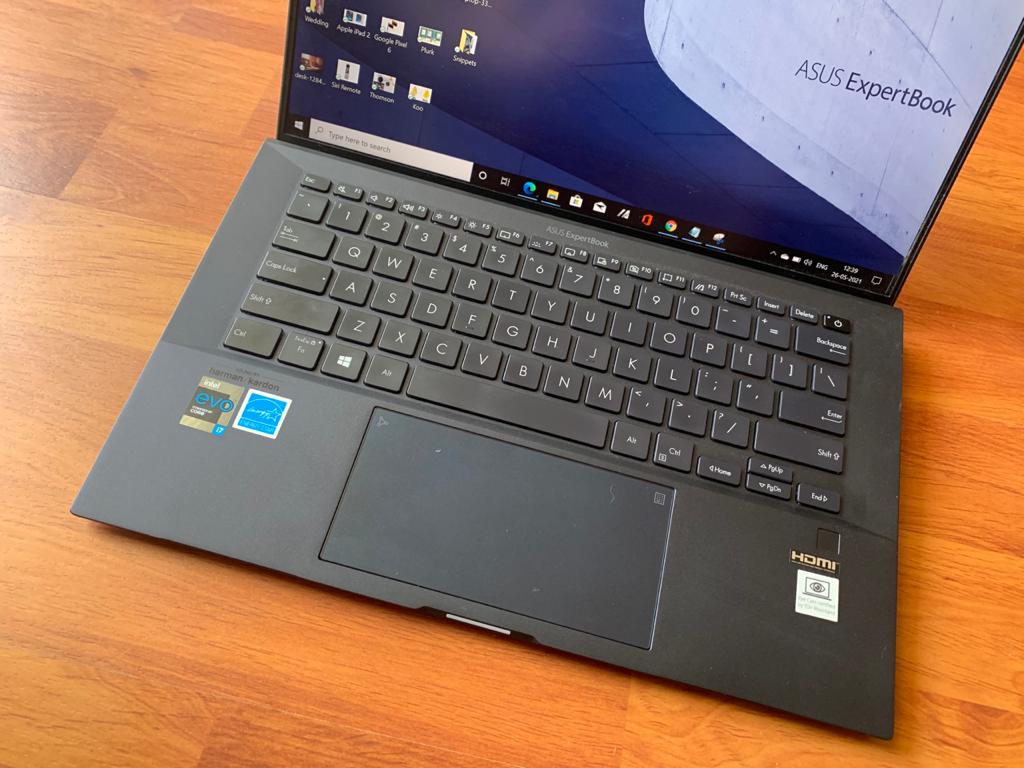 Talking about the overall build, the second-generation ExpertBook laptop, just like its predecessor, comes with MIL-STD 810H certification. In addition to that, it has reinforced hinge connections and I/O connectors along with rubber dampers, all of which are aimed at making this laptop withstand challenging conditions. It also has an ErgoLift hinge -- just like its predecessor -- that naturally lifts the laptop at an angle of 5-degrees from the bottom, which not only helps the laptop stay cool under stressful conditions but also enhances the impact of the audio, more on this later. And in case you need more, you can use the reusable accessory box that you can use to place the laptop in a more comfortable position and store various accessories and attachments.
On the connectivity front, you get two Thunderbolt 4 USB-C ports, dual 4K display output, an HDMI 2.0 port, a USB 3.2 Gen 2 TypeA port, a 3.5 mm combo audio jack, and a Micro HDMI-to-LAN port.
Coming to the keyboard, the ExpertBook B9400 laptop features the same backlit keypad that was present in the first-generation model. You get separate keys to enable/display the keypad, lock your laptop, turn the camera on/off and take a screenshot among other things. These are the things that worked perfectly in last year's ExpertBook B9 laptop. They are as good on this year's model as well. You can read more about the first-generation ExpertBook B9 laptop below.
ALSO READ: Asus ExpertBook B9 laptop review: As good as it gets
Now, the aspects that have changed. Well, the ExpertBook B9 comes with the company's Numpad 2.0. For the uninitiated, Numpad 2.0 is a glass-covered trackpad that cleverly hides the number keys along with the buttons to access it. It has two touch-sensitive buttons, one which turns the feature on and the other that can control its brightness. While using the first-gen ExpertBook B9 laptop, I had consistently faced issues while turning this feature on and off. This time around, the company had fixed that. The feature now works flawlessly. Next to the NumPad 2.0 is a fingerprint sensor, which is difficult to spot but prompt and accurate while unlocking the device.
Display
The ExpertBook B9400 comes with a 14-inch full HD display with a resolution of 1920x1080 pixels. It offers a 94% screen-to-body ratio with 4mm slim bezels on all sides and a 178-degrees viewing angle. On top, it has an infra-red HD camera with a 720p resolution. This webcam comes with a physical camera shutter that enables you to put a lid on the camera to protect your privacy and if you're anything like me, your true state of being. I like to multitask while attending group calls and video calls, which means you can often spot me making tea or cheesy sandwiches while talking to people or attending virtual events. This camera shutter ensures that I don't accidentally end up revealing the secret to my famous tea while taking calls.
The top bezel, apart from housing the web camera, also houses a proximity sensor, which detects whether the user is in front of the laptop or not. It automatically reduces display brightness and locks the computer if it doesn't detect the user. Similarly, it quickly unlocks the laptop if it detects that the person is around. What I like about this feature is how smartly it works. You don't need to stand right in front of the sensor for it to unlock the PC automatically. You can be standing towards one of the sides and yet it would detect your presence and unlock the laptop almost instantly.
Talking about the screen, the display of the ExpertBook B9400 is undoubtedly one of the most comfortable displays that I have used. There are a bunch of reasons for this. Firstly, like its predecessor, the ExpertBook B9400 wastes no space at all. As I mentioned before, it comes with extremely narrow bezels on all sides, which enables the company to offer a 14-inch display in the body of a conventional 13-inch laptop. Simply said, the size of the bezels affects the overall design.
Secondly, it is radiant bright no matter what the light conditions are. I worked on it with all the lights off, I worked on it under indoor lighting conditions and I worked on it in my balcony under the sun (almost under) and I must say that I was able to work comfortably without any issues. I like the display of my devices adequately lit, not a bit less, not a bit more. So, you may have to press a few buttons to get that precision depending on the lighting conditions. Colours were equally precise.
Lastly, the display of ExpertBook B9400 comes with an anti-glare display. In effect, it protects your eyes from the Blue light emitted by the screens. To say that work from home routine has been a smooth sail would be an understatement. During the past one-and-a-half years, I have seen myself spending more and more time before the screen. Whether it is the laptop screen for work or TV screen for entertainment and family video calls. This routine certainly hasn't helped my eyes. But things have been better since I started using the ExpertBook B9400. It hasn't added to the overall strain on my eyes, which in my humble opinion makes it a winner.
Performance
Now comes the performance part. But first some details. The ExpertBook B9400 is powered by the 11th generation Intel Core processor with Intel Xe graphics. It is available in i5 and i7 processor options and comes in 8GB, 16GB, and 32GB RAM variants with up to dual 2 TB PCIe 3.0 x4 NVMe M.2 SSD support. You can also get this laptop in RAID 0 or RAID 1 configurations. Additionally, it has WiFi 6 and Bluetooth 5.0 for wireless connectivity.
As far as the overall performance is concerned, the ExpertBook B9400 works like a charm. In some ways, it works better than the previous generation ExpertBook B9 laptop. The previous generation laptop worked smoothly no matter what I threw at it. The second-generation ExpertBook laptop isn't any different, at least not in this regard. I used it while performing my daily chores (my office work of course!). I used it for my personal use, which consisted of working (it doesn't end really) and streaming content via various OTT platforms during the weekend movie marathon for hours together. I used it for streaming content to my projector. I also used it for some image editing work. It worked without showing even remote signs of warming up. It remained cool as a cucumber even when temperatures outside got unbearably hot. What I likely (more) about this laptop is its fluidity. Oh, did I mention, it runs on Windows 10 Home (if you are using it for personal usage). All in all, I liked how it dealt with any challenge that I threw at it effortlessly.
ALSO READ: ExpertBook B9400 laptop: In Pics
Aside from the performance part, the ExpertBook B9400 also aced the audio parts. For reference, this laptop comes with an array microphone with Cortana and Alexa support, quad 360-degree far-field microphones, and two integrated stereo speakers Certified by Harman-Kardon. In addition to this, this laptop comes with Asus' AI noise-cancelling audio feature, which as the name suggests removes the unwanted background noise from the noise and lets you speak and be heard clearly. It also comes with a ClearVoice Mic feature, which filters out all ambient noise except human voices for a conversation to take place smoothly. These features remained missing in the previous generation ExpertBook B9 model. In effect, this makes conversations clearer and hence better. Whether it is chopping off the grinding noise from my conversations (blame it on the construction going on near my house) or diluting the sound of a dog's barking as I had a group call with my siblings, the ExpertBook B9400 didn't let me down at all -- something I appreciate deeply.
As far as the audio quality is concerned, ExpertBook B9400 performed well in this department as well. As I mentioned before, I used this laptop to watch movies and TV and attend meetings. During my time with this laptop, the sound was loud and clear all the time.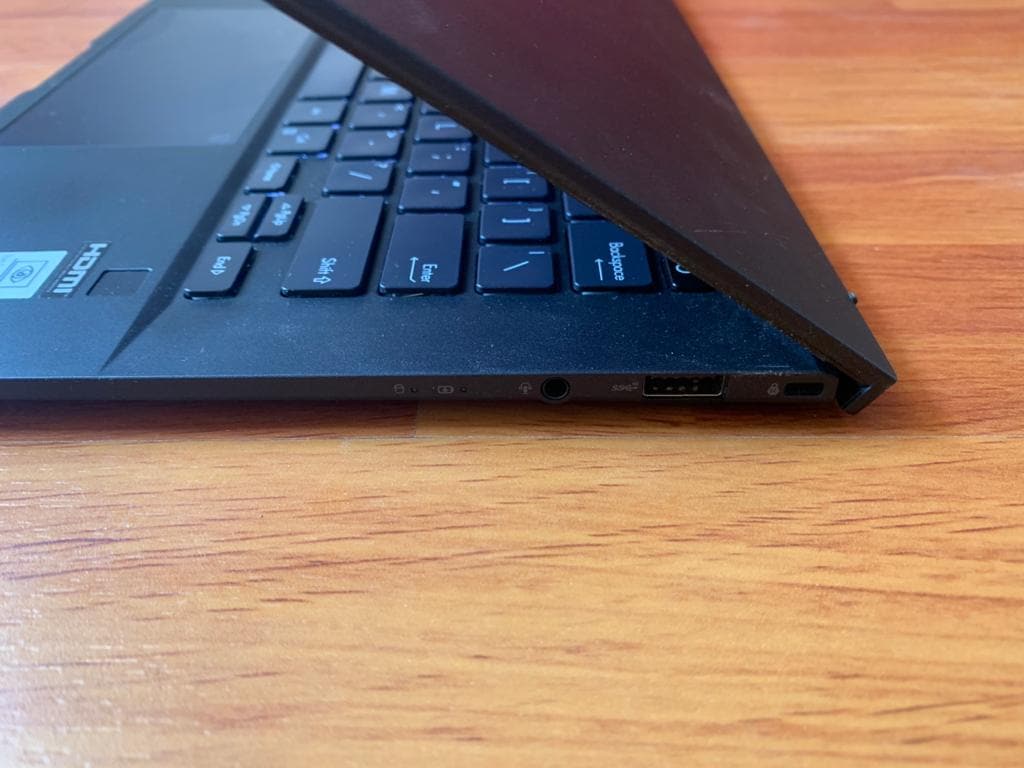 Coming to the battery, the second-generation ExpertBook B9 laptop comes with a 66Wh lithium-ion battery with support for a 65 W AC fast charging adapter. It goes from 0% to 60% in around 45 minutes and it takes close to two hours to charge the battery completely. In usage, the battery of this laptop easily lasts for a day, which for me involves roughly 10 hours of work time. It has been consistent that way.
Apart from this, it comes with MyAsus app, which lets you use your phone with your laptop seamlessly in a way that is similar to how Samsung phones connect with Windows 10 laptops. Additionally, it has tons of security features such as TPM 2.0 security chip, Kensington lock slot, and ASUS Business Manager and lock control to USB storage devices for added security.
This laptop also comes with Intel's Evo platform, which essentially combines 11th-generation Intel core processors with Intel's Iris Xe graphics. This combination ensures that the certified laptops improve battery performance, reduce lag in usage, improve the overall responsiveness, and especially while waking from sleep mode among other things.
Conclusion
Now, the question that you have been waiting for me to answer: should you buy it or not? Well, a simple answer to this question is a yes. The Asus ExpertBook B9 is light in weight and heavy in features. It is easy on the eyes and comfortable in terms of usage. It has ample security and connectivity features that make it ideal for both business and personal usage. It wouldn't be far-fetched to say that it is easily one of the best Windows laptops in the market right now.