Apple announces Apple One: The one subscription bundle for everything you will ever need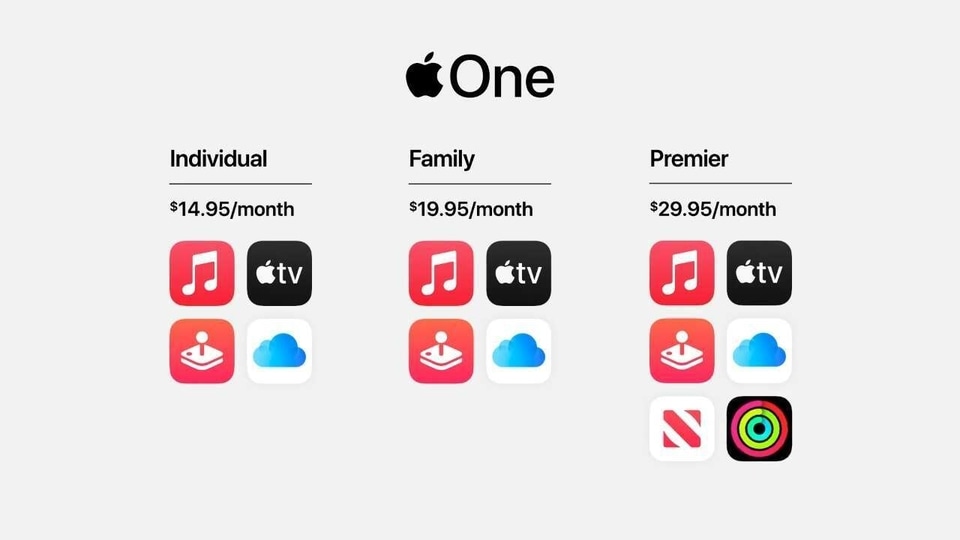 The Apple One subscription bundle comes with three subscrition options - individual, family and premium.
Apple announced the Apple One subscription bundle at the Apple Event today. Apple One includes in-house services like Apple Cloud, Apple Music, Apple TV+, Apple Arcade, Apple News+ and the whole new Apple Fitness+ for individuals or the family as you choose.
Each plan comes with cloud storage space starting from 50GB for the lowest individual plan.
The Individual plan is priced at $14.95 per month and comes with Apple Music, Apple TV+, Apple Arcade and 50GB of iCloud storage space.
The Apple One Family plan, for $19.95 per month gets you Apple Music, Apple TV+, Apple Arcade and 200GB of iCloud space.
Finally, the Premium plan is priced at $29.95/month and includes Apple Music, Apple TV+, Apple Arcade, Apple News+ and the new Apple Fitness+. This plan gives users 2TB of iCloud storage.
If you are on the family plan, like it is with all Apple services, those in your family can share access to the services. Apple days individuals can save $6/month if they sign up for Apple One instead of buying each of these Apple services individually. The Apple One Family plan saves you about $8 per month and the Premium plan is actually $25 cheaper than what you would pay for six of those services individually.
The whole concept behind Apple One is that you no longer need to pay for any service you use on Apple separately. So, for example, if you have already paid for Apple Music for the year, you will not be charged again.
Apple will be offering a free 30-day trial for new subscribers to try out the bundle and Apple Card users can save an additional 3% on every payment.
The Apple One Premier plan will be available in Australia, Canada, the UK, and the US, due to the smaller geographic reach of Apple News+. The other two plans will be rolling out more widely.