Apple Music's Lossless Audio and Dolby Atmos support rolls out in India: Is it free? All your questions answered
Apple Music Lossless Audio and Dolby Atmos features are now live and you can try them out on iPhones, iPads, Apple TV 4K, and Mac. We've answered all the questions you might have about it, so read on...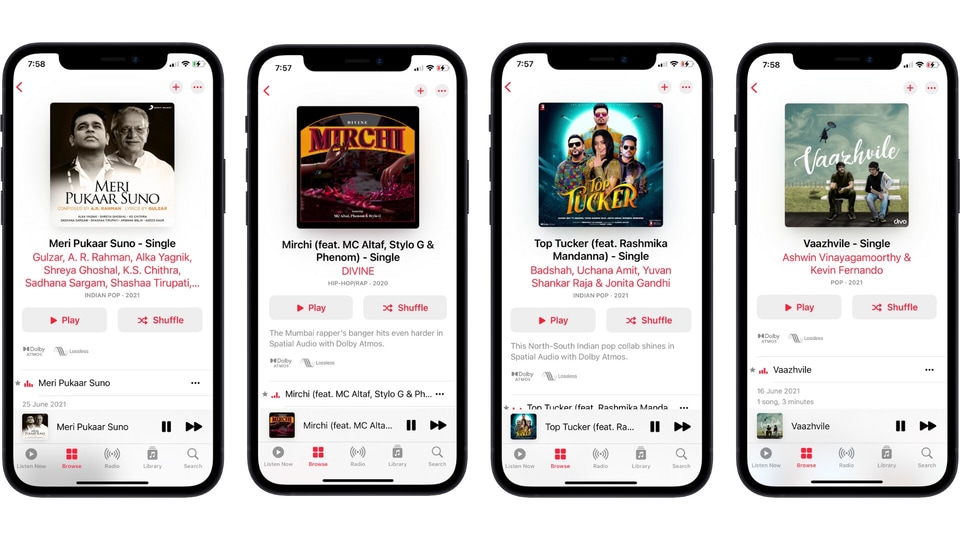 Apple's Lossless Audio and Dolby Atmos support on Apple Music was expected for a while now and it is finally here. These two new features are now available for all Apple Music subscribers in India at no extra cost. Both Lossless Audio and Dolby Atmos support were announced by Apple at the Worldwide Developer Conference (WWDC) earlier this year and post that many Apple Music users started noticing the new badges on their app. However, it wasn't available to everyone. As of today, a new server-side update should enable both these features on your iPhones, iPads, Macs and Apple TV 4K, as long as the devices are compatible. If you are an Apple Music subscriber, this is definitely something you are looking forward to, as we all were, so we've listed out everything you need to know about it including how you can set it up and what devices you can use with it.
What does Lossless Audio in Apple Music mean?
It basically means that you will have access to a much higher quality audio file than what you normally did on Apple Music, and on other music streaming apps. And the detailing you will be able to hear on your audio speakers that support lossless audio and high-res audio formats will be markedly better. These lossless and high-res audio files are obviously much larger than your normal high-quality audio files. For example, as Apple says, a three-minute track which is around 6MB when streamed or downloaded in high-quality mode, would be 36MB in lossless and as much as 145MB in high-res lossless.
What does Dolby Atmos Spatial Audio mean?
In very simple terms it is like the surround sound you get from your home theatre systems where the speakers are strategically placed in different parts of the room. With Dolby Atmos Spatial Audio support, you can expect a similar experience from compatible headphones and earphones like the AirPods Max and the AirPods Pro. Spatial Audio support also means that the headphone will track your head movement and link back to the device you are streaming from. So if you move your head around you will be able to notice a slight shift in sound direction.
How much will Lossless Audio and Dolby Atmos support cost?
For all Apple Music subscribers, Lossless Audio and Dolby Atmos come free of cost with your Apple Music subscription. So, what you need to do if you do not subscribe to Apple Music is that you need to pay ₹99 per month for an individual plan, ₹149 per month for a family plan, or ₹49 per month for a student plan.
What devices support Dolby Atmos on Apple Music?
All iPhones from iPhone XR and newer, not including the iPhone SE, the iPad Pro 12.9-inch (3rd gen or newer), iPad Pro 11-inch and iPad (6th gen or newer), iPad Air (3rd gen or newer), iPad mini (5th gen or newer) will support Dolby Atmos as long as they are updated to iOS 14.6 and iOS 14.6. If you are updated, then all you need to do is to turn on spatial audio and connect AirPods Pro or the AirPods Pro Max to listen to your music in Dolby Atmos.
How to set up Lossless Audio and Dolby Atmos on your iPhone/iPad?
Go to Settings and scroll down to 'Music'. The first option you will see here is "Dolby Atmos". You get three options here - Automatic, Always On, or Off. You can keep it on either Automatic or Always On.
Then, just below that, you will see an option for "Audio Quality". You need need to toggle on Lossless Audio under this. Here you will also get three options - cellular streaming, WiFi streaming, and downloads. You can choose your streaming options here depending on what quality and data usage you want.
Where else can I listen to Lossless Audio?
You can listen to Lossless Audio on a Mac and Apple TV as long as it is updated to macOS 11.4 and tvOS 14.6 respectively. But you will need compatible headphones, receivers, or powered speakers for this.
Can you listen to Lossless Audio on Bluetooth speakers?
No. You cannot. Bluetooth wireless streaming does not support lossless audio to be sent to a speaker or a headphone from a phone/tab/laptop or PC. This is why AirPods, AirPods Pro, and the AirPods Pro Max do not support Lossless Audio yet. Apple's headphones use the Dolby Atmos with Spatial Audio instead. To be able to listen to lossless audio you need a wired headphone that comes with high-res capabilities.
Follow HT Tech for the latest tech news and reviews , also keep up with us on Twitter, Facebook, and Instagram. For our latest videos, subscribe to our YouTube channel.
First Published Date:
20 Jul, 06:56 PM IST
71626787225174
NEXT ARTICLE BEGINS