BenQ GV1 projector review: Cute, but that's about it
Giving credit where it deserves, the BenQ GV1 projector is compact, handy and looks very cute. But unfortunately, that's where the story ends.
12 Jan 2021, 04:21 PM IST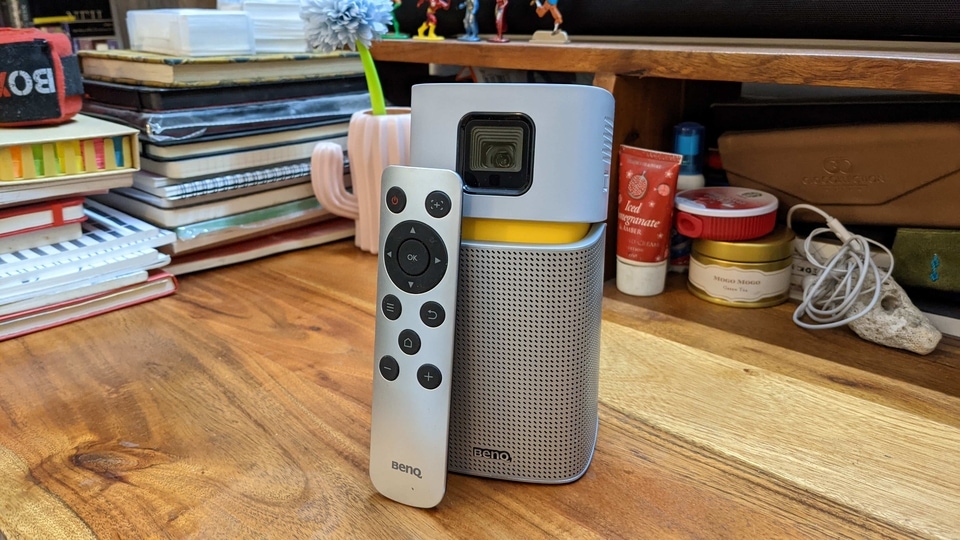 Brand: BenQ
Product: BenQ GV1
Key specs: 480p resolution, 200 lumens brightness, 5W speaker chamber, native aspect ratio 16:9, Qualcomm Snapdragon 210 MSM8909, Wireless Projection (for iOS/macOS, for Android, for PC), USB-C DisplayPort and Reader, 15∘Tiling Lens and Auto Keystone
Price: ₹30,990
Rating: 2.5/5
The first image that pops into your head when you hear the word 'projector' is probably a conference room or a classroom with a bulky device in the middle, casting a big screen in front. For the BenQ GV1, the big screen part is right, the rest isn't.
This is one of the most compact projectors we have come across. For the most part it doesn't even look like a projector! Don't be surprised if you mistake it for a bluetooth speaker at first glance. It's cute, super portable and can project a 100-inch picture. Sounds great right? Umm, hold on.
The main case you can make for a projector is that it can give you a huge screen without you having to splurge on a TV of that size. And this particularly matters in houses where space on walls is an issue. True, you do need a big enough empty wall to project the screen — 100 inches is no joke — but in place of a wall, a white sheet/screen also works.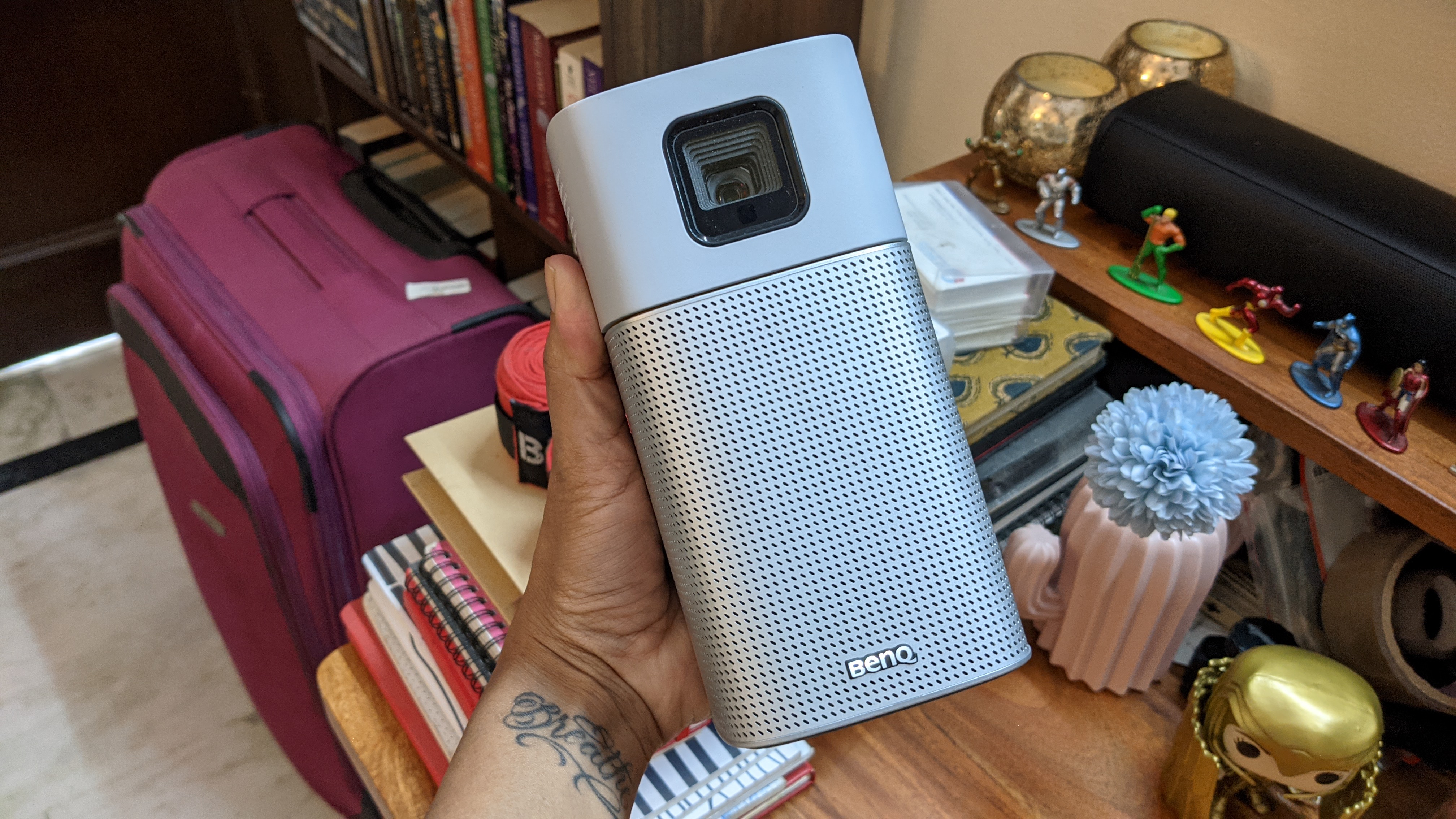 The BenQ GV1 has an added advantage as far as space and size is concerned. Standing just six inches tall, you really don't need to make space for it. Priced at ₹30,990, the BenQ GV1 is also affordable compared to other projectors in the market. However, while you gain some, you lose some too.
Size does matter
The top part of the device is the projector while the bottom is the speaker. The buttons are placed neatly on top, they control the volume and also allow you to toggle between projector and bluetooth speaker mode. So you can use the BenQ GV1 as a speaker, but it isn't loud enough. On the right side, you get a dial to help you focus the projected image. And you also get a remote.
Since the BenQ GV1 is tiny, you can easily place it on a table of a decent height and get going. The upper part of the device can be manually tilted to 15 degrees, allowing you to adjust the image size.
As far as connectivity is concerned, there is no HDMI port, unfortunately. There is a USB-C port that you can use to connect the BenQ GV1 to a laptop. You can also connect your smartphone to it via Bluetooth and there is also AirPlay and Screencast support. You can also mirror your smartphones, however, while this works for YouTube etc smoothly, you cannot use this for Netflix or Prime Video.
While the projector is super easy to set up and get going, the whole interface feels laggy while you navigate. The remote also feels cumbersome to handle at times.
We recommend you connect the BenQ GV1 to external speakers, because you will find its own sound capabilities wanting.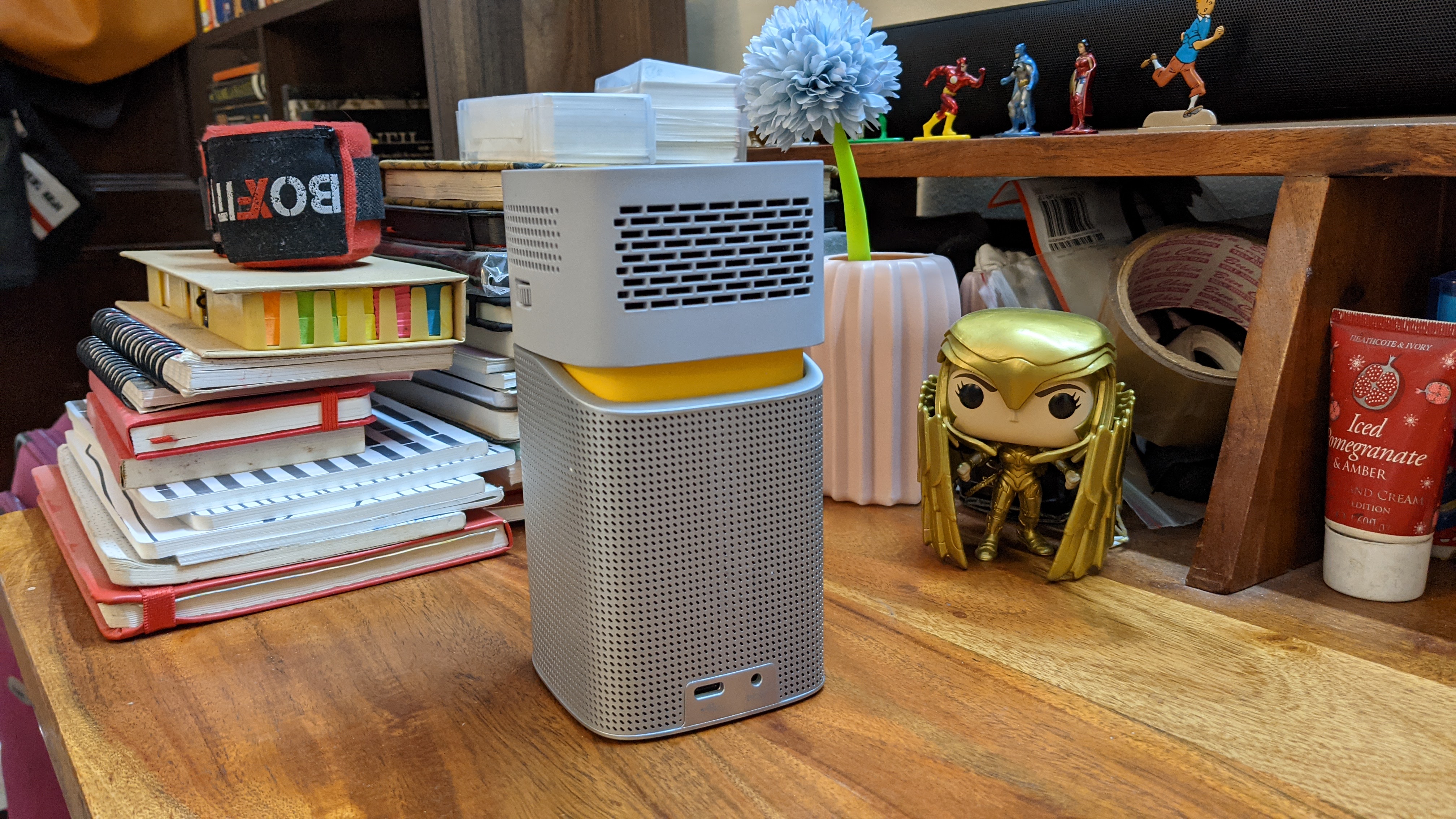 You can charge the BenQ GV1 up and use it for roughly three hours, but the image quality drops once you disconnect it from the charger. This is disappointing, given that the BenQ GV1's main pitch is its portability. The need to constantly have it hooked on to the charger for it to work well kinda defeats that purpose. You will want to charge it and take it with you anywhere, like the terrace maybe, to watch a movie - three hours is not a lot of time when it comes to watching content at leisure.
While the BenQ GV1 can cast a 100-inch screen it works better when the screen size is smaller. And to get a good quality image, you need to figure out an optimal place to put the BenQ GV1 at. I placed the BenQ GV1 at the exact point I had placed the BenQ TK850 4K projector I had reviewed earlier and on the same surface.
Also Read: BenQ TK850 4K projector review: Bright, handy and practical
While the BenQ TK850 gave me incredible performance, the BenQ GV1 had to be moved around quite a bit to get the kind of sharpness I wanted. Sure, the BenQ GV1 is a much smaller projector, but the picture feels washed out in comparison, particularly when BenQ has some incredible projectors, albeit definitely more expensive, in their arsenal.
The BenG GV1 has a native resolution of 854x480 pixels, if you are used to watching HD and 4K content, images from this are going to look soft, which is not nice. The only way to make the BenQ GV1 work well is to keep the image size small — 50-inches seems optimal. And this will make you wonder if you should have just bought a 55-inch TV instead.
The BenQ GV1 has a peak brightness of 200 lumens, which isn't a lot. Things work fine if the room is dark, but in low light you will see it struggle. Also, even when you stick to a small screen, the picture quality itself is lacking - it's just not sharp enough.
You might want to argue that as a small projector, the BenQ GV1 delivers. But then you are essentially paying ₹31,000 for a 50-inch screen that is just about ok. You will need to decide if that works for you or not.
Should you buy it?
Paying ₹30,990 for a portable projector is fair. But that's it. The picture quality is not great. So if you are looking for a projector to give you that home theatre feel, the BenQ GV1 isn't going to cut it.