Dyson Omni-glide vacuum cleaner review: This sparks joy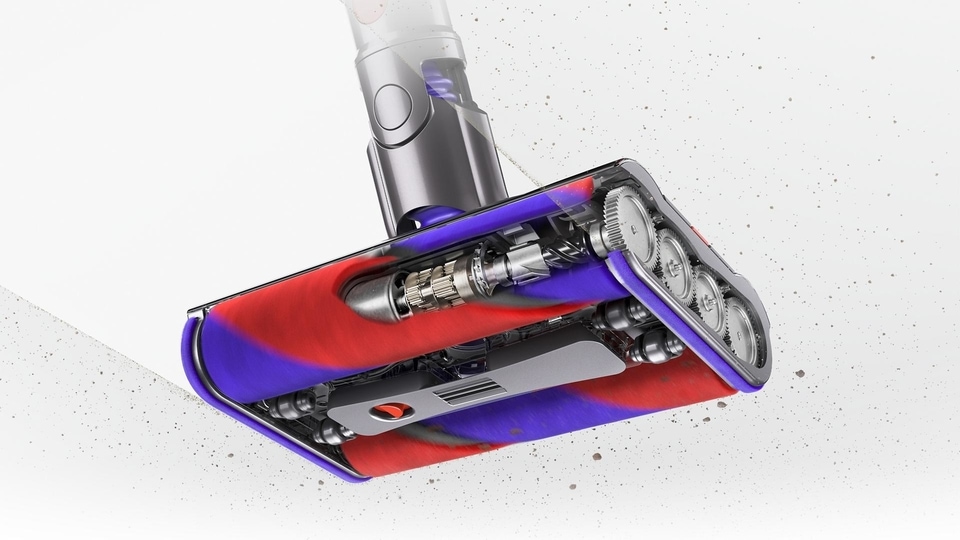 The Dyson Omni-glide vacuum cleaner is designed specifically for apartments with small, tricky corners.
Pros
Compact and light
Additional cleaning attachments for different surfaces
Easy to use
Cons
Battery life is not great
Expensive
Specifications
Motor

Dyson Hyperdymium motor with eight 'Cyclones'

Four cleaning attachments

Including the unique omni-directional soft roller

Mechanism

Gliding mechanism with motorised bar brush

Movement

Symmetrical pickup, sideways cleaning
Dyson's vacuum cleaners, like its other products, are expensive but they deliver exactly what you pay for. The company has the Dyson V11 Absolute Pro ( ₹52,900) that's wireless and quite powerful, however, it is heavy and carrying it around while you clean can get a little difficult. The Dyson Omni-glide vacuum cleaner comes almost like a solution to all the little problems the V11 Absolute Pro has - it's also wireless but much easier to manoeuver, easier to store, and much less expensive.
The Dyson Omni-glide is priced at ₹34,900 and is smaller and lighter (just 1.9 kg) than the V11 Absolute Pro that's powered by a bigger suction motor. But what it loses in motor size, it makes up in ease of use and in our time with it, there was not much we could complain about.
The pandemic got most of us doing household chores for ourselves. While cooking and groceries were considerably easier to handle, cleaning was a nightmare. Particularly in a city like Delhi where dust just seems to be everywhere, even if you keep all the doors and windows shut most of the time. Over the lockdown last year, me and my flatmate shared the chores, we cooked, we washed, we swept the floors once a week and we pretty much had no energy left to swab given that we both were also working from home. While we managed to mostly keep our 3bhk apartment clean, it was far from spotless, particularly those tricky corners that are hard to reach.
Once the restrictions eased and help returned, we realised that these tricky corners are hard for them to access too and are more often than not left untouched - like under the sofas, the beds, that little space between the fridge and the wall. This is where the Dyson Omni-glide fit right in, and I just wished I had this in 2020.
One of the main things Dyson always manages to ace is the design. Every product looks unique, almost years ahead of its time. And this design language can be seen across all its product categories. The Dyson Omni-glide is no different. The plastic body is dominated by greys, blues, and splashes of red. At first glance, you see the suction motor, the dust bin to collect the garbage, and the plastic handle. The Omni-glide comes with a bunch of attachments to cater to specific types and areas that you want cleaned. The Dyson Omni-glide is powered by the Dyson Hyperdymium motor that has eight 'Cyclones' and spins at up to 1,05,000rpm.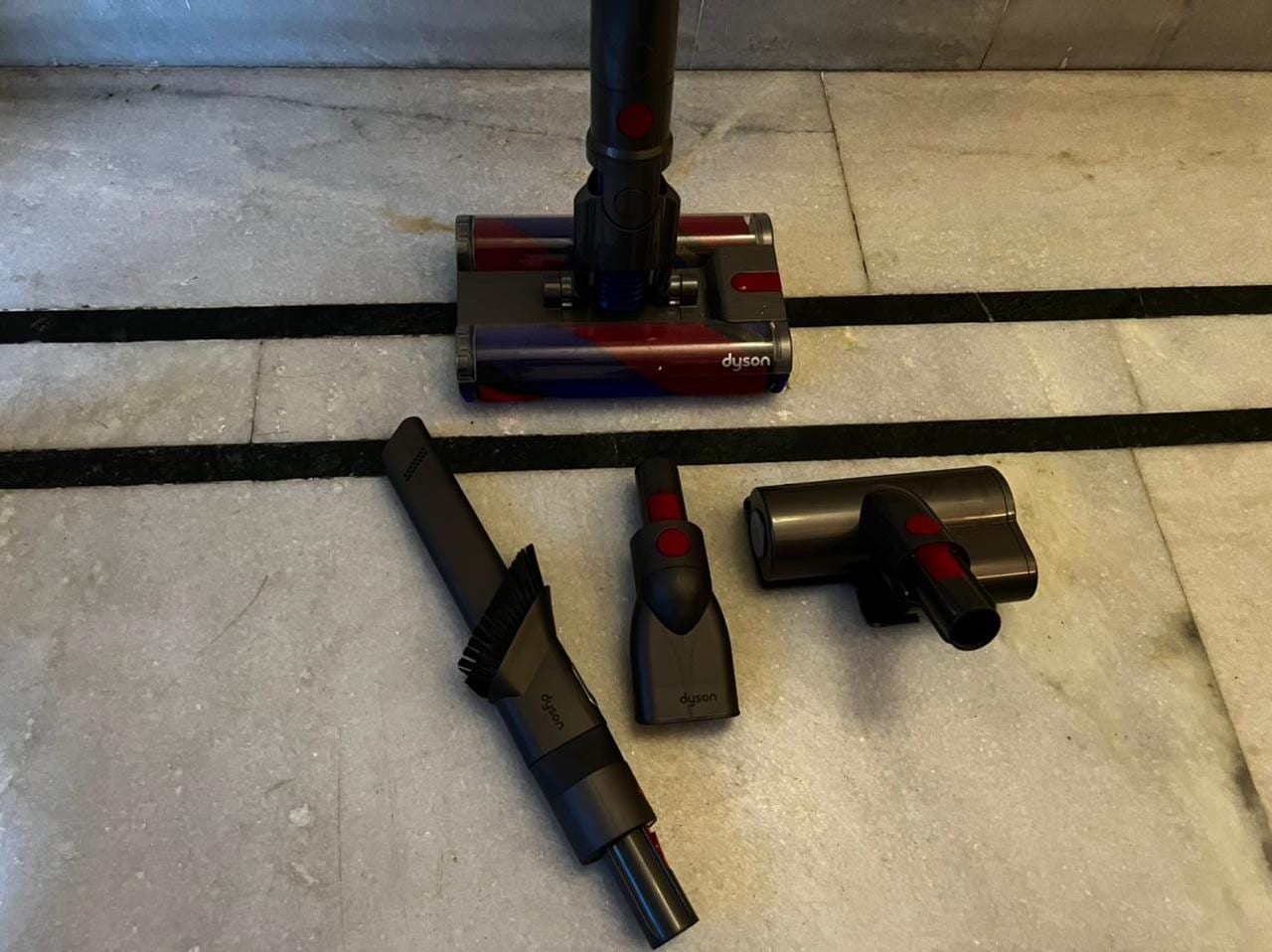 The power switch is right on the front and there is also a switch on the top that disengages the battery. You can charge the battery separately from the device, or swap it, or keep it attacked while you charge it. The charging dock for the Dyson Omni-glide can be mounted on the wall and acts like a stand for the vacuum cleaner.
There are two buttons on the Dyson Omni-glide for controls - the power button and a 'Max' button that can turn the suction power up and down. There are no triggers on this so you do not need to keep your finger on the button while you are using the Dyson Omni-glide making it easier to use and slide into narrow, hard-to-reach nooks and corners.
Almost all the components of the Dyson Omni-glide can be removed and cleaned including the bin, the separate cleaning attachments, and the filter. While removing the dust bin make sure you are doing it near another bin because releasing the section from the man vacuum body pushes all the dirt into the vacuum cleaner, if your bin is too full, there is going to be spillages. And also ensure all the removable parts are dried before you reattach them. You can replace the filter when you think it is necessary, Dyson suggests you do it once every six months if you are going to use it heavily.
Now, the attachments that Dyson ships with the Omni-glide are lesser than the ones that come with the V11 Absolute Pro. There is the charging adapter and dock, the Wand pipe that allows you to increase the length of the apparatus (47 cm), an Omni-directional Soft Roller, a worktop tool, a combination tool that has a brush and a thin nozzle, and a mini motorised tool. The Omni-directional Soft Roller is a unique component of the Dyson Omni-glide and one that it derives its name from. This attachment is probably the best one for this vacuum cleaner when it comes to cleaning. As the name suggests, it has two soft roller heads covered in carbon fibre filaments and this whole apparatus can be moved in all four directions. This is what allows the Dyson Omni-glide to get into tricky spaces without you, the user, having to resort to strange acrobatics.
The mini motorised floor cleaning tool and the omni-directional soft roller head are meant to be used with the Wand, and the worktop and combination tools can be used both with and without the wand. The Dyson Omni-glide is easy to use with the Wand while you are cleaning the floor, it is a little difficult to use when you are trying to reach higher corners because the length makes it a little difficult to control.
The important bit now - how well does the Dyson Omni-glide clean?
We've already told you that the Dyson Omni-glide is easier to use than the more powerful V11 Absolute Pro because it is lighter, and since it can reach those otherwise hard-to-reach spaces, it's almost perfect for smaller apartments or those apartments that have a lot of furniture. The attachments it ships with also help you clean a wide range of surfaces, I used the worktop tool on my mattress and you cannot imagine how much dust it pulled out! And the combination tool was perfect for those sofa corners and in between the cushion, and also a dusty workstation thanks to the brush. Oh, and you can also use the Omni-directional roller on carpets too, it works.
I've tried out the V11 Absolute Pro, and in comparison, the Dyson Omni-glide initially felt less powerful. However, cleaning was faster with the Dyson Omni-glide since it's lighter and easier to use, I could easily cover more area with the Omni-glide. The overall ease of use makes the Dyson Omni-glide perfect for those quick cleaning chores - since I quite don't like sweeping anyway, thank the lord I could just get it done faster.
I could clean my bedroom and my living area in about 15 minutes and the Dyson Omni-glide did a pretty thorough job.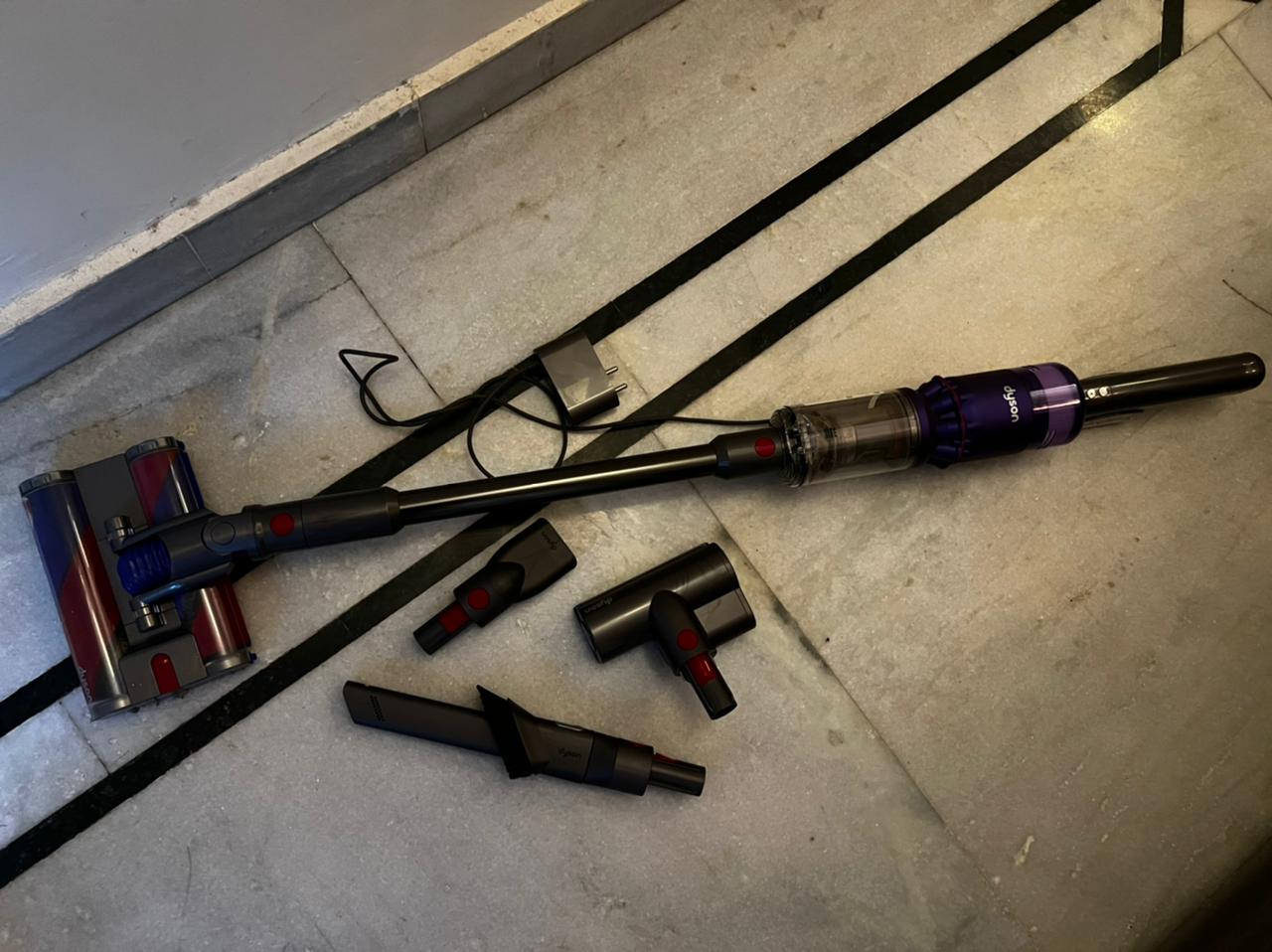 The battery life on the Dyson Omni-glide is not something I can talk up. It can run only about 20 minutes on a single charge if you use it without the Max setting (on Max it is just a little more than 10 minutes). So don't expect to pull off any long-haul cleaning sessions with the Dyson Omni-glide. If you are hoping to clean your whole house, you will have to charge it in between your cleaning drive. The Dyson Omni-glide also takes a significant amount of time to fully charge up, it took about four hours from empty to full. We'd recommend keeping the Dyson Omni-glide docked and charging when not in use so as you can use it whenever you need it.
Should you buy it?
₹34,900 for a Dyson product does not seem like too much, but it is a lot of money to be spending on a vacuum cleaner. However, like all other Dyson products, this too delivers and delivers well. It is light and easy to use, the Omni-directional soft roller head makes cleaning easy and the wand makes it super easy to access hard-to-reach spots, something we consider invaluable. That I don't need to half crawl under my bed to clean under it is reason enough for me to recommend the Dyson Omni-glide.
The battery life is very average and since being a wireless vacuum cleaner is one of its USPs, there is nothing much you can do here, except buy a spare battery maybe if you are hell-bent on cleaning for more than 20 minutes at a go.
For what it can deliver, the Dyson Omni-glide is easy to recommend. However, the price is where most people will stumble. But if you know about Dyson products, you'll know that they do not disappoint, ever. So do the math, if you want.