ViewSonic X100-4K+ review: Looks good, sounds better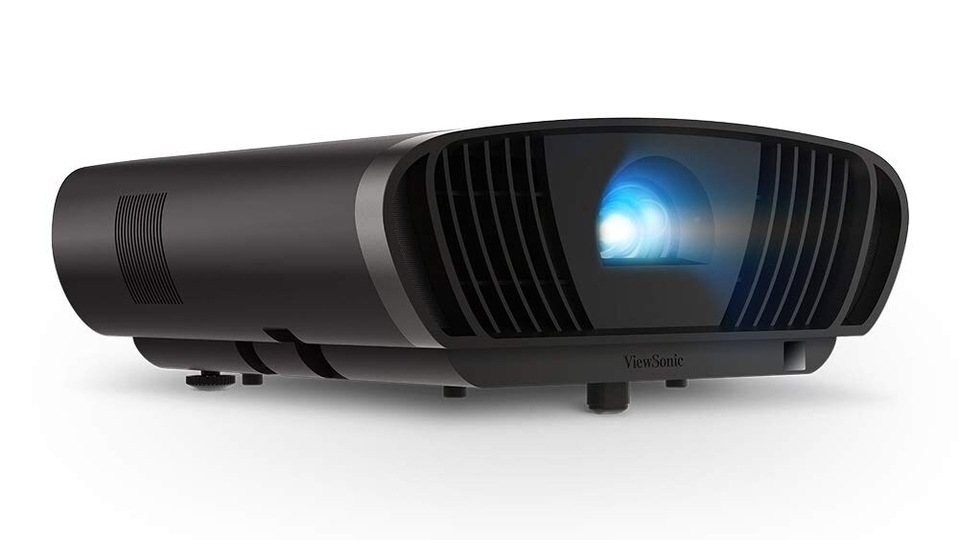 The ViewSonic X100-4K+ projector is a good investment to make if you are looking to really upgrade your home entertainment system.
Pros
Easy to set up
Bright picture, good colour reproduction
Really good sound
Cons
Rather bulky
Needs a good six feet clearance from screen for best results
Specifications
-

3840 x 2160 4K resolution

-

2,900 LED lumens brightness

-

Lens shift: V (+60%, -0%) H (+25%, -25%)

-

Two 20W Harman Kardon stereo speakers

-

3,000,000:1 Dynamic Contrast Ratio
From the time the pandemic locked us inside our homes, one of the first things many people did was to upgrade their home entertainment systems. If they did not have TVs, new TVs came in. If they had TVs, then larger, smarter TVs took their place. And along with this came soundbars, home theatre systems. For those who really wanted to make up for not being able to step out to actual cineplexes for movies, there were projectors.
Now, for most of us, projectors are something we think belongs in conference rooms and classrooms. They are not really something you buy for home and the fact that they are quite expensive also adds to that idea. But things have changed. There are smaller, super portable projectors that won't break your bank and there are considerably expensive projectors that give you your money's worth. The ViewSonic X100-4K+ is one of the latter and we've tested projectors before, and right off the bat we must tell you, this is one of the better sounding ones. And of course the BIG screen.
Unlike short-throw projectors that are a boon for small houses, like the Optoma CinemaX P2, the ViewSonic X100-4K+ needs to be placed about six feet away from the empty wall you want to project the screen on. We kept the projector on a little stool at a height of about two feet off the ground. It is bulky, and it's a better bet to mount it if you can, that will give you better angles, and most importantly, it will free up floor space. Setting up the ViewSonic X100-4K+ took barely 5 mins, you will have to spend some time on colour calibration though.
The ViewSonic X100-4K+ comes with a bunch of connectivity options like four HDMI ports, 3.5mm audio in, two USB Type-A ports, 3D VESA, and RJ45. There is also an audio out, S/PDIF, and a 12V trigger. This projector has Harman Kardon speakers so you will not have to, ideally, get more speakers into the mix. There is an automatic cover for the lens which a great feature to have. The shutter opens only when the projector is powered up. You can also control the sharpness of the picture by using the remote control thanks to this projector's motorised focus. The ViewSonic X100-4K+ has a wide lens shift range so even if the wall you plan to project the screen on has furniture around it, you can adjust for a good screen space without having to move anything.
The ViewSonic X100-4K+ is a 2,900 LED Lumens 4K UHD projector, which means that it is very bright. So, you don't necessarily need to put off the lights or make them dim to enjoy watching anything on this, you can keep the windows open if you need to. However, the picture does get a lot clearer in dim/darker conditions. The room I placed the projector in does not get direct sunlight unless it's for a couple of hours in the early morning, so I faced no issues whatsoever with this.
The remote on the ViewSonic X100-4K+ is packed with buttons and there are options to voice control the projector too with Alexa or the Google Assistant (for things like controlling the volume, changing input source, etc.). In case you do not want to use the remote, you can download the ViewSonic vCastSender app on your smartphone and use that - you will just need to make sure both the phone and the projector are connected to the same WiFi.
The ViewSonic X100-4K+ comes with a few presets for pictures that you can pick from, but there is a lot of scope to play around with as well. If you are new to projectors, we recommend you pick one of the presets that work for you simply because it is easier. The longer you spend with the ViewSonic X100-4K+, the more you can experiment, like with the Imaging Science Foundation (ISF) mode. You will need to know a little bit about colour calibration though, which we are not exactly experts at, yet.
Now the most important part, the picture. The ViewSonic X100-4K+ did not disappoint at all, on any setting, when it came to the picture. The default settings are going to be good enough for most people to watch content on. On the Movie mode, you get a 4000000:1 contrast ratio which creates good colour reproductions and balances out dark and light in the scenes. The SDR mode is particularly impressive with HDR scenes looking very good. For almost all the content on Netflix, Hotstar, Prime Video, etc, and even live-streaming sports from SonyLiv, the ViewSonic X100-4K+ pulled off things very smoothly, it has 4K UHD resolution support and HDR10 support.
The ViewSonic X100-4K+ is also going to be quite good for gaming but I'm no gamer and I have absolutely no desire to raise civilizations so as they can raze others on 120-inch screen. However, now that I am saying this out loud, I think I should have tried it, at least once.
Next, the sound. As we mentioned earlier, the ViewSonic X100-4K+ comes with two 20W Harman Kardon stereo speakers. The sound is rich and good enough to fill a biggish room without any trouble. If you want more audio, you can connect the projector to a soundbar using Bluetooth. In our time with it, we really did not need to.
The LED on the ViewSonic X100-4K+ comes with a 30,000 hours' promise. That's a LOT of time - do that math. If you use the projector for 3 hours every day, it's going to work just fine for a little more than 27 years, so you really do not need to worry.
Should you buy it?
The ViewSonic X100-4K+ is an investment, obviously. Priced at ₹3,85,000, you really need to figure out if you really want to spend this kind of money on a projector instead of buying a BIG TV. But then you have a 120-inch screen and pretty good sound to consider here.
The ViewSonic X100-4K+ is not a portable projector, and if that's what you are looking for, this is not it. It comes with a host of connectivity options, the picture is good, the sound is better, and it's going to last you a while. The answer to whether you should buy it or not is not simple, there is a lot of money at stake here. But it's a good investment to make if you are looking to make one for better movie nights.