Optoma CinemaX P2 review: The big solution to your little problems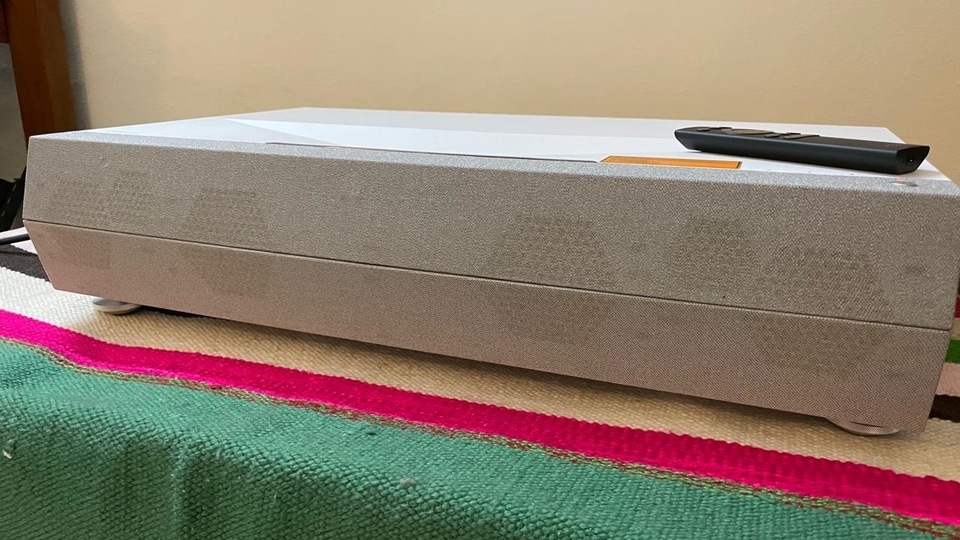 If you are someone who really believes in investing in your home entertainment, the Optoma CinemaX P2 is a great option.
Brand: Optoma
Product: Optoma CinemaX P2
Key specs: Ultra Short Throw projector, maximum 120-inch imag, 4K UHD resolution, Dolby Digital 2.0 audio, HDR10 compatibility, PureMotion support, DLP 4K UHD chip under the hood
Rating: 3.5/5
I liked watching movies in theatres, like most other people. And it wasn't just because of the slightly stale, buttery popcorn or the extra nachos cheese dip that made things better. The sheer expanse of a screen running from wall to wall, booming sound, and this comforting darkness that ensconces you in a happy place while you watch the magic unfold… ah. Now we are all stuck in our homes staring at walls and wondering if we are ever going to go back to that life again. One of the good things that have happened over the pandemic though is that we've learned to upgrade our home entertainment options, as much as we can afford. Bigger TVs, sound bars, and in some cases, projectors. Enter the Optoma CinemaX P2.
Granted, that ₹4,99,999 is no chump change. The Optoma CinemaX P2 is massive and yet it is the perfect solution for most of our homes, and here's why. I struggled quite a bit with trying to find at least four to five feet of uninterrupted wall space with other projectors, like the BenQ TK850 4K and BenQ GV1. But that's the point with short-throw projectors...they're always much easier to place.
Since this is an ultra-short-throw projector, you need to place it very close to a wall, which saves you a lot of space. It also saves you the struggle of having wires trailing all over the floor. With the Optoma CinemaX P2 placed just inches away from the wall, we played content on a 90-inch screen. You can go up to 120 inches too, if you want, all you have to do is place the projector a few feet away from the wall instead of a few inches like I had done. Further, the Optoma CinemaX P2 is incredibly easy to set up, despite the device being rather bulky. You can adjust the height a little with the little stands under the projector, but just a little, and it makes it all the more important to place the projector right.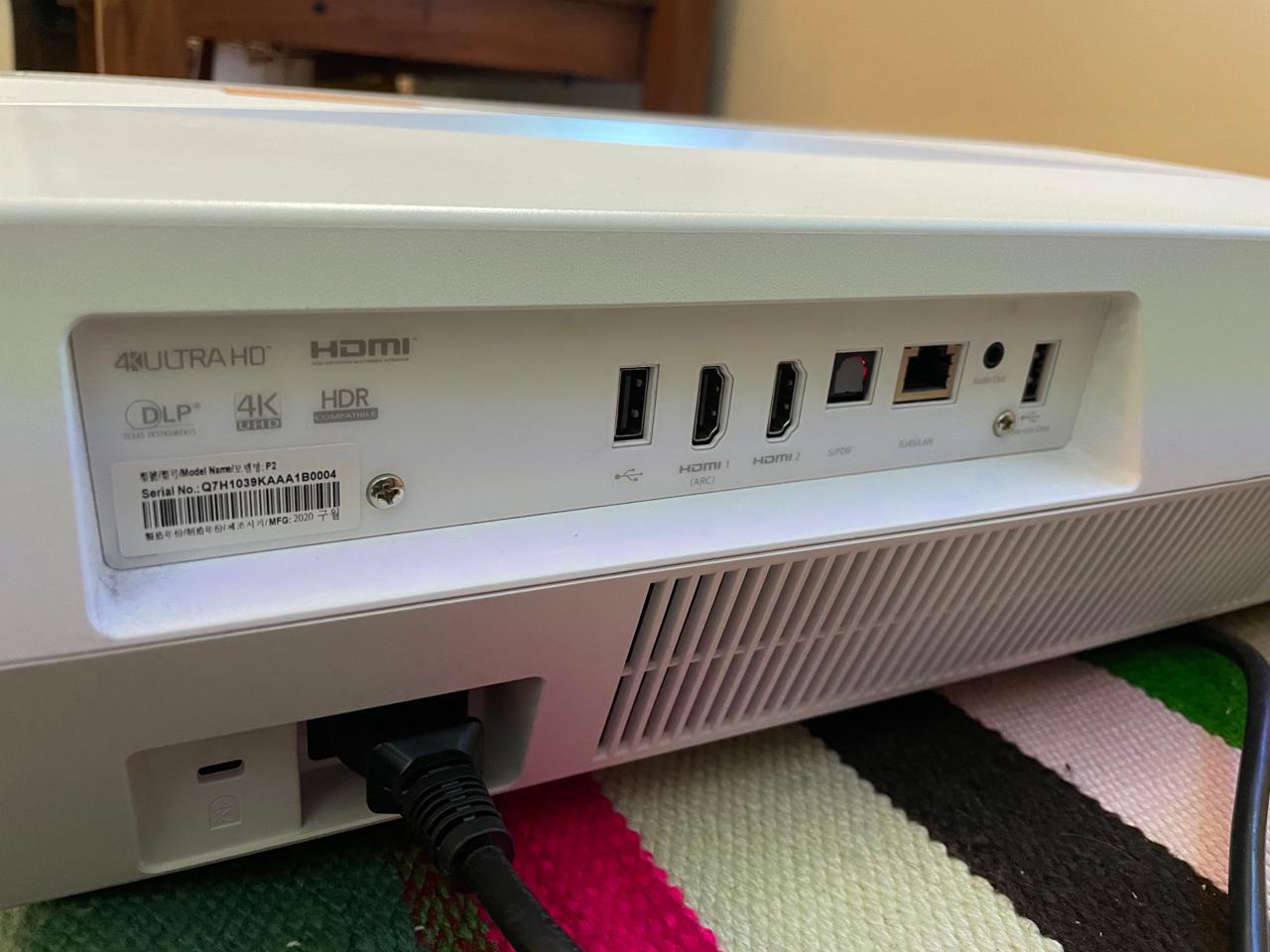 Things get simpler from there. There is just one power button on the device and the rest of it all is on the remote. There are three HDMI ports, an ethernet port, USB ports, and an audio out for additional speakers if you want (more about the sound on the Optoma CinemaX P2 later). I used the Optoma CinemaX P2 with just a pen drive (because I thought watching a bad print of Wonder Woman 1984 was a good idea), but it works with other devices like the Amazon Fire TV stick, so take your pick.
You can't really fault the Optoma Cinema X P2 on sound as well. The projector comes with two full-range audio drivers and two sub-woofers. We've seen projectors struggle in the sound department, but the Optoma CinemaX P2 is not one of them and you ideally won't even need a separate speaker or soundbar with this one. Covered by a white fabric grille, the speakers take up the entire back zone of the projector throwing sound right at you.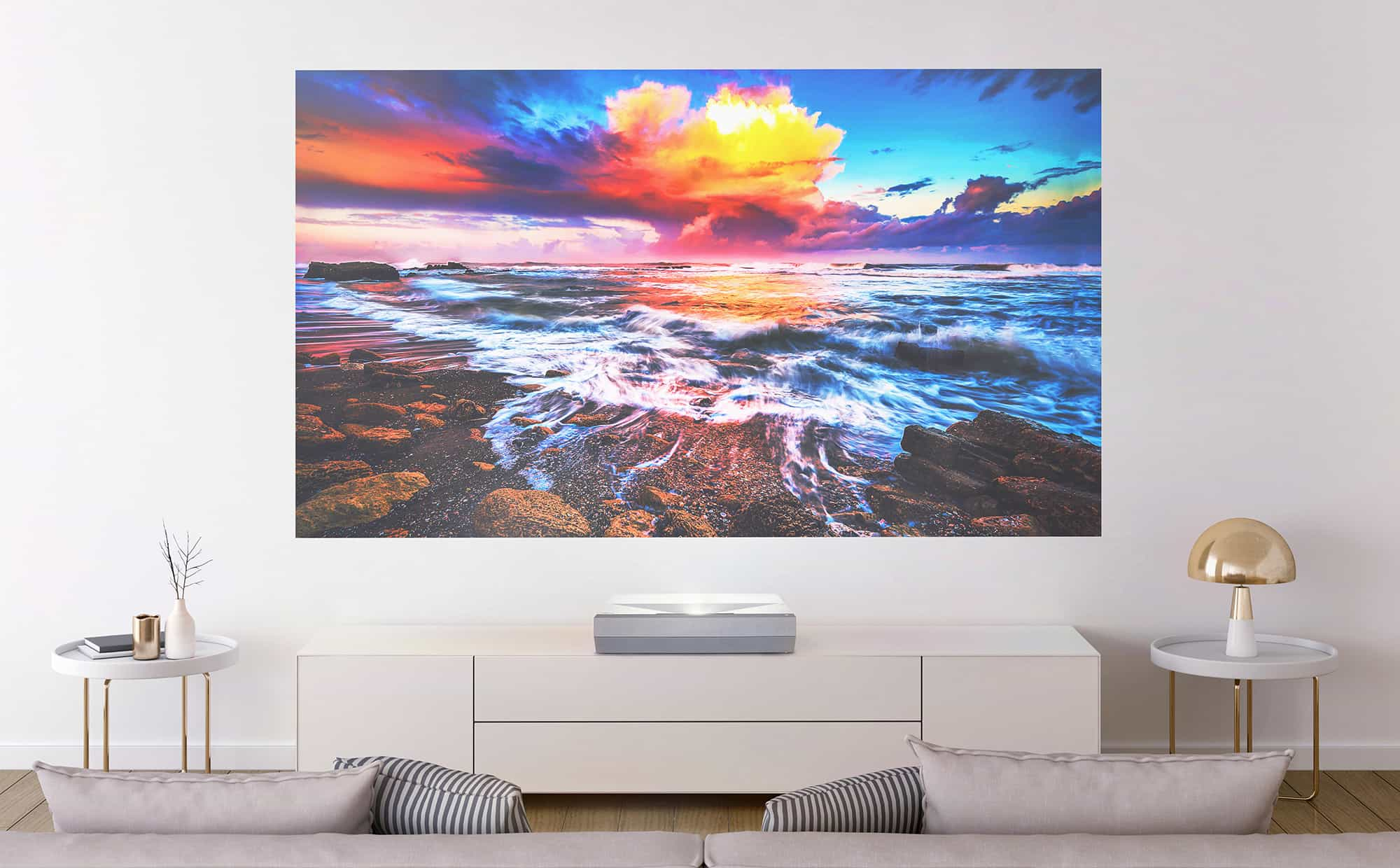 I never managed to max out the volume because it just wasn't necessary even though my room is not exactly small. If I was using this in my living area, I could have raised the volume a few notches more. The vocals are clear and there is enough bass. What the projector can do for most living rooms/entertainment room set-ups here is good enough.
You can access most of the popular content streaming platforms directly on the projector or you can use a dongle like the Amazon Fire TV Stick. The Optoma CinemaX P2 is a 4K projector and it supports all the 4K content Netflix, Disney+ Hotstar, Amazon Prime Video, and others. The colours on the Optoma CinemaX P2 are vibrant enough and I found myself turning off the colour boost feature in most cases since I prefer a more understated, natural picture. Good colour makes the picture rich, but you might find yourself wanting to dial up the sharpness on the default mode. The Optoma app gives you enough customisation details to pick a setting that works for you and the content you are watching. And you can use this for gaming as well, if that's how you roll - you won't be disappointed.
Projectors are not cheap, but spending Rs. 5 lakh is something else altogether. Should you be paying this massive sum for entertainment purposes right now? Most projectors in the market are not cheap, so if you have been doing your research, a price tag like this should not shock you. However, despite that, this price tag is understandably a deterrent. But if you are someone who believes in investing in your home entertainment, the Optoma CinemaX P2 is a great option. Also, consider the fact that you might replace your smart TV, and potentially your speakers as well, with this. In which case, it adds up.