Fujitsu launches the UH-X convertible laptop in India: Check out prices, specs
Fujitsu's UH-X convertible 2-in-1 and UH-X thin and light laptops are priced at ₹86,990 and ₹80,990 respectively and were launched in India today.
Updated on 20 Jul 2021, 07:49 PM IST
in laptops pc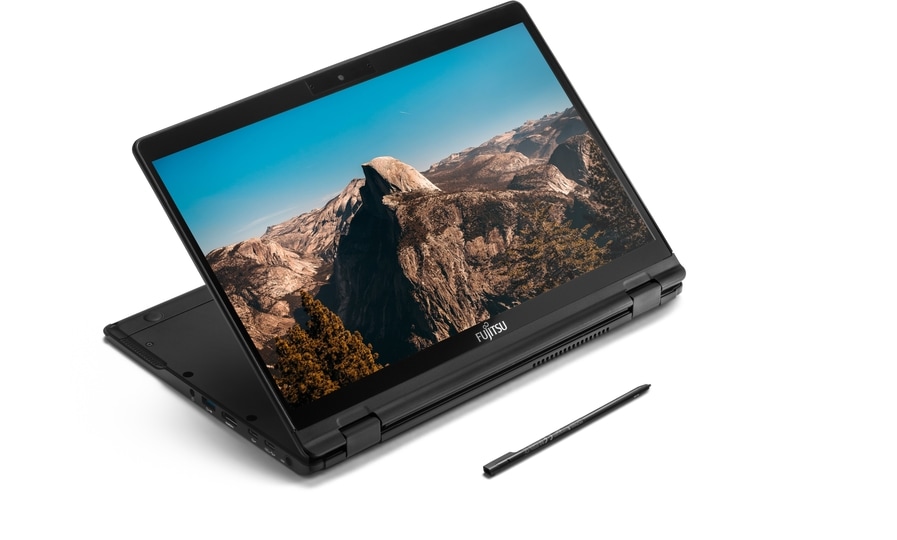 Japanese brand Fujitsu has launched two laptops in India today including a 2-in-1 convertible notebook that comes with a stylus. Besides this device, there is also a thin and light laptop they have launched and both the devices will be available in India starting July 26 on Amazon. You can buy them during the upcoming Amazon Prime Days sale. The Fujitsu UH-X convertible 2-in-1 and the UH-X thin and light come in two different price points with the former being the more premium offering.
The Fujitsu UH-X convertible 2-in-1 notebook is priced at ₹86,990 and as the name suggests, it can be used as a laptop or as a tab. This device is rather light, just 997 gms, and can be easily converted from a laptop to a tab. It comes with Windows 10 and is powered by the Intel Iris Xe Graphics card and an Intel Core i7 processor. This laptop has a 13.3-inch Full HD screen that comes with features like anti-glare, a touch display, and an IGZO panel. There is also a spherical and cylindrical key top for better typing ease.
Fujitsu claims that this device has passed multiple rigorous durability tests like a 200kgf full surface pressure test, 35 kgf one-point pressure test, and a 76cm drop test. This ideally (should) mean that the laptop is sturdy and won't get busted if it is folded often. The Fujitsu UH-X convertible also comes with an elastic resin around the touch panel for improved resistance to screen breakage.
Both the Fujitsu UH-X laptops are powered by the latest 11th gen Intel Core i7 chipsets (up to 4.7GHz) with Intel Iris Xe graphics, 16GB of RAM, and 512GB/1TB of SSD storage. Thunderbolt 4.0, Wi-Fi 6/6e, and USB Type-C fast charging is also available. Like the Fujitsu UH-X convertible, the Fujitsu UH-X light and thin also comes with a 13.3-inch anti-glare IGZO touch screen with 400 nits of brightness, 100% coverage of the sRGB colour space, and thin bezels on three sides. Both laptops have a webcam on the top with infrared cameras for facial recognition and Windows Hello. There is also a fingerprint scanner on the power button.
These laptops also come with quad stereo speakers with Dirac panorama sound, and noise-cancelling microphones, and stylus support with a Wacom Active pen with 4,096 levels of pressure sensitivity. Powering it all is a 50Wh battery that promises to provide 11 hours of battery life on a single charge.