Avita Cosmos 2-in-1 notebook review: A lightweight device in every way
The Avita Cosmos 2-in-1 convertible notebook packs in a lightweight design and decent specs for the price. Should you buy it?
Pros
Convertible design
Price
Low weight
Specifications
Processor

Intel Celeron N4000 Processor

Graphics

Intel Integrated UHD 600

Storage

64 GB eMMC

Screen

11.6-inch Full HD (Touchscreen)

OS

Windows 10 Home
The novel coronavirus pandemic has pushed most of the world indoors for the past year and a half, which means that most of us have also taken our work, studies and entertainment indoors and onto our screens. However, families have had to either budget screen time on a shared device at home, or buy additional computers or laptops – which can be an expensive affair.
Affordable laptops do not burn a hole in your pocket, but many are cautious when it comes to performance and longevity. However, some of these devices are under the ₹20,000 mark, which makes value for money the most important consideration. The Avita Cosmos 2-in-1 convertible notebook is one such affordable laptop – we've spent a week with the device and here are our thoughts.
Display and design
The Avita Cosmos 2-in-1 is a compact device with an 11.6-inch Full HD LCD display. Since the device is a convertible notebook, the screen is touch-enabled which supports most Windows operations when you're on the go. The screen itself is bright and content looks good even when you're using the device in a bright environment. It has a 2MP camera on the front and back of the device, for taking calls and for shooting images and video.
The device has large bezels around the screen, and is attached to a slim keyboard via a magnetic connector – the keyboard also acts as a screen protector when it is closed. It also features a kickstand at the back, which works in notebook mode as well as tablet mode. The kickstand does a good job of supporting the device, but it feels a little delicate during day to day operation. One of the biggest advantages is the weight of the device. At 1.33 kg, this device is quite portable, considering the price and the features it packs in.
Specifications and connectivity
The Avita Cosmos 2-in-1 notebook is powered by a 14nm Intel Celeron N4000 processor at 1.10 GHz, with 4GB of RAM and 64GB of eMMC storage. This entry-level laptop comes with Intel UHD 600 graphics support on board, and Intel Smart Sound Technology for the single speaker on the top right side of the device when it is in tablet mode. The built-in storage is good enough for day to day tasks, for example, school assignments and if your work requires dealing with word processing software or spreadsheets and presentations. With around 57 GB of usable storage, you will effectively be able to use around 35GB or so, which means that support for expandable storage via MicroSD should come in very handy.
On the connectivity front, the device has dual-band Wi-Fi support, Bluetooth 4.0 connectivity and a USB 3.0 port. The device does have a touchscreen and a touchpad on the keyboard, but if you prefer a mouse you will need to use the single USB port, which means no other devices can be connected. Alternatively, a USB hub might be a good investment. There's no VGA port, only a mini-HDMI port. The speakers are clear but not very loud, or if you plan to use this device for entertainment, you'll have to use the 3.5mm jack or connect a wireless speaker or headset via Bluetooth.
Software and performance
On the software front, the device comes with Windows 10 Home edition, which works rather well, considering the specifications on the device. The Avita Cosmos 2-in-1 has an Intel Celeron N4000 processor under the hood, and it can handle non-intensive tasks like browsing the web and working on documents and presentations. It is a dual-core processor, after all, so you won't be able to run heavy applications on it and attempting to do so caused the system to hang up completely and we had to power cycle the device. But in our tests on the device, we found that the RAM usage rarely exceeded 3.5GB while performing basic tasks, which the CPU could handle with ease. Windows 10 boots up very quickly, and the whole process took less than 15 seconds.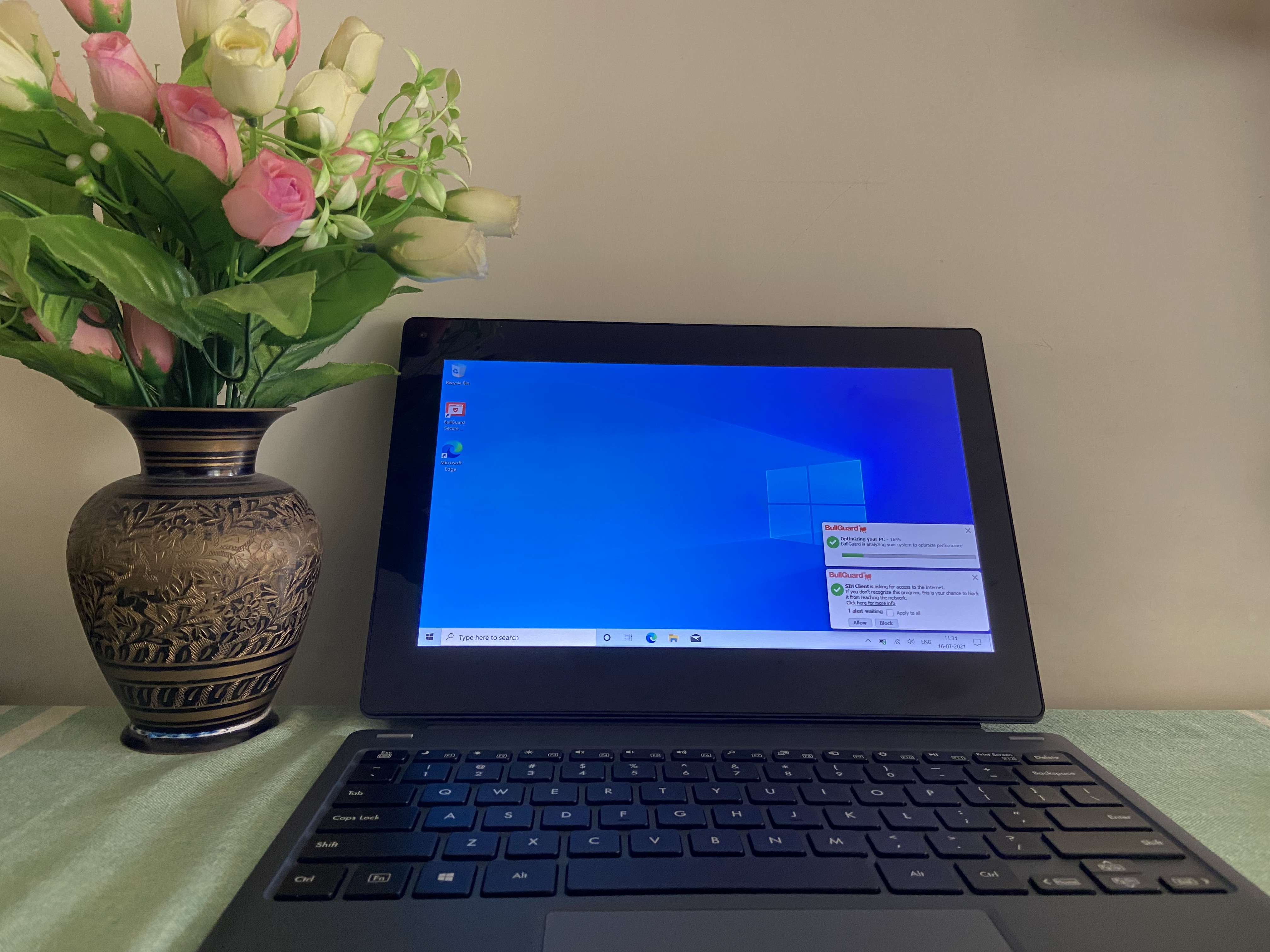 The device also functions well as an entertainment device and can stream content from Netflix and from Amazon Prime or any other streaming service that has an app on the Windows Store, although if you want to download content, you might want to look into expanding the device's storage with a Micro SD card. The battery life went on for at least five and a half hours with mixed usage of browsing the web and watching content, but the built-in battery saver mode could take it to a little above six hours with the brightness set at around 45-50 percent.
Verdict
Entry-level laptops can offer a wide range of specifications, but not without a few compromises to keep the price low. Whether it is storage or performance, customers usually have to settle for something in order to buy a device within their budget. That being said, at ₹17,990, the Avita Cosmos 2-in-1 notebook appears to offer good value for money, while making the right decisions when it comes to cutting corners. The screen and cameras are good enough for day-to-day work, while the limited storage can be expanded.
A couple of extra USB ports and a VGA port would have been nice, but it looks like Avita managed to get the basics right with the Cosmos 2-in-1 notebook. If your work requires you to edit photos and videos, then you will need to consider more powerful devices, which are also likely to cost more. But if you need a device capable enough for online classes, meetings, office work, or entertainment purposes, then the Avita Cosmos 2-in-1 is worth considering as an affordable alternative to a traditional laptop in this price range.