How to enable Android 11 chat 'Bubbles' on Samsung One UI 3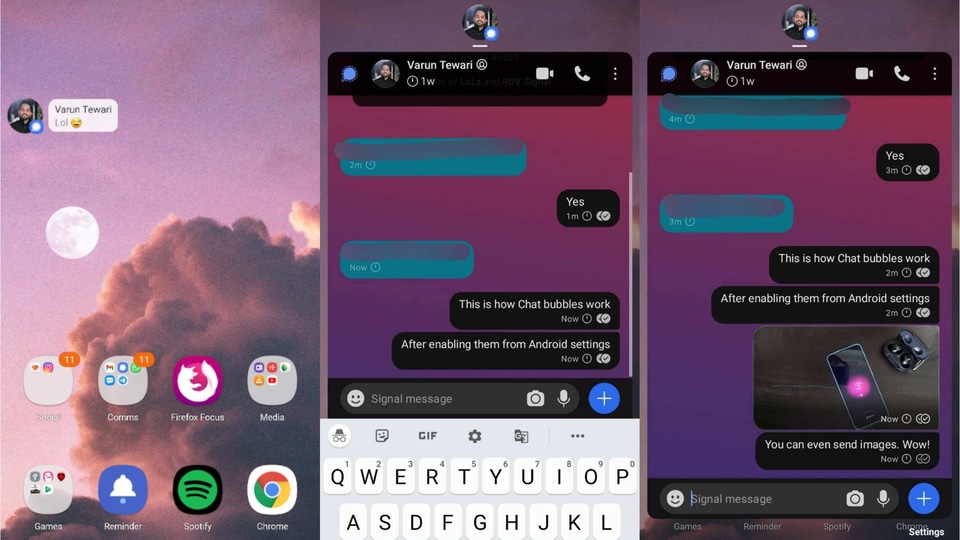 Chat bubbles are one of Android 11's best features and they're also a part of Samsung's One UI 3. Here's how you can turn them on after updating your Galaxy device.
Android 11 brought with it several improvements to Google's mobile operating system such as One Time Permissions, scoped storage and better media controls, but one of the more user-friendly features this year is the arrival of "Conversation bubbles" a floating circle that expands into a small window to quickly text a friend without leaving the app you are currently in.
Also read: Android 12 to bring improvements in PiP mode, new animations for bubbles
While chat bubbles were supposed to come to Android 10 in 2019, Google probably wanted to work on better integrating the feature into the OS, so it arrived last September. The feature replaces the older, more resource-hungry method users by apps like Facebook Messenger, which has offered the same feature with the "draw over other apps" permission for years.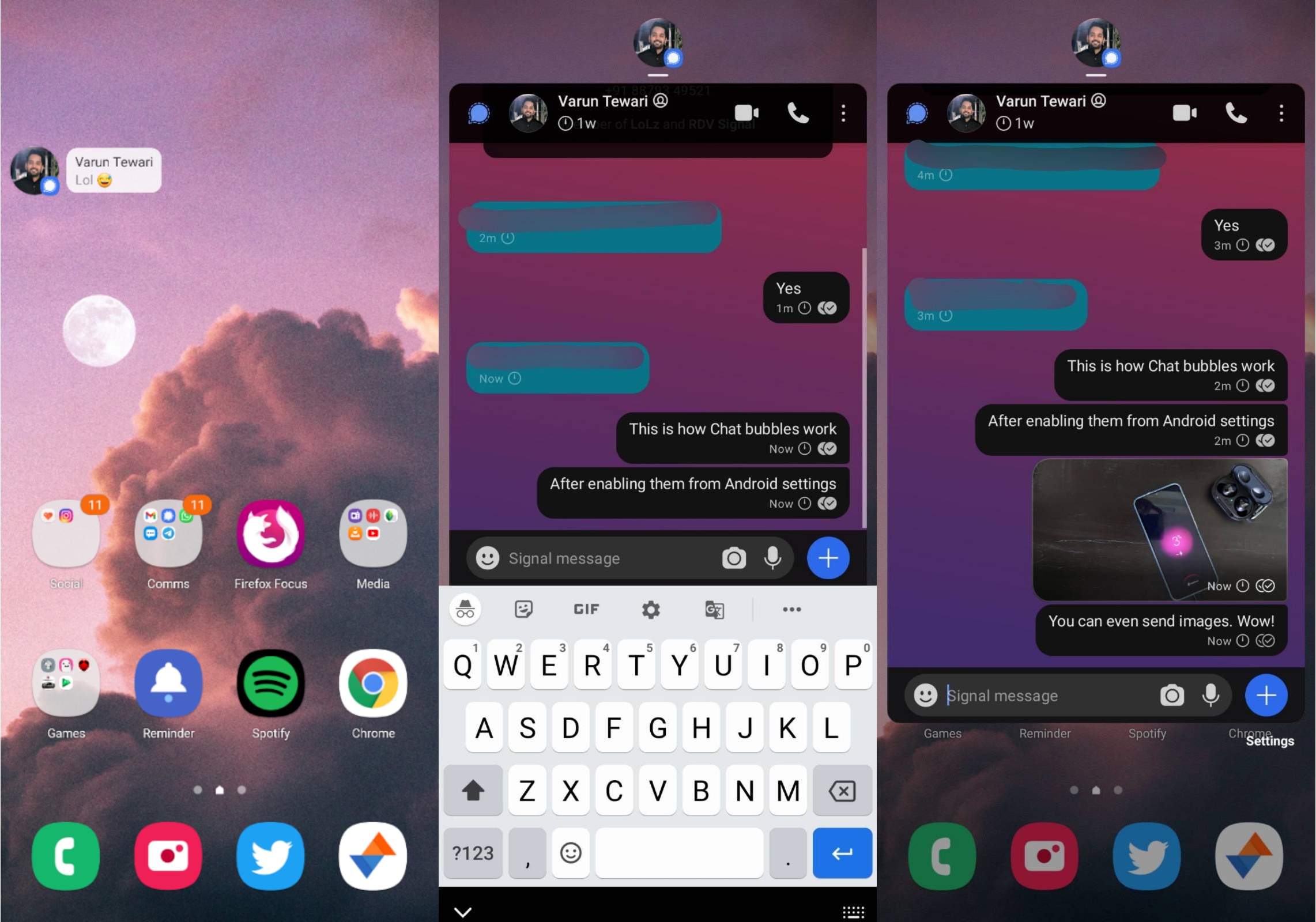 With Samsung updating several devices to Android 11, ahead of schedule, many more devices are now able to access the chat bubbles feature, allowing apps like Google Messages, Telegram and Signal that support Android 10 and above to display conversations as bubbles over other apps.
If you've updated to One UI 3 based on Android 11 on your Galaxy phone, here's how you can set up chat bubbles on your favourite apps:
1. Make sure the applications you want to use are updated to the latest versions available on the Play Store.
2. Now open the phone's Settings app and tap on Notifications.
3. Make sure the Detailed option for pop up styles at the top is selected, instead of Brief.
4. Scroll down and tap on Advanced settings and choose the Floating Notifications button.
5. There are three options here: Off, Bubbles and Smart pop-up view. You should select Bubbles.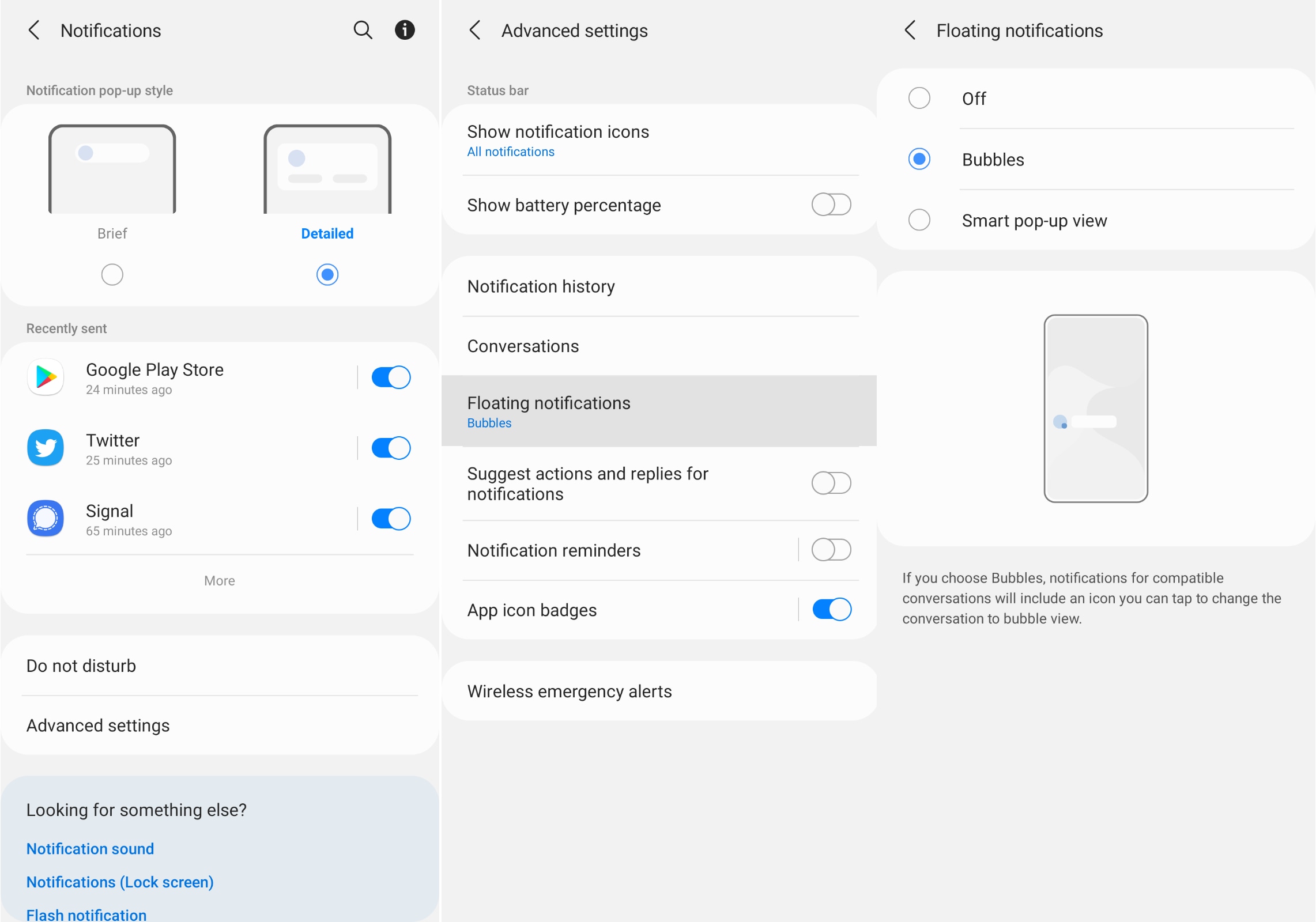 That's it! You should now see a small circle with your friend's profile picture pop up every time you receive a message from them. The bubble can be dragged across the screen to either side and dismissed by flicking it to the bottom of the screen. The best part is that all your bubbles will "stack" on top of each other, even if they're from different apps, so organising your chats becomes very easy.