JioPhone Next launch date: 5 things we know about JioPhone Next, 5 things we don't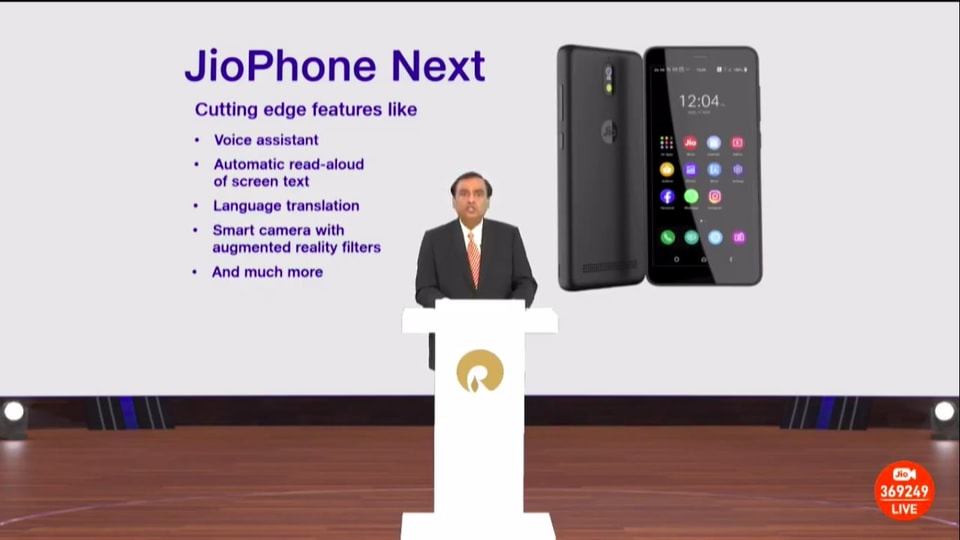 JioPhone Next launch date: The cheapest 4G smartphone is all set to launch and yes, it is the JioPhone Next price that is grabbing eyeballs.
JioPhone Next launch date: The season of smartphone launches, the ones that are real eye-ball grabbers, started with Samsung launching its next generation of foldable display smartphones last month. And now, another much-awaited launch is in the offing - JioPhone Next launch. After that, on September 15, the Apple iPhone 13 series is expected to be launched. JioPhone Next is a collaboration between Reliance Industries subsidiary Reliance Jio and Google and the smartphone is set to launch on the auspicious occasion of Ganesh Chaturthi or September 10. JioPhone Next has been dubbed as the 'cheapest 4G smartphone'. JioPhone Next price in India however, has still not been revealed.
"While being ultra-affordable, JioPhone Next is packed with cutting-edge features like the voice assistant, automatic read-aloud of screen text, language translation, smart camera with augmented reality filters and much more," Reliance Industries' chairman Mukesh Ambani had said while making the announcement at RIL's 44th annual general meeting or AGM. The AGM was attended by Google chief Sundar Pichai by video conferencing too.
Now, almost two months later, Reliance Jio and Google's JioPhone Next is finally about to make its debut in India.
Ahead of the JioPhone Next launch, here are five things we already know about the device:
-- Reliance Jio and Google's JioPhone Next will run on a highly customised version of Google's Android mobile operating system.
-- Reliance Jio and Google's JioPhone Next will have Google Play Store for downloading new apps.
-- JioPhone Next will also feature Google Assistant for supporting users. Google has already announced that it has also added App Actions that enable Google Assistant to deliver a great experience with many of the Jio apps on this device. In addition to asking for the latest cricket scores or a weather update, users will also be able to ask Google Assistant to play music on Jio Saavn or check your balance on My Jio.
-- Reliance Jio and Google's JioPhone Next will come with a special camera app that will be able to click clear photos at night and in low-light situations. It will also feature HDR mode.
-- JioPhone Next will also come with Read Aloud and Translate Now features that will work with any text on their phone screen, including web pages, apps, messages, and even photos.
Here are five things that we don't know about JioPhone Next:
-- JioPhone Next Price: Neither Google nor Reliance Jio have revealed the JioPhone Next price. Reports have hinted towards the device being priced under ₹5,000. In fact, some reports have put it as low as ₹3,499. Due to the financial schemes available on the phones, buyers could get JioPhone Next for a downpayment of just ₹500.
-- JioPhone Next Camera: We know that the JioPhone Next will have a single camera at the back and a single camera in the front. But we don't know anything about their configuration.
-- JioPhone Next Storage space: The RAM and storage space of the JioPhone Next remain a mystery as of now.
-- Battery and processor: We also have no idea about the processor and the battery capacity of the JioPhone Next. However, reports hint towards the JioPhone Next being powered by Qualcomm Snapdragon 215 SoC and being backed by a 2,500mAh battery.
-- JioPhone Next Colours: Colours in which JioPhone Next will be available also remains unknown as of now.