JioPhone Next price, specs: Great expectations! What's coming and what's not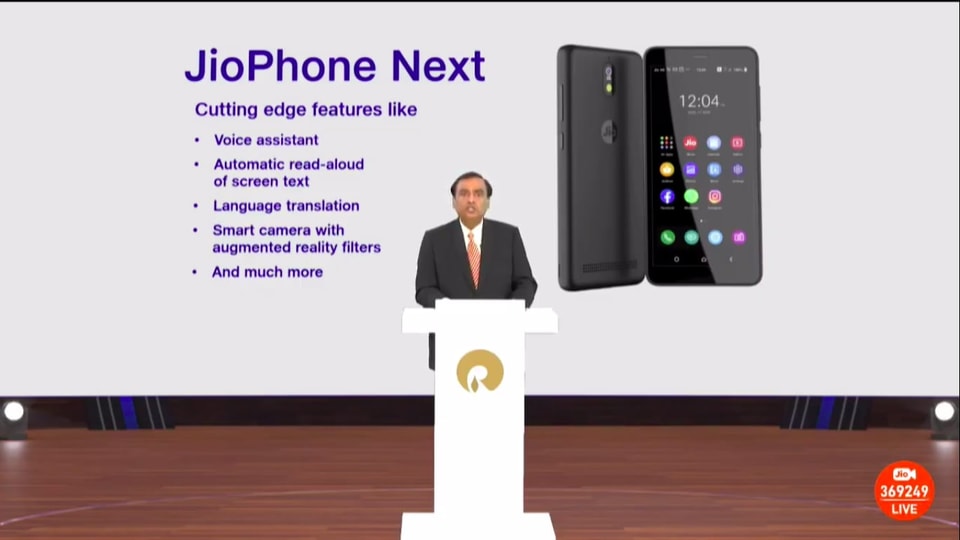 JioPhone Next price and specs have become the subject of intense speculation in India and globally too. No doubt because it has been touted as the cheapest 4G smartphone
JioPhone Next price and specs: Reliance Industries chief Mukesh Ambani had announced the JioPhone Next along with Google chief Sundar Pichai at the Reliance AGM earlier this year. The smartphone is tipped to be the cheapest 4G Android smartphone. The company had announced that it will be launching the JioPhone Next on Ganesh Chaturthi. The festival takes place on September 10. Hence, it is assumed that the JioPhone Next launch will happen later this week. The smartphone will feature a design with sizeable bezels - both on top and bottom. Here's what's confirmed and what to expect from the upcoming JioPhone Next.
Confirmed: JioPhone Next will run Android
At the reliance AGM earlier this year, Sundar Pichai and Mukesh Ambani revealed that JioPhone Next will run Android Go version of the Google OS out of the box. For reference, Android Go is built for smartphones with 2GB of RAM or less. It could run Android 11.
Confirmed: JioPhone Next to receive 3 years of Android updates
JioPhone Next is confirmed to receive three years of Android updates. This means the device will get up to date access to Google services for three years. Plus, it will support Google Play Store allowing users to download Android apps from the store.
Confirmed: JioPhone Next to have built-in Google Assistant
JioPhone Next will allow users to interact with Google's voice-based AI assistant Google Assistant as it will be a built-in feature. Google Assistant can be used to know the latest cricket scores, weather updates, play music, check their balance on My Jio and more.
Confirmed: JioPhone Next camera details
While the number of megapixels remain unknown, the JioPhone Next is confirmed to have support for HDR mode in the camera. It is touted to bring a wider colour and better dynamic range in photos. Moreover, Reliance has partnered with Snap to integrate Snapchat Lenses directly into the phone's camera.
Confirmed: Read and Translate
The JioPhone Next will have support for language translation feature. It will be able to read aloud content for users in native their language. The Read Aloud and Translate Now feature will translate what's on users' screen and read it in their preferred language.
Expected: Qualcomm Snapdragon Processor
The JioPhone Next is expected to be powered by the Qualcomm QM215 platform. It may be equipped with a 64-bit CPU and dual-ISP support.
Expected: JioPhone Next price
JioPhone Next price in India could be around ₹3,500. It is expected to be the cheapest 4G Android smartphone in the country.
Expected: 4,000mAh battery and dual-SIM support
JioPhone Next's specs are still unknown. However, it is expected to pack a big battery. The smartphone might come equipped with a 4,000mAh battery. Moreover, it could have dual-SIM support.