Samsung Smart Touch Call visual interface launched to enhances customer service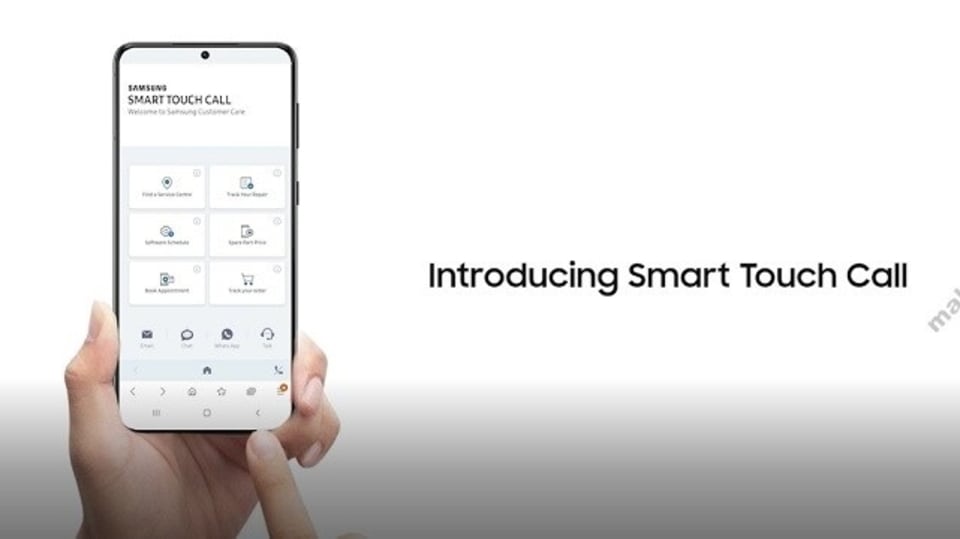 Through Smart Touch Call, customers will be able to find quick resolution to their most common queries. New digital self-service option will reduce call wait time for customers.
Electronics brand Samsung has launched the new 'Smart Touch Call' service that will reduce wait time for customers when they call Samsung's Customer Care to resolve their problems. Customers calling Samsung's Customer Care will have the option to switch to a synchronized voice and screen interface instead of a traditional call center experience.
What is Smart Touch Call?
This is an intuitive service that captures the caller's needs and enables them to interact with the system. It will provide to customers an opportunity to solve most of their common queries such as locating the nearest service centre from them, repair tracking, software updates, spare part pricing, warranty information, in-home service reservation, appointment booking, order status, product registration and several Do It Yourself product troubleshoots.
"The Smart Touch Call service has been designed keeping in mind the current needs of customers, helping them save their time as they juggle between multiple personal and professional roles. This new service will reduce call wait time and provide customers quick self-service options for their queries," said Sunil Cutinha, Vice President, Customer Service, Samsung India.
Smart Touch Call: How it Works
1. Customers must dial in to Samsung's Customer Care (1800-5-7267864)
2. Opt for Smart Touch Call
3. They will get an SMS or a pop-up menu while on call.
4. Select the self-help option or select their preferred communication mode like email support, WhatsApp support, chat support or voice support.
5. Fill out a form with their details and concerns even before getting connected with a customer service agent.
Service enhancements
Samsung has recently expanded its contactless service offerings in the country with a new pick-up and drop service for smartphone and tablet devices that help customers resolve their issues without having to step out of their homes. Customers visiting Samsung service centers can also opt for drop-only service to get their mobile devices delivered to their home post repair. The pick-up and drop service is currently available in 46 cities and can be availed by connecting with Samsung customer service on Whatsapp number 1800 5 7267864.
Samsung customers can also opt for WhatsApp, Remote Support, Live Chat, technical assistance through the call center or access do-it-yourself videos on the Samsung Website and on YouTube.