Windows 11 update: In CRACKDOWN, Microsoft removes incompatible PCs, says use Windows 10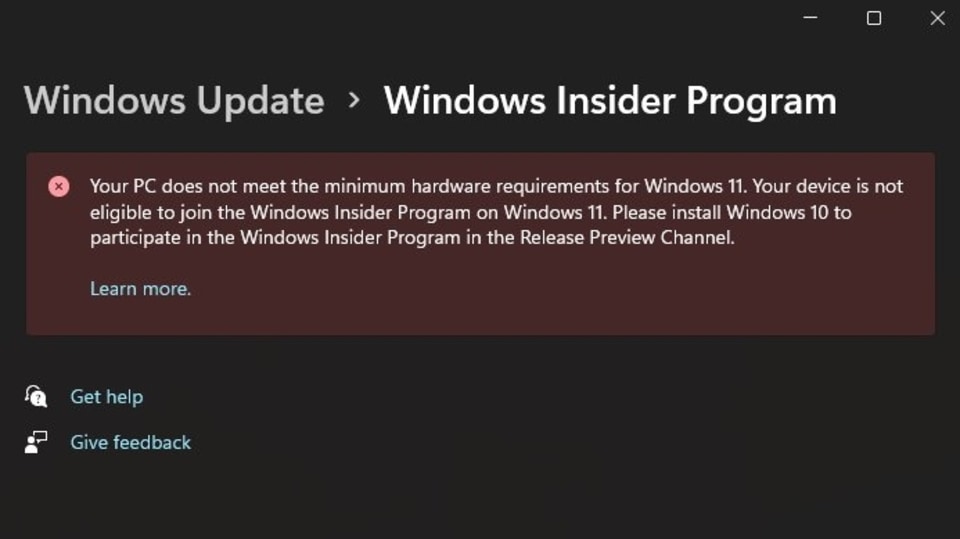 The latest Windows 11 update has it that Microsoft, in this crackdown, has removed PCs incompatible with the new OS from the Windows Insider program and asked the owners to use Windows 10 only.
Windows 11 update: The new Microsoft OS is just a month away from rolling out. And just a day after the company announced the Windows 11 release date, it has reportedly started removing users with computers that do not match the company's hardware system requirements. Windows 11 will begin rolling out to users with compatible desktop and laptop computers from October 5, 2021.
With the release date for Windows 11 approaching, Microsoft has started informing its testers enrolled in the Windows Insider's Users programme that their computers aren't supported by Windows 11 via a message displayed in Windows Update, according to a report by XDA. According to this Windows 11 update, the Microsoft message reportedly tells users that their computer does not meet the minimum hardware requirements for the new OS, due to which they are not eligible to join the Windows Insider Program.
Also read: Looking for a smartphone? Check Mobile Finder here.
A recap of Windows 11 minimum system requirements
For Windows 11 to be supported on your PC, you will need to make sure you have a minimum of the following processors -- Intel Core 8th Generation processor, or AMD Zen 2 processor, or a Qualcomm Snapdragon 850 chipset. Similarly, you will need 4GB of RAM, 64 GB of storage for Windows 11. You will need a graphics card compatible with DirectX 12 and a WDDM 2.0 driver. Your device will also need to support Secure Boot and UEFI with Trusted Platform Module (TPM 2.0) support or the operating system will not install, according to Microsoft.
What users with incompatible Windows 11 computers must do
However, what users can do if they want to continue receiving support (including Windows security and feature updates) is install Windows 10 on their older, incompatible laptop. "Please install Windows 10 to participate in the Windows Insider Program using the Release Preview channel. From the message displayed, it looks like Microsoft is only going to allow users with compatible hardware to run preview versions of Windows 11, going forward.
Downgrading to Windows 10 will not be easy
For users who are part of the Windows Insider Program and have received the message that they must downgrade, the process will not be so simple. As you cannot downgrade a higher build number to a lower build number, the report states that users will have to perform a factory reset to go back to Windows 10. Users will have to first back up all their data and then re-install Windows 10 from a bootable disk, or use the "recovery drive" that came with their computer or laptop to revert to Windows 10.