Xiaomi Redmi Note 6 Pro review: The new budget champion with better design and camera
Xiaomi Redmi Note 6 Pro is available in India at a starting price of ₹13,999. Here's our detailed review of the new Xiaomi phone.
26 Nov 2018, 03:58 PM IST
in news
Brand: Xiaomi
Product: Redmi Note 6 Pro
Key specifications: 6.26-inch Full HD+ display, Qualcomm Snapdragon 636 processor,12MP + 5MP rear cameras, 20MP+2MP front cameras, 4,000mAh battery.
Price: Starts at ₹13,999
Rating: 4/5
Xiaomi's new budget flagship is in the town. Xiaomi Redmi Note 6 Pro comes with a refreshed design, notch display and four cameras (two rear and two front). This is also Xiaomi's first smartphone with a quad-camera setup.
Redmi Note 6 Pro succeeds the Redmi Note 5-series which included a Pro model with more RAM and better processor. This time, Xiaomi has launched just a Pro model. Available at a starting price of ₹13,999, Redmi Note 6 Pro isn't big of an upgrade over the Note 5 Pro. But compared to Redmi Note 5, the new Xiaomi phone brings a number of improvements and new features.
As stated in our detailed first impressions, the new Redmi Note 6 Pro has a thinner, lighter and more compact build. It has a bigger 6.26-inch display with a notch on top. The notch here is rather big and houses dual selfie cameras, speaker, notification LED and the proximity sensor. As we've seen in several Android phones, the notch doesn't really have new features but do make way for higher screen aspect ratio. For instance, OnePlus moved to a tinier waterdrop notch for OnePlus 6T and even sacrificed the popular LED notification on the front.
A relatively bigger notch on Redmi Note 6 Pro seems futile as it takes up almost 80% of the top bar. Even though Note 6 Pro achieves a 19:9 aspect ratio, most of the apps, especially video streaming platforms, are still using the 18:9 aspect ratio. This makes the top bar redundant regardless the notch. But it's not all that bad. You do get thinner bezels and the phone is more comfortable to use than the predecessors. And yes, finally a phone that fits in my pockets. The full HD+ display is adequately bright indoors and I didn't face much difficulty in brightly lit conditions outside either.
Xiaomi's smartphones have set a benchmark for performance in the budget category. The Redmi Note 6 Pro uses Qualcomm's Snapdragon 636 processor paired with a 4,000mAh battery. There were no lags or issues with the phone during my usage. My usage mostly revolves around taking multiple calls, shuffling through social apps, using Maps and video streaming. The battery takes about an hour to fully charge and will last you well for a full day on medium to heavy usage. On lighter usage, you can probably draw more juice from the battery. ALSO READ: Xiaomi Redmi Note 5 Pro vs Redmi Note 6 Pro: Worth upgrading?
Xiaomi Redmi Note 6 Pro ships with MIUI 10 based on Android Oreo. MIUI 10 is a big upgrade as Xiaomi has revamped the UI with new icon designs. Personally, I'm not a big fan of the new layout but MIUI 10 has indeed become smarter with features like the volume slider available in Android P, gestures, and a more accessible recent apps menu.
Highlight of Redmi Note 6 Pro is the quad-camera setup. You get a combination of 20-megapixel and 2-megapixel selfie cameras and 12-megapixel plus 5-megapixel rear sensors. I tested the front cameras during my first impressions and the results were quite impressive. You can manage to get a nice and natural look on your selfies with the Redmi Note 6 Pro.
At the rear, the dual-camera setup is the same as the Redmi Note 5 Pro but the primary 12-megapixel sensor has a smaller f/1.9 aperture. This change is said to improve low-light photography which has been decent on the Note 5 Pro as well. I managed to get some pretty good shots in low-light whose camera samples I've shared below.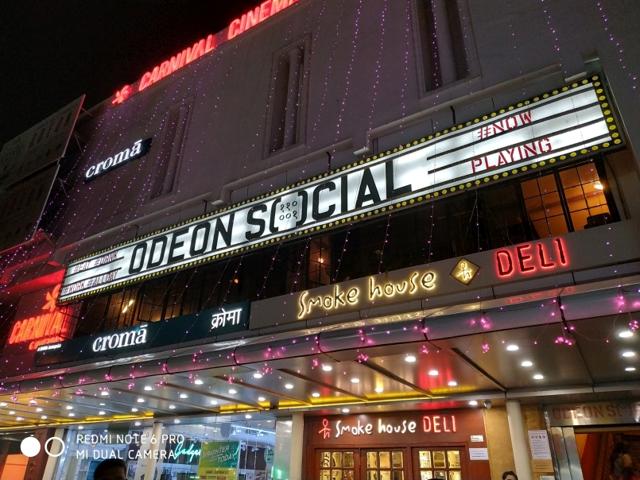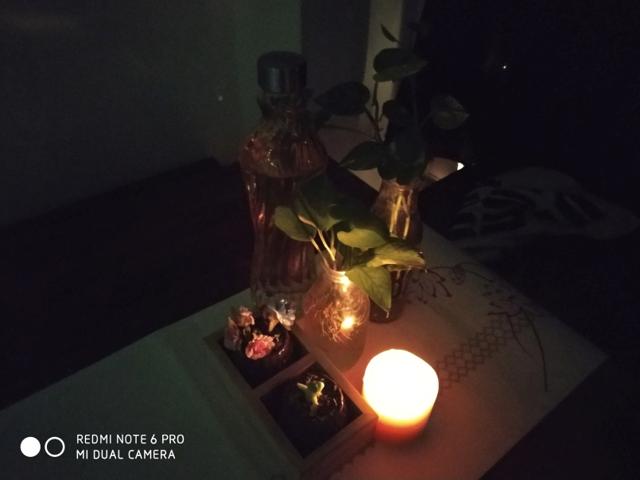 In bright light conditions, the smartphone's camera performs well too but getting the right focus can be little difficult.
Verdict
Xiaomi Redmi Note 6 Pro delivers near excellent camera, performance and battery life. I really liked the new compact design. If you're still holding on to the Redmi Note 5 Pro, then an upgrade isn't necessary. But if you're looking for a good budget phone under ₹15,000, Redmi Note 6 Pro is definitely worth considering.