Hardware is not the business at GOQii, healthcare is: Vishal Gondal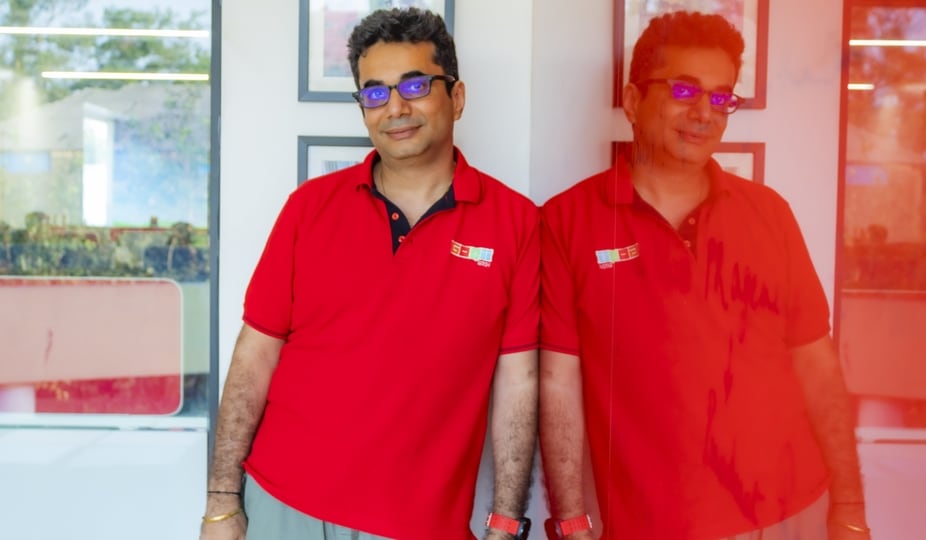 Vishal Gondal, Founder and CEO of GOQii, chats with HT Tech about the smartbands, healthcare, and more.
The use of smartbands and smartwatches has witnessed an exponential rise over the last one year. The pandemic made people more aware of their health needs and one of the cheapest, and easiest ways of keeping track of it all is a smartband or a smartwatch, depending on what else you want from it. Since March 2020, parents in particular have had a lot to worry about when it came to their kids, and online classes were the least of their problems. To keep an eye on kids' health, GOQii rolled out a special smartband, the GOQii Smart Vital Jr, so obviously we had a lot of questions about it.
We chatted with GOQii's founder and CEO Vishal Gondal to get them answered and also threw a lot of questions his way about how exactly the brand functions and differentiates itself from others in the market. Here are some excerpts from our conversation:
You guys have just launched your smartband for kids – GOQii Smart Vital Jr. Do you think India as a market is open to the idea for such a niche product?
We don't believe it's a niche product. If you look at the number of kids (school going) we have in this country which is around 50 -70 million of them, everyone is using technology. Most of them in this pandemic had to use some kind of device to attend online schools, so kids nowadays are getting a lot more tech-savvy. In fact, internationally, International Data Corporation (IDC) mentions that in China 50% of the wearable sales are towards kids. This is because parents really want to track the health of their kids. The problem with kids is that they are not very descriptive about their symptoms. They would fake it in order to skip studying or eating. In a normal scenario, if you suddenly hear somebody saying, I'm having a stomach upset or a headache, you don't know if these symptoms are related to Corona. But if you suddenly correlate this with SpO2 levels, temperature, heart rate it will definitely give you a much better understanding of what is the actual situation.
I understand that how more advanced markets like China, are big on children's tech. But in India where, in general, people right now have just about getting used to the idea of buying a very basic smart band from any company because they think that they need to track their heart rate, for them to spend that much extra to get a band for their kids as well… why not just get any of the other smart brands available, why get something specifically for children?
The other smart bands won't even fit their wrists. The GOQii Smart Vital Jr. is specially designed for smaller wrist sizes also the user interface has been simplified for their usage.
What parental controls do you have for this?
Parents can monitor their kids through the app and kids can also play games on the same app. So, there are brain games in our app which the kids can play to improve their memory.
With more advanced smartwatches, like the Apple Watch, you can also track the child. Are you offering any such controls or options for parents?
This version is designed purely for health given that all kids are at home and nobody's traveling. We may come up with a version that will also have tracking features when schools open up and stuff, but maybe next year.
On the app level do you have an option for the parent to pair his/her app with the child's device?
There is a family plan so you can use multiple accounts.
How many devices can be paired on the family account?
So, currently, there is a family account that can be headed by what is called 'the head of a family.' Let's say it can be a mother or a father and in that account, you can add multiple accounts and access the data. You can connect four accounts to it.
So essentially what are the health features that you are tracking on this band?
Specifically, for Corona, we are tracking oxygen levels, body temperature, and heart rate. These are the three critical parameters.
Does the children's band also track workouts?
We have 16 or 17 workouts for kids.
In general for all the bands that you have, have you seen more offline or online sales?
First, we have seen a massive jump in sales of almost 200-300% since last year. Of course, the sales were online because for the last three months the entire offline market was shut. For GOQii, online has always been bigger. We had announced our offline (presence) only last year in January. With the lockdown, our offline strategy is not rolled out fully. We are already in Croma and Reliance Digital but we wanted to go to 5,000 stores, which did not happen due to the pandemic.
Across brands, most of them are essentially tracking the same thing, the basics along with workout, do you guys have any extra addition coming in?
Absolutely! GOQii has never been positioned as a hardware band. We are always the healthcare service. With GOQii you don't get a band you get the subscription of our health coach, our doctor. When you are on the GOQii device you are assisted by somebody to help you define your goals, create a program, create a meal plan, and do whatever it takes for you to be healthy. So we don't think so hardware is the business.
GOQii's approach is to provide you with the entire healthcare solution. For example, we launched a home quarantine solution during the pandemic. If somebody is infected by Corona and is at home, they can wear our device and our coaches and doctors can help them with home quarantine and that was one of our big selling packages.
In fact, we launched a very interesting feature where GOQii monitors your vitals just like a step-down ICU. So you just wear GOQii and go to sleep and during your sleep, for the entire night it will measure your oxygen level, your heart rate, your body temperature and in the morning when you wake up it will give you a report which will show the number of hours you slept at night, this was your average heart rate, this was your average blood saturation level, etc. So, if there is any fluctuation you will come to know.
Are these free plans?
Actually, these are not free plans, you hire a plan from us. So, we don't sell you the device, when you buy GOQii, you buy a plan, and it comes with a device. So, think of GOQii like Reliance Jio where you are not buying their setup box, you are buying their internet plan which includes videos, OTT etc. and along with all these, you get a setup box. So, the model of GOQii is like a telecom model, it's not like Vodafone sells you a sim card, sim card is just to enable the services of the telecom network. So, for us, when you buy GOQii, you buy a healthcare plan and the plan comes with wearable, of coach, of doctor and insurance so there is an entire health ecosystem.
Suppose I buy into one of these plans, do I have options to upgrade it?
Yes, you have options to upgrade it, you have options to renew your plan after the year. Of course, the hardware will work, the hardware plan would continue even without you renewing it, but for the additional services, advice, you must pay annually, only then you will be able to continue.
What are these rates like?
You can renew the annual plan for ₹3,000 to ₹4,000 and get a coach along with the entire health ecosystem as well.
In your analysis of other markets where you have a significant smartwatch, smart bands presence, how different do you think is the consumer mindset in India?
In India consumers are a lot more savvy. Just think about it, we are the biggest consumers of Facebook, we are the biggest consumers of WhatsApp, so even an average consumer uses so many apps that their quality expectation is very high. So it isn't like if the product is Indian it has to be inferior in quality, infact the quality needs to be equal or better than anything how they in the world.
So, we are seeing that the Indian consumers are very quality and service conscious. Customer service is a very important aspect, because everybody has access to Amazon, which is already so good at its customer service, therefore, you can't give a customer poor customer service. You can't give a customer poor product and user experience.
Consumers are also very result-oriented, so the good thing about what GOQii does is that all our plans are result-oriented. We work on health plans, we will help you manage your diabetes, we will help you manage your blood pressure, your blood sugar, various health parameters. People usually buy wearables, use them for a span of 2-3 months and then forget about them, that is the normal wearable business, most of them are not used after the first couple of months. In our case we've seen that after the first one year 70-80% are using it because we are offering you a service, we are constantly tracking you, we are constantly improving you, so our model is a lot more evolved.
Indian consumers are very tech-savvy, but they are also extremely price conscious. What's your take on this?
What we are seeing is Indian customers are value-conscious and not necessarily cost-conscious. For example, our pricing is ₹4,500 to ₹5,000 if you go to Amazon, while Xiaomi smartbands sell for ₹1,500 or ₹2,000. We are still in the top three. Why are people buying GOQii at ₹4,500 when they can buy Xiaomi at ₹1,500?
Because we are a registered medical device and our data is very accurate. In this entire pandemic you don't want to wear devices when where you are not sure about accuracy. We have an ISO certification, and we also have CDFCO registration because of our data accuracy.
There are two types of consumers as we see, one, the ones who just want something like a watch for style, so the style-conscious or the people who are not serious about health they are the ones who believe if they can get a watch in ₹1,500, they don't require our watch and don't care about accuracy. But our customer is somebody who is serious about their health, and if you are serious about your health, you will want a device which can measure blood pressure, heart rate, etc. If you look at all these devices individually, blood pressure monitor costs ₹3,000, a thermometer costs ₹800, a pulse oximeter ₹2,000, thus buying all these individually itself would cost you around ₹6,000. So, it is a much more value-driven approach.
It's been a year since the pandemic locked us it into our homes, how has the consumer pattern changed since?
What we are seeing is consumers now are demanding more sensors, they want to track more parameters. Awareness parameters have skyrocketed. The average consumer was not even aware of the term SPO2, the only thing people knew was steps and body temperature, but now people are getting increasingly aware of their blood pressure.
An average person doesn't check their blood pressure even once a year, but with GOQii a person checks their blood pressure thrice a week on average. What used to be done once a year, is now being done thrice a week. It is now more convenient.