Apple Watch's new cardio fitness notifications explained: What is it, how does it work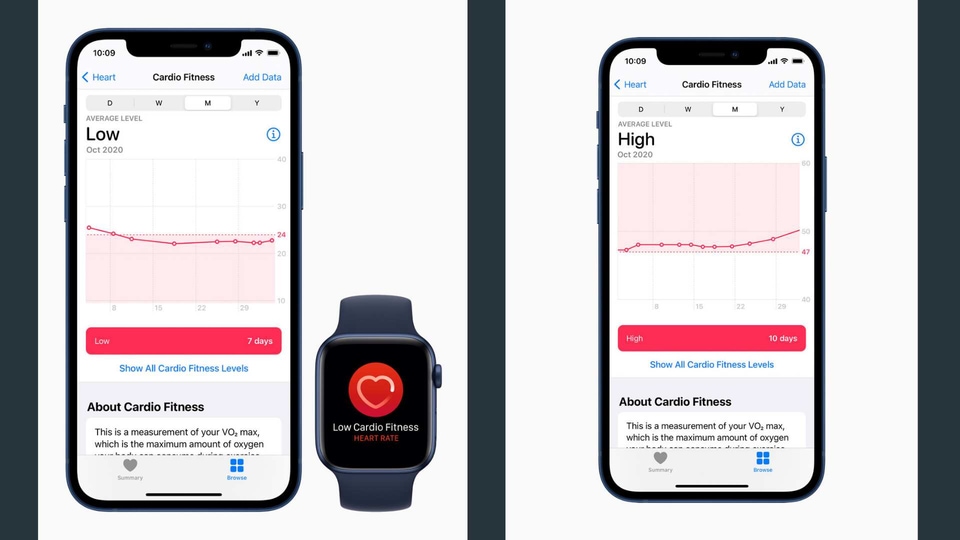 With the latest iOS 14.3 and watchOS 7.2 updates, Apple has brought in the cardio fitness notifications on the Apple Watch. Here's what they do and how you can set it up.
Apple has just rolled out its latest iOS 14.3 and watchOS 7.2 updates and amongst other features these bring in, the ability to monitor cardio fitness is one of the important ones up there.
Cardio fitness is a strong indicator of overall health and Apple Watch users will now be able to check their cardio fitness levels on the Health app on the iPhone. Additionally, if your cardio fitness level falls in the low range, you will be able to receive notifications on the Apple Watch.
So what exactly is cardio fitness and why does tracking it matter?
The straight up answer is pretty simple. If your cardio level is good that means you are in good health. And if you are not, this is your chance to start working out and keeping fit for overall, long-term wellness.
In 2016 the American Heart Association recognised a growing link between low cardio fitness and a higher risk of significant health issues, such as heart disease, high blood pressure and obesity, later in life. Research even suggests cardio fitness is a stronger predictor of mortality risk than common risk factors like smoking, diabetes and hypertension.
Also Read: iOS 14.3: Apple's latest software update for iPhones brings these features
Cardio fitness or cardiorespiratory fitness is measured by the VO2 max and is the maximum amount of oxygen the body can use during exercise. And this amount can be increased by working on your physical activity levels. Athletes and runners monitor their VO2 levels to improve performance.
In short, the better your VO2 max levels are, the fitter you are. And if you aren't very active, this is yet another reminder from Apple to get up and start working out.
How do you set the cardio fitness notifications up?
Head over to your Health app on the iPhone and scroll down. You will be able to see a tile for Cardio Fitness that you have to toggle on. Then you will be taken through a few steps where you need to make sure data about your age, weight etc are put in. Age, sex and weight are all directly invoved in your cardio fitness so it's important for the app to have this information.
Of course, your iPhone needs to be updated to iOS 14.3 and the Apple Watch to watchOS 7.2 for all of this to be visible and set up for you. If they aren't, head over to settings for the iPhone and update the software and do the same for the Apple Watch too from the Apple Watch app on the iPhone.
How does Apple monitor your cardio fitness?
The Apple Watch uses multiple sensors, including the optical heart sensor, GPS, and the accelerometer, to estimate your cardio fitness levels across three spectrums. Usually, to be able to measure VO2 max rigorous clinical tests need to be carried out with specialised equipment and these are not easily accessible to people.
With watchOS 7, the Apple Watch can measure cardio fitness throughout the day even if the user is not tracking a workout. This allows the watch to track VO2 max for users with low cardio fitness as well, those who do not workout at all.
Which devices are compatible?
Apple Watch Series 3 and newer devices can track VO2 max for you. Tracking VO2 max does not require the blood oxygen monitor that's exclusive to the Apple Watch Series 6.
What do you do if you get a low cardio fitness level notification?
Well, immediately you can do nothing. Cardio fitness cannot and does not improve overnight. If you fall in the lower spectrum of cardio fitness what you need to do is to include some physical activity in your daily routine. It does not need to be high-intensity training, even a daily brisk walk or some free-hand exercises is a good start.
Your cardio fitness levels, as measured by the Apple Watch, will be classified as high, above average, below average or low and this is relative to people of the same sage group and sex.
You will also be able to track your cardio fitness levels over the week, month and year. If you have set up the notifications right now, your data will show up as 'below average' till you wear the Apple Watch for long enough for some new measurements.
And if you are worried about your data, don't be. Like all other data in the iPhone, it's not leaving the device unless you specifically allow it to be shared with Apple or other third-party apps.