Opera browser gains 2x speed boost with native support for M1 Macs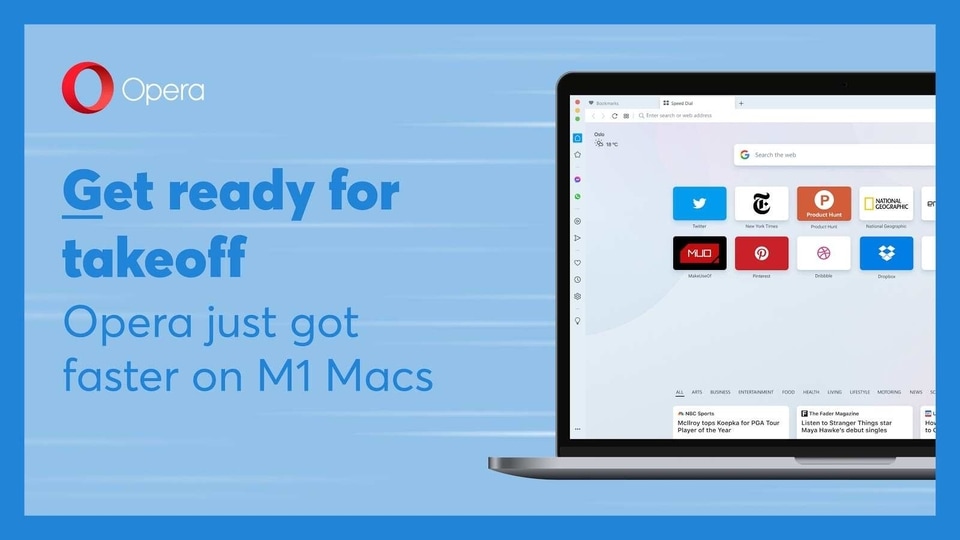 The browser follows several developers like Adobe, VLC and Microsoft that have updated their programs to run natively on Apple Silicon Macs.
It's only been a few months since Apple's first M1 Macs arrived, leaving rivals AMD and Intel behind and raising the bar for performance and battery efficiency. Meanwhile, developers such as Adobe, VLC and Microsoft have been hard at work adding 'native' support for Apple's new chipset, and Opera's macOS browser is the latest software to join the list.
Also read: Adobe updates Photoshop with native support for M1 Macs
Rewriting applications with native support for a processor can bring massive performance improvements, as the app can then make use of the hardware and firmware optimisations from the manufacturer. Until native support is added for an app, it must run on a 'virtualisation layer' Apple's Rosetta, that allows it to run on the new hardware - but at the cost of reduced performance.
In fact, the new update is so efficient, that the Opera developers state on their blog that the browser runs two times faster compared to the previous version. Running Opera should also consume less power, so users can take advantage of the M1 chip's efficiency to deliver over 15 hours of battery backup. They will also be able to access some specific features faster -- like WhatsApp, Telegram, Twitter, and Instagram, which are available on the browser sidebar, according to the blog post.
Read more: VLC media player adds native support for Apple's M1 Macs
Users can also access the company's Flow feature on macOS which connects it to the iOS and Android versions via custom keyboard shortcuts. Similarly, users can also set their own shortcuts to access the browser's built-in Crypto Wallet and a built-in Player feature for services like Apple Music, Spotify and YouTube Music, according to the company. Users can simply update their browser or download it directly from Opera's website.