Microsoft awards Indian students for app that can identify fake drugs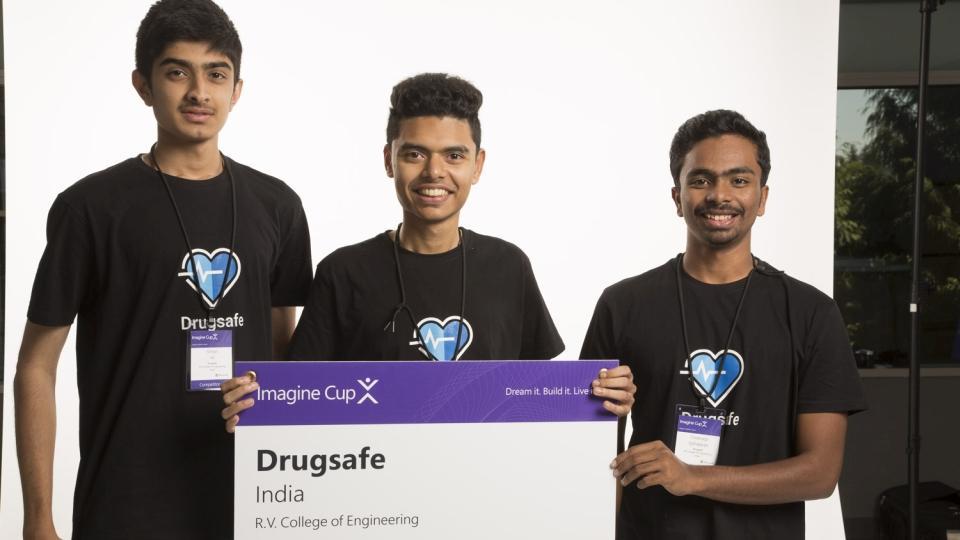 Three college students from Bengaluru used cutting-edge technologies to fix the problem of fake medicines in India through a simple-to-use application.
Three students of a Bengaluru college have won a special award from Microsoft, including $15,000 prize money, for developing an app that can identify fake drugs from their packaging details.
Chidroop I, Pratik Mohapatra, and Srihari HS, of RV College of Engineering, won the award and the cash prize at the 2018 Microsoft Imagine Cup world championship held at Microsoft headquarters in Redmond, US recently.
The trio had developed an application called "DrugSafe" that uses technologies like Optical Character Recognition (OCR) and other complex technologies to identify tiny details in design and packaging of medicines and verify them by comparing with original manufacturer's patented and trademarked attributes.
Along with machine learning, artificial intelligence and blockchain, the application also leverages Azure Pipelining, Azure ML Studio, Azure CosmosDB, LUIS and Cortana Intelligence Suite.
The application can also flag any discrepancies found in the package.
"Using three unique checks, we validate whether the drugs are safe or not, which is immediately notified to the user through a large pop-up screen. Each of the cards on this screen have extended features such as their details and date of manufacture. If a medicine is genuine, the user is allowed to view the manufacture date and location, batch number and suggested dosage," explains the DrugSafe team on their website.
"All unidentified medicines have a "Report" option, which leads the user to the chatbot "Querla". This chatbot uses Artificial Intelligence to report the drug and expedite the process for any user as it is extremely user-friendly, catering to all classes of people."
The app also has a section called "Community" where users can stay up-to-date with the latest information on healthcare.
DrugSafe application hasn't been released commercially as of now.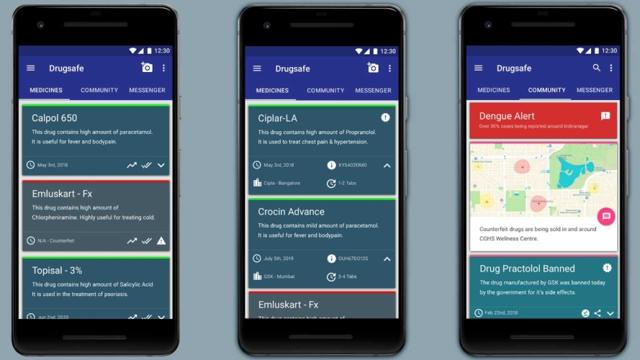 "DrugSafe aims to address the growing global issue of counterfeit drugs by helping people verify the authenticity of medicines," Microsoft said on its website.
"The team encountered the issue of fake medicines when one of their friends showed no signs of recovery after weeks of taking a prescribed medication. Learning that nearly half of all medicines sold in India were fake, they decided to create an app that could authenticate medicines and trace them back to their source," the tech giant recalled their story.
After winning the prize, the students plan to improve the application to make it more relevant to the masses.
"With our university sessions resuming after the summer break in barely a week, we plan to ideate and figure out how to make our project relevant to the masses. After identifying the major challenges, we need to think how we can push our product forward. Eliminating counterfeit drugs across the world with DrugSafe is our primary goal," the students said.
Imagine Cup is an annual global competition that aims to encourage students to team up and create applications that help people in their day-to-day lives. This year, three Indian teams participated in the annual Microsoft competition.
Microsoft on Thursday announced the winners of 16th Annual Imagine Cup. The top prize has been grabbed by Team smartARM from Canada which demonstrated a unique approach to prosthetic hands. Their robotic arm comes with a camera that can identify an item that a user aims to pick up and automatically adjusts the grip.