Spotify finally adds standalone streaming support for Apple Watch
Spotify users can now stream songs or podcasts on their Apple Watch without the need of their iPhones.
Updated on 04 Nov 2020, 09:07 AM IST
in wearables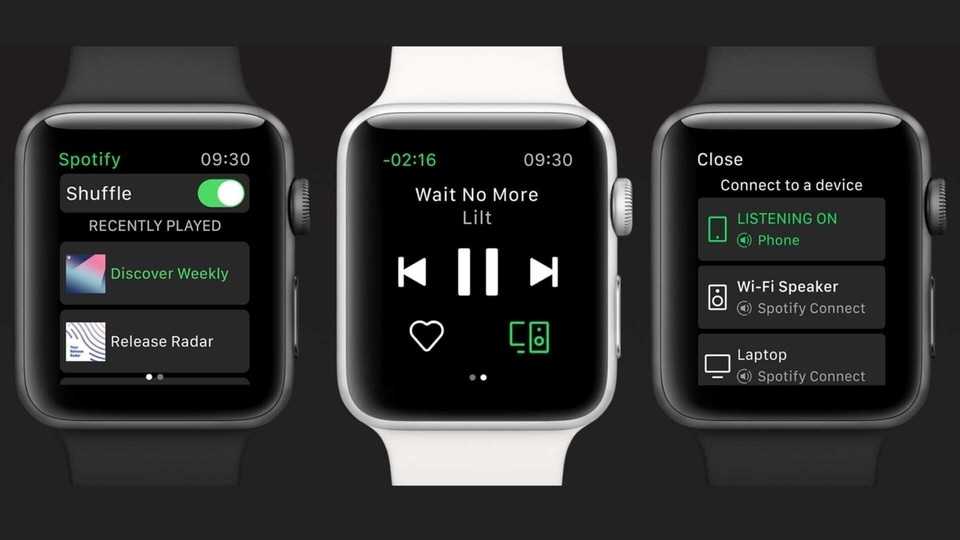 Spotify has finally added support for standalone streaming on the Apple Watch. Spotify had been testing this feature since September, and it is now rolling out to more users. Spotify launched its dedicated Apple Watch app back in 2018.
The new feature lets Apple Watch users listen to music or podcasts on Spotify without their iPhones. This is possible on the Apple Watch via Wi-Fi and cellular both. The new feature is arriving as a server-side update, 9to5Mac confirmed. The standalone support for Spotify is pretty big for Apple Watch users considering the fact that they had only Apple Music to turn to if they wanted it for activities like exercising. There's Pandora too but that's not widely available.
Standalone streaming on Spotify currently shows the recently played section and the library, 9to5Mac reported. There's no search feature so users will have to use Siri to search for specific songs, artists or albums, the report added.
Apple Watch users who have Spotify should see the new update on their devices. It will appear with a pop-up message "Want to stream on your Apple Watch? Select it here." Once updated, users can choose to stream Spotify on their Apple Watch. The connectivity option is however, still displayed in beta based on some of the images shared by users.
Standalone streaming has been a big ask from Spotify users for the Apple Watch. Spotify joins Apple Music as another option for Apple Watch users to stream music, and the next contender could be YouTube Music. Google recently launched a standalone Apple Watch app for YouTube Music even before one for Wear OS.