Facebook Portal goes on sale; company exec answers questions on privacy
Facebook says that the video chats will be encrypted, so the company can't see what you're saying to people. The camera doesn't identify who is calling, and can be turned off.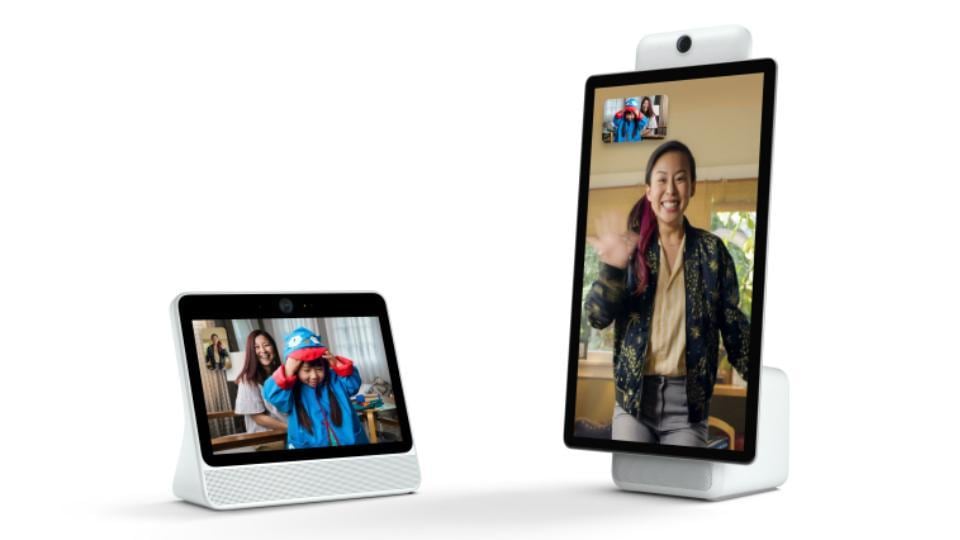 Facebook Inc. introduced Portal, its in-home video calling device, right in the midst of a crisis of trust with its users. It was unveiled in October, just a few days after a major data breach, and a few months after Congress interrogated the company about sharing user information with developers.
Portal goes on sale in the US Thursday just in time for the holidays, at $199 for the small version and $349 for the larger one. But if people are going to put a Facebook-designed video device in their homes, they're going to need to know a few things about its privacy features first. Bloomberg asked Andrew Bosworth, vice president of consumer hardware, if he could help clear things up.
Will this device record me when I'm not using it?
"The device doesn't even have the functionality to record," Bosworth said. "If you wanted to do a Facebook Live from the device or ask what your cat did when you were gone, we don't actually have that functionality today. We may over time.'
The video chats will be encrypted, so Facebook can't see what you're saying to people. The camera doesn't identify who is calling, and can be turned off. The device comes with a plastic cover for the camera for those who feel uncomfortable.
ALSO READ: Google launches 'Home Hub' connected speaker with screen, but no camera
So what kind of information is Facebook collecting?
Portal uses Facebook Messenger to run its video calling, so it collects all the same stuff Messenger does. The company will record data on how frequently you log on and who you talk to, and that sort of information will help sort what Facebook shows you on its other properties. For example, if you talk frequently to certain people, they will show up more highly ranked in Messenger and in the Facebook news feed. Frequency of that activity might help advertisers in some way, Bosworth said.
"If there's an ad-targeting cluster on Facebook for people interested in video calling, that might be a cluster that now I'm going to be a part of," he said.
Also, if the device crashes, it will send data to Facebook about what happened, which will not be used for advertising purposes.
What about my other activity, like voice commands and apps?
If you say 'Hey, Portal!' and give it a voice command, those commands will be sent to a server and then the device will do what you asked, but it's not used for advertising, Facebook said. Voice command history can also be deleted.
If you're doing anything beyond video calling, like listening to Spotify radio or watching a video on Facebook Watch, it will have the data-gathering consequences that the same activity would on your mobile phone.
Isn't Facebook going to make money off this with advertising?
Probably, eventually. Bosworth didn't address this specifically, but that's the company's overall business, so even if ads don't currently run on Portal, they may one day. And the company is almost certainly not going to profit off individual device sales, given the relatively affordable price.
So why is Facebook making a hardware device at all?
Facebook has made it clear that it wants to be a part of your entire social life -- from public conversations to private ones. Video chatting, as well as other hardware initiatives like virtual reality, are the most intimate kind of private conversation that's still digital. The more Facebook owns of all of that, the more it knows about you. By knowing more about you, it can send you more relevant updates from friends -- and more precisely-targeted advertising.
ALSO READ: WhatsApp will start showing ads on Status section, VP Chris Daniels confirms
The data the Portal gathers now will be useful to Facebook in the way all activity on Instagram and Messenger is. But it's not that valuable, yet, Bosworth said.
"Even if this was the most successful hardware product in history, that wouldn't be significant compared to the people we already have using Messenger," which already has more than 1 billion users, Bosworth said. "This isn't a data gathering operation."
Follow HT Tech for the latest tech news and reviews , also keep up with us on Twitter, Facebook, and Instagram. For our latest videos, subscribe to our YouTube channel.
First Published Date:
08 Nov, 03:47 PM IST
71589384978216
NEXT ARTICLE BEGINS