After mass internet outage, SBI, Zomato, Paytm, Steam, PSN, Fortnite, others limp back to normalcy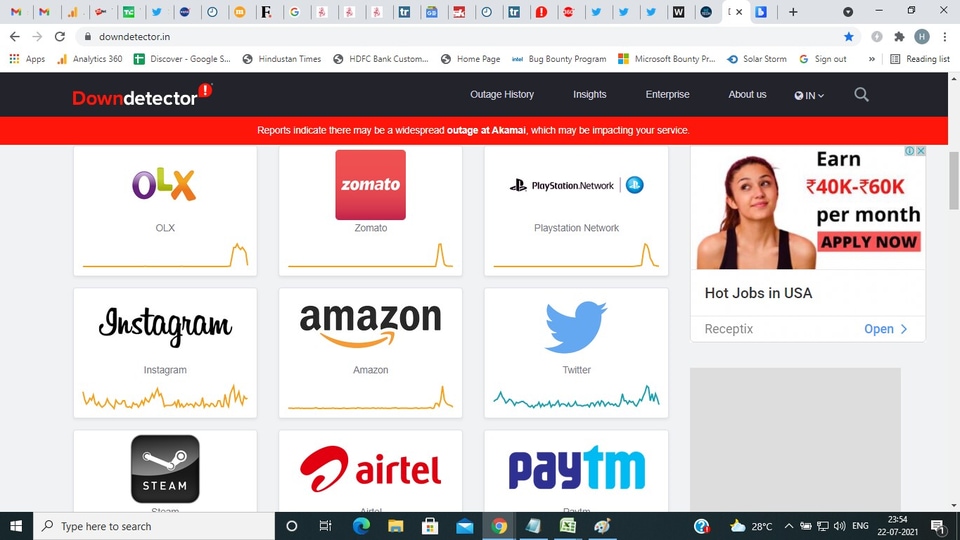 A huge number of websites suffered an outage including Zomato, Paytm, Steam, PSN and Fortnite, but they are now slowly coming back online.
A massive outage was reported by Downdetector that included a huge number of sites, including banking and gaming ones, being affected at the same time for as much as an hour. These include Akamai Technologies, Zomato, Paytm, Microsoft, Amazon, SBI, Google, Fortnite, Steam, PSN, Swiggy and many more.
TechRadar reports that it could confirm at least two of these immediately and these were Steam and the PlayStation network services. It also reported Sony Direct as being down too. Online banking sites too have reportedly been affected.
The epicentre of this major outage was Akamai Technologies, a company that provides services to many of these sites that crashed. Akamai is, in fact, a content delivery network (CDN) services provider and therefore, when it faces a disruption in services, the other websites crash too. While many thought this was due to a cyberattack, Akamai itself said that the crash was not due to any such thing.
This is also not the first time it has happened in recent weeks. At the start of July, Akamai had suffered another outage that caused a huge Internet meltdown, which spanned a number of top companies, just like this time.
After the outage, many companies and their top honchos took to Twitter to report that their services were down. This included Zomato chief Deepinder Goyal, Paytm, Akamai Technologies and others.
Our app is down, due to a widespread Akamai outage. Our teams are working to ensure all orders placed are delivered in time. https://t.co/4btwIvjTZn

— Deepinder Goyal (@deepigoyal) July 22, 2021
Also read: Looking for a smartphone? Check Mobile Finder here.
Even Akamai services were down. The internet services provider tweeted, "Akamai is experiencing a service disruption. We are actively investigating the issue and will provide an update in 30 minutes."
Update: Some Paytm services are affected due to global outage at Akamai.

We are actively working towards a resolution.

— Paytm 😷 💉 (@Paytm) July 22, 2021
The outage was initially seen just before 9 pm but then started picking up pace before enveloping many sites as was clear from users who started reporting the about the sites that crashed.
Akamai is experiencing a service disruption. We are actively investigating the issue and will provide an update in 30 minutes.

— Akamai Technologies (@Akamai) July 22, 2021
However, most of the sites are now back online, Downdetector shows.
In another tweet, Akamai later revealed that, "We have implemented a fix for this issue, and based on current observations, the service is resuming normal operations. We will continue to monitor to ensure that the impact has been fully mitigated."
It added, "We are continuing to monitor the situation and can confirm this was not a result of a cyberattack on the Akamai platform."