News Feed becomes personal newspaper
Facebook began on Thursday transforming the stream of updates from friends at homepages into a "personalized newspaper," with news ranging from the personal to the global.
09 Mar 2013, 11:53 AM IST
in news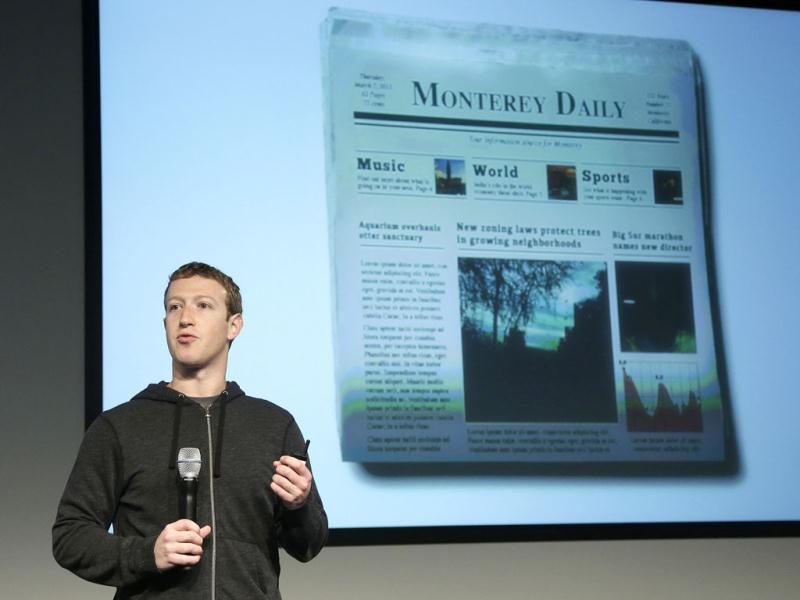 Facebook began on Thursday transforming the stream of updates from friends at homepages into a 'personalized newspaper,' with news ranging from the personal to the global.


The News Feed on homepages at the leading social network was revamped to get rid of clutter and present 'bright, beautiful' stories, such as insights from friends or trending news of the day.
'I think there is a special place in the world for this sort of personalized newspaper,' Facebook co-founder Mark Zuckerberg said in introducing the overhauled News Feed.
'It should have a front page and top news section or let you drill down into any topic you want.'
Facebook is rolling out the new News Feed 'very slowly' at its website reached by desktop or laptop, and will begin adding it to smartphone and tablet applications in the coming weeks.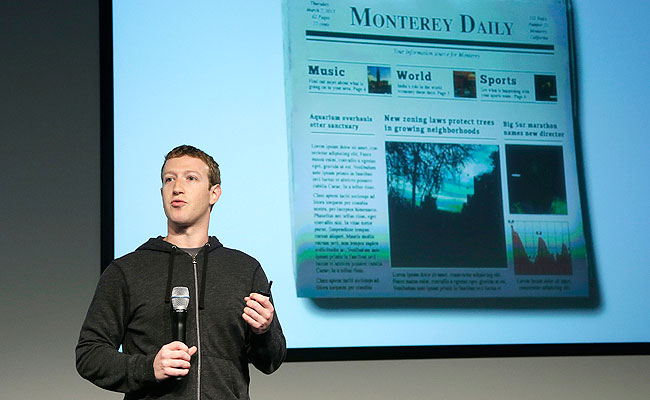 Each News Feed will automatically be tuned to the interests of individual Facebook users, according to technical lead Chris Struhar.
Pictures in the feed will be gleaned from friends' posts or online pages people have indicated they 'like.'
If a Facebook user follows pages from CNN or other professional media organizations, top shared or trending stories are displayed.
Music or film lovers should see News Feeds touting fresh developments regarding bands, stars, movies, songs or other related subjects.


Struhar told AFP that 'we hope you get all you need' without having to leave Facebook to seek stories at websites such as Google News or Yahoo! News.
'We've spent a lot of time talking to the people who use News Feed every day,' Struhar said. 'They want more choice and more control over stories they are seeing on their homepages.'
While the amount of content shared at Facebook has soared, the time people spend at the social network remains limited, inspiring the drive to more efficiently connect people with news they most care about, according to Facebook.
'It is designed for the way we are sharing today and the trends we see going forward,' Zuckerberg said. 'I don't foresee Facebook offering its own content.'
There were no plans to change the number of ads displayed at the website as part of the overhaul.


'Back when we started News Feed, it was primarily made up of text,' Zuckerberg said. 'Now that we all have cameras in our pockets, in our phones, the majority of this content is photos.'
Since late 2011, the%age of News Feed posts devoted to sharing Web pages has risen to between 25 to 30%, according to Facebook.
News Feed will give more prominence to major stories being shared by friends in the social network, trends at third-party applications such as Pinterest or Instagram, as well as weave in important personal bits, such as a cousin with a new job.
'When I wake up in the morning and see all my friends are sharing the exact same news story or video, I know it must be something big,' said Facebook director of design Julie Zhuo.
'You get a richer, simpler, more beautiful News Feed focused on the things you care about, what your friends are saying, and what is trending.'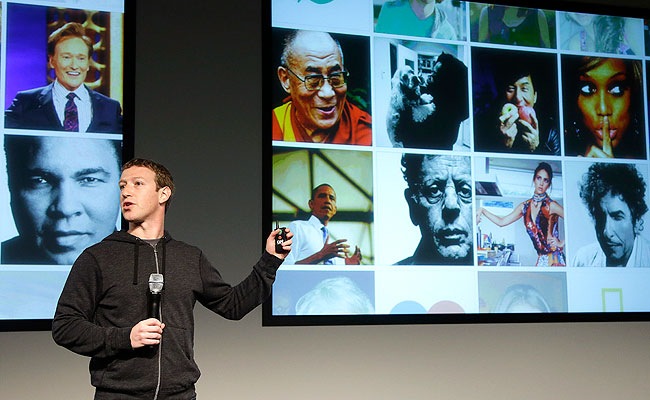 Forrester social analyst Nate Elliott was unimpressed with the overhaul, saying it returned control users once had at the social network while alienating companies that have invested in building followings at Facebook pages.
'Marketers have spent billions of dollars in the past two years buying friends and 'likes' on Facebook and Facebook has encouraged them to do that,' Elliott said.
'Slowly but surely, Facebook keeps making those fans, those 'likes,' less usable for those brands.'
Revamped News Feed will make it easier for Facebook users to avoid posts from brand pages people have 'liked' but will still serve up paid ads, according to Elliott.
'If I'm a brand, I'm disappointed today,' the analyst said.
As a result of placing ads in its mobile News Feed, Facebook earned more US mobile display revenue than any other ad publisher last year, according to industry tracker eMarketer.


Facebook versus Google
Marketers will be able to fashion more compelling ads thanks to the increased real estate for photos, said Hussein Fazal, the chief executive of AdParlor, a firm that helps companies advertise on Facebook. 'Larger images will result in higher click through-rates, a higher level of engagement and better performance,' Fazal wrote in an email.
Still, analysts say the company needs to tread carefully to avoid inundating users' various feeds with advertising, as Facebook tries to sustain a rapid pace of growth that helped it debut on public markets at the highest-ever valuation for a technology company.
The world's largest social network is moving to regain Wall Street's confidence after its botched IPO last year, addressing concerns about its long-term prospects - many of which center on an industry-wide shift toward the use of mobile devices.
Facebook shares, which are still more than a quarter off their IPO price of $38, closed up 4% at $28.57 on Thursday on the Nasdaq.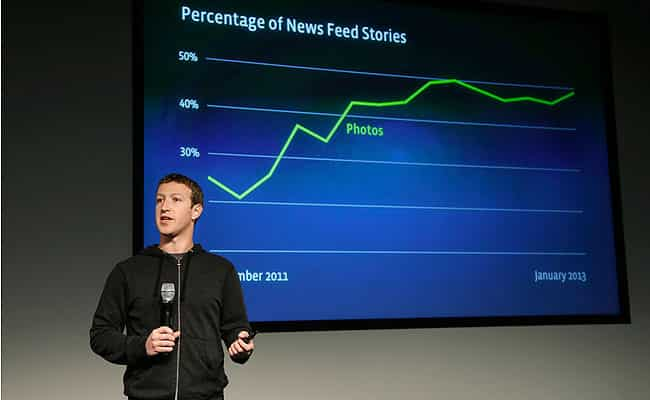 Facebook and Google, which both got their start on desktop computers, are now managing a transition of their products onto smartphones and tablets, which typically yield less revenue than on PCs.
The two Internet mainstays are also waging a war for revenue in mobile advertising - a market that is still small compared with the traditional desktop but that is growing exponentially.
In terms of overall mobile advertising, Google commanded a 53.5% share in 2012, aided by its dominance in search-based ads. Facebook had just 8.4%, a distant runner-up, according to estimates from research house eMarketer.
But in terms of mobile display ad sales, Facebook narrowly edges out its rival with 18.4% of the market versus Google's 17%, the research outfit estimated.
Pressure on the system
The makeover is partly prompted by complaints about increasing clutter on Facebook's network.
As Facebook has grown to more than 1 billion users, the amount of content that users and companies post to the website has surged. Facebook users only see a small portion of that content, culled by Facebook's proprietary algorithm.
In recent months, some companies and users, including entrepreneur Mark Cuban, have grumbled that their content was not getting enough exposure in the newsfeed, because Facebook gives paid ads priority in the newsfeed.
Facebook's vice president of product, Chris Cox, acknowledged that there was 'more pressure on the system' to feature the various content, as Facebook has grown in size.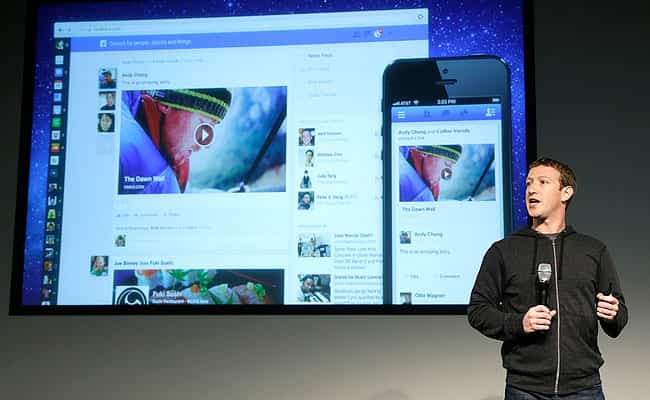 The additional newsfeeds provide more opportunities for content to appear in front of users. A photos-only feed displays pictures shared by a user's connections on Facebook as well as on Facebook-owned Instagram and other photo apps that are integrated with the social network.
A revamped version of an existing but little-used Music feed aggregates the songs that a user's friends are listening to, and includes posts from bands and performers in which a user has expressed an interest.
Facebook also introduced a 'Friends Only' feed that displays every message shared by a user's friends in chronological order -- rather than chosen by an algorithm -- as well as a 'Following' feed that gathers posts from news publishers, celebrities, sports teams and other groups or businesses that a user subscribes to.
'The basic idea is sometimes you want five minutes and you want to see the top stuff, sometimes you want to spend an hour and go through a lot of different stuff,' Cox said in an interview after the event.
The additional feeds could also provide Facebook with more space to offer ads on its newsfeed, though a spokeswoman said the additional news feeds would not initially feature ads.

(With AFP and Reuters inputs)
Here's what top tech websites have to say
Facebook's Riskiest Bet Yet
It's possibly the most looked-at page on the Internet, and if we don't like the changes, traffic and ad revenue could plummet. Despite a slow rollout where it will watch for our reactions and make tweaks, Facebook's never put it all on the line like this. Panicked erupted when Facebook first overhauled its homepage with the launch of the news feed in 2006. But in the end, Facebook won that bet. We all realized the feed didn't violate our privacy. TechCrunch says
Test Run: Facebook's New News Feed
Facebook is finally learning the lesson that all media empires must eventually grasp: for the people who consume its content, less is often more. On Thursday, the company announced a major overhaul of its News Feed that makes content larger and more visually appealing. Bits says
What Facebook's new News Feed means for marketers
At first glance, the changes appear to be a win-win for users who want more control over their Facebook homepage, but the redesign may prove to be more of a mixed bag for marketers. For brands, the biggest positive about the new changes is that there is suddenly more real estate for in-stream ads. Mashable says
Facebook's revamped News Feed
Facebook, Google, Twitter, LinkedIn and others are all immersed in figuring out how best to present a fast-changing, columnar river of information on a large scale. They closely watch each other's design changes and invest in thousands of hours of A/B testing in hopes of boosting engagement and ad click rates. CNET says
Facebook Gets More Visual to Keep its Users Engaged
Despite having more than a billion users—a milestone passed late last year—there are clear signs that Facebook needs to take action to keep its users engaged. According to a recent study from the Pew Internet & American Life Project, 61% of current Facebook users have taken a vacation from the social network for at least several weeks. These figures threaten to grow as other, more image-centric social sites, including Pinterest, SnapChat, and now-Facebook-owned Instagram, grow in popularity. Technology Review says