Reddit is set for its live-streaming service to get bigger
RPAN or Reddit Public Access Network just marked its one-year anniversary last week.
26 Aug 2020, 03:02 PM IST
in news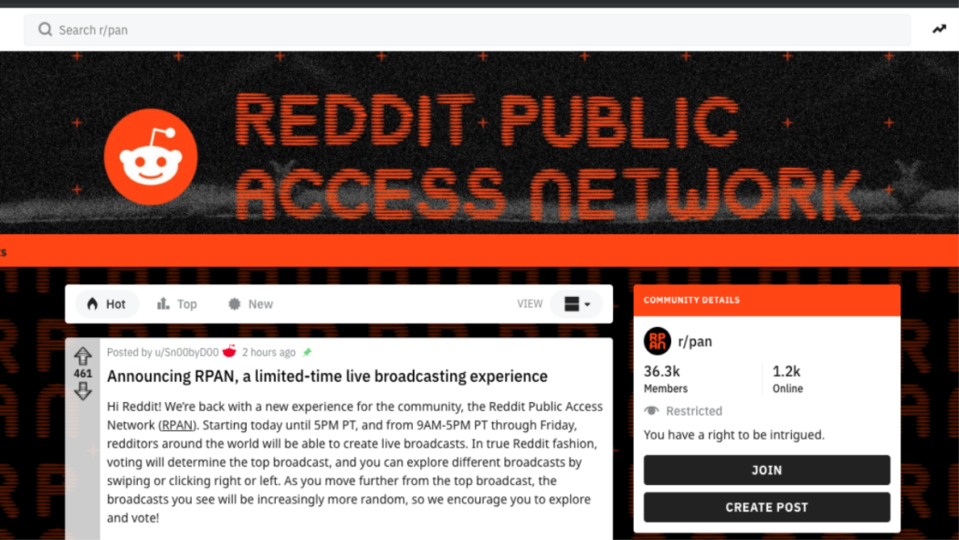 For those scrolling through the Reddit app, you must have spotted a livestream from some users playing music or speaking to the camera. Those broadcasts come from Reddit's own live-streaming service, the Reddit Public Access Network (RPAN). RPAN marked its one year anniversary just last week and almost to mark the occasion, Reddit has been teasing an expansion of RPAN to more subreddits in the future.
The Verge called RPAN's streams more "wholesome" than what's on Twitch or YouTube because it is meant to cater to and appeal to a broader audience.
Reddit's vice president of product and community told The Verge that they saw a lot of people who weren't traditionally streaming on other platforms coming on RPAN.
Last year, on one specific day, RPAN was available from 9AM to 5PM PT as a part of a five-day test where only certain people were allowed to stream. It is not available 24/7 to anyone. The one limitation it has though is a 45-min limit for each stream. This limit can be extended by viewers via a feature called Feed the Meter.
The limit was initially put in place due to technical constraints but Reddit is now thinking of extending it because many broadcasters are asking for it.
RPAN live streams are also limited to only over a dozen subreddits right now - like r/RedditInTheKitchen for cooking streams and r/AnimalsOnReddit for animals and pets. During the pandemic, Reddit has seen a steep rise in people doing "ask-me-anything broadcasts" or just wanting to chat with others from home - that's what created the r/distantsocializing community.
Eventually, Reddit plans to bring RPAN to as many communities as possible and this expansion is expected to happen over the next couple of months.
One thing that might make RPAN more popular than other platforms is the fact that it allows users to easily stream from their phones - front or back cameras. That's much easier than an elaborate PC setup that big streamers on Twitch and YouTube usually have.
While this does mean that streams on RPAN will be of lower audio and video quality, it's not necessarily a bad thing because it makes RPAN steams more intimate and interesting.
You can also stream your phone on Twitch or YouTube, and Reddit offers an official integration with the popular live-streaming PC software OBS that is called RPAN Studio.
The long-term challenge for Reddit will be to find a way to encourage RPAN users to keep up the positive vibes that make these streams so enjoyable.