TikTok clone Zynn tops App Store by paying users to watch videos
This TikTok clone was launched in the beginning of May and is already the number one free app on the Apple App Store and in the top 10 on the Google Play Store.
30 May 2020, 09:57 AM IST
in news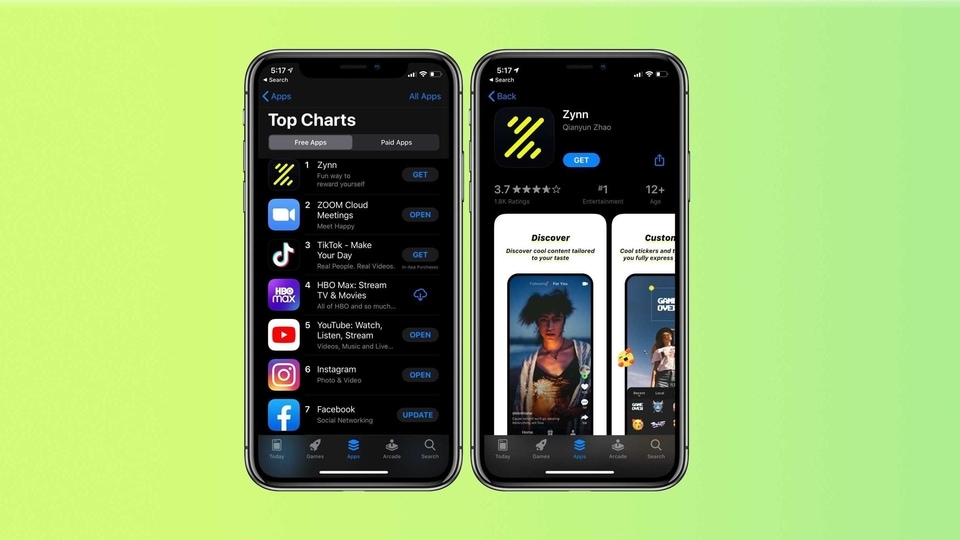 TikTok has a new competitor called Zynn. This almost identical clone of TikTok was launched earlier in May this year and has already become the top free all on the Apple App Store, beating TikTok and that's not all. It's also in the top 10 on the Google Play Store.
If Zynn is a button-for-button copy of TikTok, an app that's already so popular, what has Zynn done that made it such a hit? It seems Zynn has been paying its users to watch videos and to get others sign up for the app and do the same things. And, suddenly, it all makes sense.
Zynn's core interface is identical to TikTok's except that Zynn comes with a countdown timer with a dollar sign in the middle that you can see on every video on Zynn. As you watch videos, this timer fills up to give you points. You can redeem these points later as cash or gift cards.
According to Mashable, if you download Zynn and sign up you immediately get to see a pop-up that says that $1 has been put in your account. If you refer a friend to Zynn, you make $20 and for every five friends you refer, you get an extra $10.
A couple of people have posted payment receipts on YouTube videos to show that this actually works (The Verge managed to make $0.12 by watching videos for a few mins), but Turner Novak, a general partner at Gelt Venture Capital pointed out that Zynn was nothing more than a pyramid referral scheme.
There is also an aggressive rewards and invite feature. Earn small amounts of cash watching videos. Earn a lot more for inviting friends to do the same. pic.twitter.com/9TcsY7sFi1

— Turner Novak (@TurnerNovak) May 27, 2020
When you are ready to redeem your hard-watched cash, Zynn makes it difficult for you to actually get that money, offering you an array of gift cards instead. But a $50 gift card from Amazon is not such a bad deal if you ask us!
Zynn's popularity seems to stem from the fact that it is 'paying' users to watch videos on the app and also the referral scheme also pays you for every person you get on board. The banner on the app promises you $110 if you can get five people to sign up on Zynn, however, the fine print does mention that these five people who sign up must use the app regularly for your money to come in.
To sign up on Zynn you will need to use your Google, Facebook, Twitter account or your phone number. To get your cash rewards, you need to link a PayPal account.
Where did Zynn come from?
According to a report in The Information, Zynn is basically an extension of the video-apps rivalry in China. Zynn's creator Kuaishou is a well-funded startup that runs one of China's biggest video apps in the country, second only to Douyin (the Chinese version of TikTok). Kuaishou uses the same principle to pay viewers in China, according to The Information and also makes money from selling ads. Zynn has no ads for now.
The service also came pre-filled with videos because the app is able to pull content from Kuaishou. The Information reports that Zynn's videos are "mostly" from Kuaishou right now.
Tencent recently invested $2 billion in Kuaishou to help contain the 'threat' called ByteDance (which makes TikTok and Douyin). Creating Zynn for the western market seems to be Kuaishou expanding on its plans.
Currently, all the content on Zynn comes from Kuaishou. If Zynn can figure out a way to get original content on board, that might help and then TikTok will have something to worry about.